---
UPDATE 14.06.2023: With Silabs Multiprotocol Add-on 2.2.0, the firmware of the dongle must be updated manually to version 4.3.0. The new addon version will fail to start with 4.2.3 firmware, see more here. Darkxst has updated his web flasher, so you can simply click update to 4.3.0 before in the dialog window.
Since the Sonoff ZBDongle-E is based on the EFR32MG21 Multiprotocol SoC chip, it's capable of both Zigbee and Thread communication thanks to the radio of the module. However, this device is sold solely as a Zigbee dongle by the company and there is no official Thread support at the moment. Whether Sonoff intends to push an update making the device act as a Thread Border Router is unknown at this moment.
Luckily, you can flash the Sonoff ZBDongle-E version with a custom firmware and use it Home Assistant both as a Zigbee Coordinator as well as a Thread Border Router. The process is not difficult, but it does require some additional configuration and setup after you've flashed the device.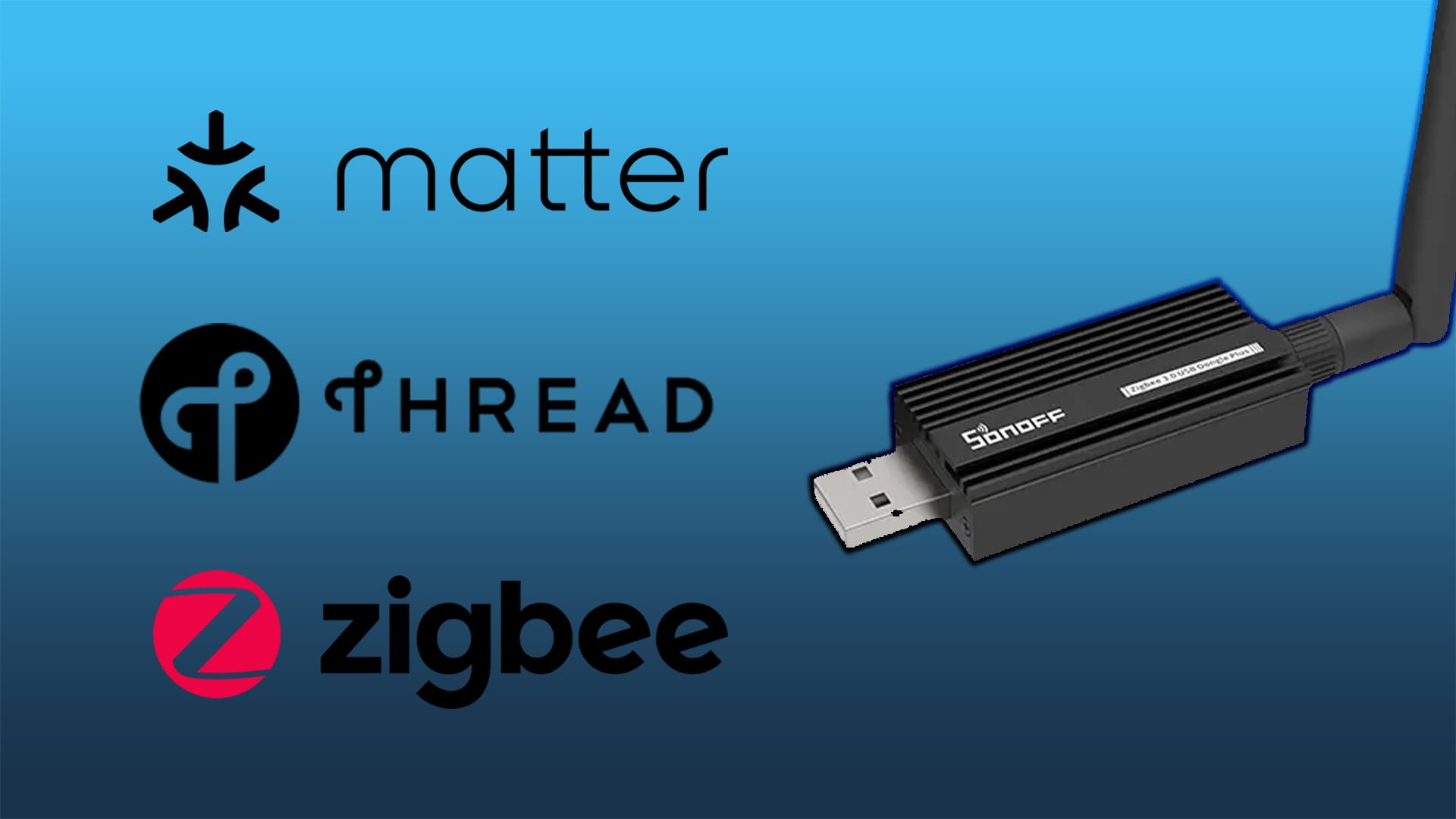 If your purpose is to simply use the device as a Zigbee coordinator, there is no need to flash anything, it ships with NCP firmware version v6.10.3 which is the latest official Zigbee firmware for the ZBDongle-E. If you want to enable Thread support as well, follow along to learn how.
Understanding the process
First and foremost, it's important to understand what's at stake before getting into enabling Thread support on the Sonoff ZBDongle-E. As usual with these kind of flashing processes, there is a chance you can brick your dongle beyond repair, so continue at your own risk. Note the following before you start:
If you are currently using the Sonoff ZBDongle-E as a Zigbee coordinator, you will have to repair all your devices after flashing the new firmware
Standard backup and restore methods of your Zigbee network are possible, although the chance of a successful restore once flashed are slim
If you have an existing ZHA integration, you will need to remove it completely than re-add it and form the network around the new multiprotocol firmware
If you are running a Zigbee2MQTT network, you need to stop the add-on and change the configuration to access the new multiprotocol firmware
This guide uses a Web Flasher, which will be used to install the latest RCP Multi-PAN firmware on your ZBDongle-E, which will be used to create a Zigbee network as well as provide Thread support as a Border Router.
Different firmware types
Zigbee coordinators, including the ZBDongle-E, rely on a Network Co-Processor (NCP) firmware type. The Zigbee application as well as the network protocol stack is saved on the dongle itself, which manages most of the Zigbee network. The Zigbee integration you are using, simply communicates to the dongle to send/receive commands from devices added to the network.
Recently, Remote Co-Processor (RCP) based firmware has become available for these SoC modules, allowing the Zigbee application to be offloaded to your server completely (in this case, Home Assistant), utilizing only the dongle's radio at the hardware level.
When using the latter, the hardware capabilities of the dongle can be utilized for creating separate Zigbee and Thread networks by flashing the MultiPAN RCP firmware. This is exactly what we're going to do.
Flashing the Sonoff ZBDongle-E
This custom firmware was developed by darkxst (Tim L) and works for Home Assistant Yellow and SkyConnect, Sonoff ZBDongle-E and EasyIot ZB-GW04 v1.1/v1.2. He also created a web flasher for the firmware, which is much easier to use than the Universal Silabs Flasher. His work is a fork from the official NabuCasa silabs firmware builder, adding support for additional hardware.
Download and install the latest CP210x USB drivers (Windows/Mac)
Plug the Sonoff ZBDongle-E to your PC
Identify the port number of the dongle

Windows: See device manager (example: COM5)
Linux: Check with command ls /dev/tty* (example: /dev/ttyACM0)
Mac: Check with command ls /dev/tty.usb* (example: /dev/tty.usbserial12345)

Open darkxst's Web Flasher
1. Click Connect under ZBDongle-E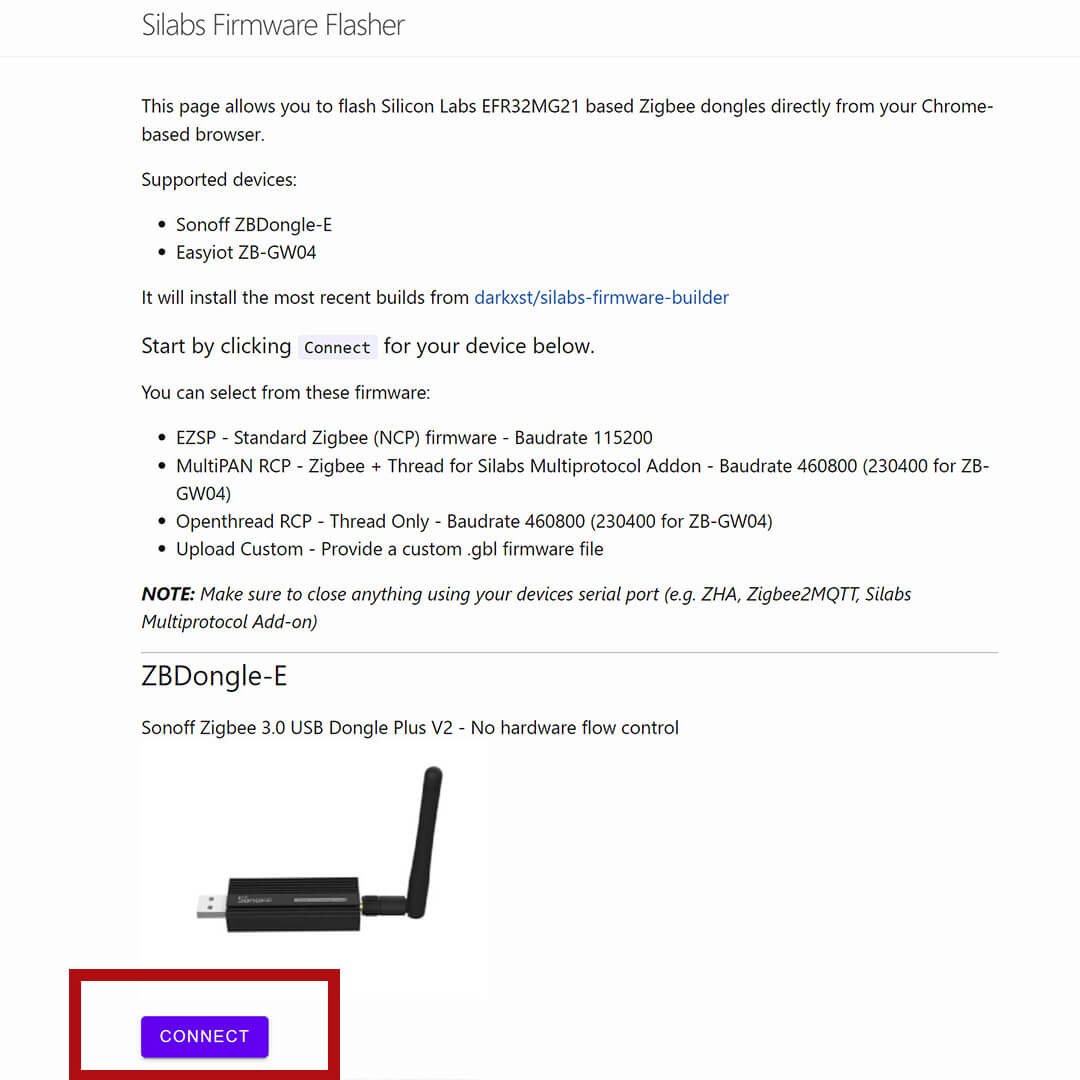 2. Select the dongle from the list of ports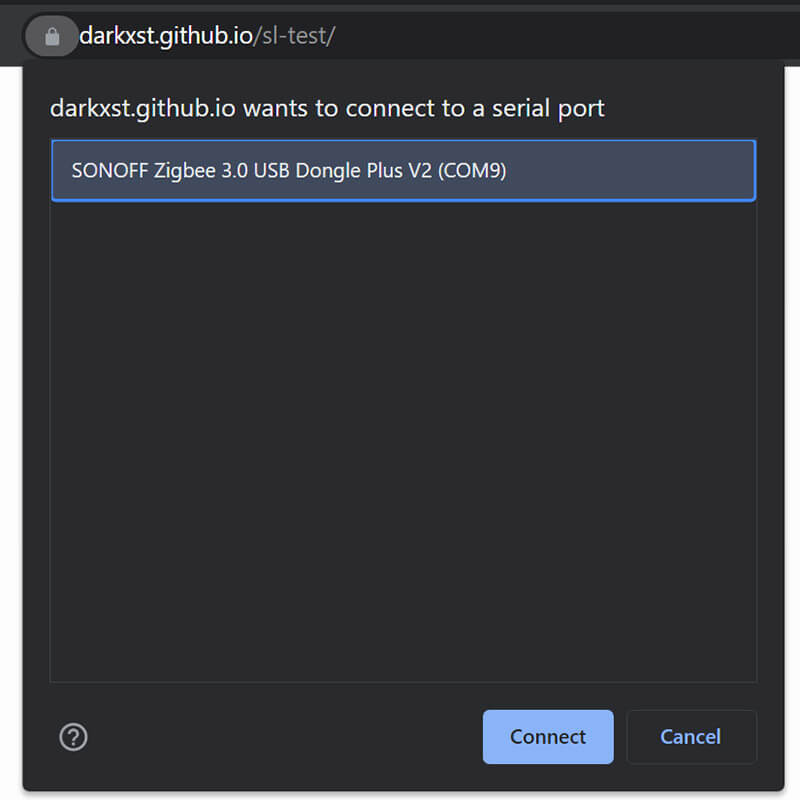 3. Wait for the connection to be established. Click Change Firmware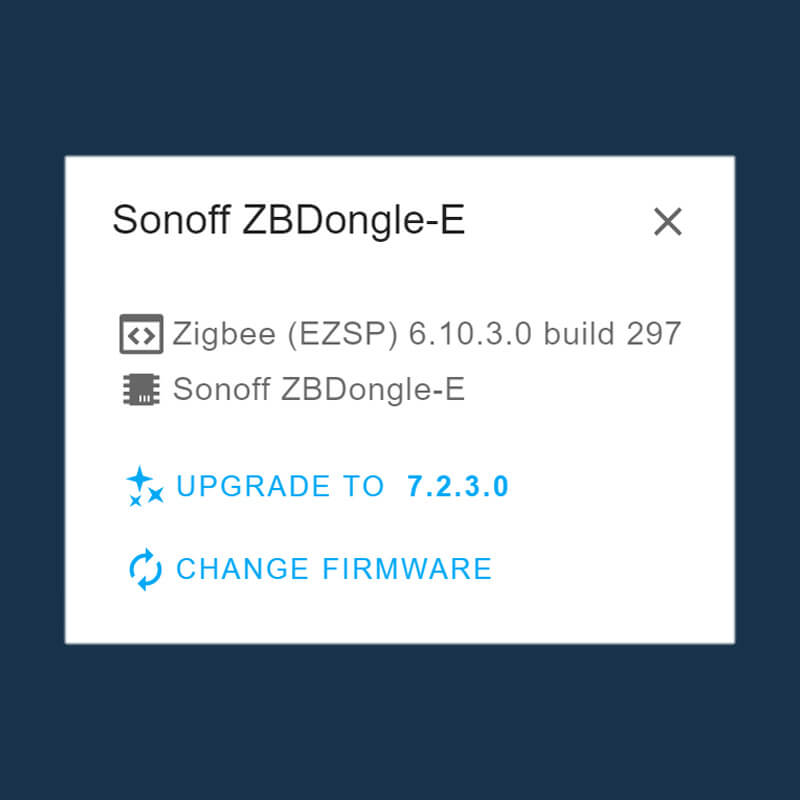 4. Select Multi-PAN (RCP) from the firmware list and click Install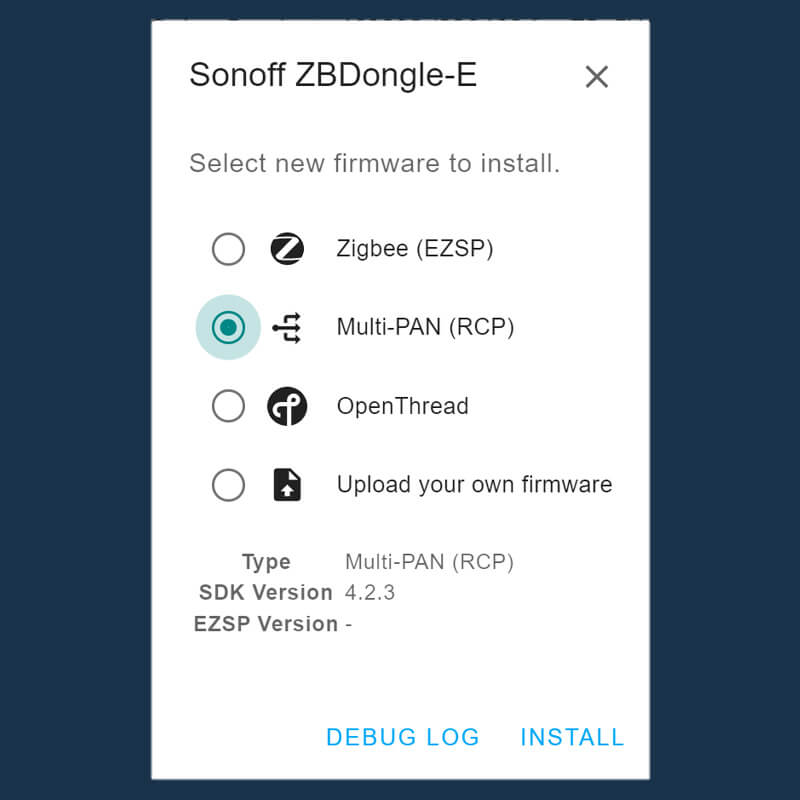 5. Wait for the firmware installation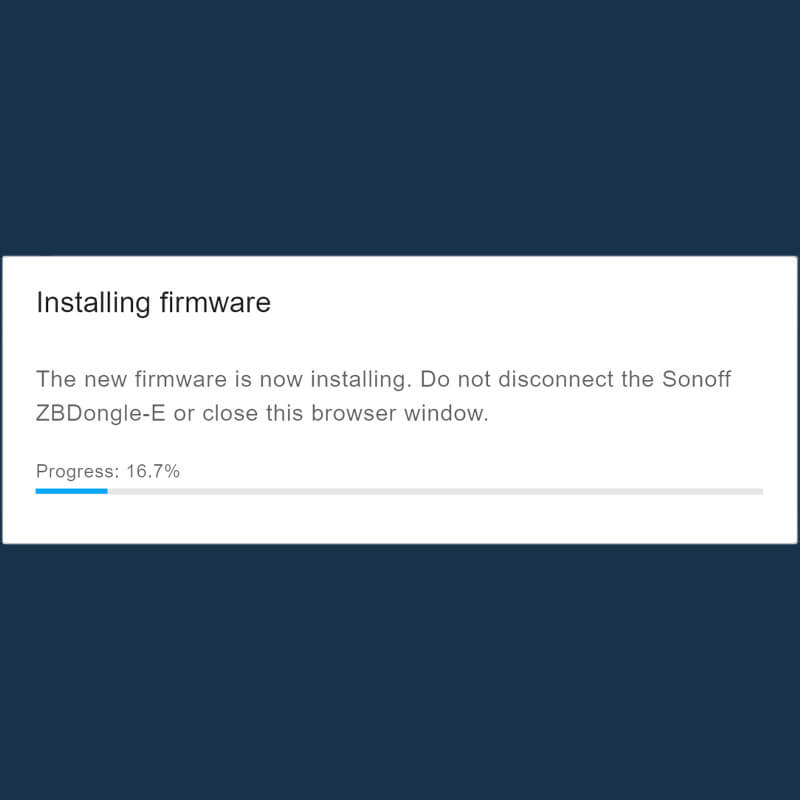 6. Click Continue and unplug the dongle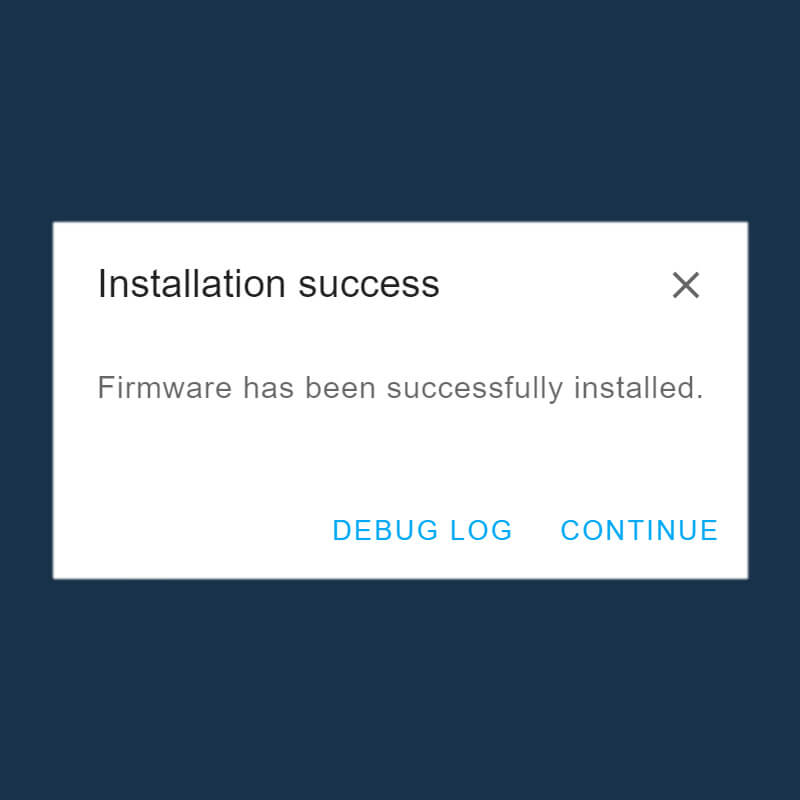 Once the flashing is complete, you can continue to setup your Zigbee and Thread networks in Home Assistant. Follow the guides bellow for a detailed tutorial.
Home Assistant Setup
Before you continue with the guide, make sure you are running the latest version of Home Assistant. Since Thread and Matter are relatively new integrations actively being developed, updating to the latest version will ensure minimal bugs or glitches. Keep in mind, they are both in Beta and still tagged as experimental.
Silicon Labs Multiprotocol Add-on
An crucial requirement for running both Zigbee and Thread networks on a single Sonoff ZBDongle-E is the Silicon Labs Multiprotocol Add-on. This add-on acts as a gateway between Home Assistant and the Sonoff dongle, essentially allowing you to create separate networks by utilizing the RCP Multi-PAN firmware on the dongle.

Your ZHA, Zigbee2MQTT or Thread Integrations will communicate with the Silicon Labs Multiprotocol Add-on once setup instead of directly with the dongle like before.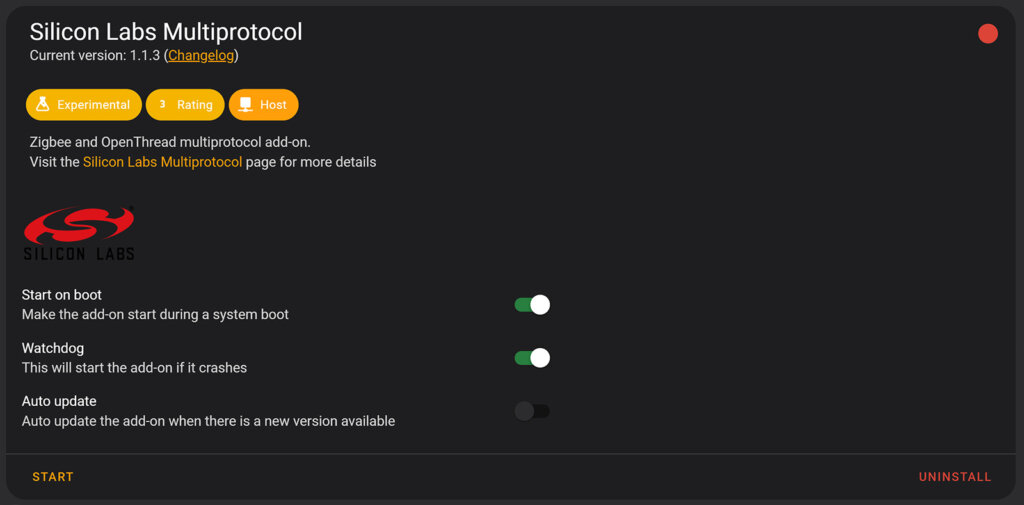 To install this add-on, navigate to Settings > Add-ons in Home Assistant. Search for Silicon Labs Multiprotocol and install it but don't start it yet. Click the Configuration tab at the top and set the settings like in the image bellow: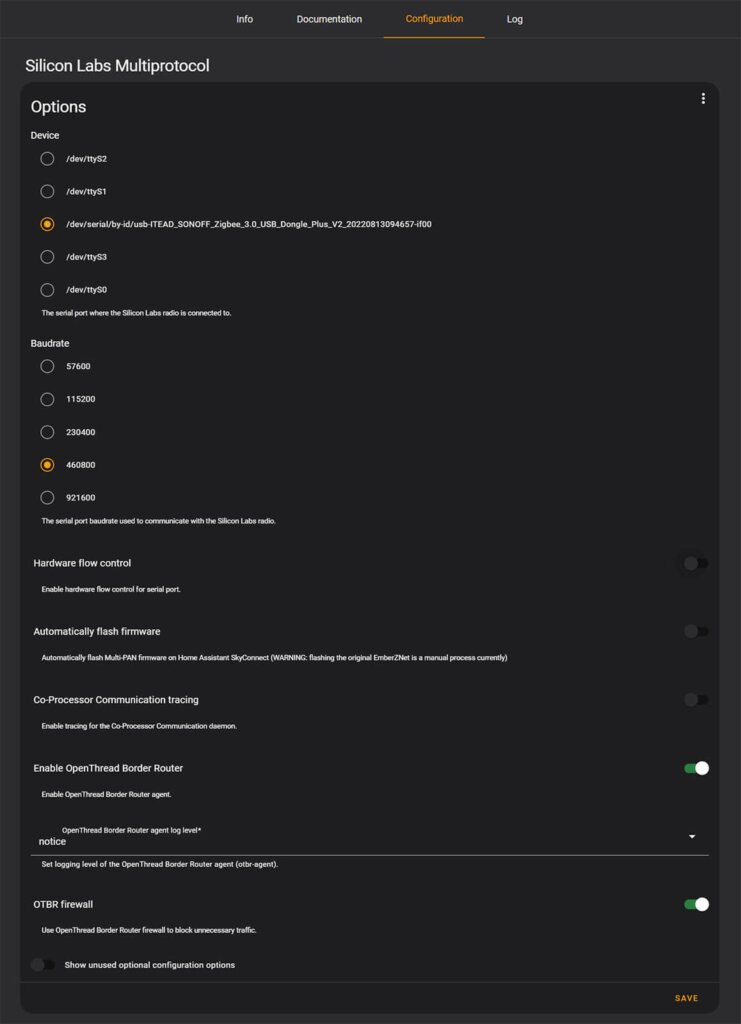 Select Sonoff ZBDongle-E
Baudrate 460800
Disable Hardware Flow Control
Disable Automatically Flash Firmware
Leave the rest as is and click save
Go back to the Info tab and Start the add-on
You are now ready to setup ZHA, Zigbee2MQTT or create a Thread network using the Sonoff ZBDongle-E.
ZHA
Like you normally would, navigate to Settings > Devices & Services > Add Integration and search for ZHA. Select Zigbee Home Automation and follow the process flow with one important difference.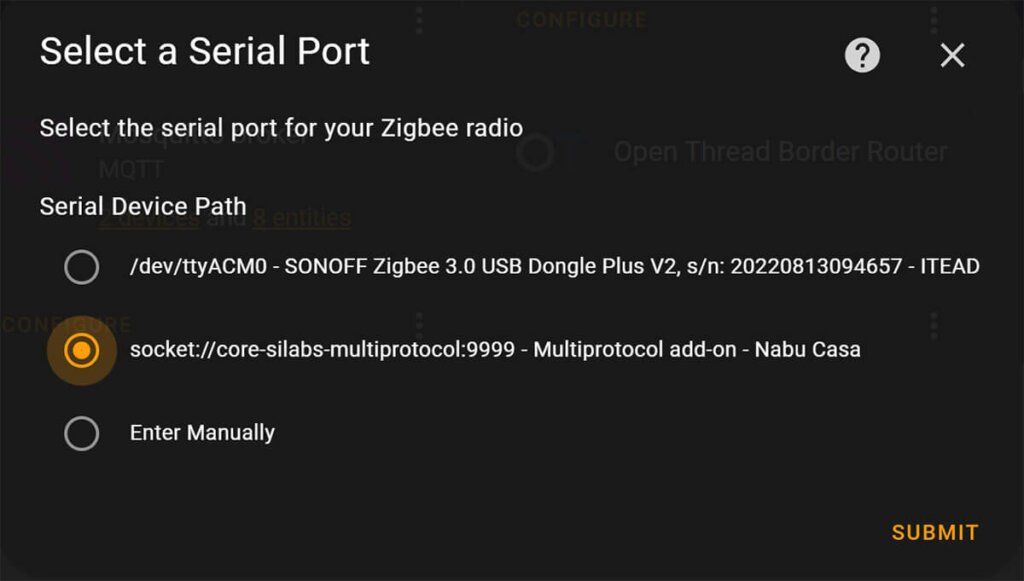 When it prompts you for selecting a serial port, choose socket://core-silabs-multiprotocol:9999 instead of the /dev/ttyACM0 - Sonoff dongle.
Click Submit followed by Create a new network. I would suggest not even trying to restore a backup, as it would not work. All your existing devices will be added if you restore, but none would be controllable. The ZHA Integration will now be added and you can start to pair devices like you normally would. I paired a couple of gadgets, they all work normally as they should.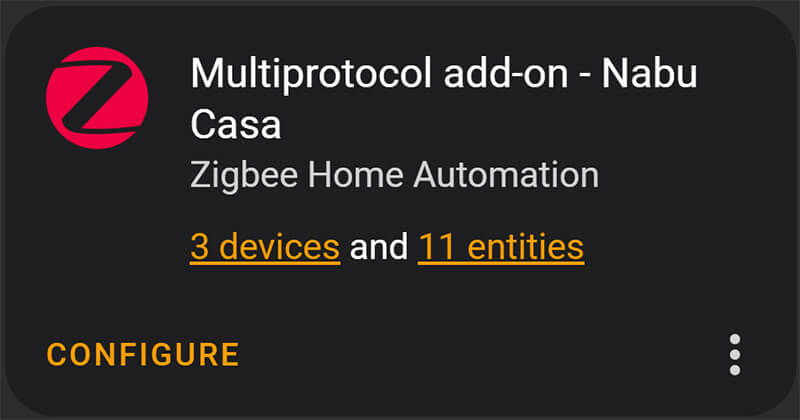 Zigbee2MQTT
Setting up Zigbee2MQTT is similar in general, with a few small differences. First, stop the Zigbee2MQTT add-on if it's already running. If you are installing it fresh, don't start it before configuring it. Navigate to Settings > Add-ons > Zigbee2MQTT > Configuration tab. Under the Serial field, paste the following:
port:

 

tcp://core-silabs-multiprotocol:9999




adapter:

 

ezsp




Code language:

 

YAML

 

(

yaml

)
Save the configuration and start the add-on. Zigbee2MQTT tells you whenever something goes wrong, so it's a good idea to monitor the Logs while the add-on is starting. You should see a message at the end:

Zigbee2MQTT:info 2023-05-30 18:59:58: Zigbee2MQTT started!

The add-on has started successfully and you can continue to create your new Zigbee network.
If you navigate to the About tab of Zigbee2MQTT's interface, you should see the new EZSP version:





Or you can check the coordinator listed from the Silabs Multiprotocol Add-on in Settings > Serial: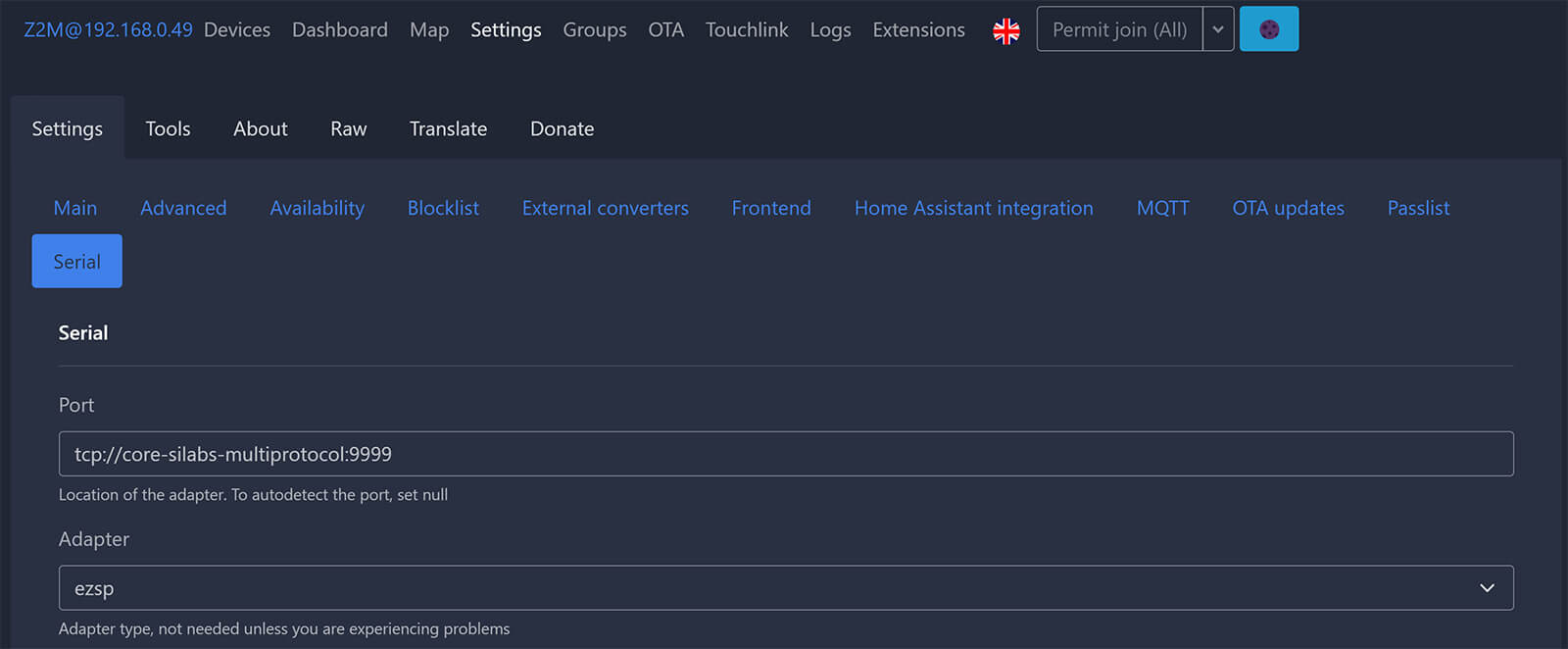 Thread Network
If you have a Thread network available, you can now add it to Home Assistant using the Sonoff ZBDongle-E as a Border Router. The Thread Integration should become automatically discovered if you've restarted Home Assistant, if not, navigate to Settings > Devices & Services > Add Integration > Thread. Confirm the prompt and the Integration will be added.

Thread-based consumer devices use one of the two Home Automation standards: Matter or HomeKit. To actually do anything with a device you need to use one of these integrations for commissioning. Please note, the Thread integration is completely in beta, so it's a work in progress and much doesn't work for now.

The Matter integration (and Matter Server add-on) co-ordinates provisioning and control of all Matter Wi-Fi and Thread devices. If you have a Matter certified device that's based on the Thread protocol, you can add it to HA by using your phone and the companion app.
Summary
Enabling Thread, Zigbee and Matter support on the Sonoff ZBDongle-E is beneficial for the tinkerer's smart home, it basically turns your Home Assistant instance into a powerful multiprotocol hub. It has the hardware capability, so why not actually use it? Credit goes to darkxst, the developer of this firmware fork and web flasher.
The Matter Integration (and Server Add-on) as well as the Thread Integration are all a work in progress. Things are going to change as we head into the second half of the year. I suggest you read this blog post from the official Home Assistant team Matter & Thread: Where we're at to make things more clear.
The Sonoff ZBDongle-E is a good choice for a multiprotocol coordinator, you can get it on AliExpress ($20) and Amazon ($30). Australians and New Zealanders can get the ZBDongle-e from this store. The same EFR32MG21 module is also found in Home Assistant's SkyConnect dongle as well as the Easylot ZB-GW04 dongle ($10), for which this firmware also works.