---
Intro
Today was day one of five at IFA Berlin, a technology fair frequently labelled as the "Worlds Most Significant Technology Event". Companies from all over the world expo and showcase their products/services in Berlin's Messe Halls where visitors can see, test and inquire first hand.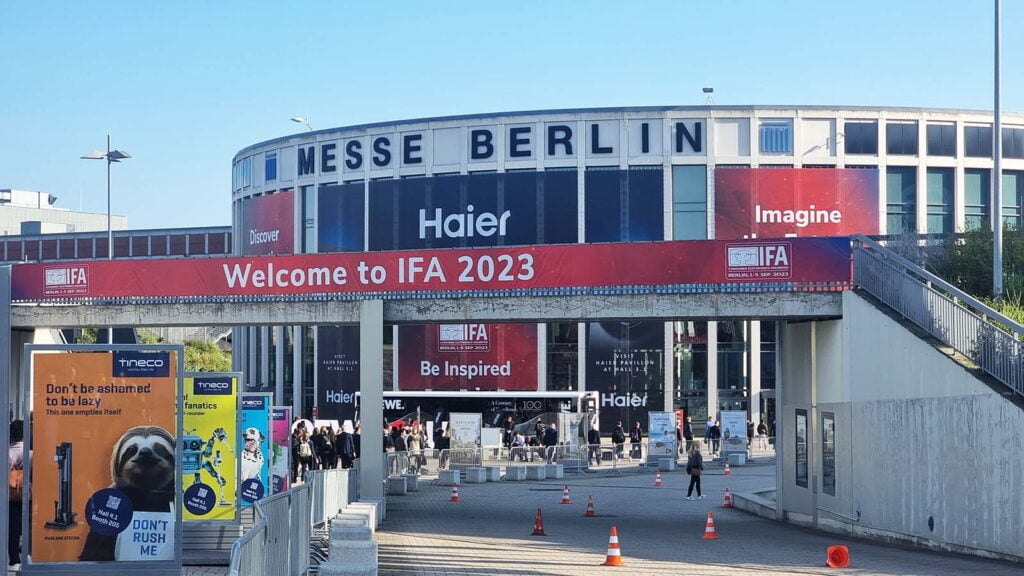 I visited the event today and talked to so many people from different companies about their latest smart home innovations, product releases and upcoming smart tech. This article is a recap of Day 1 @ IFA2023 in Berlin.
SwitchBot: A robot cleaner that refills your humidifier
SwitchBot was located in Hall 5.2, I visited their booth early in the day. The guys operating their devices were kind enough to show me and explain how their new S10 and K10 robot cleaners work.
First off, the two versions of the robot vacuum/mop are vastly different. The S10 is a full cleaning solution, vacuuming and moping your floors while self-cleaning itself. It works by connecting the robot to your water supply and drain system, so it automatically refills whenever it needs to and dispenses dirty water through your drain.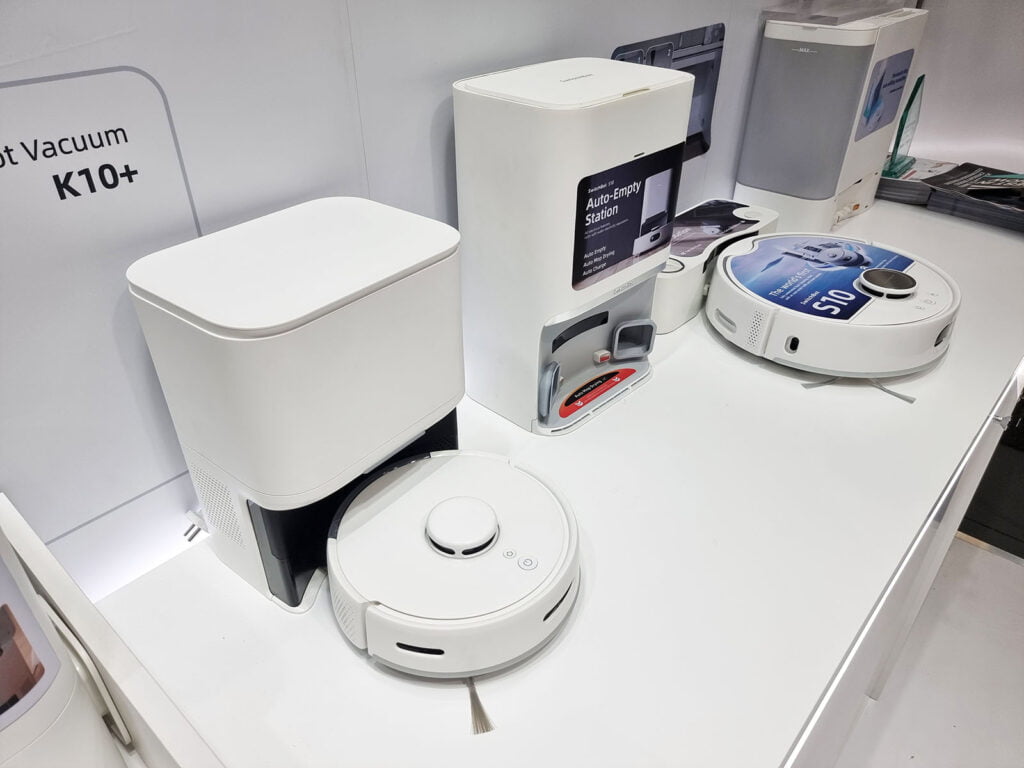 What's also interesting, is that the device is capable of automatically refilling your humidifier (also a SwitchBot product in the form of a docking station) from the same water it get from your water supply. Talk about smart! More details on the S10 in an upcoming article.
The K10 on the other hand, is a much cheaper mini robot advertised as the worlds smallest robot vacuums. I have no idea if this is actually true, although it is very small indeed. It has an advertised suction of 2500kPa which is not weak at all, we'll have to see how it fairs in practice.
What peaked my interest the most is the disposable mops mechanism on the K10+ robot vacuum. Basically, you attach a kind of wet wipe tissue on the bottom that the robot uses to clear your room and than you toss it. Neat and simple.
Here's a video I recorded of the S10 in action at SwitchBot's booth:
Aqara: New Matter products revealed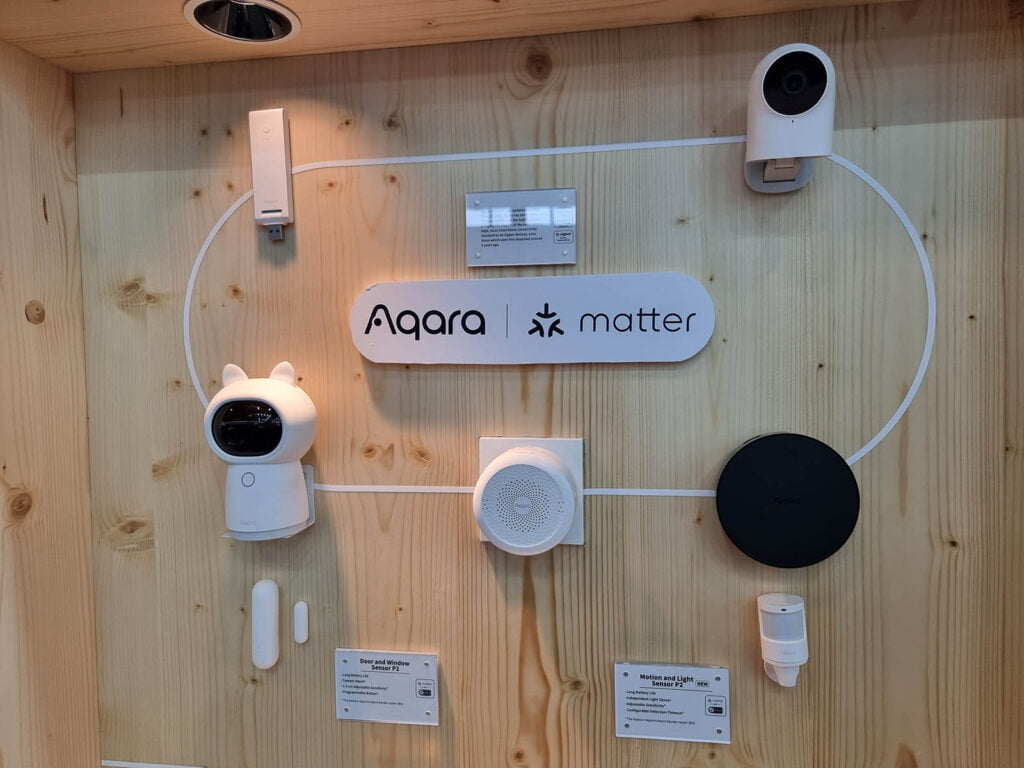 Aqara already announced they are revealing a couple of new products at IFA 2023, including the awesome T1M ceiling light. Seeing how huge it really is in person kind of made me take a step back. They mounted it sideways though, so you couldn't really see how it looked like on a ceiling. Here's an image: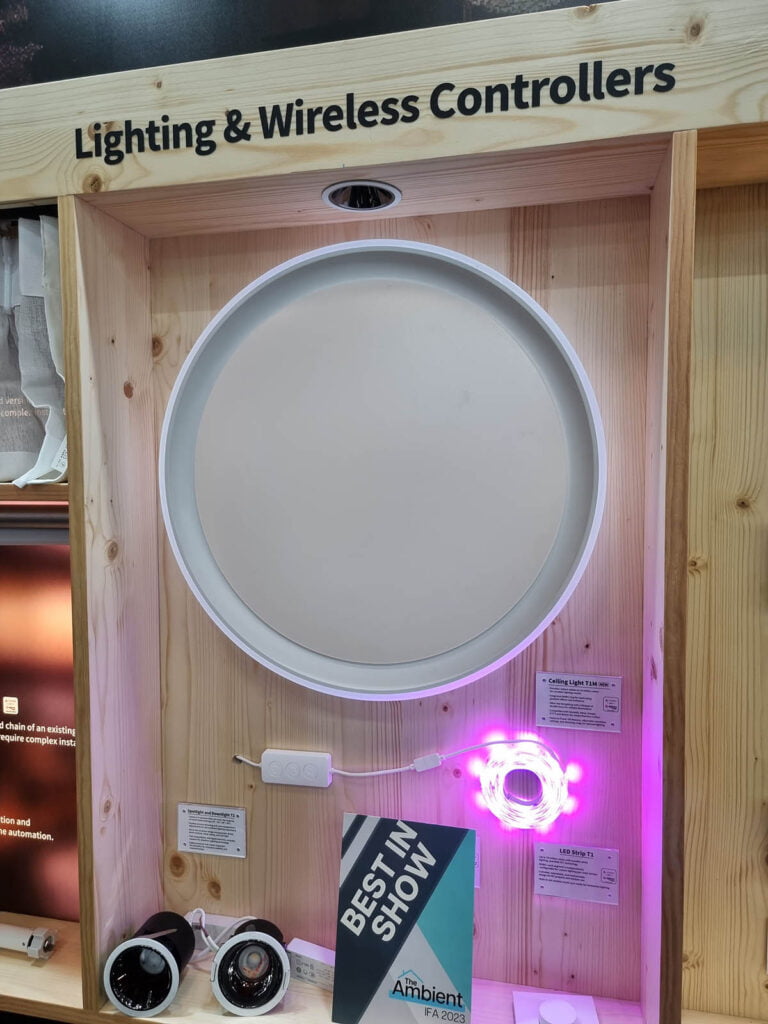 I already knew all there is to know about their devices, I just wanted to see how they looked like in 3D. I am writing a full article in the days following IFA Berlin about Aqara's current state and adoption of Matter over Thread, their existing Zigbee line-up and the vast differences between their Asian and Western target markets.
Aeotec: New line-up of mini switches
Aeotec had a little booth under the Z-Wave Europe umbrella where they showcased their existing and new products. Some interesting things were displayed, but the upcoming line-up of mini switches labelled "pico" were the most fun to me. Here's a photo: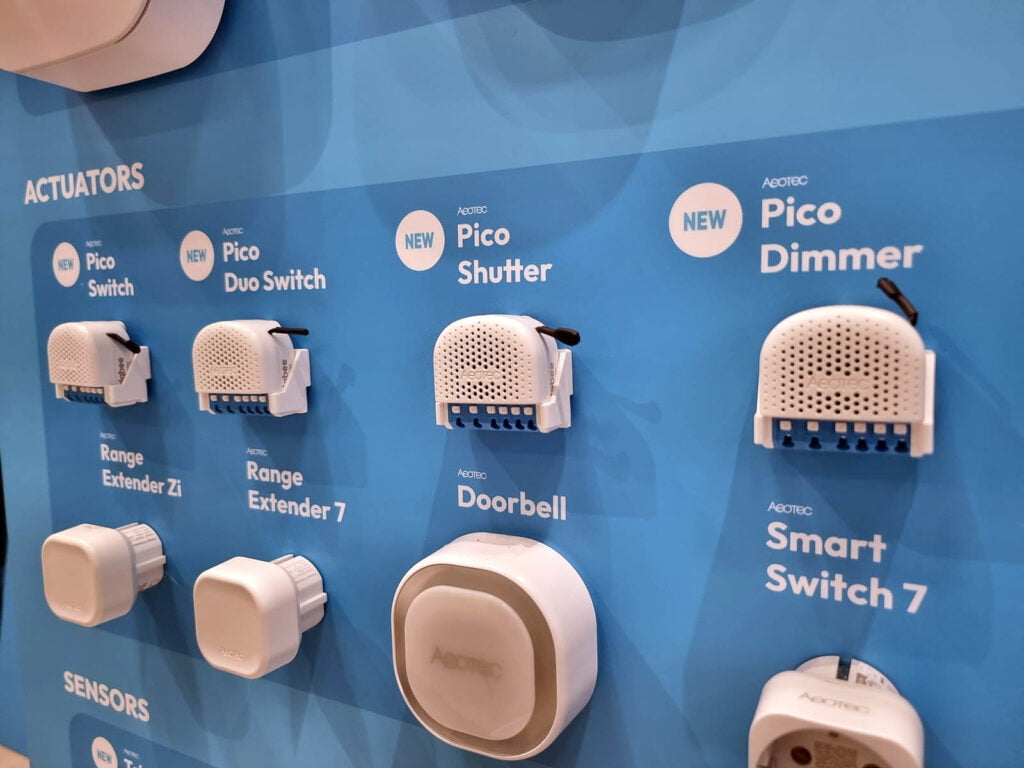 I must have talked to the their guy for 45 minutes about various topics like communication protocols, the future of Smart Home and Matter and Aeotec's range of devices. He's also a huge Home Assistant fan! Props Denis!
Shelly: More Mini Switches
Shelly had the biggest booth out of all the other smart companies I think. A large dashboard-like screen was propped up in the middle, displaying some interesting statistics of their app/cloud services.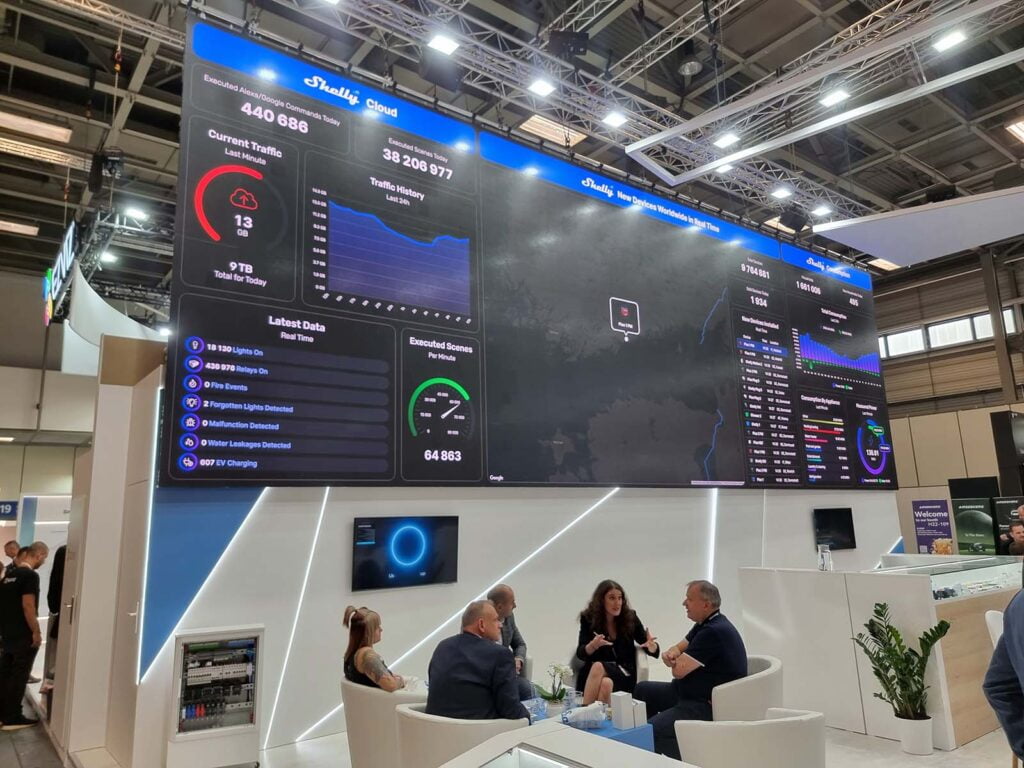 Since forever, Shelly used Wi-Fi as their main communication protocol. It was honestly about time they went for something local by design, like Zigbee/Z-Wave. They chose the latter, just when Thread is gaining traction as a viable communication method.
Whether or not this is a bum decision remains to be seen, I am a firm believer Zigbee/Z-Wave are here to stay. They also released mini versions of their most popular switches, for example: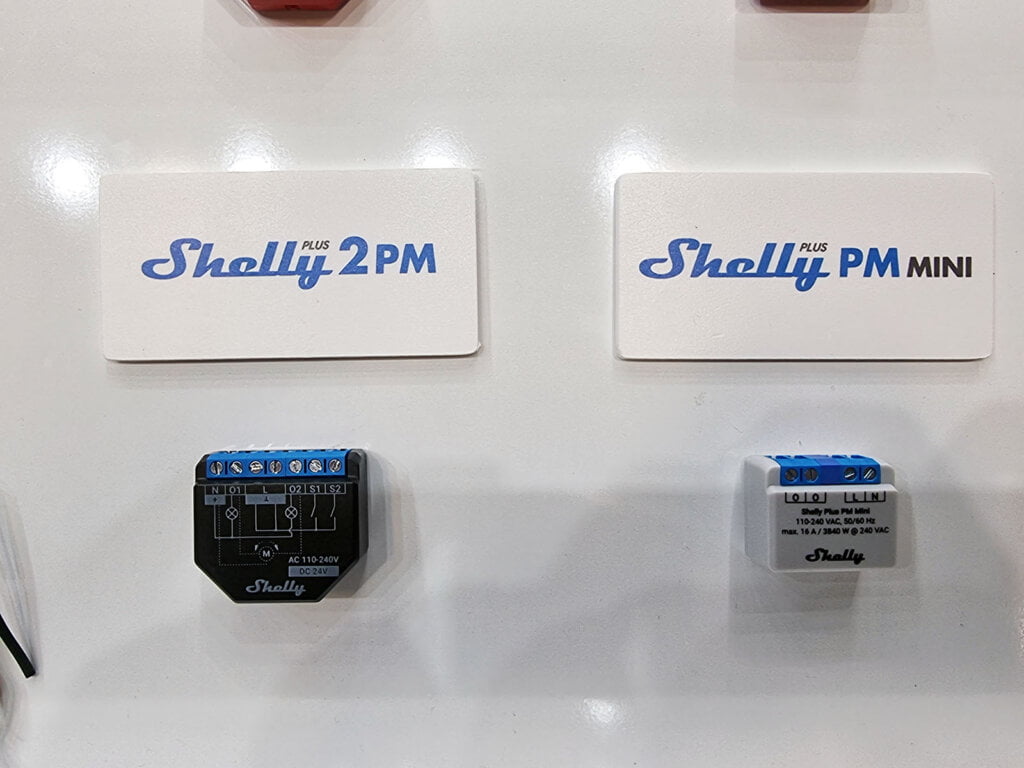 Nanoleaf: Everything is on Matter
Visiting the Nanoleaf booth made me realize I have a great use case for their lights in my living room that I nearly asked the guy where could I get them like a total idiot. They are also releasing a couple of new versions, like Hexagon shaped wall lights and Square shaped ceiling lights.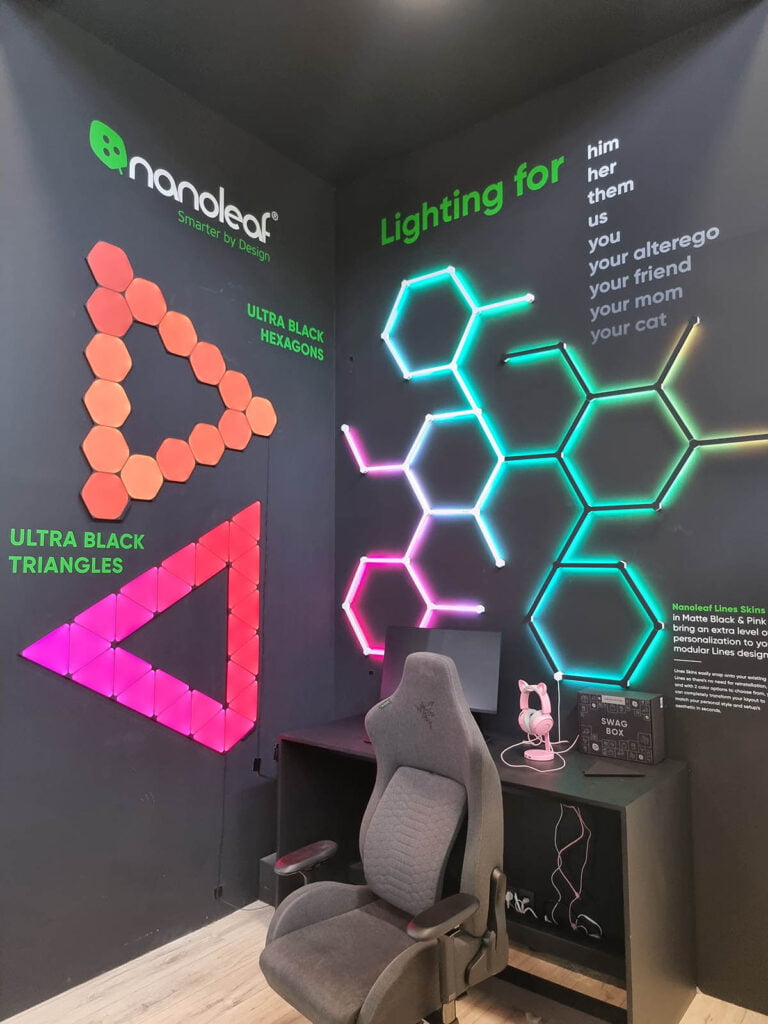 Their marketing representative told me their full lineup of products is Matter over Wi-Fi ready and the upcoming releases will be too.
A smart robot companion
A company called Enabot makes these awesome robot companions that they showcased at IFA this year. It actually impressed the inner child I always carry around with me, making me ask more and more questions about this little guy.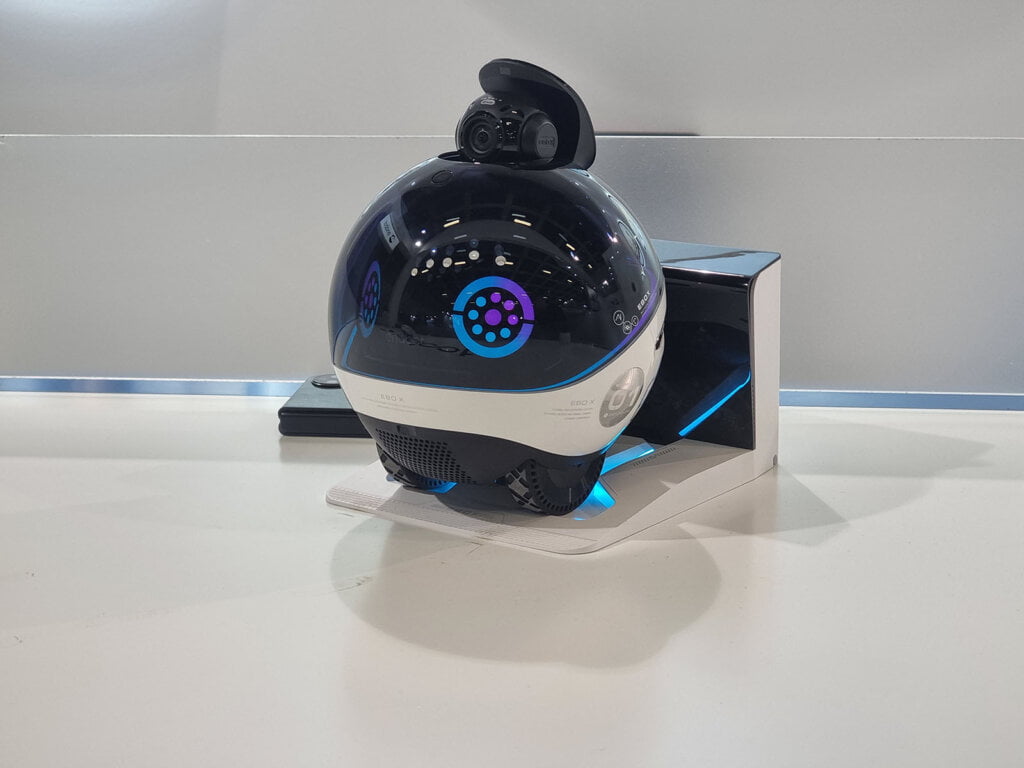 Well, this is actually an app controlled robot companion with a camera that you drive like an RC car with your phone. It can record and take pictures while you are away, send two-way audio and has a built in smart home voice assistant.
It syncs to your music player when connected, it can dance a little and drive around your room once it has previously mapped it. Oh, and it uses Harman Kadron speakers.
A nod to open-source firmware
Visiting a booth from a company called Nous from Poland, made me tingle a little. These guys sell a variety of smart devices mostly locally but are firm believers in open-source software and the open home. I made the best photo of the day at their booth: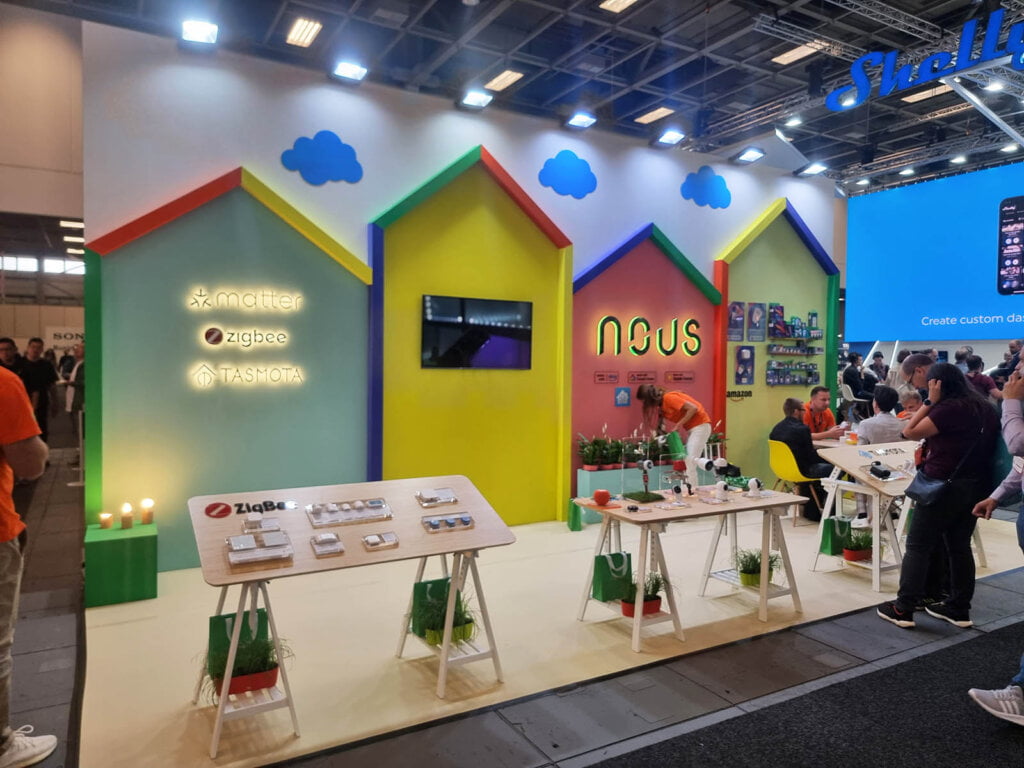 Their booth was the only one that I encountered words like Tasmota, Zigbee2MQTT, TasmotaMQTT and Home Assistant. These guys were super friendly and chatty, they did not try to work me or lie about anything, I can respect that.
So many robots
I feel like this year should be labelled as the year of robots and robot vacuums. Everywhere I turned there was a booth showcasing some kind of a robot.
In one corner, robot vacuum expanding the product line-up of a completely unrelated company/brand. In the other corner, a pool robot controlled through an app. In another booth, a dog robot carrying biscuits to a little girl. Came for the smart home, stayed for the robots.
My smart watch tells me I covered almost 9 kilometers of distance today and all that flashes in my head is – your guessed it – robot vacuums.
Stay tuned for day 2 & 3 at IFA Berlin 2023…