---
The CSA, an acronym for Connectivity Standards Alliance, is a group of companies that maintain and publish the ZigBee communication standard and the soon-to-be-released Matter standard.
Based in California, It was founded almost 20 years ago, for the sole purpose of igniting creativity and collaboration in the Internet of Things, by developing, evolving, and promoting universal open standards that enable all objects to securely connect and interact.

Short History
The ZigBee Alliance was founded in 2002 by a group of companies whose purpose was to develop and standardize a low power, low data rate wireless ad-hoc network for interconnecting IoT devices.
ZigBee-style self-organizing ad hoc digital radio networks were first conceived in the 1990s. This laid out the foundation for developing the IEEE 802.15.4-2003 ZigBee specification, which was ratified on December 14, 2004 by the ZigBee Alliance. This effort produced Specification 1.0, which the ZigBee Alliance introduced on June 13, 2005 and became known as the ZigBee 2004 Specification.
In September 2006, the ZigBee 2006 Specification was announced, replacing the 2004 stack. The 2006 specification replaces the message and key–value pair structure used in the 2004 stack with a cluster library. The library is a set of standardized commands, attributes and global artifacts organized under groups known as clusters with names such as Smart Energy, Home Automation, and ZigBee Light Link.
In 2007, ZigBee Pro, also known as ZigBee 2007 was finalized. A ZigBee Pro device was able to join and operate on a legacy ZigBee network and vice versa. Due to differences in routing options, ZigBee Pro devices must become non-routing ZigBee end devices (ZEDs) on a legacy ZigBee network, and legacy ZigBee devices must become ZEDs on a ZigBee Pro network. ZigBee Pro operates using the 2.4 GHz ISM band, and adds a sub-GHz band, 915Mhz and 868Mhz.
In January 2017, ZigBee Alliance renamed the library to Dotdot and announced it as a new protocol to be represented by an emoticon (||:). They also announced it will now additionally run over other network types using Internet Protocol and will interconnect with other standards such as Thread. Since its unveiling, Dotdot has functioned as the default application layer for almost all ZigBee devices.

The organization was formerly known as The ZigBee Alliance, but because the group has added other specialties such as smart energy, green power and home entertainment systems—which required expanding beyond the ZigBee protocol and working with other wireless standards—it rebranded itself as the Connectivity Standards Alliance (CSA) in May, 2011.
Technologies and Solutions
Besides Matter and ZigBee, the CSA alliance creates and develops several standards and extensions to build the foundation and future of IoT.

Upcoming, industry unifying IP-based connectivity protocol built on proven technologies aiming to become the Foundation of Connected Things. Defining features are Interoperability, Security, Reliability and Simplicity.

The world's most widely adopted and complete loT solution. An open global communications standard addressing the unique needs of low-cost, low-power wireless IoT networks. Defining features are Interoperability, Security, Reliability, Low power and Global Adoption.

Feature of ZigBee that allows for energy-harvesting technology to be used directly with the ZigBee stack. Green Power devices combine energy harvesting capabilities with a reliable, ultra-low power mesh to create battery-less solutions for commercial and residential markets.

The world's leading standard for interoperable products that monitor, control, inform and automate the delivery and use of energy and water. Smart Energy supports the diverse needs of a global ecosystem of utilities, product manufacturers and regulators as they plan to meet future energy, water and gas needs.

JupiterMesh is on open IETF and IEEE standards and includes advanced technologies such as IPv6, frequency hopping, multi-band operation, authentication, encryption, and key management to drive industry realization of interoperable multi-vendor implementations that scale, are secure, and easy to manage.

Dotdot Data Model is the foundational language for the smart objects we rely on every day, based on the Zigbee Cluster Library (ZCL), which is used in both Zigbee and Matter. Varying smart devices can understand and speak the same language at the application layer, regardless of the underlying network transport.

Low-cost, easy-to-implement networking solution for Zigbee Remote Control and Zigbee Input Devices. Rf4ce is designed to provide low-power, low-latency control for a wide range of products including home entertainment devices, garage door openers, keyless entry systems and more.
Access Control
Access Control is defining, developing, and delivering a comprehensive direct/point-to-point application layer for door locks, readers, mobile devices, and related services for smart homes and buildings, specializing in card or token-based access.
Becoming a Member
The CSA has since certified over 4000+ ZigBee products and it's members base counts more than 400+ promoters, participants and adopters. To become a CSA certified member, companies must follow through with CSA guidelines, and pay a premium fee.

Four tiers of participation are available as of June 2021:
Promoter: $105.000USD per year
Participant: $20.000USD per year
Adopter: $7.000USD per year
Associate: $0USD per year
Companies must choose a membership plan, to be able to develop, test and certify their products with the CSA trademark. A one-time fee of $1500-3500 is instated per product, to list the gadget as an official CSA trademark device and be listed in their database and website.
Depending on the membership tier, companies receive certain benefits such as attending workshops, developer conferences, and a seat on the Board of Directors for the Promoter Tier.
The Associate Plan members pay no membership fees, they can simply white label and rebrand a Certified Product via the Certification Transfer Program and use the Alliance Certification trademarks which costs them $2,500 USD per product + $500 USD per year, per product.

Product Certification
The path to product certification consists of three phases:
Product development
Certification testing at an Authorized Test Provider
Application for certification with the Alliance
Companies must first Become a Member and contact the Alliance Certification Team to reserve a Manufacturer ID. Than, companies must select a Compliant Platform and choose a certified testing provider. The product is than sent to be tested and a Certification Application is submitted. The application will be reviewed by the Connectivity Standards Alliance Certification Team and additional information may be requested. After the product certification is approved, companies receive a formal certificate from the Alliance and may immediately begin using the Certified Product logo.
Notable Members
As of the writing of this article, The CSA counts over 400 members. Most notable promotors include Apple, Amazon, Google, Comcast, Huawei, Tuya, Ikea and Samsung SmartThings.

Most notable participants include companies such as Aqara, Telekom, Ecobee, Espressif, MasterCard, Leviton, LG, Logitech, Kwikset, Sonos and Z-Wave EU. All members can be found here.

CSA Member Group China
The CSA Member Group China (CMGC) is a branch of the Connectivity Standards Alliance formed by members with a focus on promoting CSA technologies in the China market.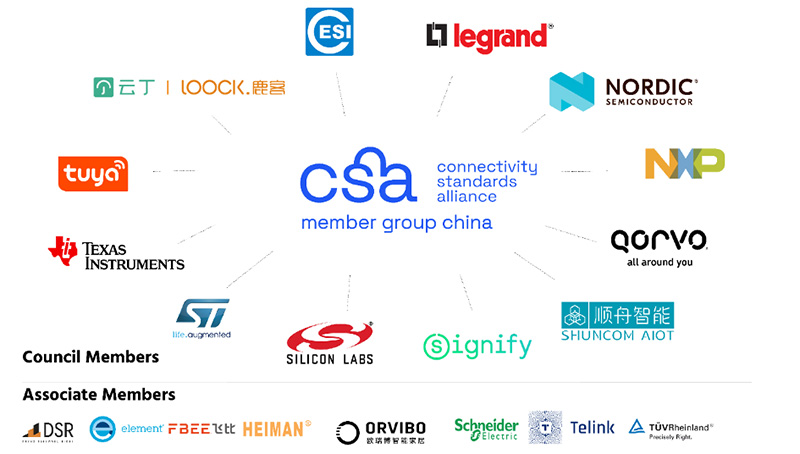 CMGC membership has two tiers, associate and council membership. Membership fees are required to fund various activities in China, such as
Market Education
Member & Developer Training
Market Development
Events & Trade Shows
Council Membership costs CNY50,000/Year while Associate Membership is CNY10,000/Year.


Summary
With the upcoming Matter communication protocol release, the CSA Alliance has cemented itself as the industry leader in developing new technologies for interconnecting objects seamlessly, securely and reliably. With companies such as tech giants Apple, Google and Amazon on board, the legitimacy of the CSA cannot be questioned. 
Even though many companies have pledged their support to Matter, upcoming releases of new products will of course need to be certified. Companies will be motivated to brand their new gadgets with the Matter trademark and logo, as this will in turn boost sales and brand awareness.
What remains to be seen, is will they make their existing products and hubs compatible with Matter? Aqara has already pledged to deliver OTA updates to their ZigBee hubs promising Thread support. Will other CSA members follow suit, or will Matter affect only new IoT devices?