---
I've disassembled and tested a few Heiman devices on my AliExpress Reviews channel, such as the HS1SA-E Zigbee Smoke Sensor or HS2WD-E Zigbee Alarm Siren.
I quite like Heiman and appreciate their efforts to adapt to western markets. Rather than being some semi-transparent Chinese manufacturer, they go out of their way to brand their products, winning a few Reddot design awards along the way and making their new K1 product line-up Matter-compatible.
In this review, I'm disassembling and testing the Heiman Carbon Monoxide Sensor model HS1CA-E which I've had in my arsenal for quite a while now. This item can be bought on AliExpress for ~$32.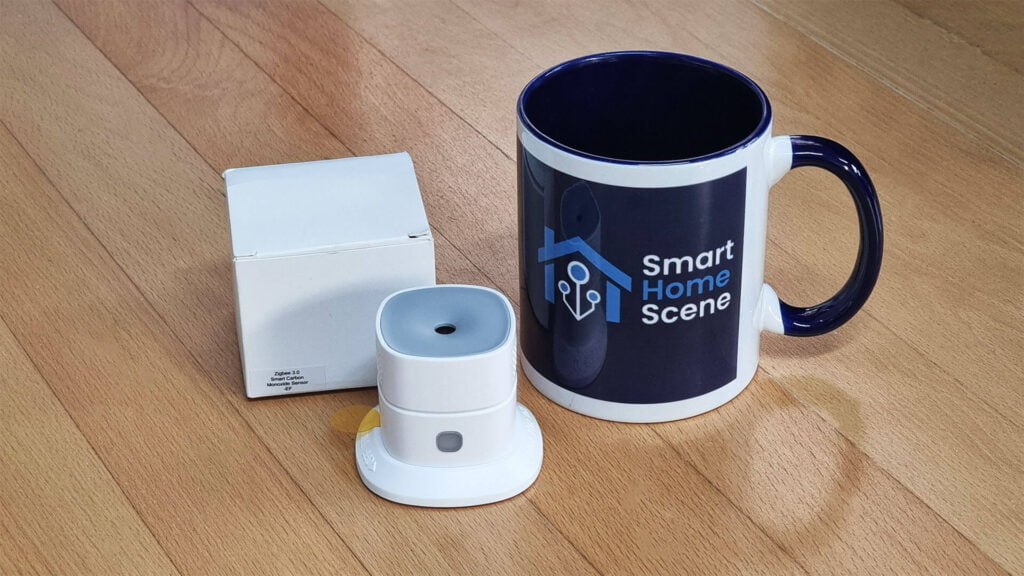 About Carbon Monoxide
A quick word about Carbon Monoxide and why you might want to monitor it's concentration:
Carbon monoxide (CO), is an odorless, colorless, tasteless, poisonous gas.
It is produced any time a fossil fuel is burned and it can cause sudden illness and death.
CO is found in fumes produced of burning fuel in cars or trucks, small engines, stoves, lanterns, grills, fireplaces, gas ranges, or furnaces.
CO can build up indoors and poison people and animals who breathe it.
The most common symptoms of CO poisoning are headaches, dizziness, weakness, upset stomach, vomiting, chest pain, and confusion.
People who are sleeping or drunk can die from CO poisoning before they have symptoms.
Therefore, it is a good idea to monitor CO concentration if you regularly find yourself in proximity of any CO sources.
Technical Specification
Model: HS1CA-E
Connectivity: ZigBee 3.0
Power: DC3V (CR123A Lithium Battery)
Standby Current: <20uA
Alarm Current: <60mA
Alarm Sound: <85dB/3m
Alarm Sensitivity:

30ppm – 120min
50ppm – 60-90min alarm
100ppm – 10-40min alarm
300ppm – 3min alarm

Working Temperature: -10°C + 50°C
Working Humidity: up to 95%RH
Dimensions: 60x60x49mm
Certification: CE, RoHS, FCC, CCC, EN14604, TÜV
Disassembly
The Heiman Carbon Monoxide Sensor comes packaged in box containing the sensor, a mounting bracket, a manual of operation and a set of screws and sticker for installation.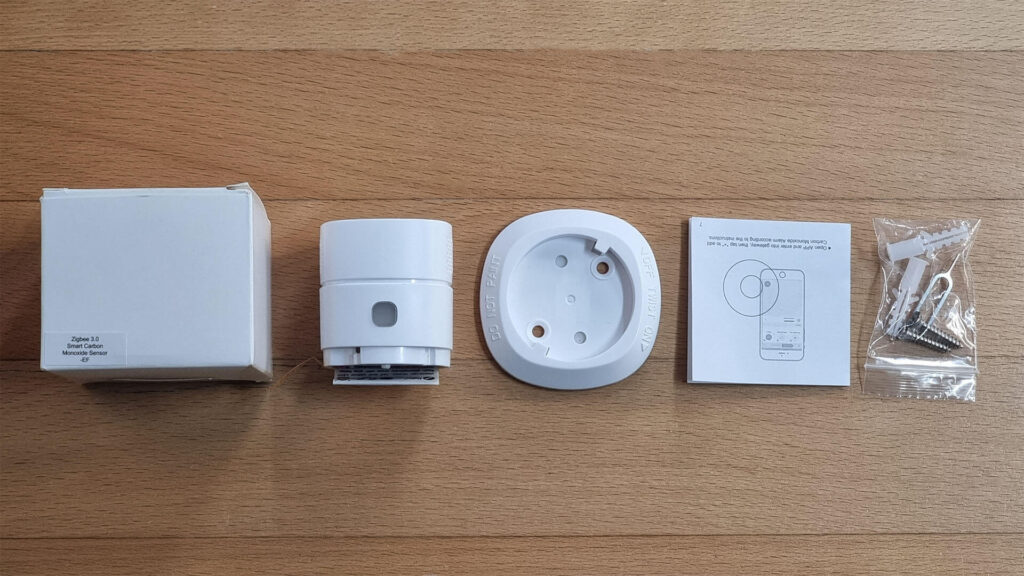 My first observation would be that the case of the Heiman Carbon Monoxide Sensor is nearly identical as their Smoke Sensor, the only difference being a meshed ring on the latter for more air/smoke intake. Normally, this kind of practice in Chinese companies indicates they are trying to cut costs by repurposing product cases.
This may as well be the case with Heiman, however this time I appreciate the uniformity they bring to your home by being the same. Meaning, when you install both of them on your ceiling they will look very neat and part of the same smart ecosystem. Both products won the Red Dot Design Award [Smoke Sensor, CO Sensor] in 2017.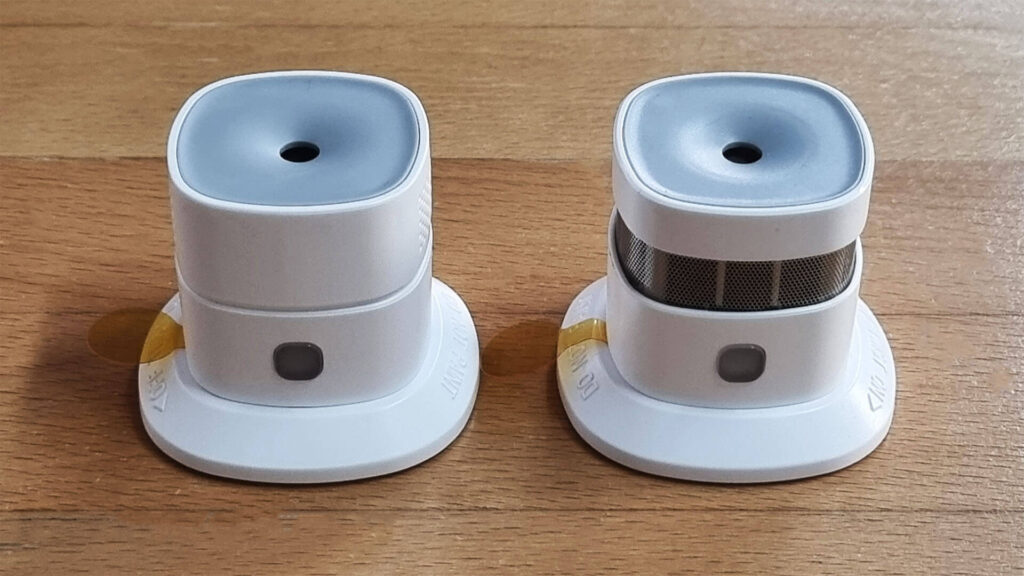 Underneath the mounting bracket, 4 screws hold the case together. When opened, the first thing you notice is the alarm siren connected with a 3 pin JST connector to the main PCB. The second thing is the button battery looking carbon monoxide sensor in the middle of the PCB.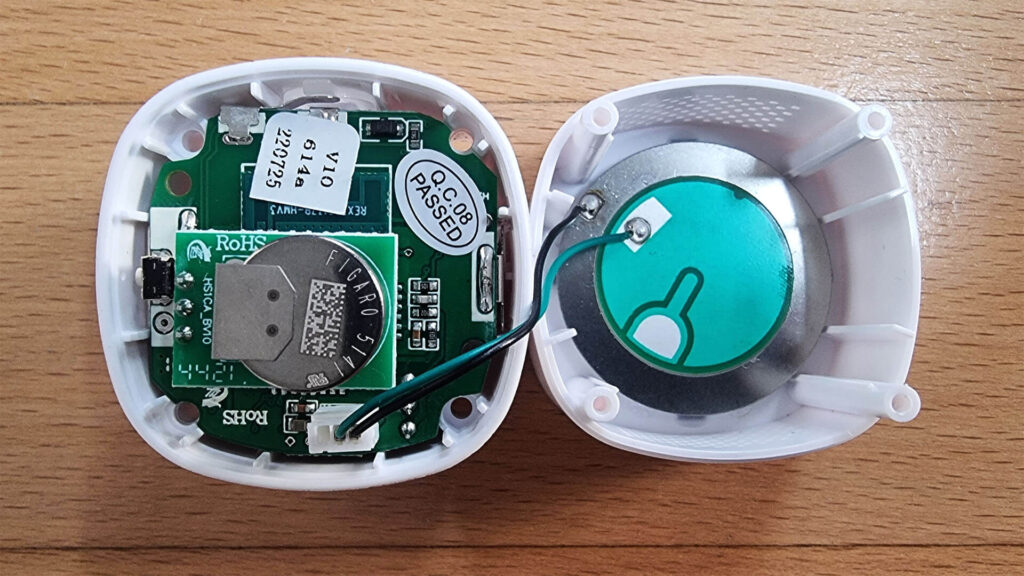 The sensor itself is model Figaro 5141 [Datasheet], a battery operated electrochemical sensor developed by Japanese company Figaro Engineering Inc. which specializes in gas sensors with more than 50 years of experience.
This particular model, detects CO within 0 ~ 5,000ppm range with a life span of 10 years, per manufacturer. While traditional CO detectors use a water container for detecting CO concertation, this model uses an unique electrolyte undisclosed by the company to detect CO more efficiently and effectively, resulting in its miniscule size and long operating life.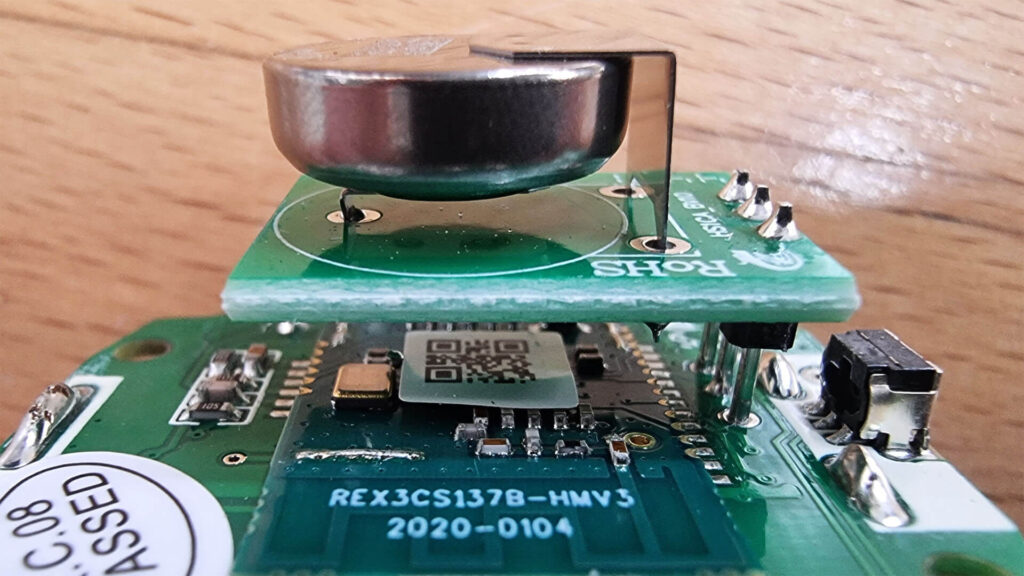 Underneath the sensor, the Zigbee module is soldered to the main PCB. It's model Rex3 [Datasheet] developed by a company called Canatek based out of Ontario, CA. This is the first time I'm encountering these Zigbee modules, so we'll see how they behave in a Zigbee mesh network.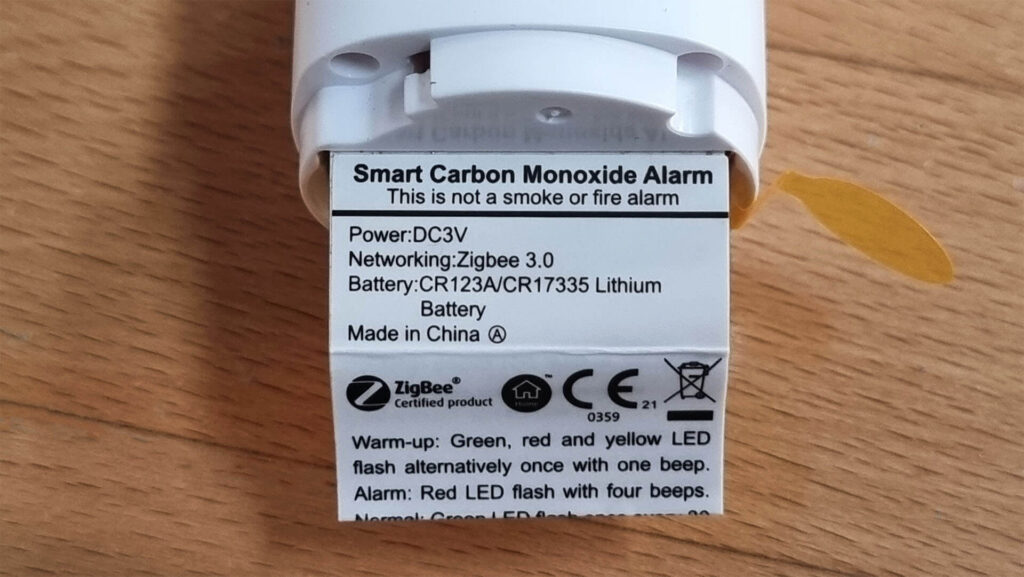 The package includes a DV3V battery model CR123A [Amazon, AliExpress] which can also be replaced with a CR17335 battery [Amazon, AliExpress].
Installation
Much like the Heiman Smoke Sensor HS1SA-E, this CO sensor is easy to install. Just stick it to your ceiling or wall, or use the screws for a more secure connection. Here an image from the manual: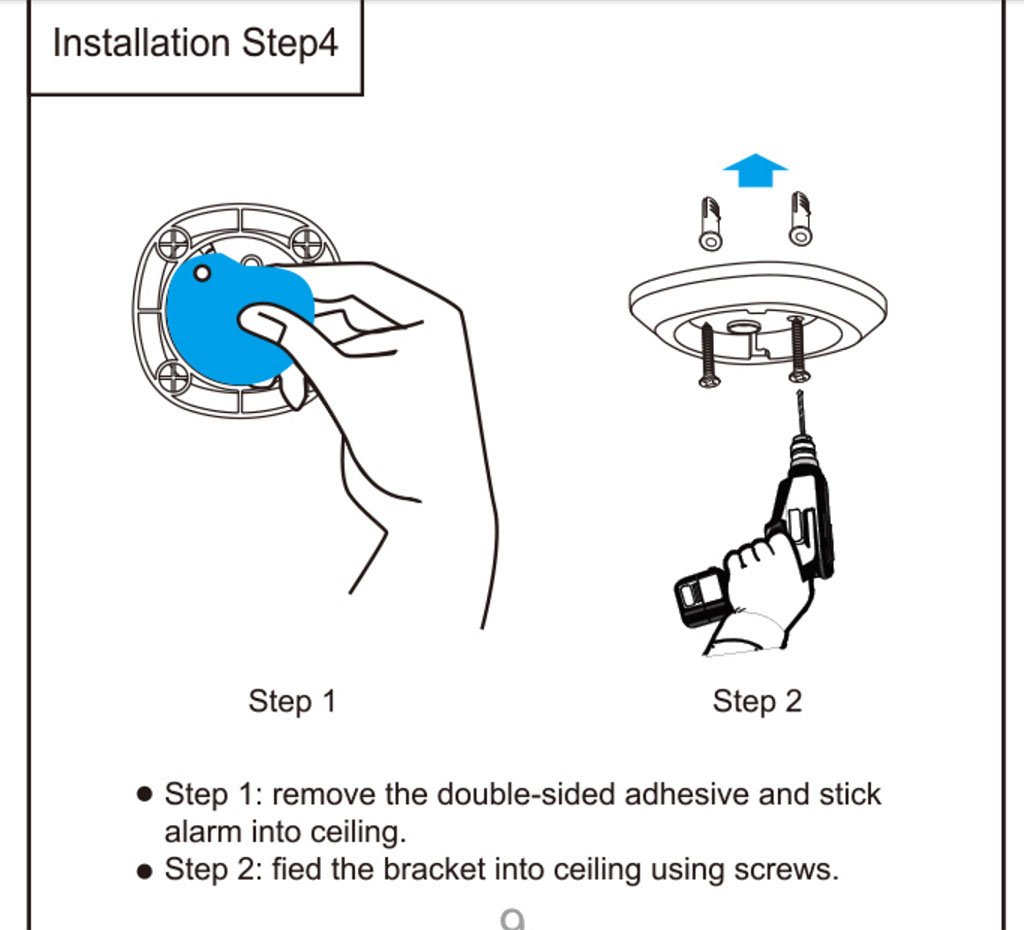 A few bullet points to ensure effective operation of the sensor:
Avoid wet, humid, high voltage or magnetic environments
Clean the sensor regularly

Use soft brush or vacuum cleaner
Do not use cleanser or wet wipes
Do not spray aerosol, air refresher directly at device

Battery life is maximum of 3 years
Sensor life is maximum of 5 years
Home Assistant Integration
The Heiman Carbon Monoxide Sensor is officially supported in ZHA (Partially), Zigbee2MQTT and Deconz. To pair it, use the small pin to push the button on the side for ~5sec until the LED starts blinking rapidly.
ZHA
In ZHA, the Heiman CO Sensor is identified as COSensor-EF-3.0 by manufacturer HEIMAN. The main binary_sensor entity is labelled as iaszone, which means a custom quirk not applied or developed for it. However, the device functions properly and when CO is detected the binary_sensor entity is updated correctly.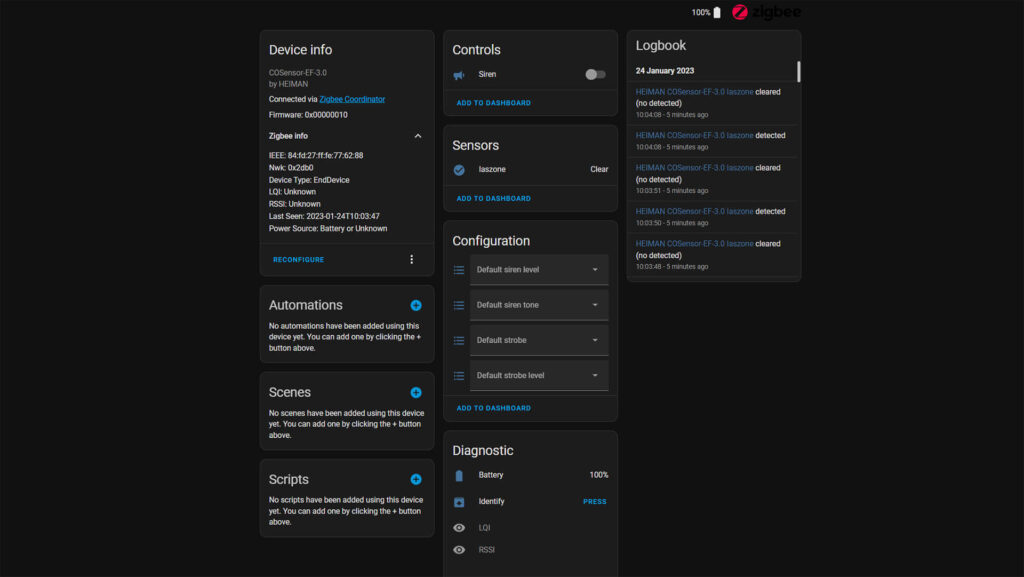 The siren entity also does not toggle anything, as it is impossible to manually trigger the siren of the Heiman CO Sensor. The reason there isn't a custom quirk already developed for this device is because this is latest Zigbee3.0 version, the first generation is identified as CO_CTPG and there already is a quirk for it.
Zigbee2MQTT
Unlike ZHA, the sensor is fully supported in Zigbee2MQTT exposing all it's clusters.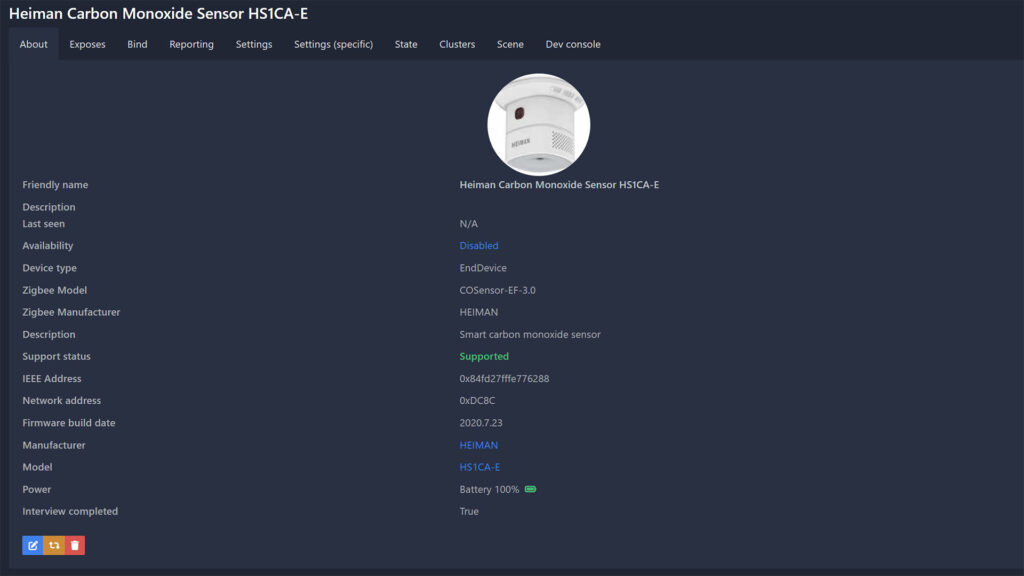 Once paired to Zigbee2MQTT, the device is identified as model COSensor-EF-3.0 by manufacturer HEIMAN. Considering it is a battery operated sensor, it is correctly labelled as an EndDevice and cannot route Zigbee traffic.
It exposes the following entities in Home Assistant through Zigbee2MQTT:

binary_sensor:

carbon_monoxide: Indicates if CO (carbon monoxide) is detected. True/False.
battery_low: Indicates if the battery of this device is almost empty.

sensor:

battery_percentage: Remaining battery in %

linkquality: Signal quality in LQI
Initial Testing
Before you can rely on this Carbon Monoxide sensor, you need to make sure it is in working order. These two images explain what the LED indicator blinks mean and how to test the device: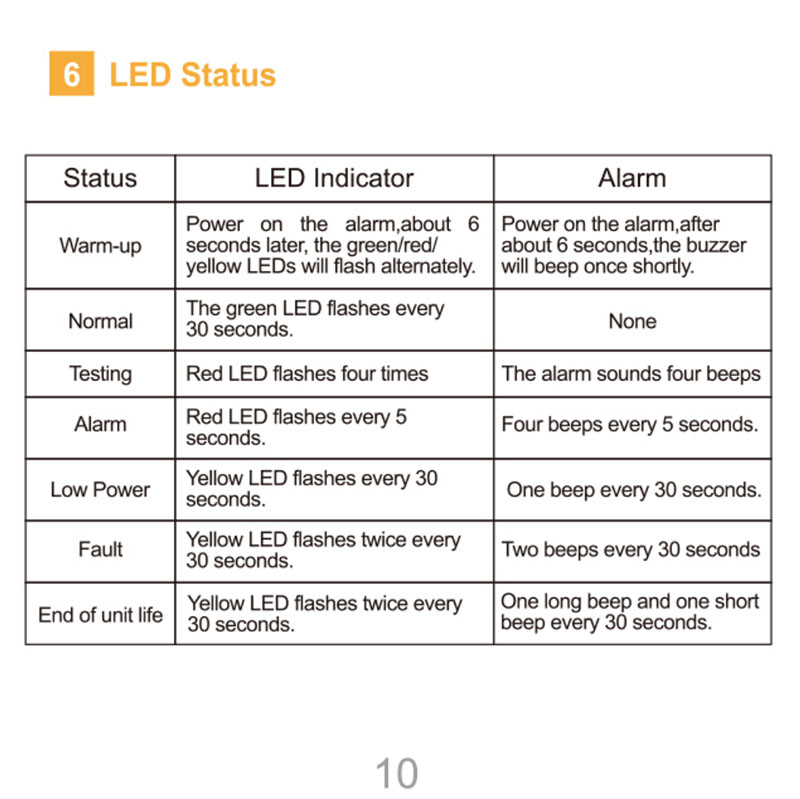 When you press the button and get four beeps from the siren, it means the sensor is in working order. Heiman suggests testing the device once a week but I feel this is a little overkill.
Even though Pairing mode is not listed in the table, the LED flashes very fast when the button is held for ~5seconds. This means the device is ready to pair to your coordinator.
Real Testing
To test the real life response of the Heiman Carbon Monoxide Sensor, I decided to create two scenarios within my home:
Test response in my garage with car running
Test response in my basement with pellet stove burning
If this might of interest to anyone, I am running the Sonoff ZBDongle-E flashed with an experimental firmware in Zigbee2MQTT, specifically ncp-uart-sw_7.1.1.0_115200.gbl. I flashed this custom firmware for testing and research purposes of the EFR32MG21 dongle. This firmware is suppose to solve a bug where EndDevices drop out of the network (eg. Aqara).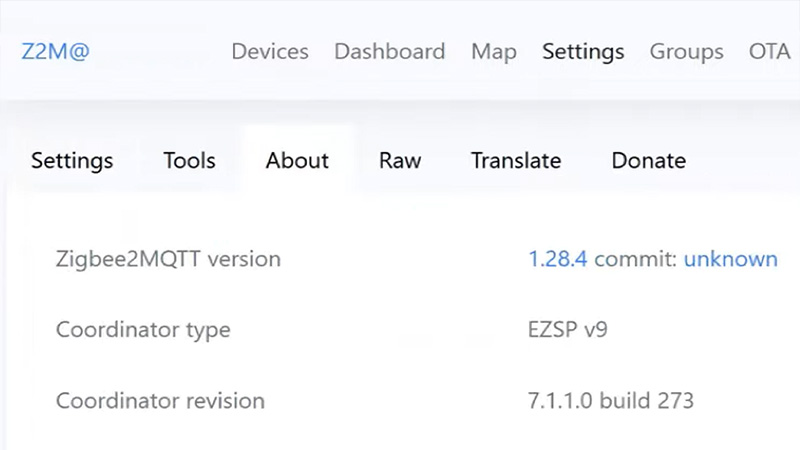 Note: The firmware is completely experimental, I suggest you stay away from it until bugs have been ironed out.
Garage Test
I mounted the sensor on my garage ceiling, directly underneath my vehicle. My garage is 3.2m wide, 4m long and 2.75m high, which translates to just above 35.2m3 air quantity. I ventilated it completely before testing, by opening the main garage door for 1 hour. I repeated the test 3 times over the corse of 3.5 hours:
Test 1: Car Engine (Diesel)
---
Signal Quality: ~200LQI
Ventilated: 100%
CO Source: Car Idling
Response:

CO Detected in 10 minutes
Test 2: Car Engine (Diesel)
---
Signal Quality: ~200LQI
Ventilated: 60%

Not sure, did the test maybe too quickly

CO Source: Car Gentle Revving
Response:
Test 3: Car Engine (Diesel)
---
Signal Quality: ~200LQI
Ventilated: 100%
CO Source: Car Idling
Response:

CO Detected within 9 minutes
As soon as CO was detected, I immediately opened the doors to ventilate the garage. I left the sensor outdoors
Basement Test
For the basement test, I mounted the Heiman CO Sensor on the ceiling above a central pellet heating stove. The stove has an intake fan which feeds oxygen to the fire, dissipating CO2 and CO in the surrounding air in return. The basement is small 2.5x3x2.2meters, just enough to accommodate the pellet burner and some tools. This is around 16.5m3 of air quantity.
My basement has a small fan installed in the corner for ventilation purposes, because it can get very heavy down there, especially when it's been burning for more than 16hours. I repeated the test 2 times:
Test 1: Evening Test
---
Signal Quality: ~160LQI
CO Source: Pellet Stove (Max power)
Ventilated: No
Response:

CO Detected in 70 minutes
Test 2: Morning Test
---
Signal Quality: ~160LQI
CO Source: Pellet Stove (Mid power)
Ventilated: 100%
Response:

No CO Detected after 24hours
In the second test, the fan did a great job and ventilated my basement so no CO was detected, even after 24 hours of deployment.
Verdict
The Heiman Carbon Monoxide Sensor did a good job of reporting Carbon Monoxide presence in my tests. The siren beeps intermittently until you manually click the button or the CO levels drop bellow a certain threshold. This is completely independent of Zigbee connectivity: It will alarm you whether it's paired to a coordinator or not.
I have to be honest, I am not 100% confident whether or not my test results are accurate and reliable. When I tested the Heiman Smoke Sensor, it was easier to setup but CO concentration is harder to test for, especially since the Heiman CO Sensor does not report CO levels, just triggers a binary sensor on/off. What you take from my tests is completely up to you.
The question remains, will this device be able to inform you of high CO levels so you can react accordingly?
The answer is I'm not 100% sure and would highly suggest you conduct your own testing before you can rely on this CO sensor. I like to believe it's a capable device because of two things:
From my personal experience, Heiman seems like a good and reliable company
Figaro Engineering Inc, the Japanese company from Osaka that developed the CO sensor has over 50 years of experience in developing exclusively gas sensors. It was founded in 1969.
As far as Zigbee communication, the device operated without issues, communicating through two different Tuya routers in my setup. It operated without any hiccups and the siren is very loud and clear, it's the same one as in the Smoke Sensor. I like the uniformity these two devices bring to any smart home ecosystem.
Heiman Carbon Monoxide Sensor HS1CA-E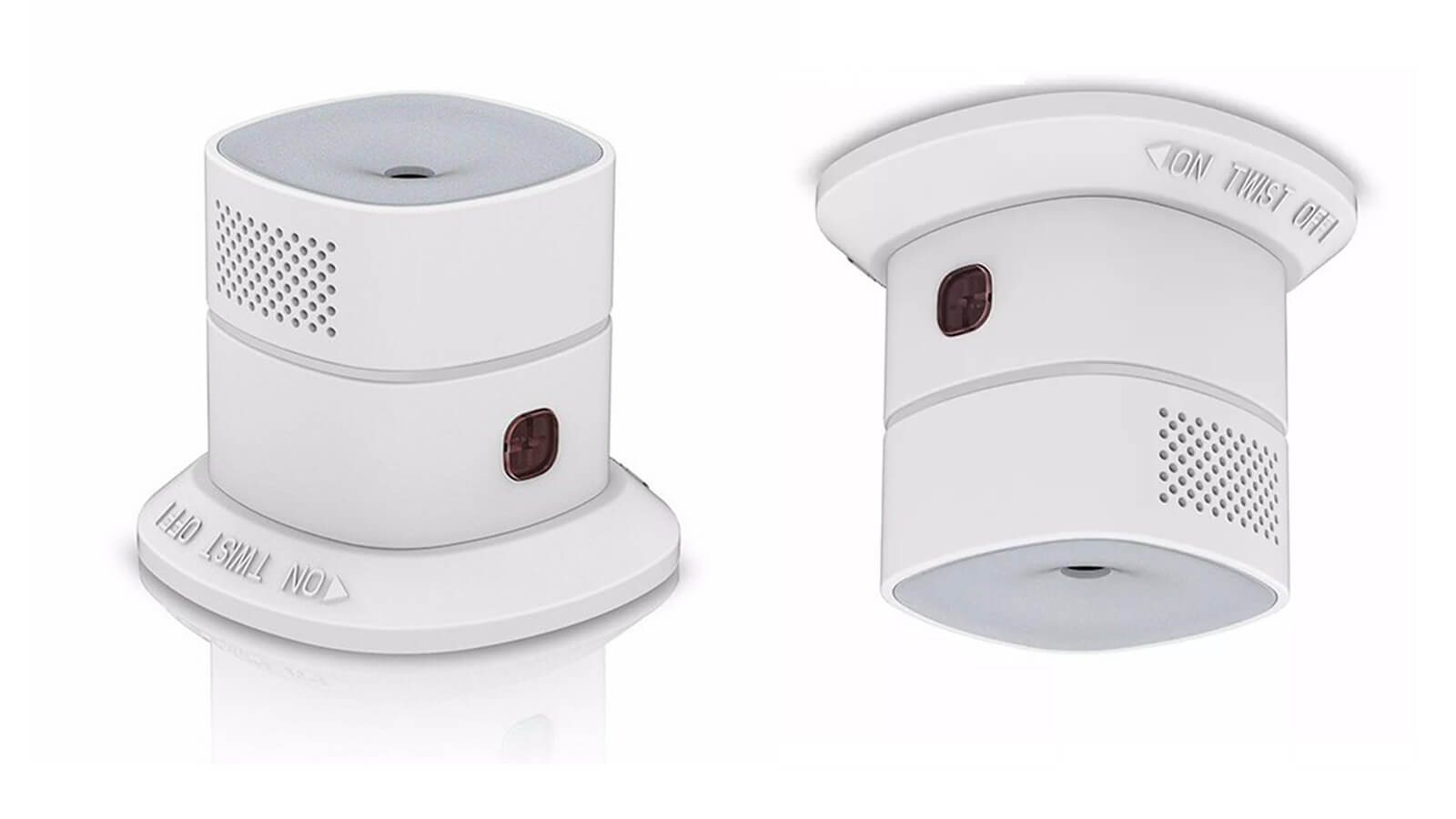 AliExpress | AliExpress | AliExpress | AliExpress




(Standalone ONLY)
United States | Canada | United Kingdom
Germany | Netherlands | Sweden | Spain
France | Italy | Poland | Australia
*If links fail to open, try disabling your AdBlocker.


AliExpress | AliExpress | AliExpress




(Standalone ONLY)
United States | Canada | United Kingdom
Germany | Netherlands | Sweden | Spain
France | Italy | Poland | Australia
*If links fail to open, try disabling your AdBlocker.
If you would like to order the Heiman Zigbee CO Sensor or their Zigbee Smoke Sensor, please consider using our affiliate links above. Helps us keep the blog going at no additional cost to you. Thank you!