---
MoesHouse Dimmer Switch is one of the most beautiful smart dimmers you would ever install in your smart home. It comes in two variants, as a Rotary Dimmer Switch and as a Touch Dimmer Switch, both available on Wi-Fi & ZigBee. It is manufactured by company Earda Technologies Co. and sold under various brands. In this review, we are going to examine the ZigBee Touch Dimmer variant sold by MoesHouse, its features, Home Assistant Integration and compatibility.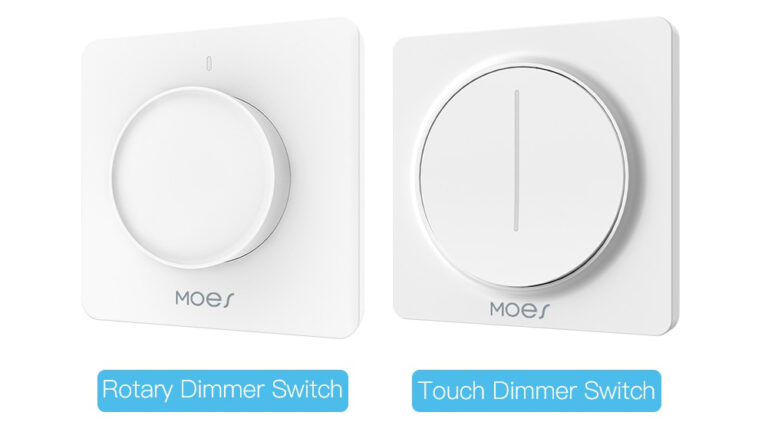 Technical Specification
Input Voltage: AC 110/240V, 50/60Hz
Neutral (N): Required
Inductive Load (LED/CFL): max. 220W
Resistive Load (Incandescent): max. 300W
Communication: Wi-Fi 802.11 b/g/n 2.4GHz or ZigBee IEEE 802.15.4 2.4GHz
ZigBee Device Type: Router
Dimming Control: TRIAC Edge Cut
Working Temperature: -10℃~45℃
Product Size: 86x86x53.5mm
Output Channels: 1 Channel
Button Life: 500k clicks
App: Tuya/Smart Life
MoesHouse Zigbee Rotary/Touch Dimmer
---
*N/A links will be added when available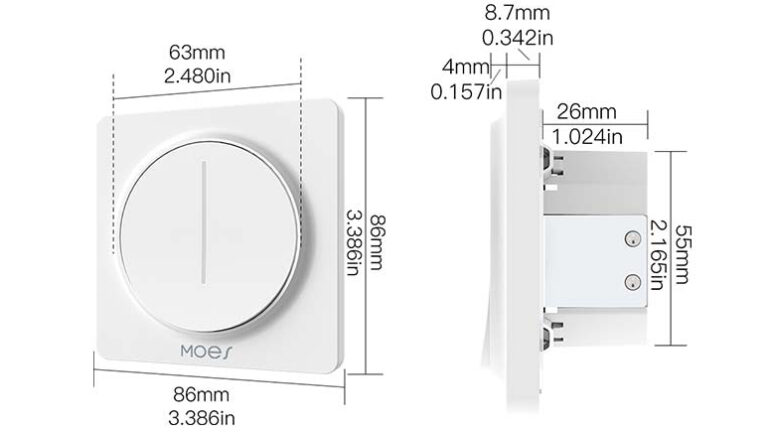 Features
Unlike other dimmers, which usually have several buttons for toggling, increasing & decreasing brightness, this device features an elegant and subtle click button with a thin touch line for setting brightness levels. The button is located at the bottom of the round circle design and offers a distinctive, yet gentle click when toggling the light. The panel is built from high-quality flame retardant PU plastic. The rotary version has a knob for setting brightness and acts as a toggle switch when pressed.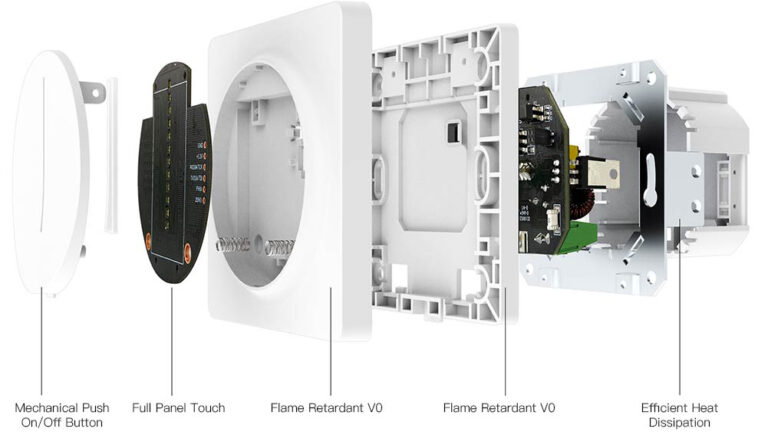 To adjust brightness, you just slide your finger up or down the touch line and the connected light follows your input. The thin touch line has an indicator of the current brightness set. It also remembers where the brightness was set when turned off, showing it with a small dot on the line.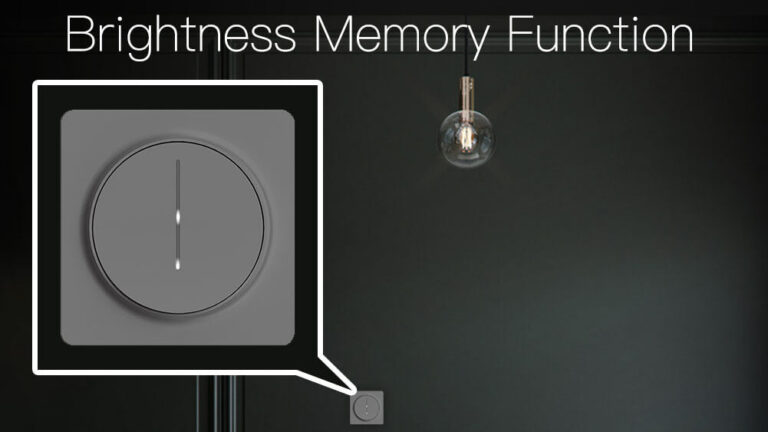 Wall Installation
If you have a N-Neutral wire available in your switch box, the installation of this dimmer switch is fairly easy.
Connect the Live Wire (L) to the L Terminal of the Module
Connect the Neutral Wire (N) to the N Terminal of the Module
Connect the L1 Terminal to the output wire going to your light
(Optional) If you have a Ground Wire (G) available, connect it to the G Terminal
The ground wire carries electricity out of the circuit in an event of a shock/short circuit.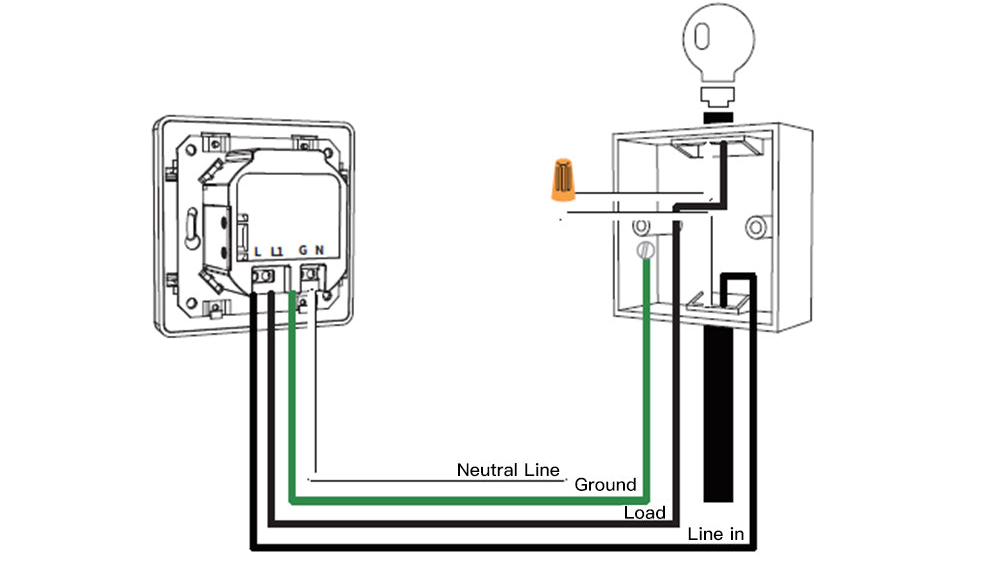 In my case, the N – Neutral wire was not available in the switch box and had to be rewired by an electrician using what we had in the wall, hence the jumbled colors on my wires, ignore those and always check which wire is which in your case. In a default switchbox, the L-wire is brown, the N-wire is blue, the L1-wire is black or red, the G-wire is yellow/green.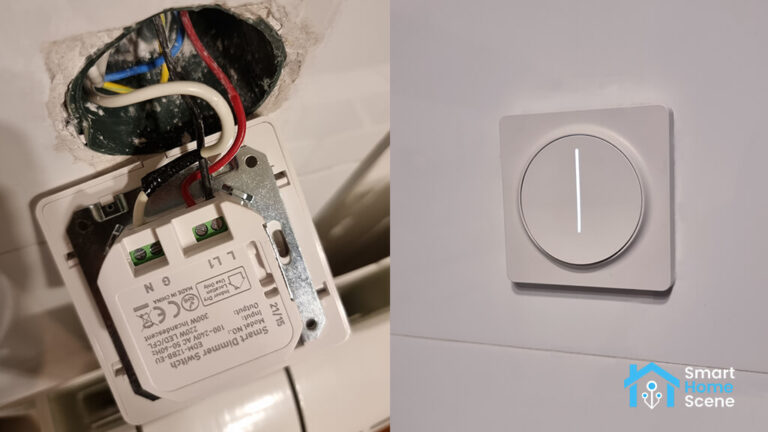 Important: Be careful when removing/inserting the front touch panel from the switch module. The touch panel has these small pins (see image) that complete the circuit and can easily break/bend if you push them hard at a wrong angle. They should be places straight at 90 degrees until you hear the panel click in place.
Integration Compatibility
As of this writing of this article, the MoesHouse Touch Dimmer Switch is officially supported in all ZigBee Integrations in Home Assistant: ZHA, ZigBee2MQTT, Deconz. In this review, we will examine its compatibility with each integration.
ZHA
The MoesHouse touch dimmer is fully compatible with ZHA. To pair it to your coordinator, open ZHA in Home Assistant, press + Add Device to start scanning for new devices. Press and hold the button until the small LED on the touch line starts flashing. ZHA will discover the dimmer and prompt you to give it a name and assign an area to it. Once paired, ZHA exposes the following entities to Home Assistant:
Light Entity: Toggle On/Off, Set Brightness.
Link Quality: Signal Strength in LQI
Note: When I tested the dimmer paired through the ZHA integration, I encountered a strange issue. Whenever I used the brightness slider to change brightness, the slider would jump around 2-3 times and the light flicker before settling in on the input I gave it. I re-paired it again and the issues persisted. Only on the third try, and with a couple of restarts of Home Assistant (to rebuild the ZigBee mesh) did the brightness setting worked as it should.
ZigBee2MQTT
When pairing the dimmer switch in ZigBee2MQTT, it was discovered immediately and configured automatically. It was discovered as model TS0601_dimmer and ZigBee Manufacturer TZE200_dfxkcots. It exposes the same entities as the ZHA integration.
Light Entity: Toggle On/Off, Set Brightness.
Link Quality: Signal Strength in LQI

Besides the basic settings of the integration, It offers no other specific settings to configure.
I encountered no issues with the ZigBee2MQTT integration when using this touch dimmer, it worked as it should out of the box. Setting brightness was instant and responsive, and the touch line of the dimmer itself followed my input from Home Assistant immediately.
Deconz
This module switch is partially supported in Deconz. It exposes the same entities as ZHA & ZigBee2MQTT, but in some different sub-models users reported that brightness cannot be controlled via Home Assistant. Dimming the light simply toggles the light on/off. We suggest switching to ZHA or Z2MQTT for full integration. See more HERE.
Others users reported their dimmer works properly with Deconz.
Different Brands
This dimmer is manufactured and produced by Earda Technologies Co. You can find it being sold on the market by various brand names, such as MoesHouse, Girier, Lonsoho, Zemismart which can be identified under different model variants in ZHA & ZigBee2MQTT. The good news is every model is supported in the integrations, so in this case, the branding does not matter as it is the same device 99%.
EDM-1ZBA-EU: ZigBee ID: TS0601, _TZE200_9i9dt8is, _TZE200_dfxkcots
EDM-1ZAA-EU: ZigBee ID: TS0601, _TZE200_0nauxa0p, _TZE200_dfxkcots
EDM-1ZBB-EU: ZigBee ID: TS0601, _TZE200_9i9dt8is, _TZE200_dfxkcots
Verdict
Even though this review addresses only the ZigBee Touch variant, the Rotary Variant carries identical hardware for connectivity and control, but instead of the touch panel it has a rotary knob. It pairs and works the same with ZHA & ZigBee2MQTT. Which version would you pick-up is purely a cosmetic and convenience choice. I would recommend going for the touch variant, because it looks beautiful, it controls smoothly and the LED indicator is a big plus.
The brightness touch line on the front panel, looks stunning at night, even when turned off. The button provides nice, tactile feedback, so you always know you've clicked it.

I am advising against the Wi-Fi variant, because this dimmer carries an official TuYa firmware and you would have to use the official TuYa integration to use it with Home Assistant. If this is not an issue to you, feel free to get the Wi-Fi version.

Note: Official TuYa integration is cloud dependent! This dimmer is not yet supported in the Local Tuya integration.
If you decide to order this device, please consider ordering through one of our affiliate links bellow.
MoesHouse Touch/Rotary Dimmer ~ $25
---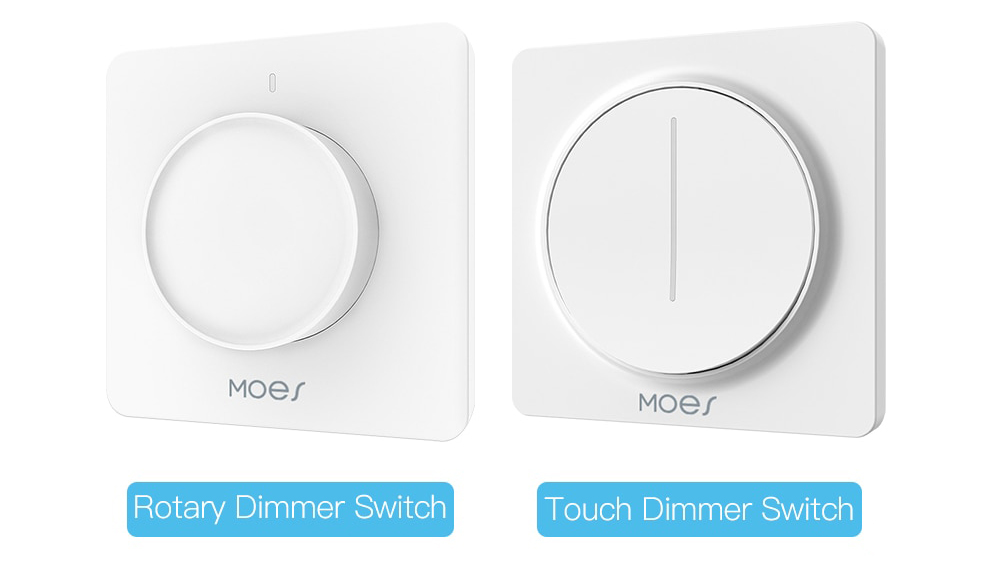 ---
*N/A links will be added when available