---
UPDATE: There were a lot of responses and feedback regarding these Tuya Plugs – TS011F. Apparently the plugs would turn off randomly after a day or two. In our initial testing, the plugs would work fine, but considering many users reported this issue we decided to test them a bit more in-depth ourselves. We ordered from 3 different vendors and setup the following testing environment:
Only plugged in wall with no end device attached; left ON for 2 weeks
Plugged in wall and low-consumption device (router) attached; left ON for 2 weeks
Plugged in wall and high-consumption device (washing machine) attached; left ON for 2 weeks
In the first scenario, the plug would sometimes turn off randomly. This would happen approximately every 2 days. Please note the device was still able to function as a router in a ZigBee mesh network.
In the second scenario, the plug NEVER turned OFF. This was, we assume, because of constant current flowing through it.
In the third scenario, the plug NEVER turned OFF. Because a washing machine is used intermittently, and idle power draw is almost non existent (too small, if any) we assumed it would automatically turn off when the machine is not used for 2 days. But, it never did even after 3 days. Power consumption in Z2M when idle remained 0 (not detected).

To validate the results, after 1 week we swapped the plugs around. Results were indentical.
TLDR:
If the TS011F plug was plugged in and turned on, with no device attached to it (no current flowing) it will sometimes turn off randomly
If the TS011F plug was plugged in and turned off, with device attached to it (current flowing) it will never turn off randomly
Tuya Smart Plug 16A – TS011F is one of the cheapest smart plugs on the market that includes power monitoring. In this short article, we are going to examine how good it actually is, Its accuracy and Home Assistant ZigBee Integration.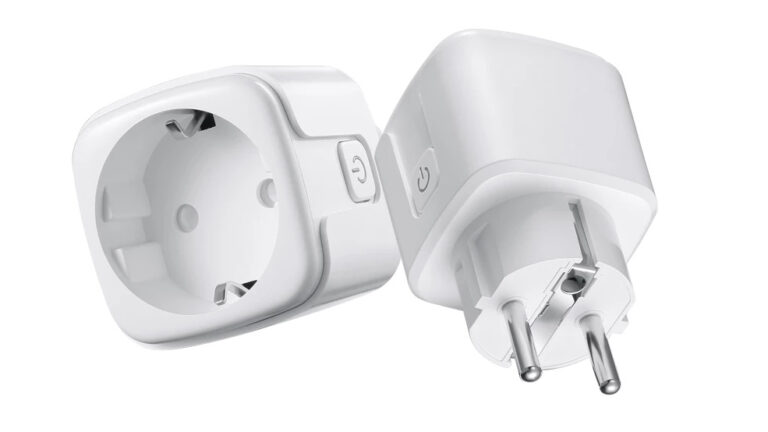 Technical Specification
Input Voltage: AC 110/230V, 50/60Hz
Rated Current: 16A
Max. Power: 3680W
Shell/Material: PC+ABS
Fireproof Level: V0
Working Temperature: -20~45C
Product Size: 50x50x84mm
Connection Type: ZigBee 3.0
Certification: CE/ROHS
App: Tuya/Smart Life
ZigBee Device Type: Router
Note: Please remember that this plugs maximum rated current is 16A and maximum power is 3680W. It is perfectly fine for installing on most home appliances. But to be safe, be sure to check that your appliances technical specification is within these limits.
Integration Compatibility
As of this writing of this article, the Tuya Smart Plug model TS011F is officially supported in all ZigBee Integrations in Home Assistant: ZHA, ZigBee2MQTT, Deconz. In this review, we will examine their compatibility with the Zigbee2MQTT integration.
Pairing with ZigBee2MQTT
To add this plug to your ZigBee mesh network, open Zigbee2MQTT and click Permit to join (All). It is best to pair it directly to your coordinator, and not under any other device you already have paired. The add-on will build the best possible path to the coordinator automatically. Note that this plug acts as a router, so if placed strategically it can improve the stability and performance of your ZigBee network. 
To pair this plug to your coordinator, press and hold the button for 5 seconds until it starts flashing. The LED will flash blue to indicate it is in pairing mode. If successfully paired, it will turn solid red. If the plug immediately turns solid blue, it means the pairing was not successful.

ZigBee2MQTT exposes 5 entities of this smart plug to Home Assistant:

Switch: Toggle On/Off
Power: Instantaneous measured power, published in Watt (W)
Current: Instantaneous measured electrical current, published in Amps (A)
Voltage: Instantaneous measured voltage, published in Volts (V)
Energy: Sum of consumed energy, published in Kilowatt Hour (kWh)
Power Outage Memory: Recover last state after power outage
Link Quality: Signal strength, published in LQI
Because TuYa is known to push firmware updates which sometimes cripple compatibility, keeping an eye of new model forks coming into the market is a good idea before purchasing. For example, this plug was first known in ZigBee2MQTT as TS011F_plug_1, but TuYa started producing it with firmware 1.0.5 which crippled its core functionality. This firmware disabled automatic reporting of power, current and voltage values which meant they had to be polled directly. The polling interval can be configured through the measurement_poll_interval option in ZigBee2MQTT.
If your specific use case needs live data, you will need to set the polling interval very low, to be able to see real time power consumption.
If you are using it to simply check how much energy your dishwasher used during its cycle, you can leave the polling interval to 30-60 seconds.
Power Metering Accuracy Check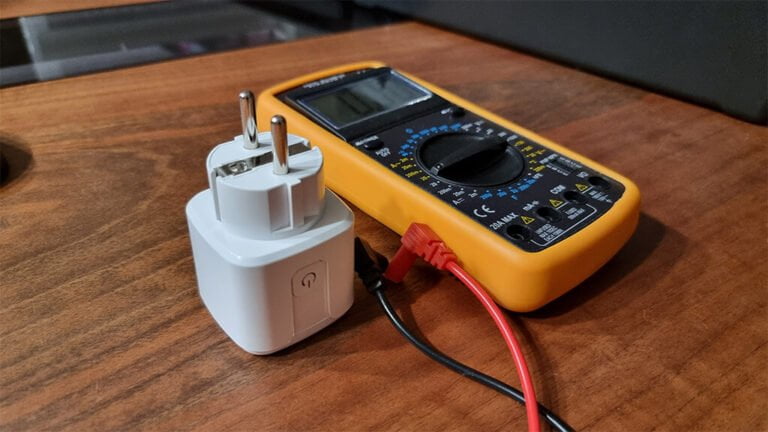 To check the accuracy of the TuYa smart plug, I used a couple of methods.
First method, I measured the voltage coming out of the wall with a multimeter, it read 230V. Then I connected a 40W Incandescent Bulb in series with the multimeter and measured its Amperage, the reading was 0.173. This gives us a total of 230×0.173=39.79W or ~ 40W. The reported wattage in ZigBee2MQTT was 40.2W. Which means the reading is correct, with an ignorable ~1.02% difference.

Second method, I installed the plug on my dishwasher and I collected data of three different types of dishwasher cycles. In my dishwasher manual, the exact power consumption of each of the cycles is stated by the manufacturer. For example:
| | | | |
| --- | --- | --- | --- |
| Cycle Type | Manufacturer | ZigBee2MQTT | Difference |
| Eco 50°C | 0.95kWh | 1kWh | 5.1% |
| Daily 50°C | 1.15kWh | 1.25kWh | 8.3% |
| Intensive 65°C | 1.60kWh | 1.71kWh | 6.6% |
The plug reported data with an average offset of 6.6%. This difference is noticeable, but could be due to the dishwasher running all night with its display on, which would draw just a little more power. It is also likely that the manufacturer reported numbers are an average measurement and not a static constant. Nevertheless, this brings me to a conclusion that the plug is fairly accurate for consumer grade usage. If you insist on 100% accurate measurement, you can always offset the values in ZigBee2MQTT itself.
Verdict
In my case, I've installed three of these TuYa smart plugs and paired them to my Conbee II coordinator in ZigBee2MQTT. There have been working without issues whatsoever for around 4 months. They act as a router, and if placed strategically can significantly improve your ZigBee mesh. Their power readings were fairly calibrated and accurate out of the box, and in my case no recalibration was needed. Considering the price, quality of build, integration compatibility and powering metering accuracy I would definitely recommend this plug as consumer grade smart home product. 
You can support this blog by ordering one from our affiliate links at no additional cost to you.
Note: TuYa products can be sold by a variety of Chinese brands, the hardware is completely the same.
Tuya Smart Plug 16A ZigBee
AliExpress Affiliate 1: https://s.click.aliexpress.com/e/_AfkBUd
AliExpress Affiliate 2: https://s.click.aliexpress.com/e/_ABdlmZ
Tuya Smart Plug 16A Wi-Fi
AliExpress Affiliate 1: https://s.click.aliexpress.com/e/_ADzlOD
AliExpress Affiliate 2: https://s.click.aliexpress.com/e/_99sYnr