---
Once you reach the point in monitoring your home's energy usage with Home Assistant, you can consider yourself an advanced user. Not that energy monitoring is difficult to implement, but it is a little more involved. For example, the Emporia Vue Energy Monitoring System in highly regarded as a quality device among the community, however if you truly want to use it locally you need to disassemble and flash it with ESPHome.
In my endless search for interesting smart home devices and gadgets, I came across this Tuya Zigbee Single Phase Power Metering Module with an 80A CT Clamp. It peeked my interest enough and I bought both this single phase model and the full 3 clamp version which I have not received yet, I will do a review on that one once it arrives.
As usual, I'm going to disassemble the device, install and test it's usage and integrate it in Home Assistant. This device cost me $22 on AliExpress but is unavailable on Amazon currently. The three phase version is on Amazon though, costs around ~$77.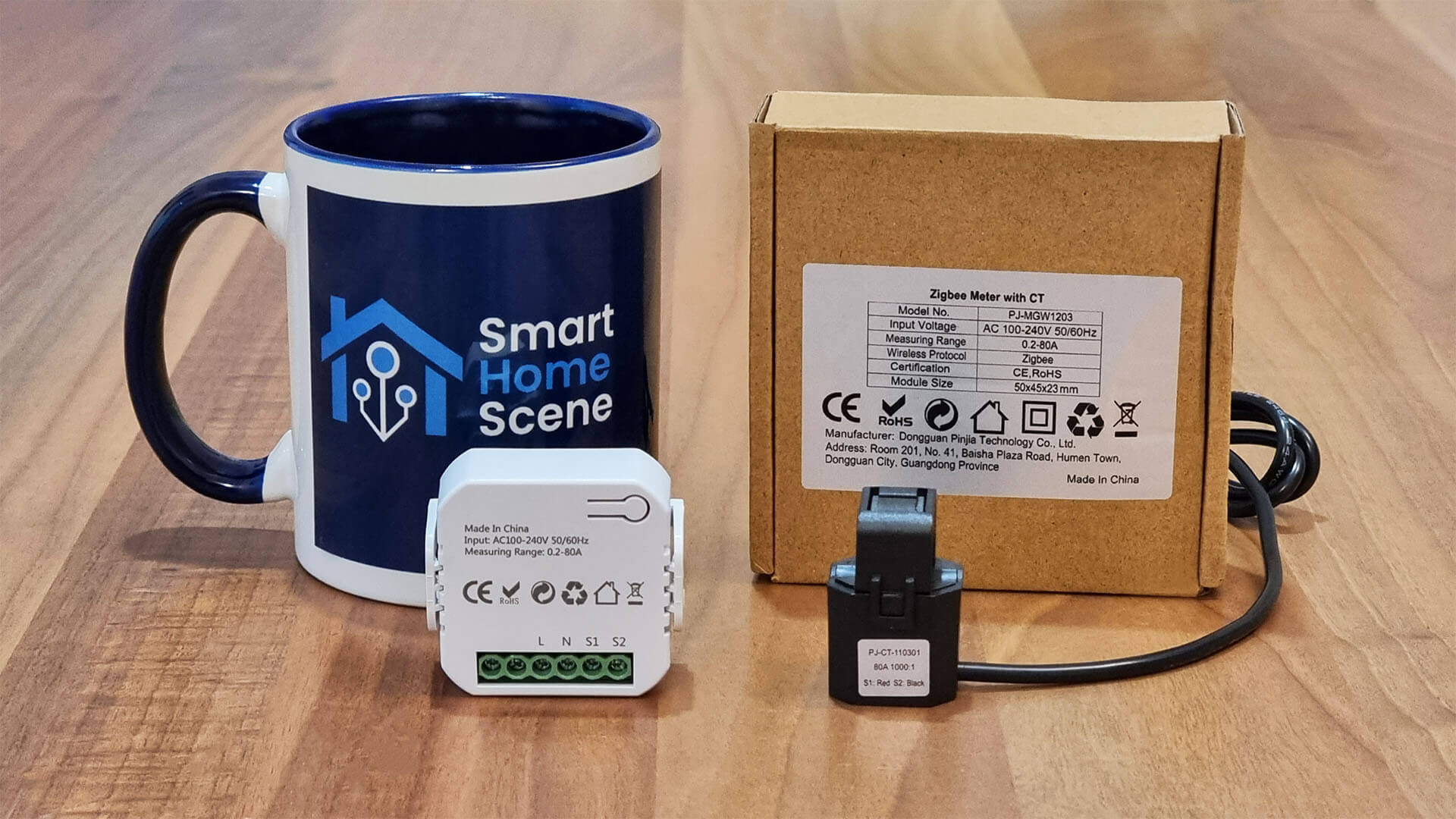 Technical Specification
Model: PJ-MGW1203
Clamp Model: PJ-CT-110301
Input: AC 100-240V, 50/60Hz
Measuring Range: 0.2-80A
Communication: Zigbee
Size: 50x45x23mm
Clamp Diameter: 10mm
Working Temperature: -10°C ~ 60°C
Disassembly
This Zigbee Single Clamp Power Meter module ships in a cheap cardboard box, with the module, the 80A CT Clamp, a manual and sticker inside the package. Parcel was beaten up a little, it happens frequently with China shipments but the device was undamaged.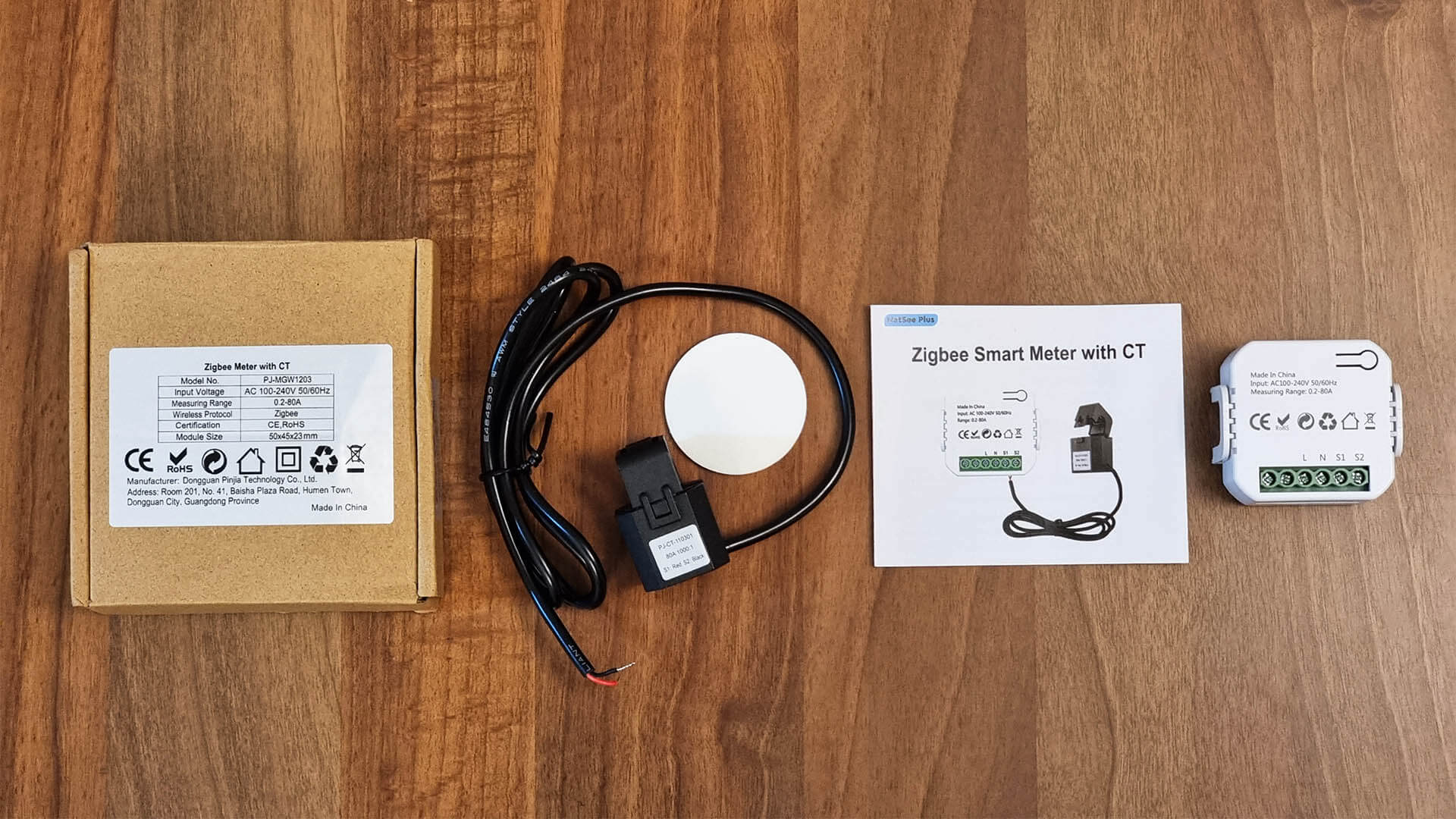 The case of the module looks and feels really familiar, Chinese manufacturer tend to reuse cases like these for many devices. This one has two terminals which are not used at all, so it's being recycled for something else, possibly a garage door or a curtain module. It does include a DIN rail clip though, for easy installation inside a breaker box.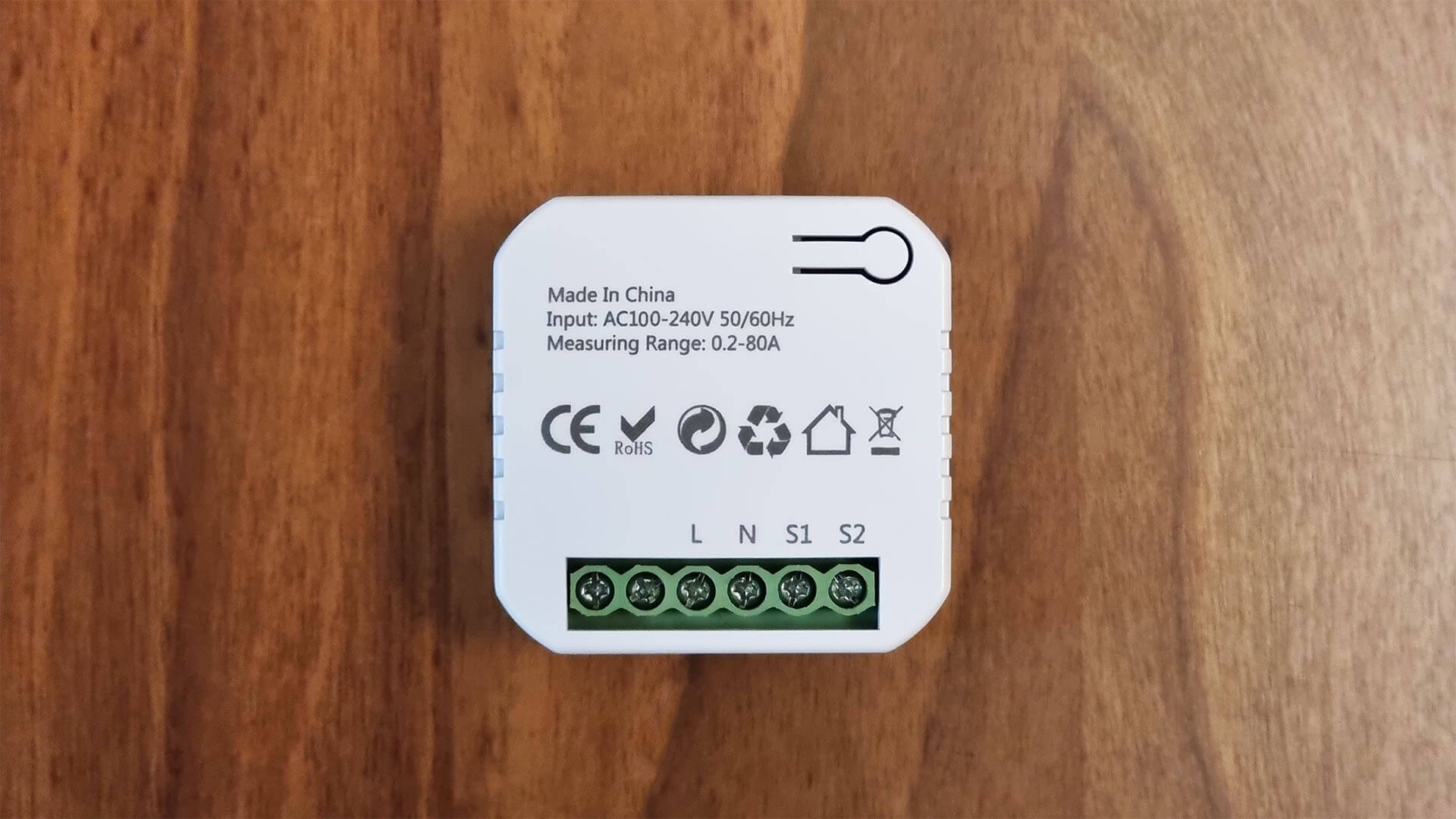 The main PCB inside is completely black, which is a recognizable characteristic of Aqara devices and not Tuya. This is purely cosmetical though, serves no purpose and is just an observation. The solder was solid and the screw terminals firmly set.
Zigbee communication is handled by a Tuya ZS3L Module [Datasheet] embedded with a 32-bit low-power Arm Cortex-M33 core, 768-KB flash memory and 64-KB RAM, which is based on a latest gen EFR32MG21 [Datasheet] SoC by Silicon Labs. I expect no communication issues with this module, although I will test it of course.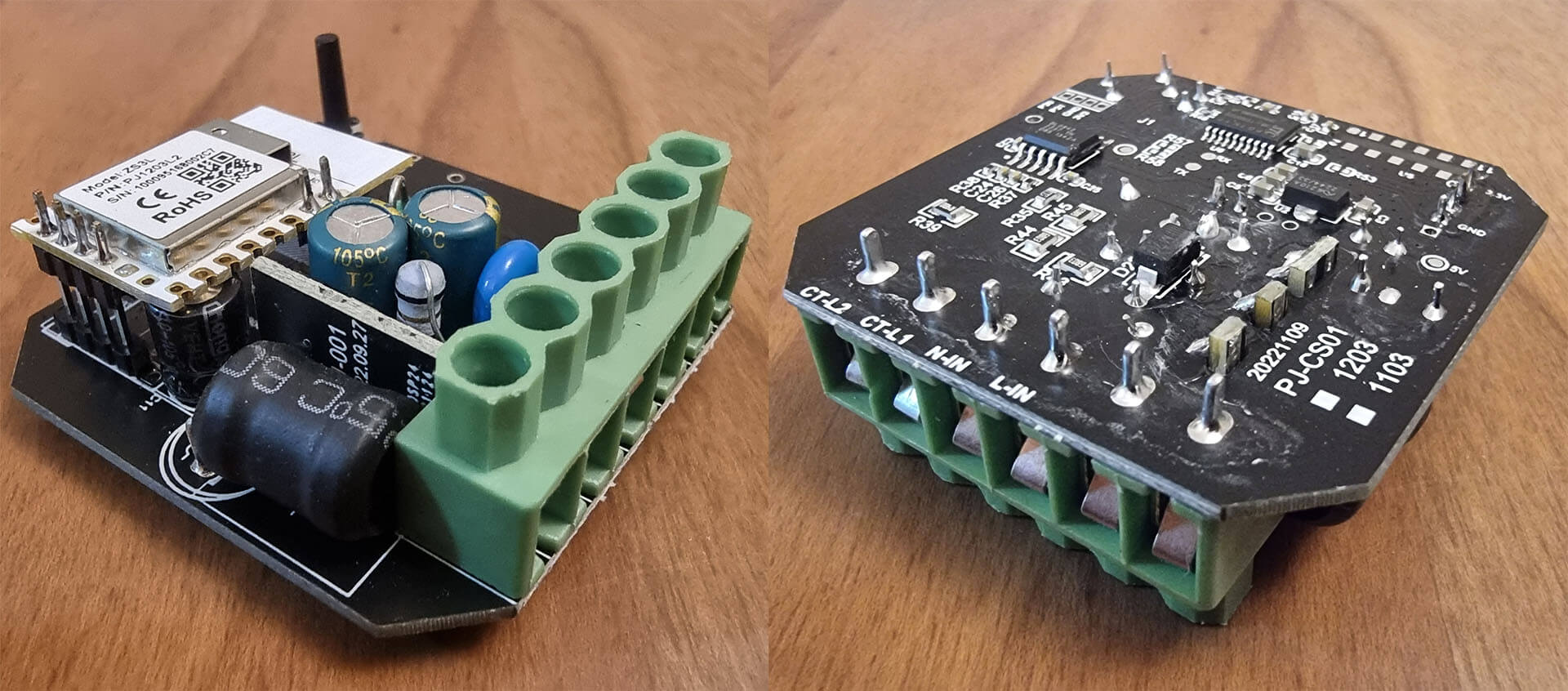 The 80A CT Clamp included was heavier and bulkier than expected when I first held it. It's labelled as model PJ-CT-110301, although I could not find out who manufactured it, so all that remains is to test and benchmark it.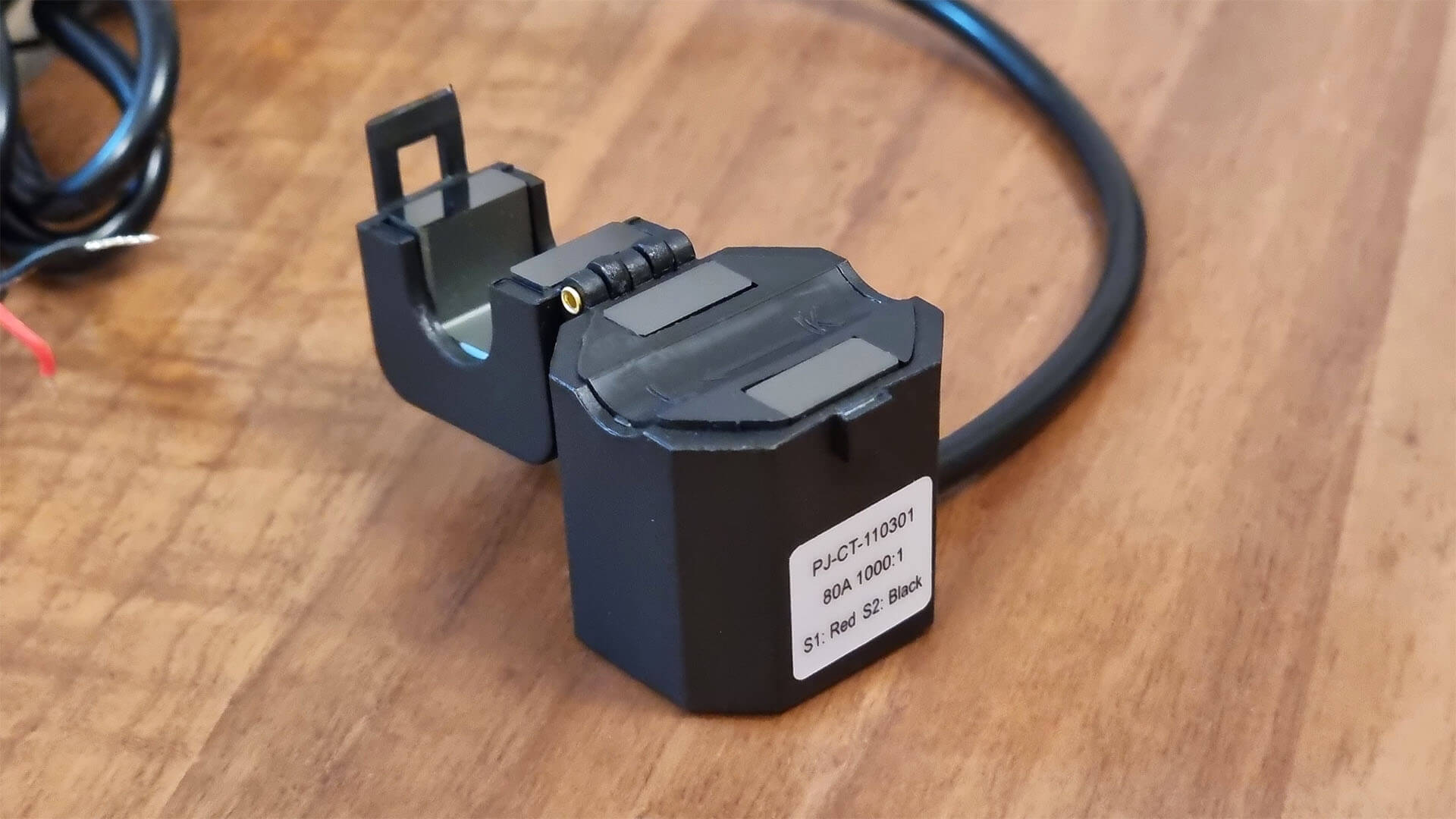 Installation
Installing this single clamp power meter is as simple as can be. A wiring diagram is included in the Manual: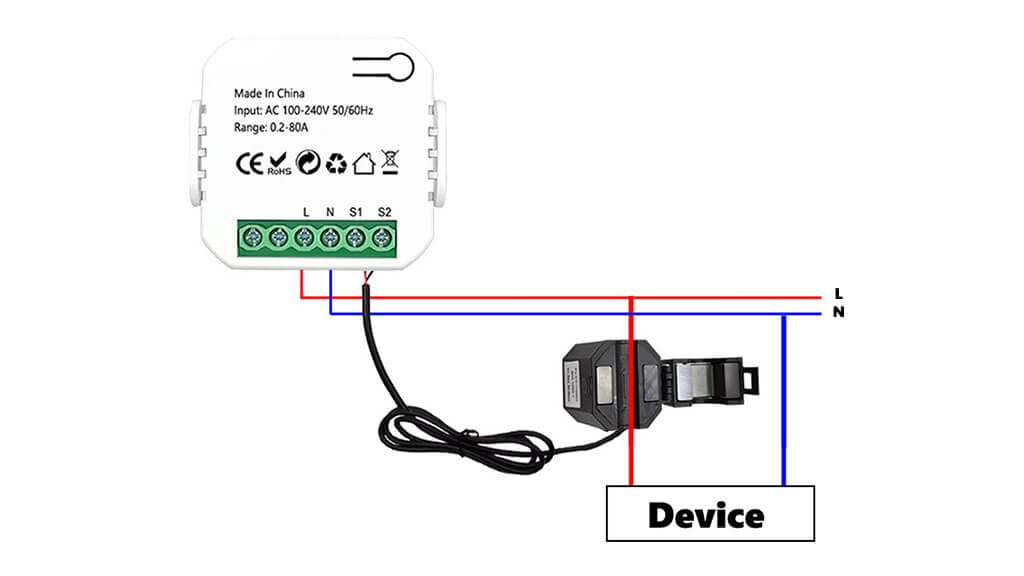 1. Wire the L-Live wire to the L-Terminal
2. Wire the N-Neutral wire to the N-Terminal
3. Connect the CT Clamp to the S1 and S2 Terminals
4. Install the CT Clamp on the L-Wire ONLY coming from the measured device
5 Do not clamp together both the L and N wires, the reading will be zero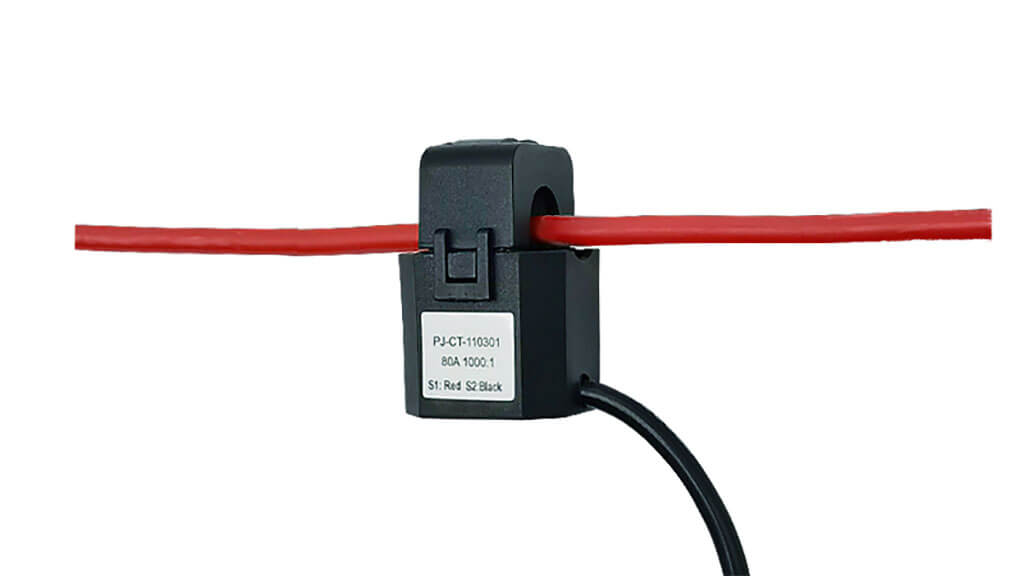 Home Assistant Integration
The Tuya Zigbee Single Phase Energy Meter can be integrated in Home Assistant via Zigbee2MQTT and ZHA. To pair it, press and hold the button on the module for ~5seconds until the red LED starts blinking.
Zigbee2MQTT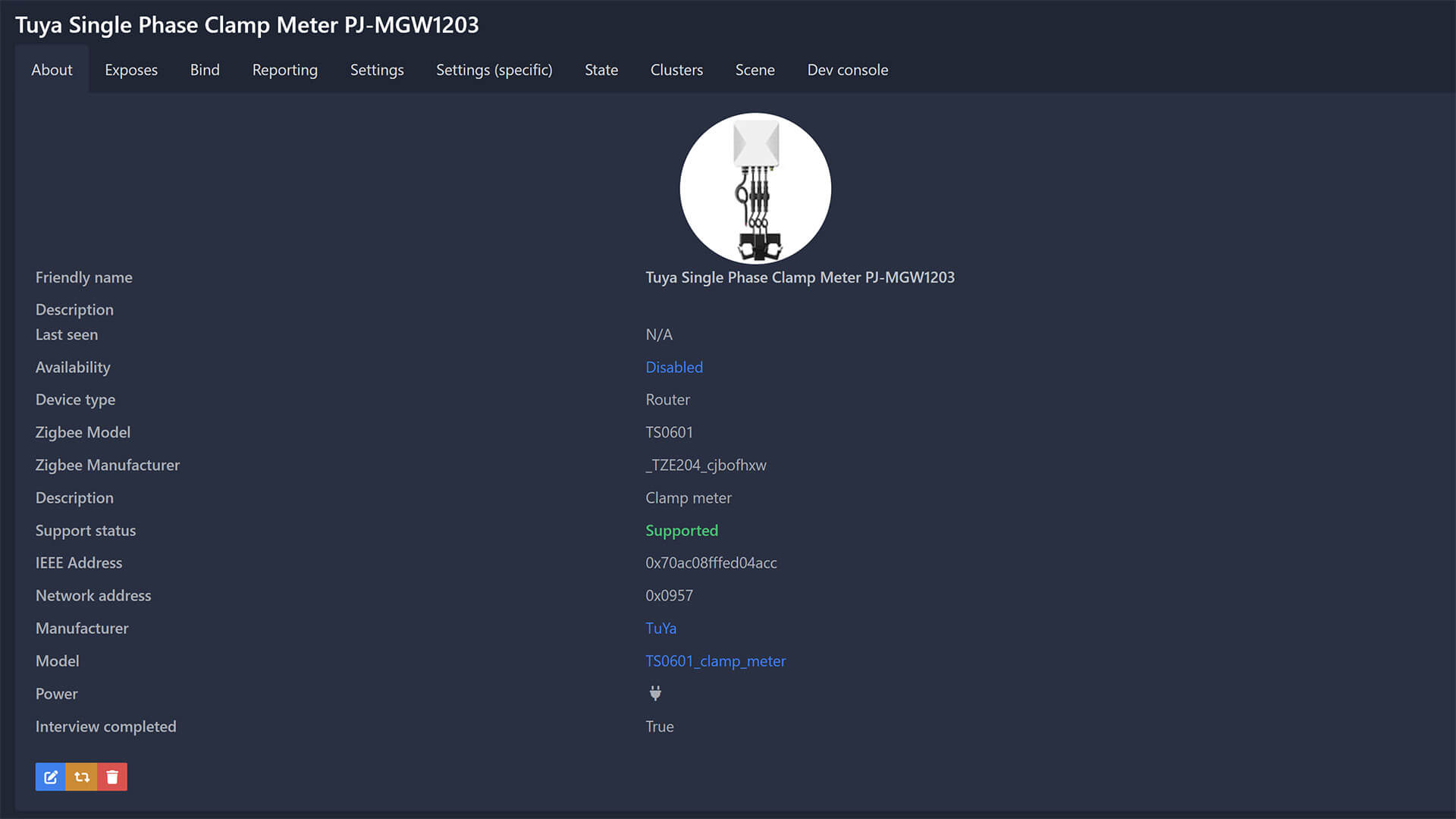 In Zigbee2MQTT, the device is identified as model TSO601_clamp_meter and manufacturer _TZE204_cjbofhxw. Even though the picture is reused from the 3-Phase version, the device is identified correctly. Once paired, it exposes the following entities in Home Assistant through Zigbee2MQTT: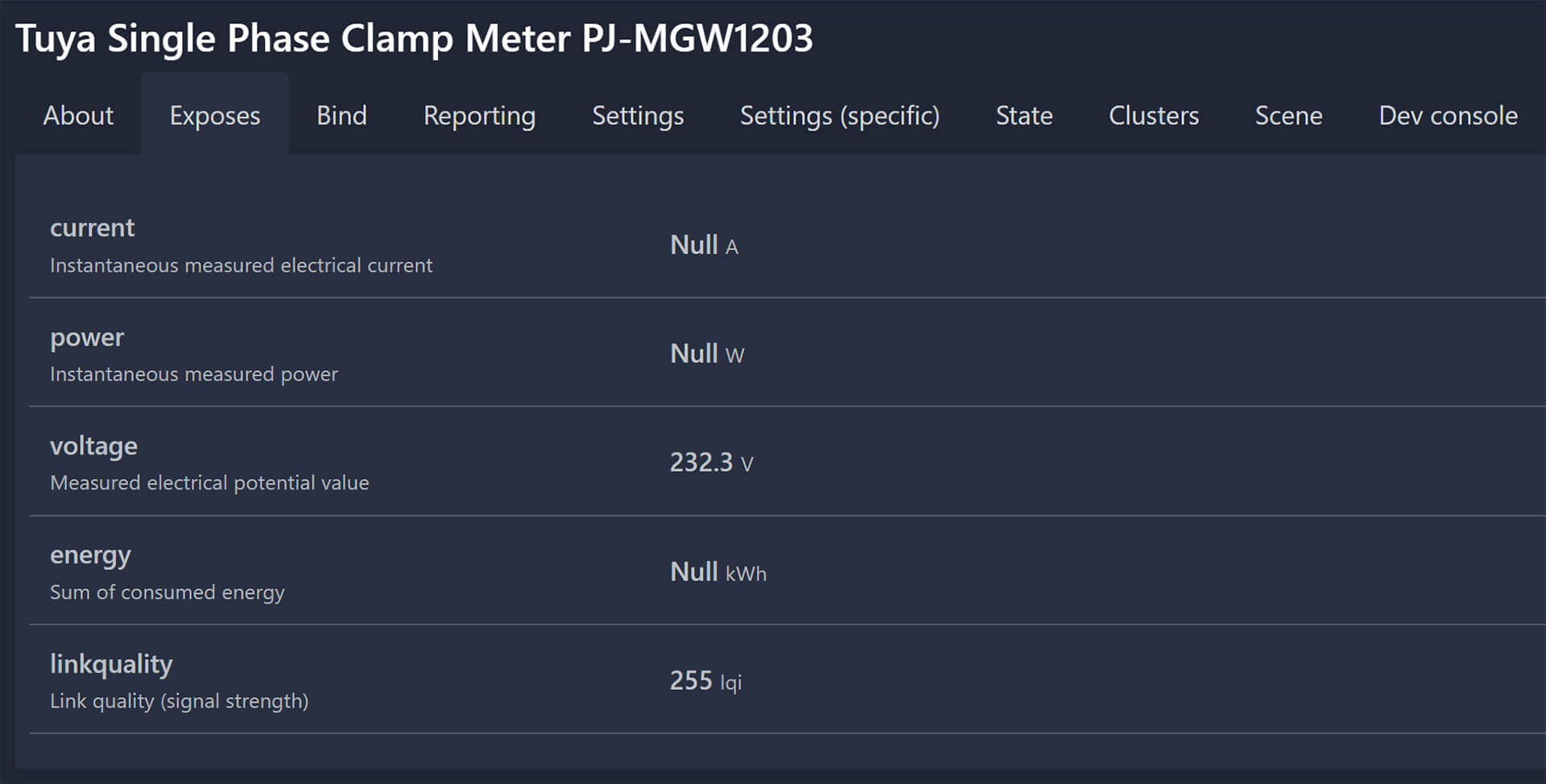 What's also great for this device, is that voltage, current, power and energy can all be calibrated within the Settings (Specific) menu in Zigbee2MQTT. The offset needs to be put in as a percentage. The readings precision can also be tweaked for each, which can range from 0-3 decimals.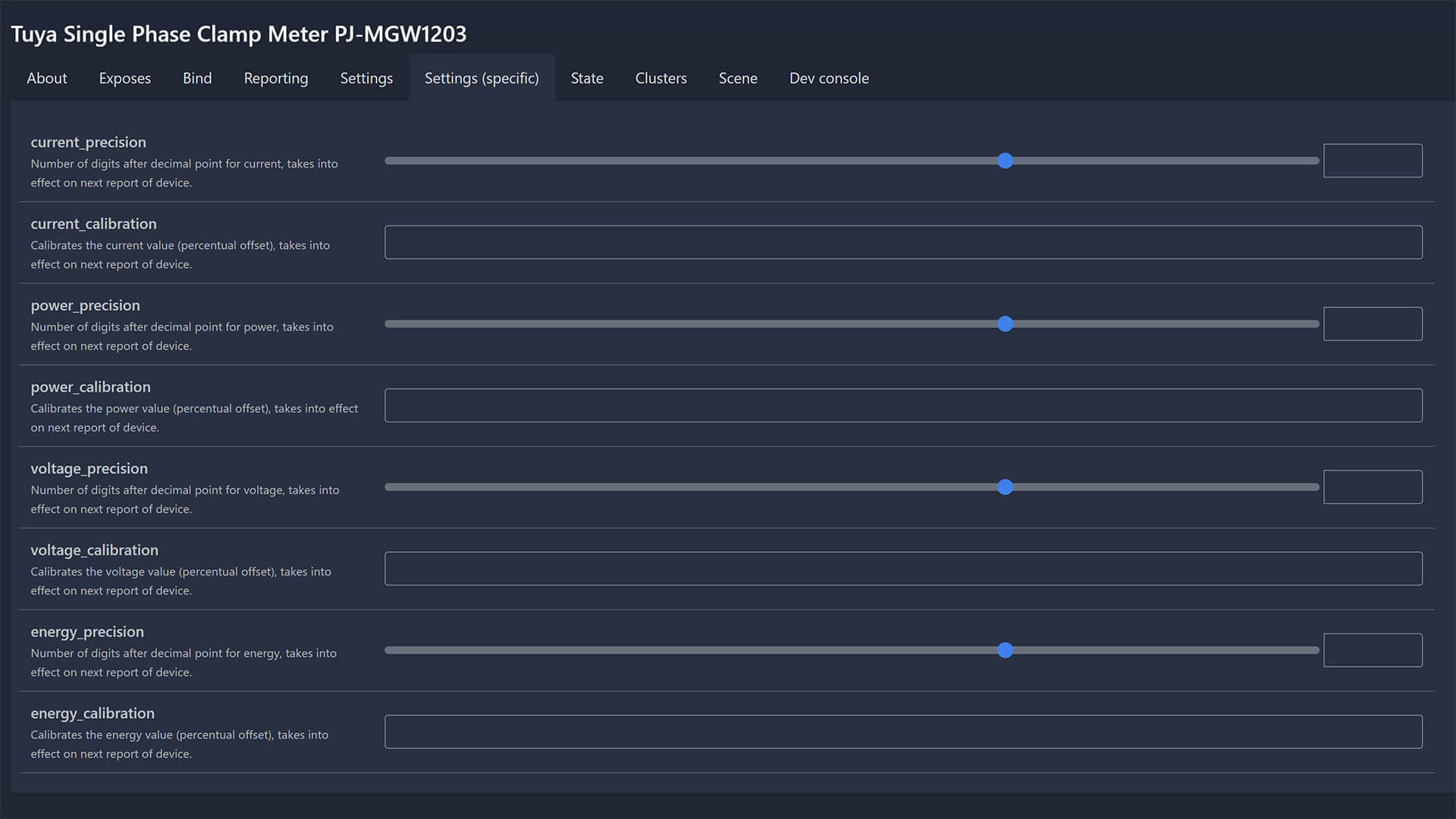 ZHA
The device is still not yet officially supported in ZHA, but there is a custom quirk developed for it. Once you apply it, the device will be identified as model TS0601 and manufacturer _TZE204_cjbofhxw and custom quirk ts0601_din_power.TuyaPowerMeter applied.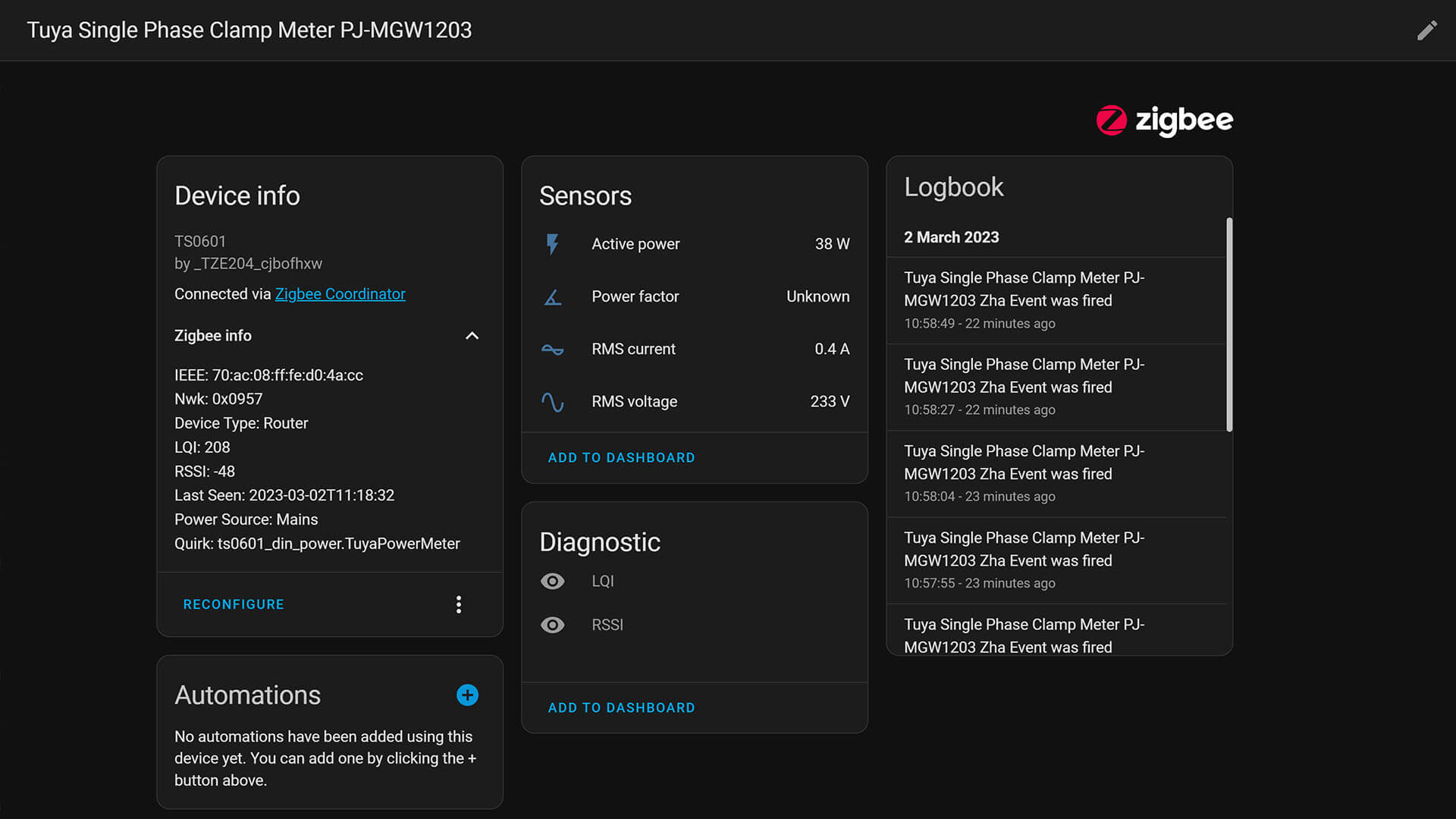 To apply a custom quirk in ZHA
1. Download the quirk ts0601_din_power.zip
2. Extract the file and place ts0601_din_power.py
2. Place it in config/custom_zha_quirks (create the folder)
3. Add the path to your configuration.yaml file
4. Reboot Home Assistant
zha:


  

custom_quirks_path:

 

/config/custom_zha_quirks/




Code language:

 

YAML

 

(

yaml

)
From the exposed entities, the total energy sum entity is missing as well as the calibration options. If you want to set precision or calibration in ZHA, you will have to create template sensors offsetting their values.
Testing
To test the accuracy of this single clamp power meter by Tuya, I decided to test it against a high quality flood light rated at 100watts. I created an extension cable from an old PC power cable, stripped the L-live wire and connected the clamp to it. I placed an industrial clamp meter on the wire as well, to see if the measurements are comparable.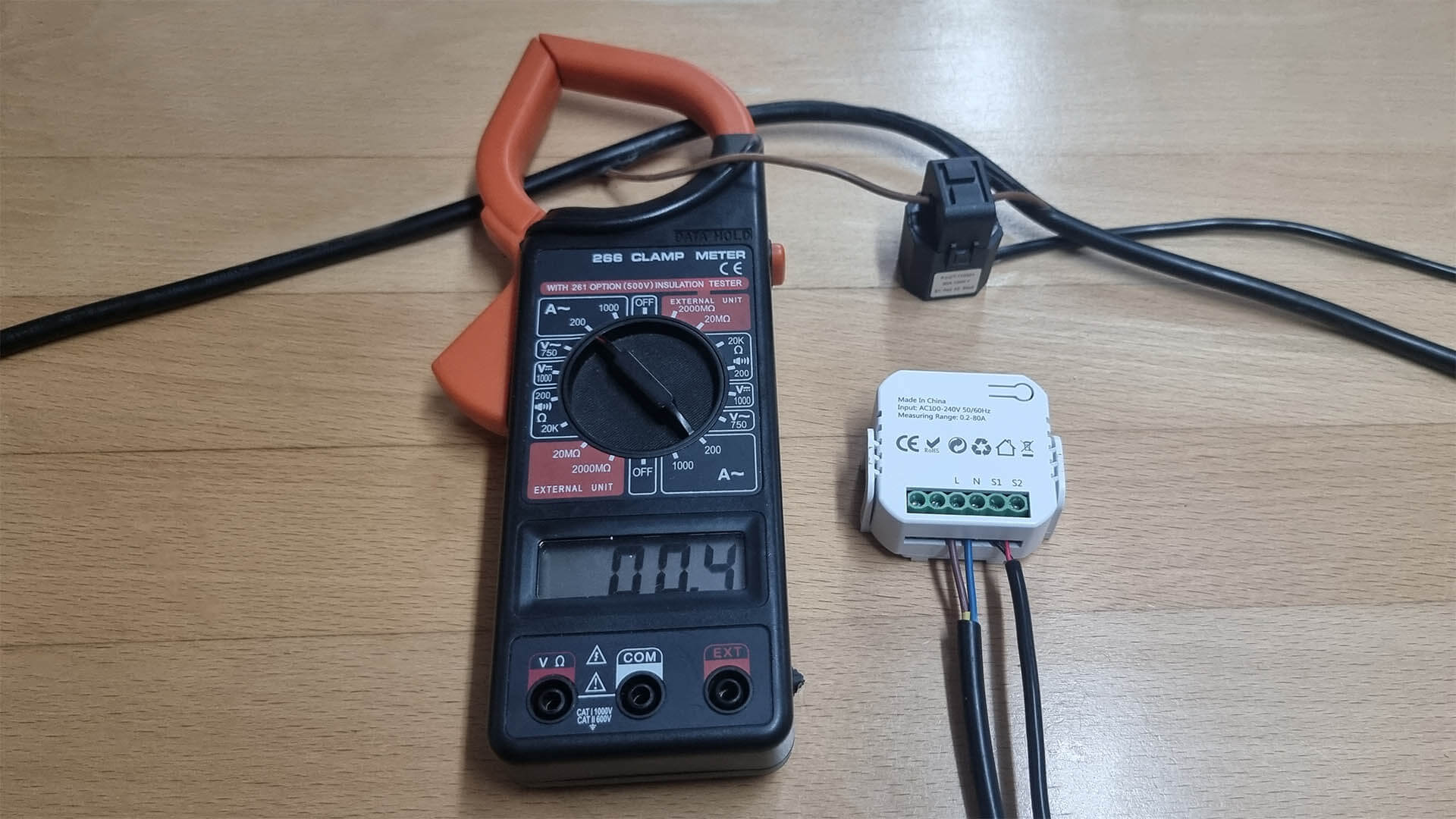 Considering this is an industrial meter, measurements are most accurate in the 200-1000Amps range. Bellow that, I cannot be certain. But surprisingly, the sensor mirrored the amperage reading of the clamp meter in Zigbee2MQTT: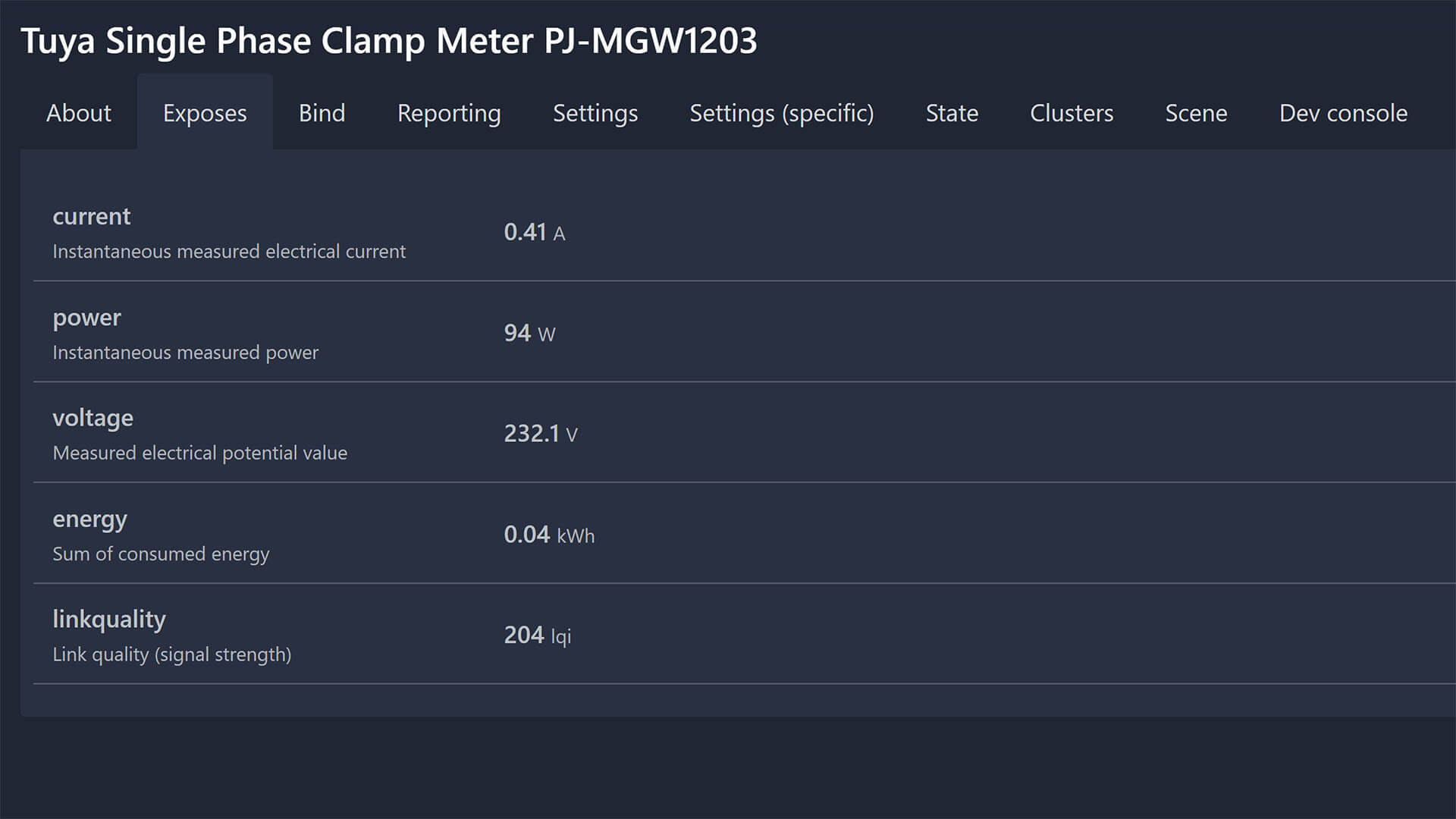 The wattage and voltage were also correct, as I am certain this particular flood light is accurately rated at 100watts, so I purposefully chose it for this benchmark. The reading showed 94W which was really close.
After an hour or so, I noticed the kWh reading didn't increase so I started to poke around. Turns out, the "energy" reading of this device is reported in delta values instead of an accumulated value. So the energy reading will reset after about 20minutes, without incrementing the value. To create a workaround for this issue, two things are needed:
First, navigate to Zigbee2MQTT > Tuya Clamp Meter > Settings and check the Retain toggle:





Second, navigate to Settings > Devices & Services > Helpers > Create Helper > Utility Meter: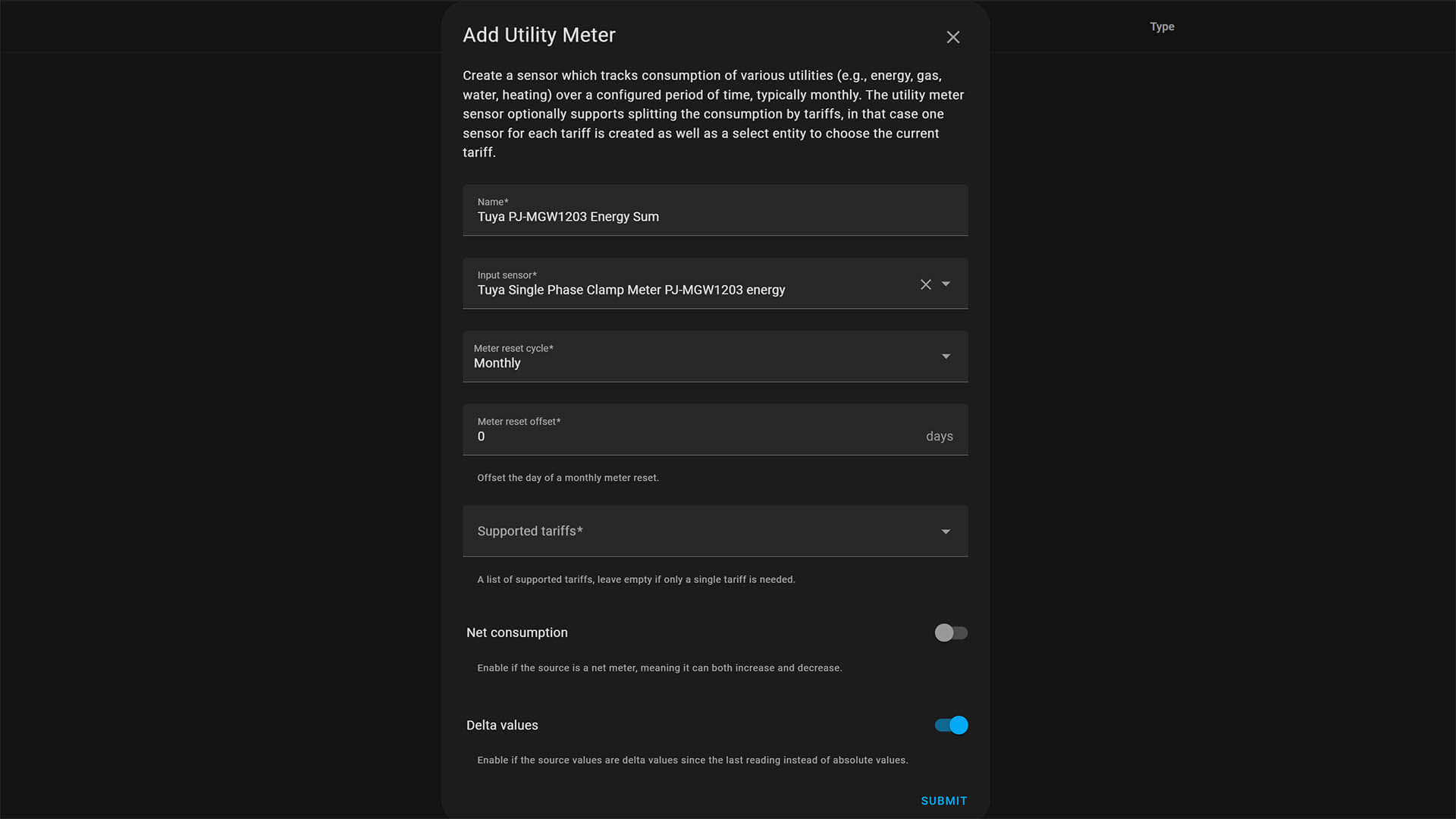 Select the Tuya Clamp Meter Energy Entity as an Input Sensor and set the meter reset cycle to Monthly. Finally, toggle the Delta values switch at the bottom. This will use last readings instead of absolute values and increment the sensor state whenever a new value is obtained by the device.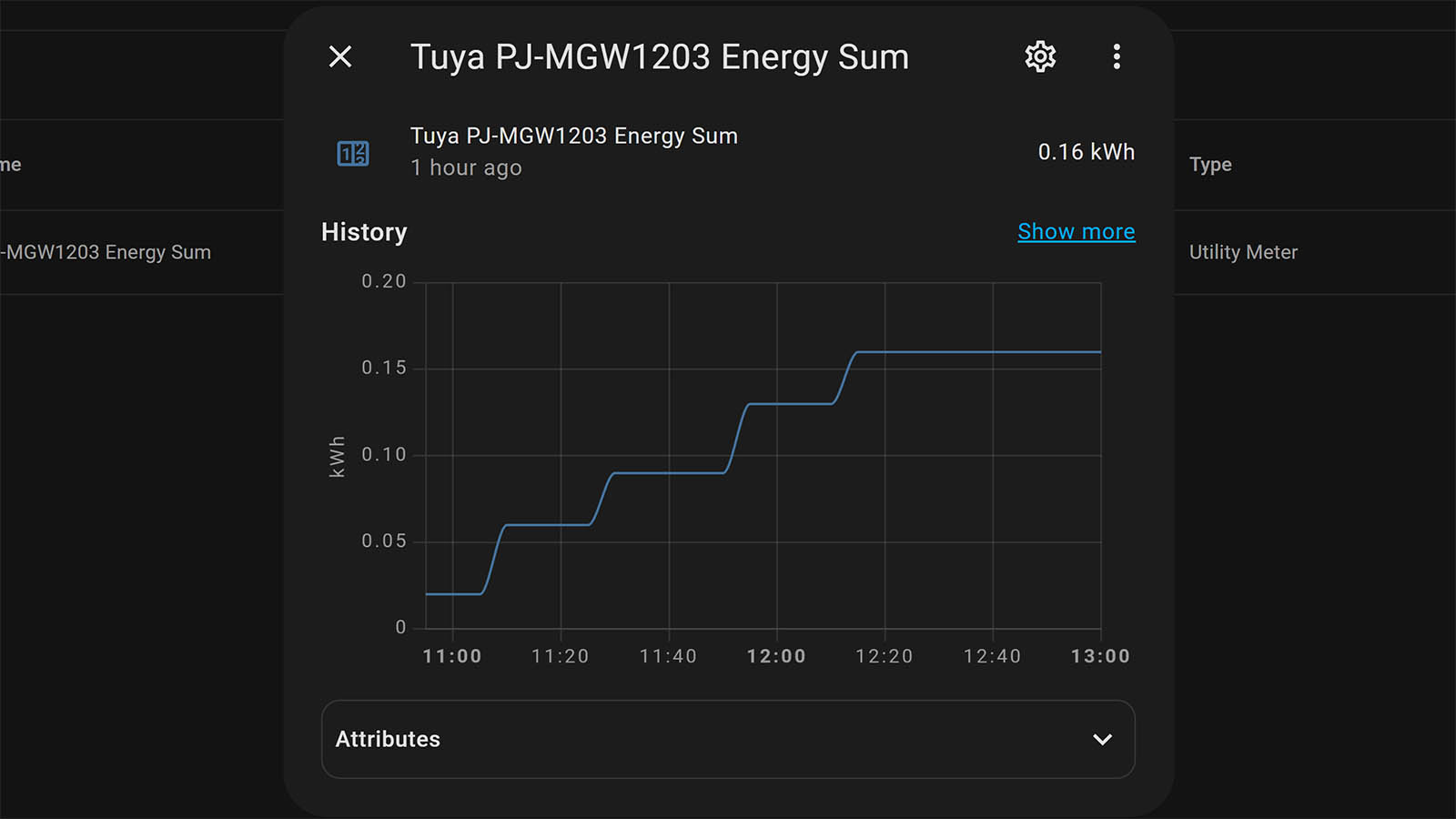 You can use your newly created total sum energy sensor entity in your dashboard or automations.
If your unit is reading inaccurate measurements, good news is they can be completely calibrated within Zigbee2MQTT. You will need an accurate meter to benchmark the device against it, and input the offset as a percentage in the Settings (Specific) menu. For me, the readings were correct, but some users reported that calibration is needed. You can visit this GitHub discussion if you are having issues.
Verdict
The Tuya Zigbee Single Clamp Energy Meter is sold by a store called MatSee Plus on AliExpress and is referred by that name within the community. But, as usual with Tuya products, it's only a matter of time before different stores/brands start popping up selling the same item. So the seller is not important, I am sharing it for informational purposes.
So, where would you use this device? Isn't a smart plug with a power meter easier and simpler? Yes, for most domestic appliances a plug is more suitable for individual energy usage monitoring. This gadget is meant to be installed when you want to monitor a phase that has a group of devices connected to it or in scenarios when you do not have access to a plug, like circuit breaker boxes, server rooms, heating equipment, central cooling systems, computer fleets and similar.
Regarding the device itself, I must say it operated well in my deployment and presented no communication issues. I am not going to list the accuracy of this energy meter as a Pro, because people have different experiences with this device so I can't state is as a fact. As I've mentioned earlier, values can be easily calibrated, which is more important than accuracy out-of-the-box. To summarize:
Pros:
Small, easy to install in cramped spaces
Can be mounted a on DIN rail
Wiring and installation is very simple
Zigbee communication is solid
Zigbee Router
Values can be calibrated
Clamp is good quality
Cons:
Not yet fully supported in ZHA
Calibration may be needed
Not suitable for low-power draw readings
Total energy data not correct

Sensor is reporting Delta values, instead of Sum
Utility meter is needed for total energy sum
I am currently waiting for the 3-Phase version to arrive, for which I will write a separate review. That one can be used as a full house energy monitoring system and is fully supported in Zigbee2MQTT. It is available with optional clamps from 80A all the way up to 500A for some industrial applications. If you don't want to wait for my review and test it yourself, here are some links for both versions.
Where to buy?
This module is also sold as a simple power meter without a clamp by the same store, which can also be used as a switch. The single phase module is available for purchase only on AliExpress, while the 3-Phase version can be bought from AliExpress and Amazon. As usual, I suggest you stay away from the Wi-Fi versions as they are Tuya-cloud dependent. Prices may vary depending on your location.
Tuya 1-Phase Energy Meter 80A Clamp – $22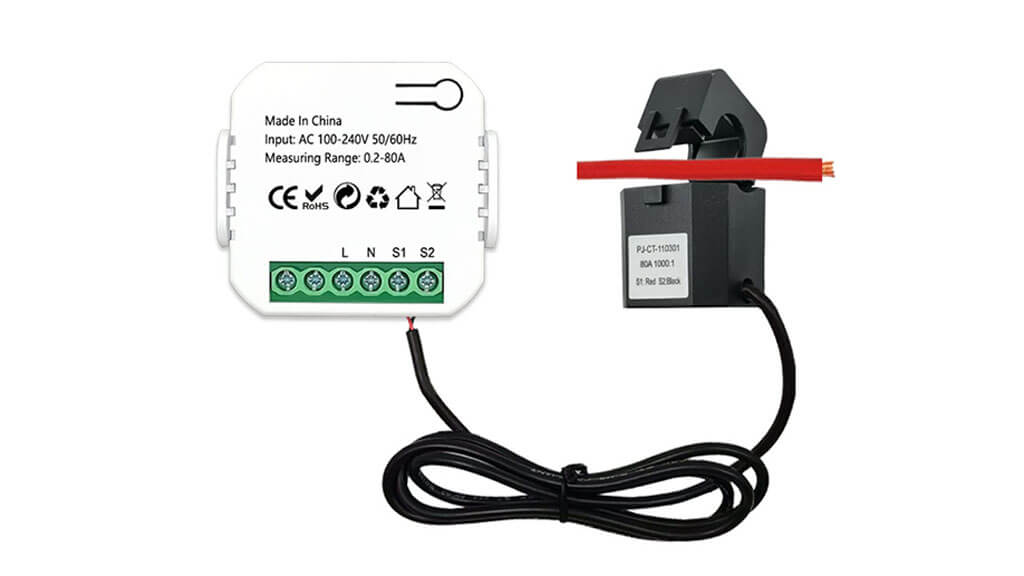 AliExpress | AliExpress | AliExpress (Wi-Fi)




United States | Canada | United Kingdom
Germany | Netherlands | Sweden | Spain
France | Italy | Poland | Australia
*If links fail to open, try disabling your AdBlocker.
Tuya 3-Phase Energy Meter 80-500A Clamps – $87+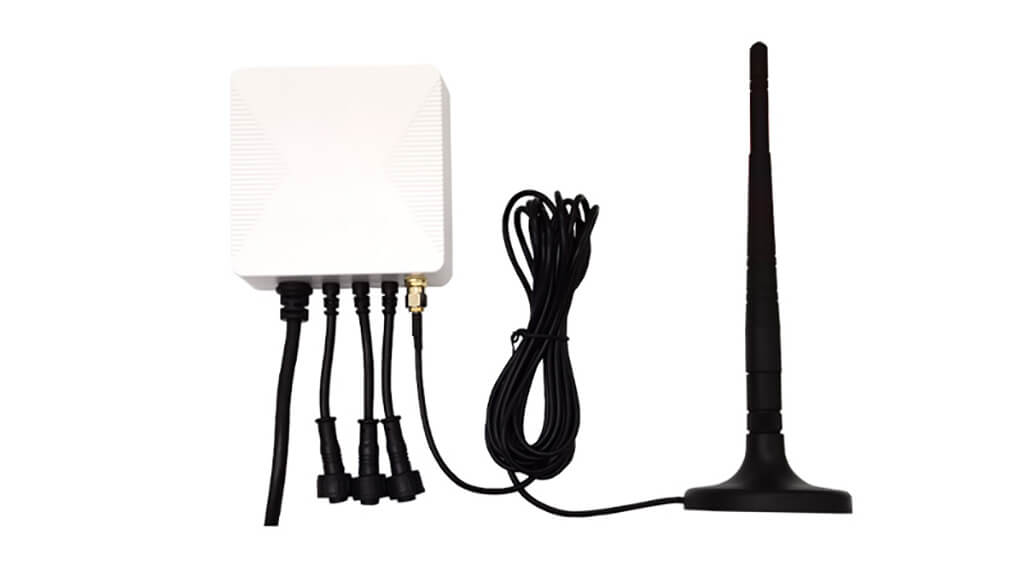 AliExpress | AliExpress | AliExpress (Wi-Fi)




United States | Canada | United Kingdom
Germany | Netherlands | Sweden | Spain
France | Italy | Poland | Australia
*If links fail to open, try disabling your AdBlocker.