---
Intro
Even though the fair is overflooded with home appliances like washing machines, cooking stoves, dishwashers, TVs and whatever else you can think of, I'm here to discover the smart home tech showcased at in Berlin's Messe Halls. This is IFA Berlin Day 2 Recap.
Bosch Smart Home: The Zigbee Ecosystem No One Is Talking About
Among the huge booth of Bosch, passing all the washing machines, cooking stoves and other appliances they produce, you come up to a really small Smart Home dedicated corner. It's also really easy to miss, since it's kind off tucked away in between sections of their expo.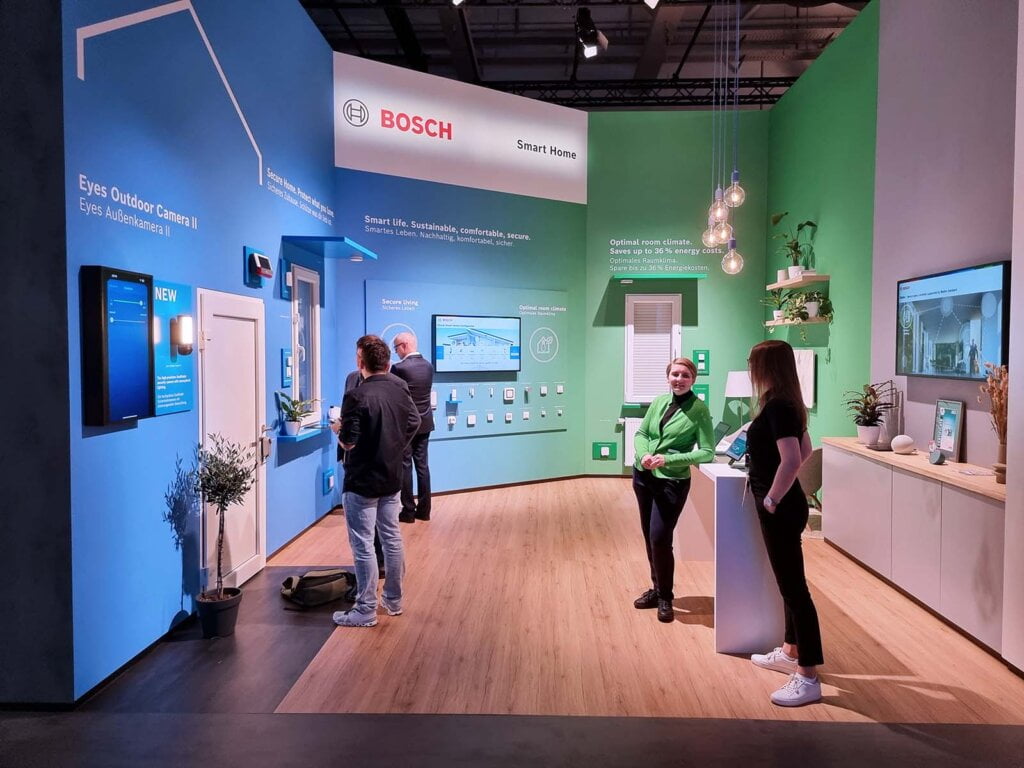 I've read about Bosch Smart Home somewhere, but it feels so weird I have not encountered their devices nowhere in the wild. Not on Amazon, not on other retails stores, nowhere. No one is talking about this primarily Zigbee-based ecosystem – yet they should.
Examining their lineup of devices, you immediately get this premium and high quality feeling. They used e-ink displays on temp sensors and a scene controller! Which is highly respectable by my standards!
What's more interesting, they cover the full spectrum of a smart home: they have the hubs, sensors, TRVs, room thermostats, switches, dimmers, cameras – you name it. If I'm honest, it baffled me I have not encountered Bosch more with the amount of device research and brand digging I do.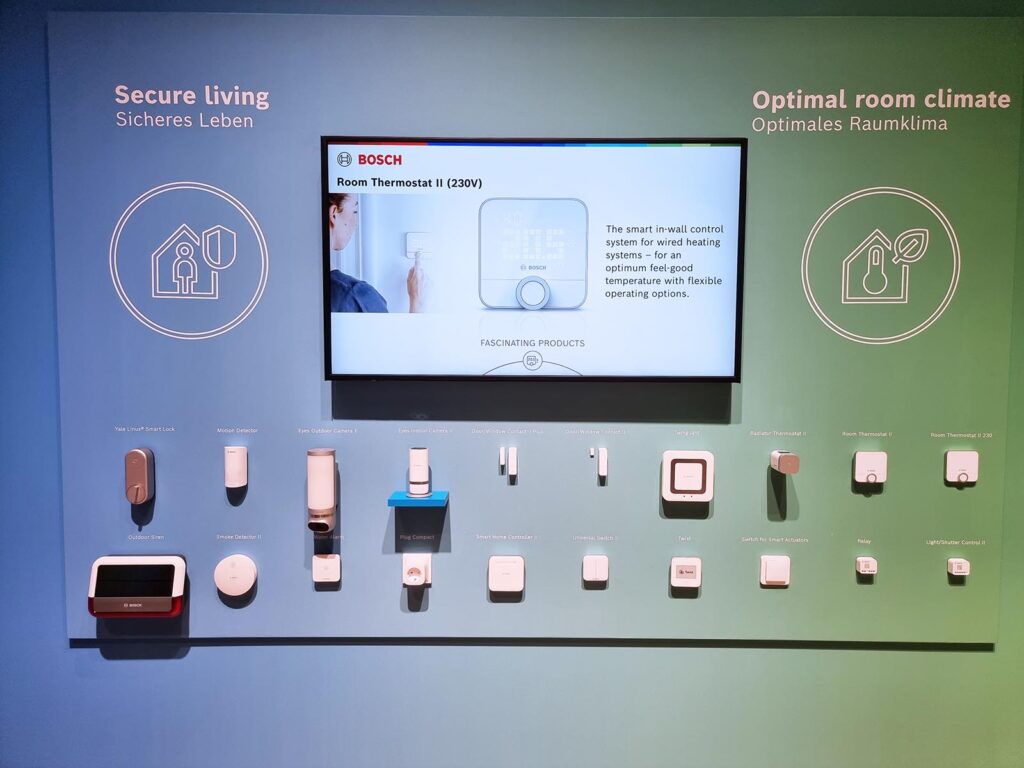 Their star product was a new high-precision camera with a light combo, meant to be installed outdoors. This device is rotatable and tiltable and covers 145 degrees field of view. The DualRadar technology makes this a surveillance camera by all factors.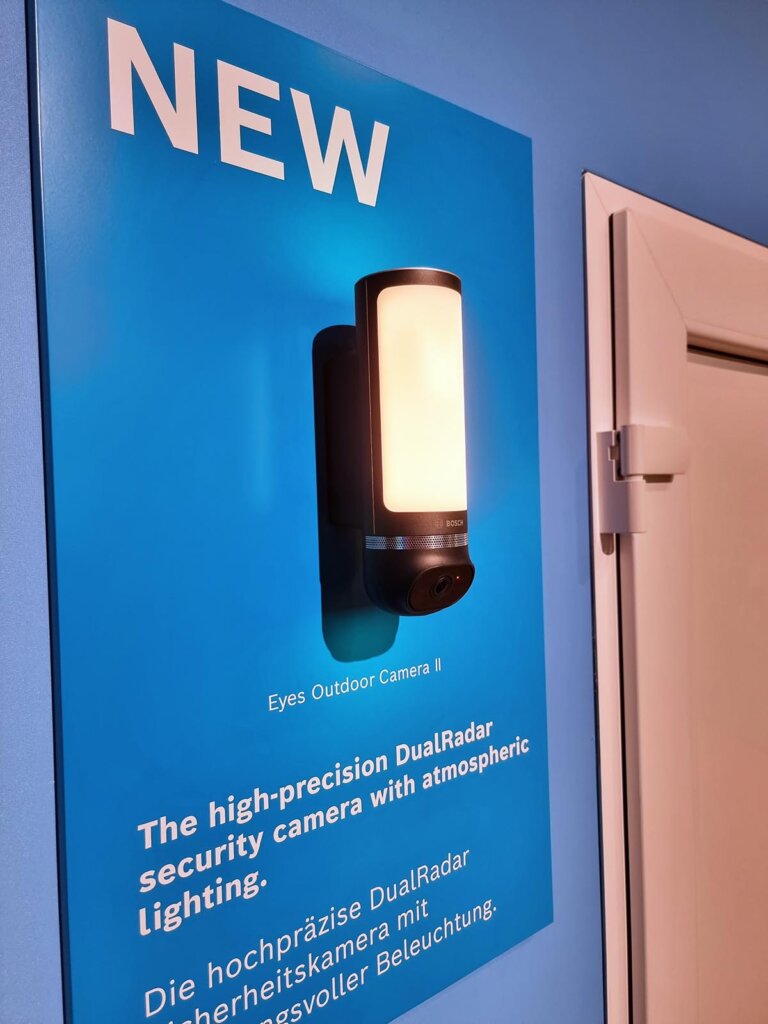 Talking to the marketing lady in charge of the booth, I got the feeling Bosch does not care about a Smart Home. Somehow, I got a sense they are going for the "Everyone else is doing it, maybe we should too?". Which is a shame really, since they are a highly respectable brand in other sectors.
I am not sure if this is actually the case, but it did line-up with her response that they are not present in US/CA markets and don't have plans to enter them. I intend to do some digging and ask for some samples to actually test their stuff – stay tuned.
TP-Link: New Line-up of Cameras
TP-Link created a small house in which they mounted their smart devices in a way the would be installed in a regular home. It was a pleasant experience, and a good showcase of their Tapo lineup of smart gadgets.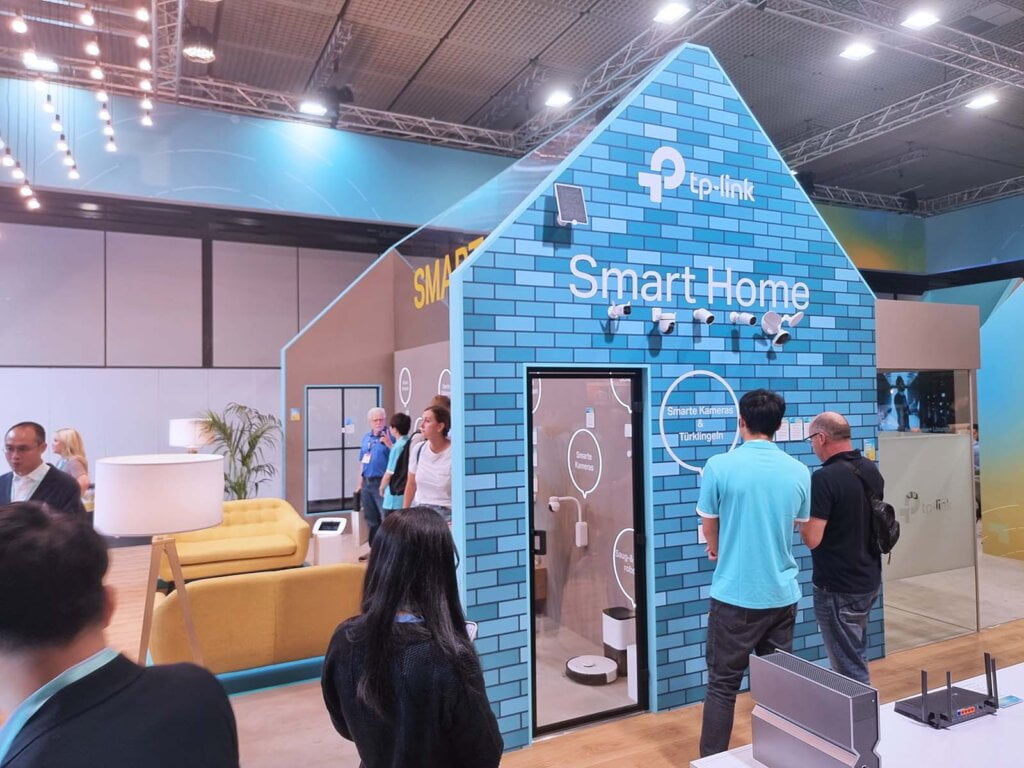 They seem to focus on on their cameras and their upgraded versions, they guy was kind enough to explain what each model is good for and what are it's bullet points. I was not kind enough to remember all of it, but let's say they are supposed to be great.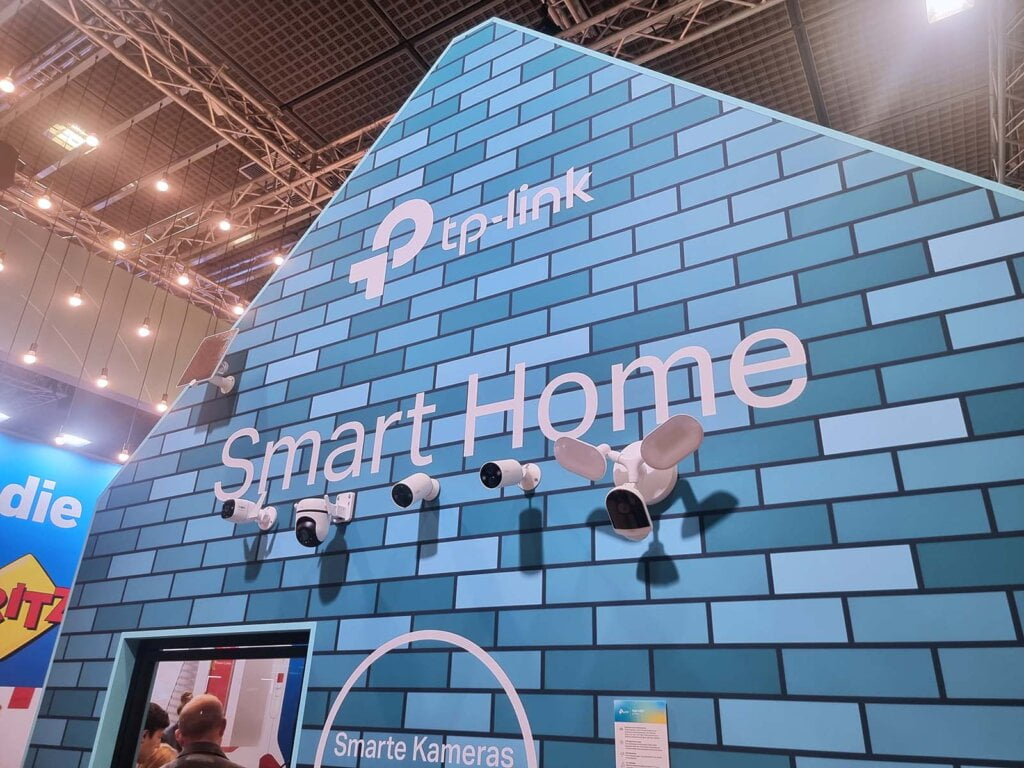 Inside the small house were showcased the other smart home devices and sensors from the Tapo lineup. For example, the TP-Link Tapo T315 is a beautiful temperature and humidity sensor with a e-ink display: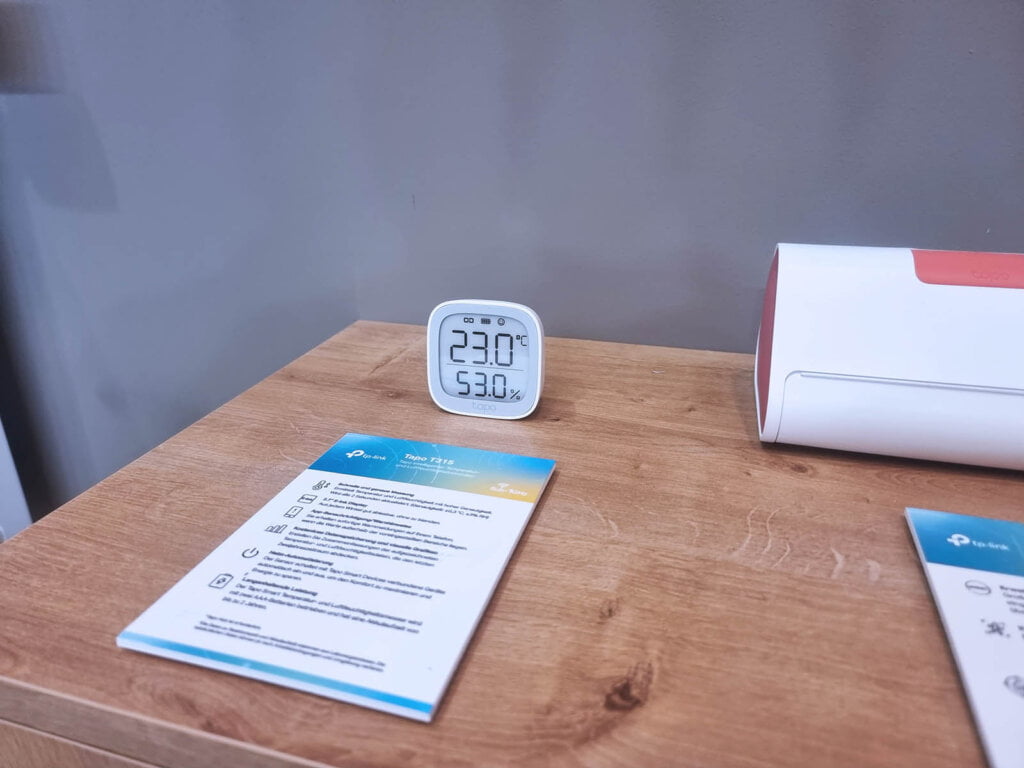 Heiman: New Matter over Thread Devices
Heiman had a small booth in hall 2.2, where they showcased a bunch of devices – old and new. I've actually tested a few of their sensors in the past, the Smoke Sensor, Carbon Monoxide Sensor and the Heiman Siren.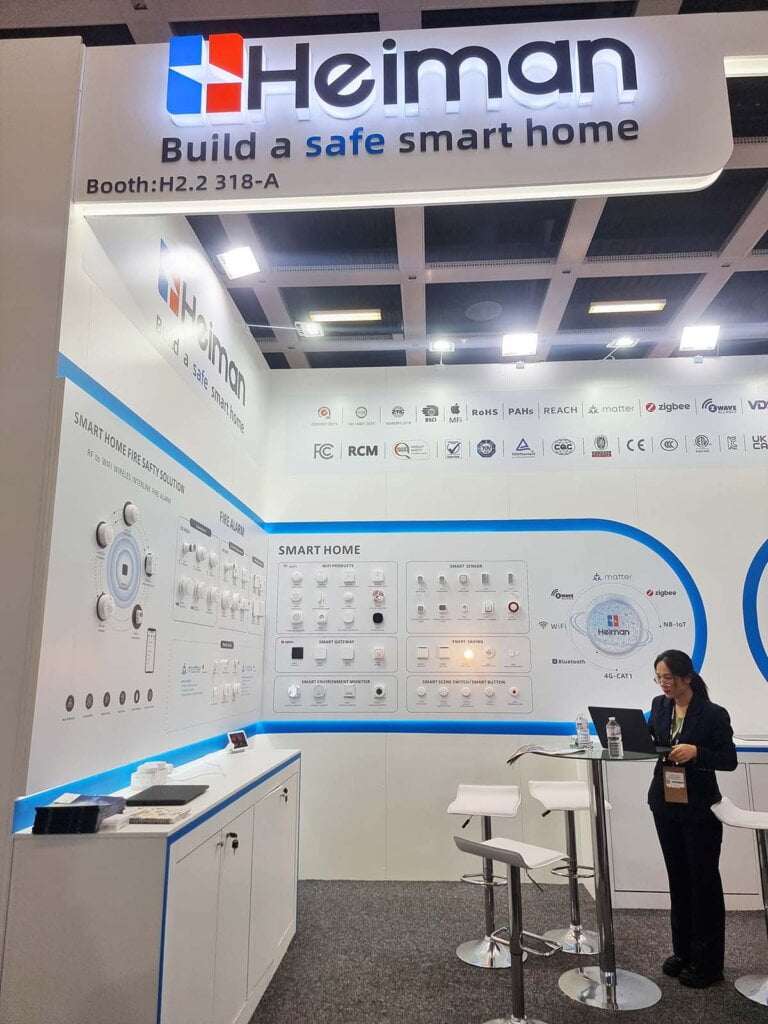 They have a thing for ceiling mounted Smoke, Gas, CO, CO2 sensors operating in a mesh, so this was their focus. Having first hand experience with their devices, I can honestly say they are of good quality, reliable and should not be disregarded when it comes to smart home safety.
Talking to the team in charge of the booth, they shared some info about their upcoming Matter over Thread product lineup. They will be starting with some basic devices; temperature and humidity sensor (super small!), door and window sensor and motion and illuminance sensor.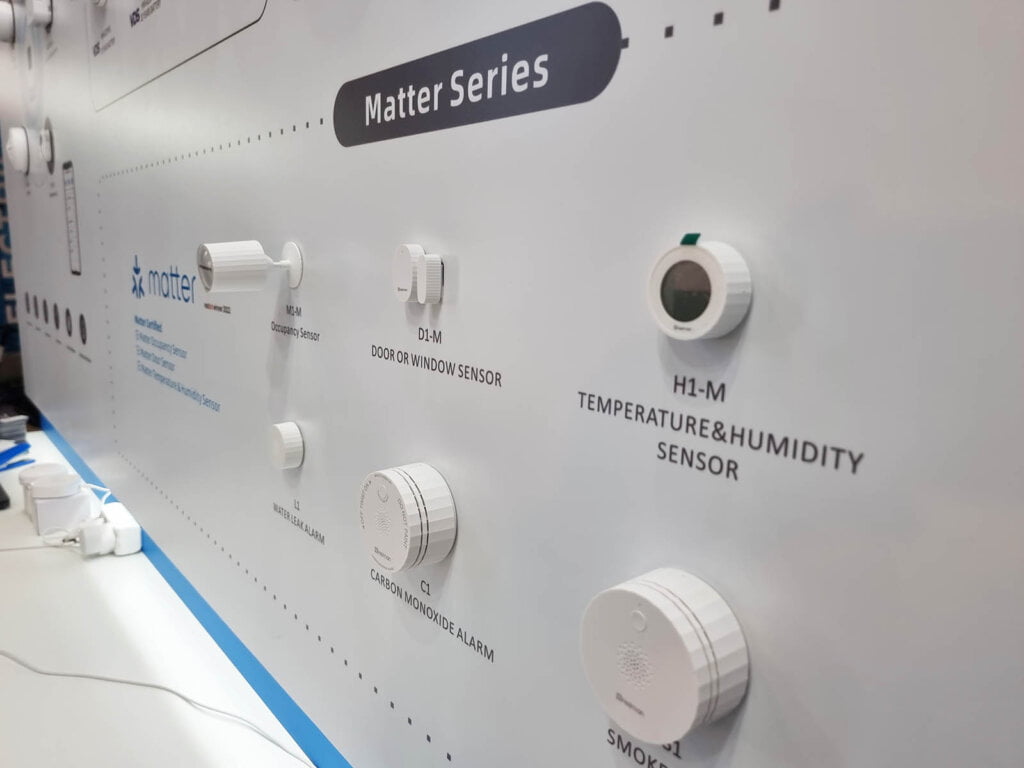 This will be slowly adding support to their smoke, gas and combustibles alarm sensors and bridging the gap to Matter.
Ugreen: NAS Servers based on Alder Lake
Two brands stood out to me in Berlin Messe when it came to cabling, chargers, docking stations and USB hubs: UGREEN and BASEUS. I found out some interesting things in the Ugreen booth, talking to their people.
The company is releasing a new line-up of NAS (Network Attached Storage) mini PCs in a familiar form factor. All of these are based on Intel's Alder Lake line of processors, ideal for small form factor PCS.
There are two versions already ready for mass production: 2 and 4 drive NASs, based on the Intel N100 CPU with an 8 bay version coming in Q1 of 2024, based on the Intel N305. Very promising for home lab enthusiasts!
They had a huge solar charging panel of 100w propped up at one entrance to the booth – capable of charging anything you throw at it.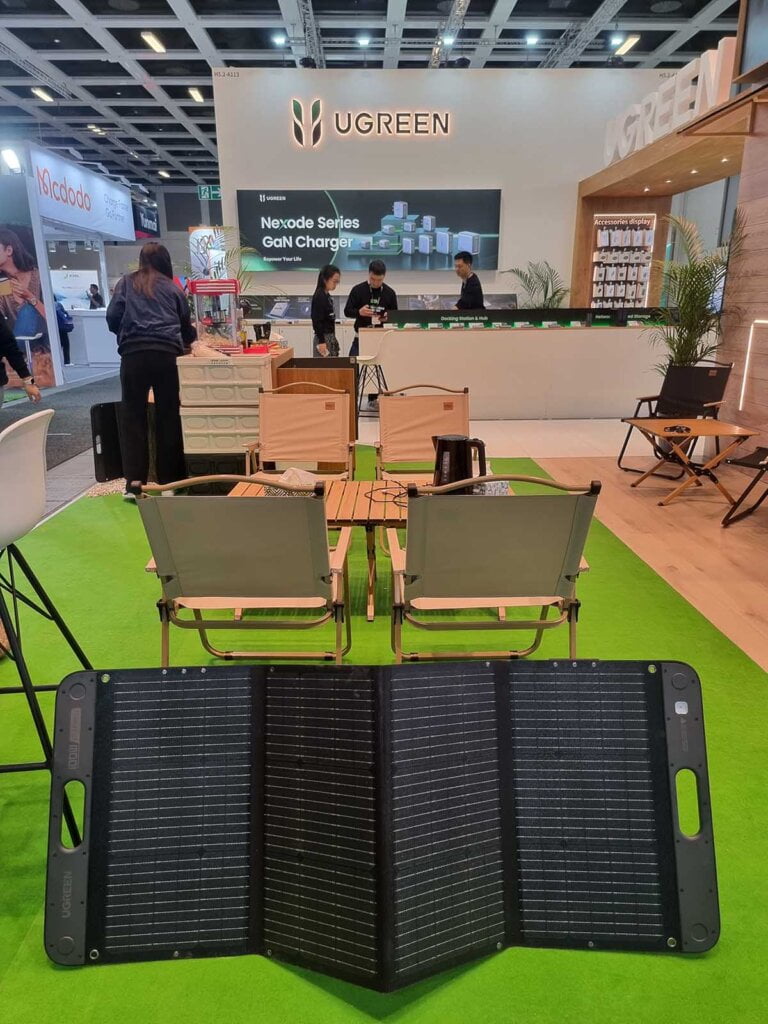 More Vacuum Cleaners
I've covered about 80% of IFA Berlin in the past two days, there is no doubt now: The vacuum cleaner is the most showcased product in 2023, without question. To see what I mean, here's some photos: