---
In this review, we are testing the Aubess TuYa 16A Wi-Fi Mini Smart Switch. It's the cheapest smart switch you can purchase currently, priced at ~$4 with free shipping from AliExpress (shipping is location dependent). We are going to examine its components, connectivity and compatibility.
A Zigbee version is also available of this Tuya Mini Smart Switch which can be bought for ~$4-5 on AliExpress [Zigbee, Wi-Fi] and Amazon [Zigbee, Wi-Fi] (Jump to see other stores)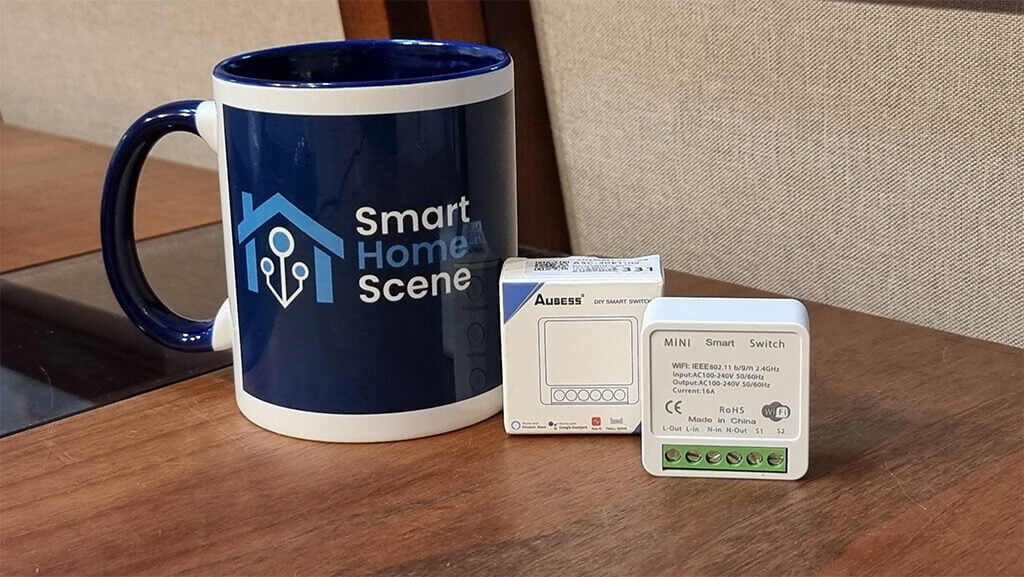 Technical Specification
Input: AC 100-240V 50/50Hz
Output: AC 100-240V 50/60Hz
Max. Current: 16A
Connectivity: Wi-Fi 802.11 b/g/n 2.4GHz
Material: PC V0
Size: 41x20x41mm
Operating Temperature: -10°C – 55°C
Switch Type: Two-way Switch
Ceritification: CE/ROHS
What's Inside?
My first impression of this switch is: It is TINY! This could be a good thing, it can easily be fitted in existing switch boxes or it could be a bad thing, components cramped too close together can generate excess heat which is a potential fire hazard. Let's pry it open and see what's inside.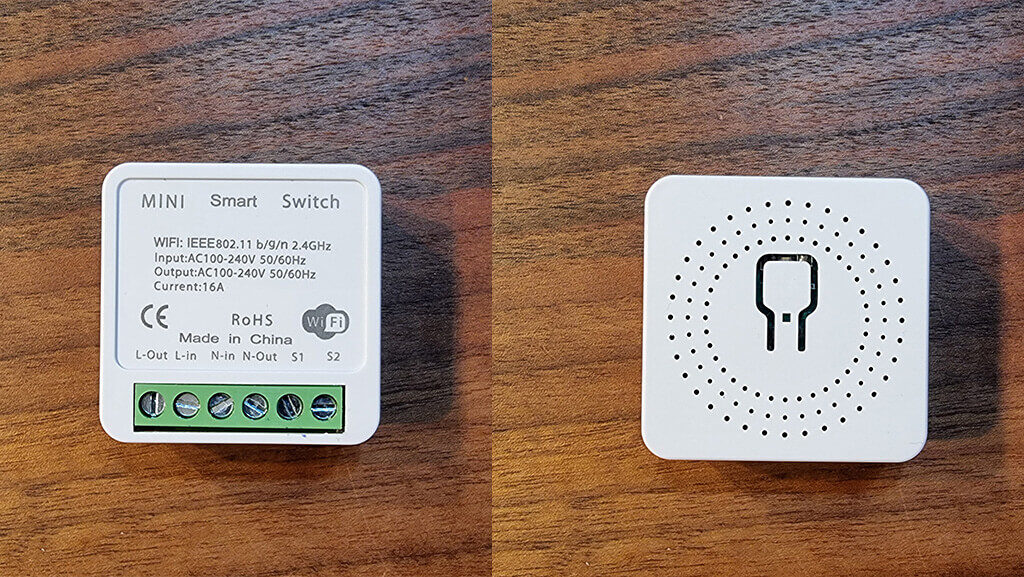 The front contains some basic information and 6 standard screw terminals for wiring, while the back has a pairing button and a round layout of small holes, which I assume are for heat dissipation.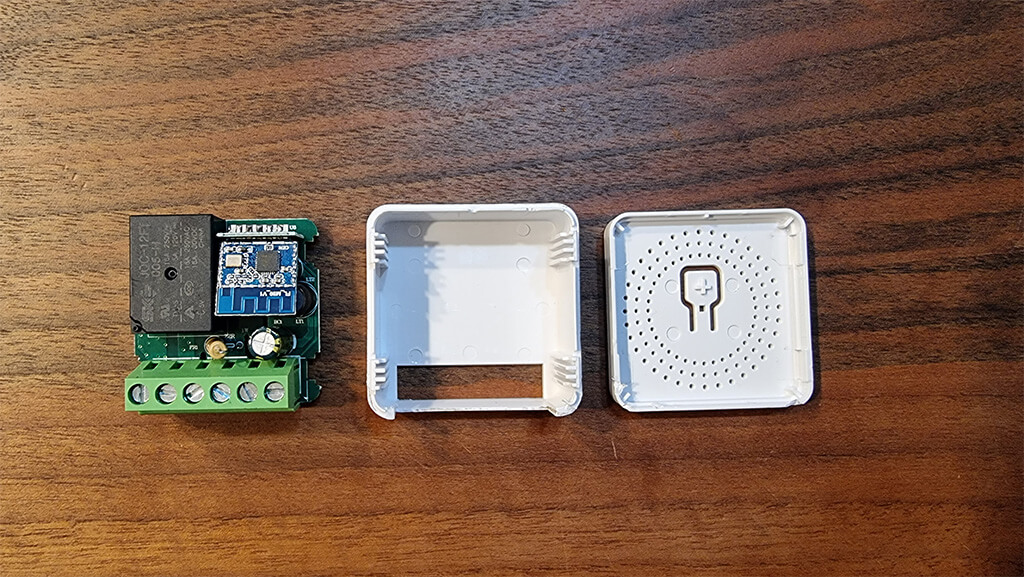 Everything is jam packed closely together, but considering its small dimensions this was expected. The screw terminals are surprisingly strong and soldered good.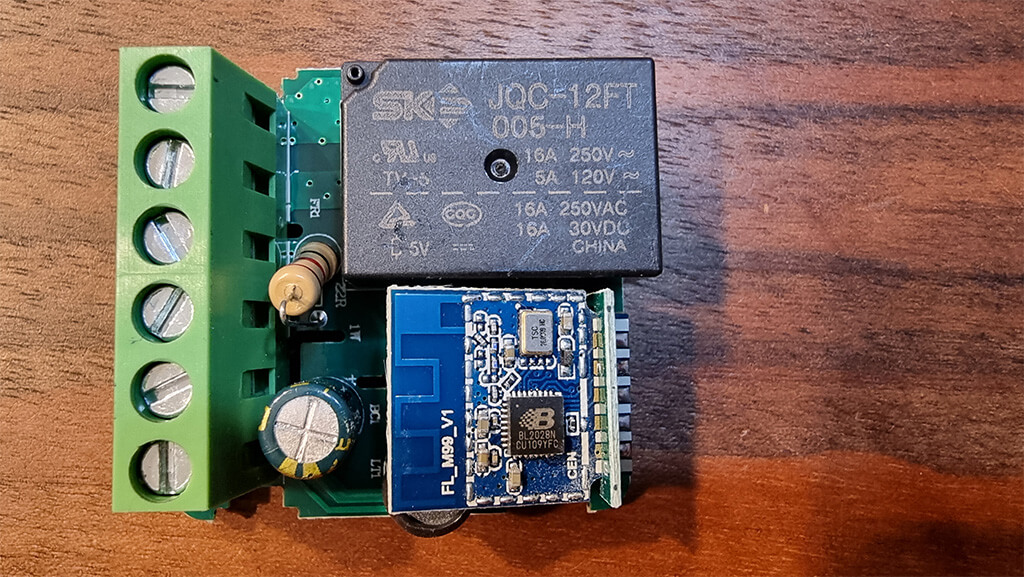 This mini smart switch carries a SKE JQC-12FT relay, which is a 16A power relay manufactured by Ningbo Seek Electrical Co. Ltd in China. Apparently it passed the CN CQC (Care Quality Commission) quality tests and is CE/ROHS certified and was rated for 50.000 toggles. Its Wi-Fi communication is handled by the BL2028N chip, which is a Wi-Fi and BLE capable MCU integrated in many other smart W-Fi switches.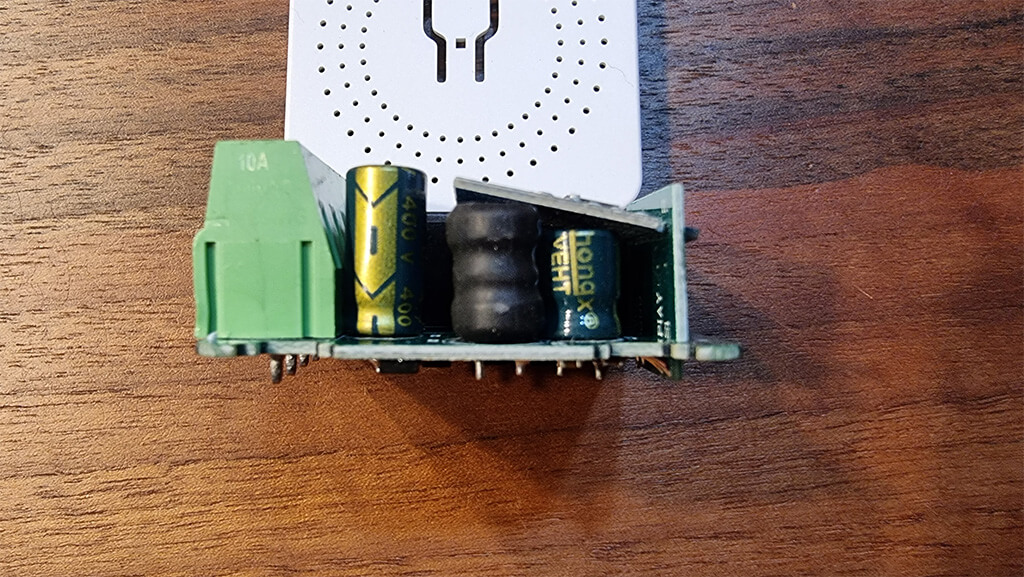 What is very weird, is the Wi-Fi controller sits on top of all the other electrical components at an angle. Possibly a design necessity to stuff everything together in the small box. We'll see if this presents issues in terms of heat.
Installation and Wiring
This switch can be wired in three ways, with a wall switch, with a 2-way switch and with no switch.
The L and N from the mains are connected to L-in and N-in
The L-out and N-out are connected to your light
(Optional) The S1 and S2 are connected with the wall switch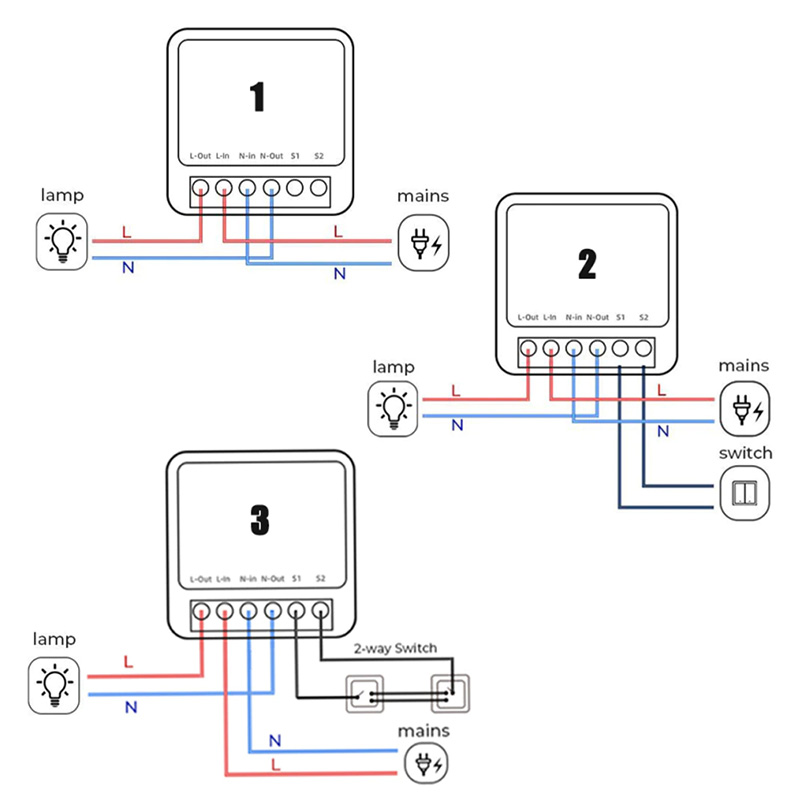 Important: If you are wiring the module inside a switchbox, the N-out terminal remains unconnected. This is because the light you are controlling is already connected to Neutral somewhere in your home installation.
If you are wiring the module outside of a switchbox, like a stool lamp, the N-out is connected to the N-wire (blue) of your lamp.
Integration Compatibility
As this is a Tuya based Wi-Fi switch, we can use the official Tuya Integration in HA or the custom Local Tuya Integration (switches are supported in LocalTuya). Integrating Tuya devices in HA, is a long and somewhat difficult process. I intend on making a separate up-to-date tutorial in the near future to cover everything you need to know.

If you haven't already integrated your Tuya devices, follow this tutorial:
When adding this Mini Smart Switch in Home Assistant, it exposes two entities:
Switch Entity
Power-On State Entity

The default state of the switch can be set when powering on the mains power. 0=OFF, 1=ON, 2=Remember last state
Even though it uses Tuya firmware, this Aubess Mini Smart Switch integrates without issues when using the official integration. As we mention earlier, the switch is also supported in Local Tuya. You could use that integration to block it from connecting to Tuyas cloud service, or "calling home".

Verdict
Despite its shady price tag, weird layout of the components inside, and using the Tuya firmware, this looks like a decent Wi-Fi smart switch. I connected two 40W incandescent bulbs and let them run for an hour to test it out. The heat it emitted was minimal, it was BARELY warm when I touched it.
Next, I wired it to a desk lamp that I use constantly and tested it out for almost a full week, toggling it on/off very frequently. It was fast to respond and there was maybe one-two disconnects in total from my Wi-Fi. Again, it showed no signs of heat when checked.
Considering all this, I would not stick it in a switch box, or behind your house drywall and leave it there. I would say this switch is appropriate for beginners, DIY enthusiasts, testers, tinkerers and maybe the occasional desk lamp.

If you want to test it out, you can use our affiliate links bellow to support this blog.
Tuya 16A Wi-Fi Mini Switch ~ $5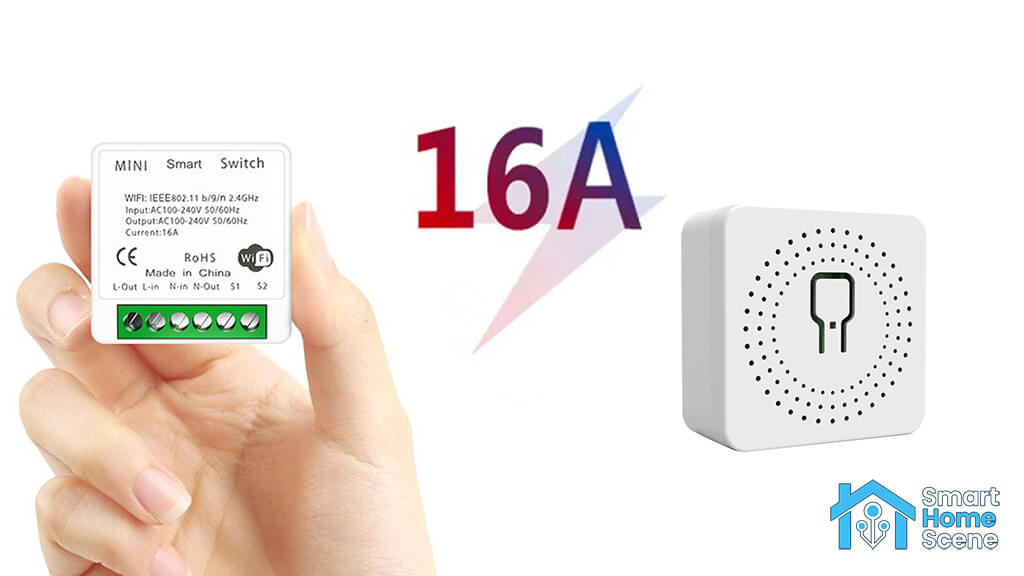 AliExpress | AliExpress | AliExpress | AliExpress




Amazon.com | Amazon.co.uk | Amazon.de
Amazon.ca | Amazon.nl | Amazon.es
Amazon.it | Amazon.fr
*If links fail to open, try disabling your AdBlocker.
Tuya 16A Zigbee Mini Switch ~ $6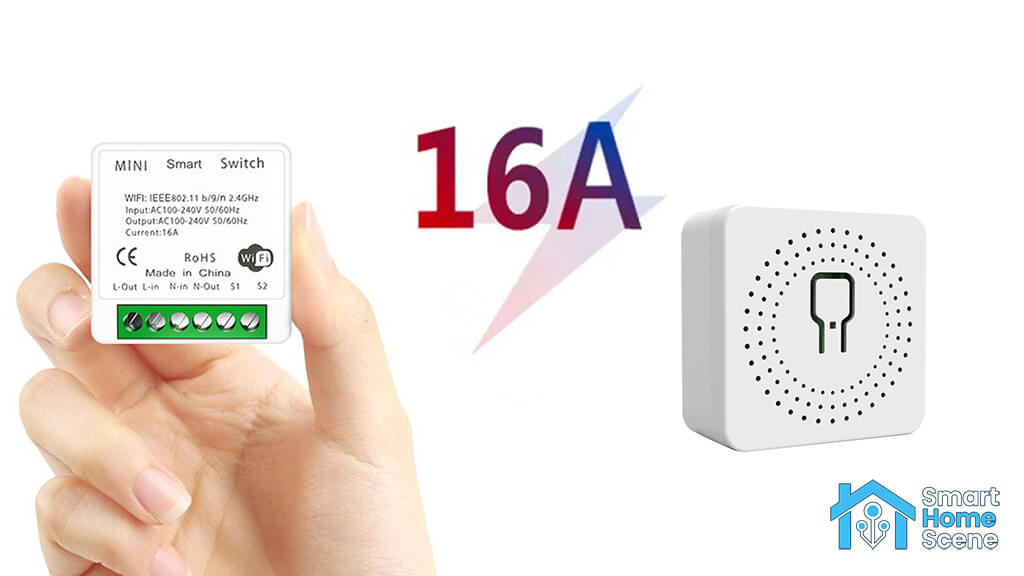 AliExpress | AliExpress | AliExpress | AliExpress




Amazon.com | Amazon.co.uk | Amazon.de
Amazon.ca | Amazon.nl | Amazon.es
Amazon.it | Amazon.fr
*If links fail to open, try disabling your AdBlocker.