---
Inkbird is a company widely known among foodies and gourmets for their range of smart food thermometers like BBQ and smoker temperature probes. They have their own app and mainly use Bluetooth as a communication protocol for their devices.
For some of their products, there is an official Home Assistant integration, which allows you to get the readings of the sensors in your instance. I wrote about Inkbird's Wi-Fi Double Probe sensor with relays a while back, labelled model IPT-2CH.
I've been meaning to test out their range of pool thermometers for a while now, an Amazon bestseller products that you toss in your pool, aquarium or hot tub to get the temperature reading of the water.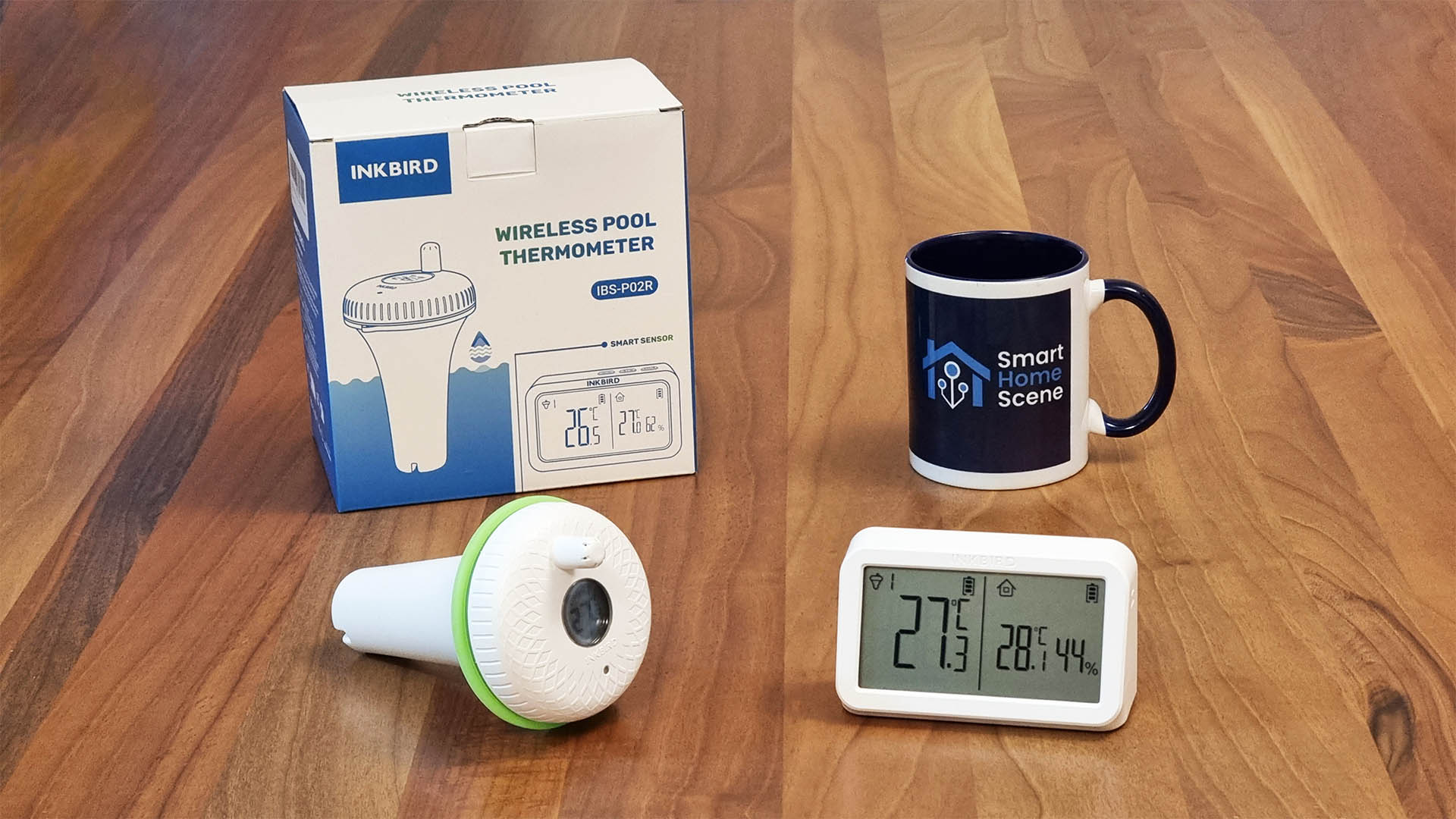 In this article, I'm testing the Inkbird IBS-P02R Pool Thermometer with a screen. This is their latest version which uses 433MHz for connectivity and you can get it on Amazon, AliExpress or their official store.
Different Models of Pool Thermometers
Inkbird has a couple of models in their pool thermometer line-up, differentiated by communication method, receiver unit (screen) and other small differences. To make it clear from the start, here's a summary:
Inkbird IBS-P01B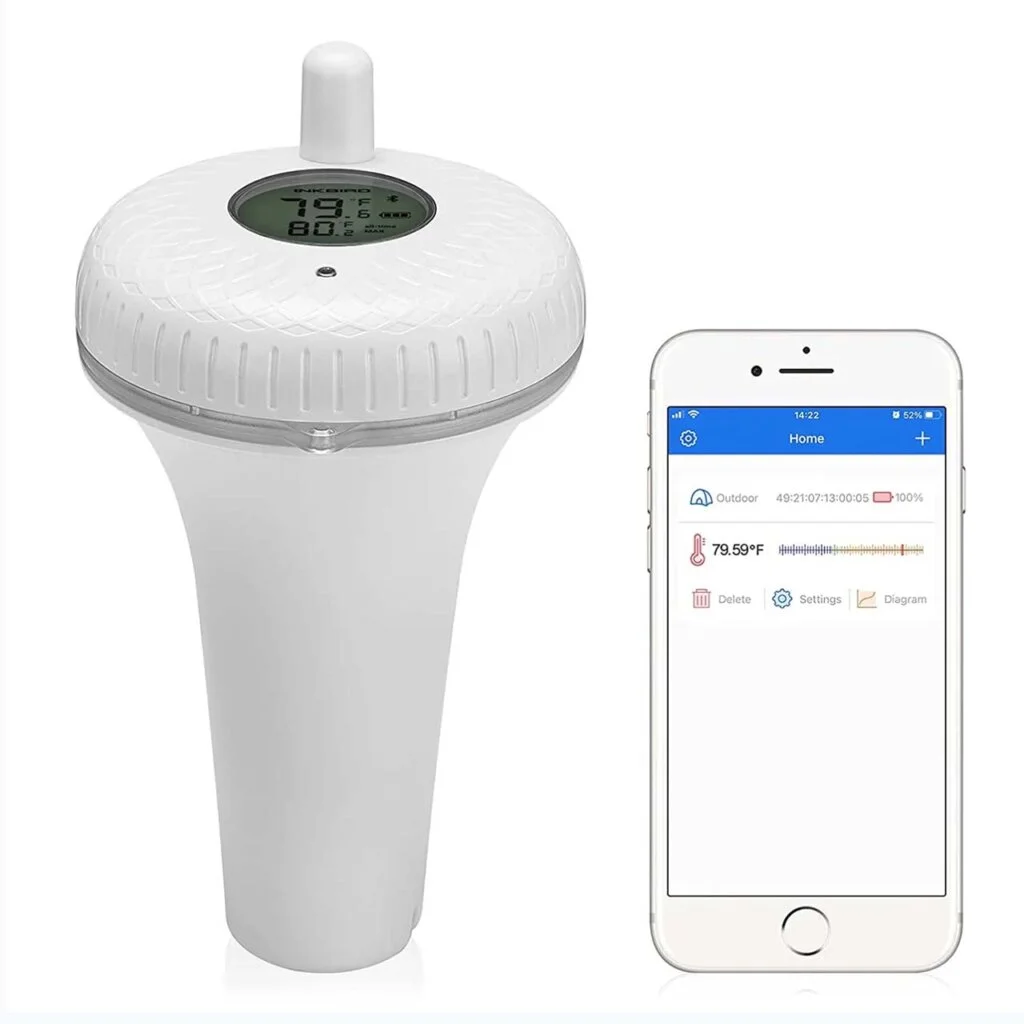 Connectivity: Bluetooth
Receiver Unit:
Price:
Inkbird IBS-P01R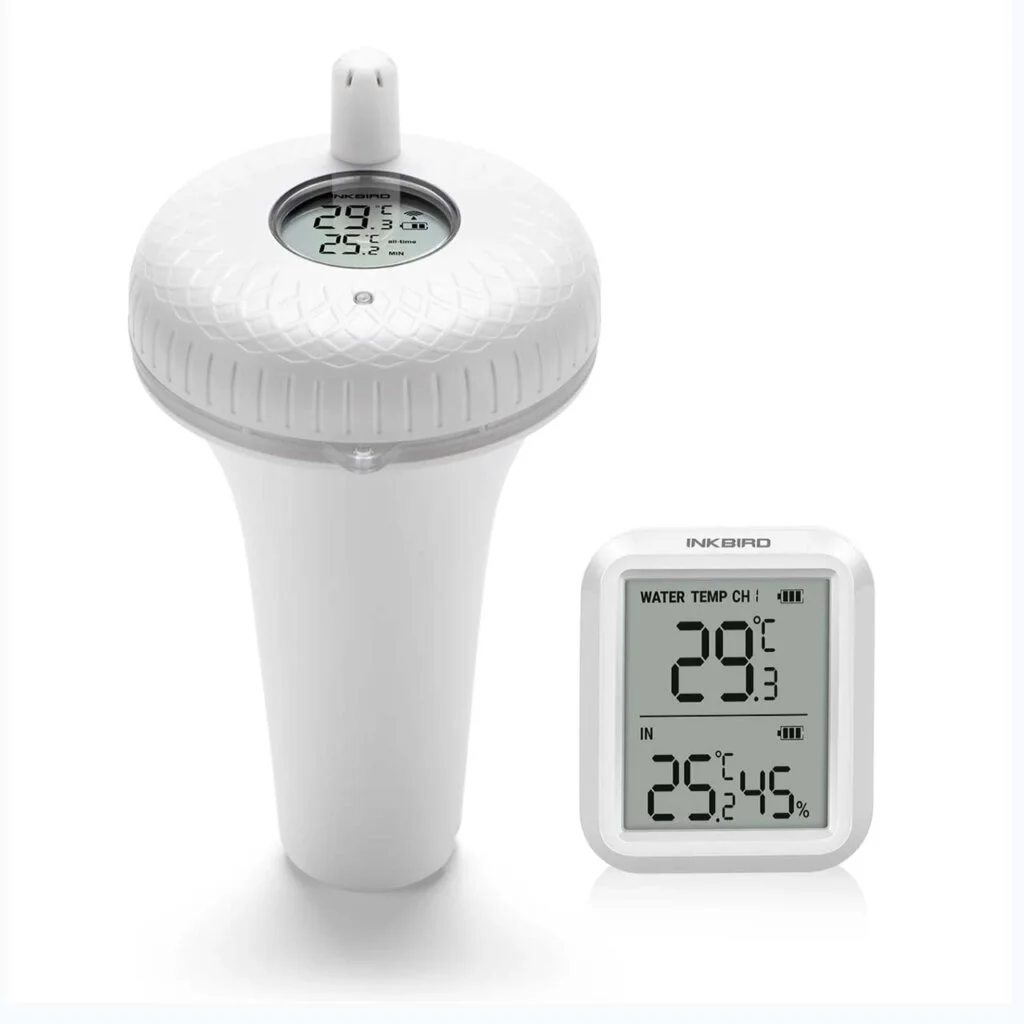 Connectivity: RF 433MHz
Receiver Unit:

RF 433MHz Screen or
Wi-Fi (IBS-M1)

Price:
Inkbird IBS-P02R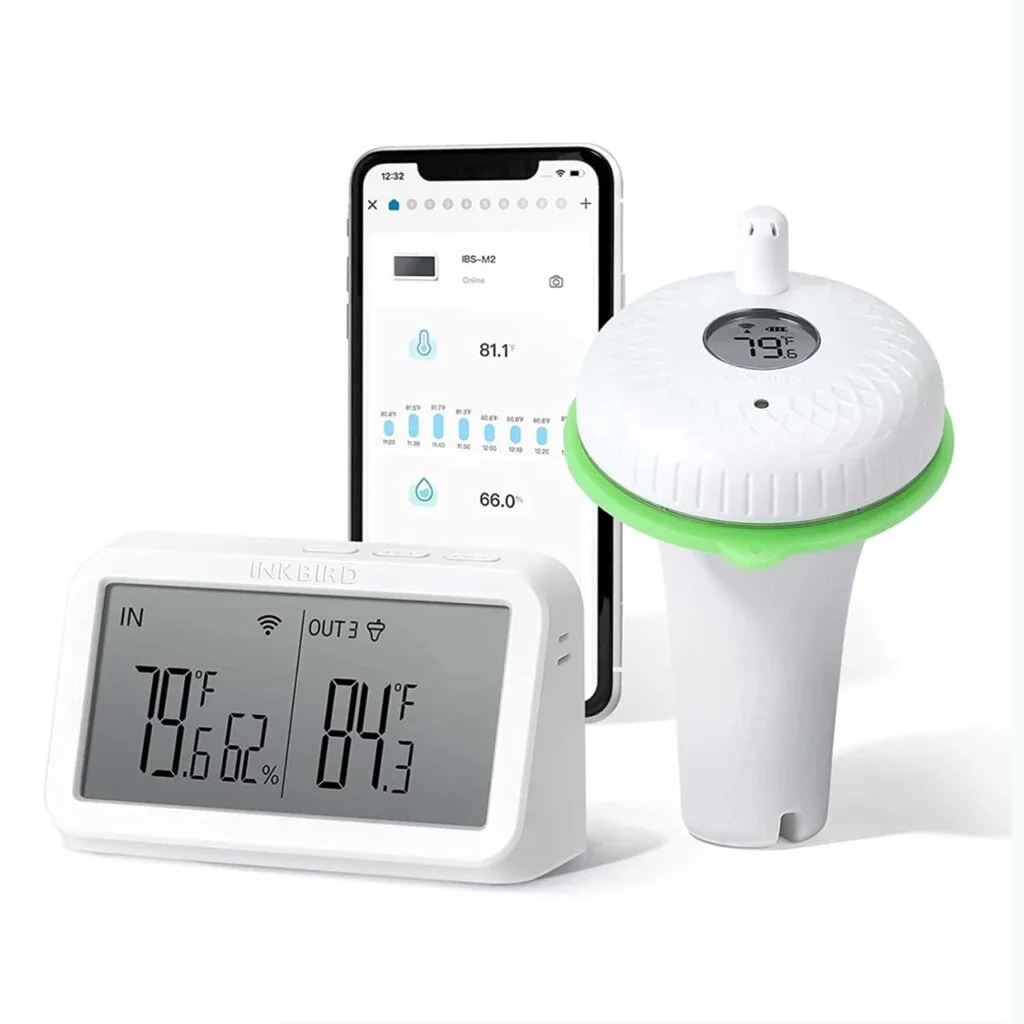 Connectivity: RF 433 MHz
Receiver Unit:

RF 433MHz Screen or
Wi-Fi (IBS-M2)

Price:
Technical Specification IBS-P02R
The model talked about in this review is the IBS-P02R, which has the following technical specification:
Temperature and Humidity Monitor (Receiver)
Temperature measurement range: -10°C~60°C (14°F~140°F)
Temperature measurement accuracy: ±1.0°C (±1.8°F)
Temperature display accuracy: 0.1°C (0.1°F)
Humidity measurement range: 0~ 99%
Humidity measurement accuracy: ± 5%
Humidity display accuracy: 1%
Maximum number of thermometer channels supported at the same time: 3
Pool Thermometer (Transmitter)
Temperature measurement range: -40°C~70°C (-40°F~158°F)
Temperature measurement accuracy: ±1°C(±1.8°F)
Temperature display accuracy: 0.1°C(0.1°F)
Sampling period: 10s
Waterproof grade: IPX7
Warranty: 1 year
Teardown
The Inkbird IBS-P02R pool thermometer ships in a branded box, containing the transmitter unit, receiver unit and a user manual. Contents inside the box are cushioned extremely well, there is no wiggle room so everything is safe from shipping mishandling.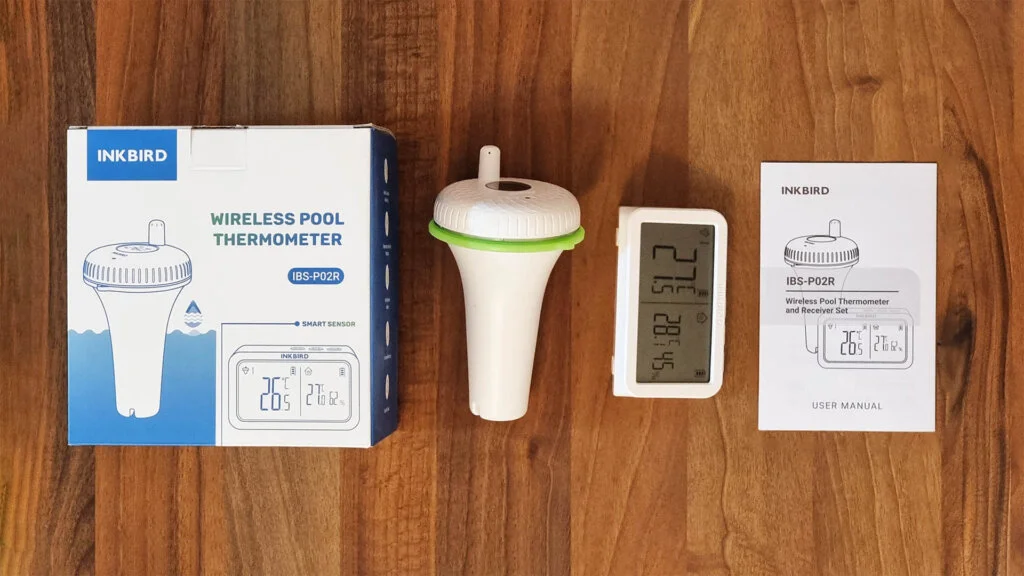 The transmitter unit is fairly long, a bit larger than my mug. The part that actually floats on the water is above the green rubber protection ring while the elongated body dips about 10cm in the water.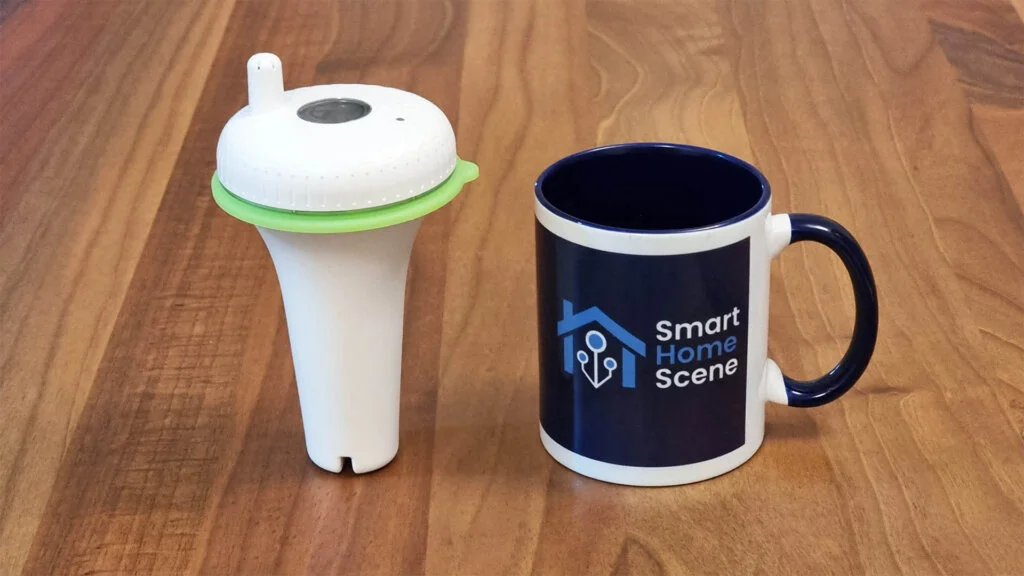 The receiver unit has a large LCD screen divided in two areas, left and right. On the left side, you can see the temperature reading of the water as well as battery level of the transmitter unit. On the right side, you get a temperature and humidity reading of the room as well as it's own battery level.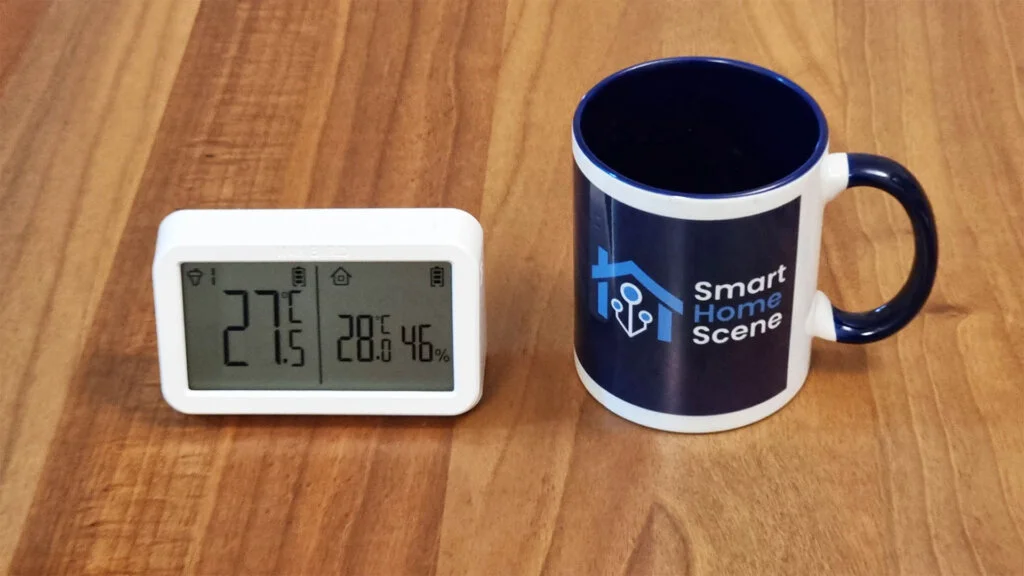 Looking at the transmitter unit from the top, you see a small screen, an antenna and a status LED. The screen is tiny, but contains the temperature reading, battery state and connectivity indicator. Useful for glancing the temperature while you are in the pool alongside the device.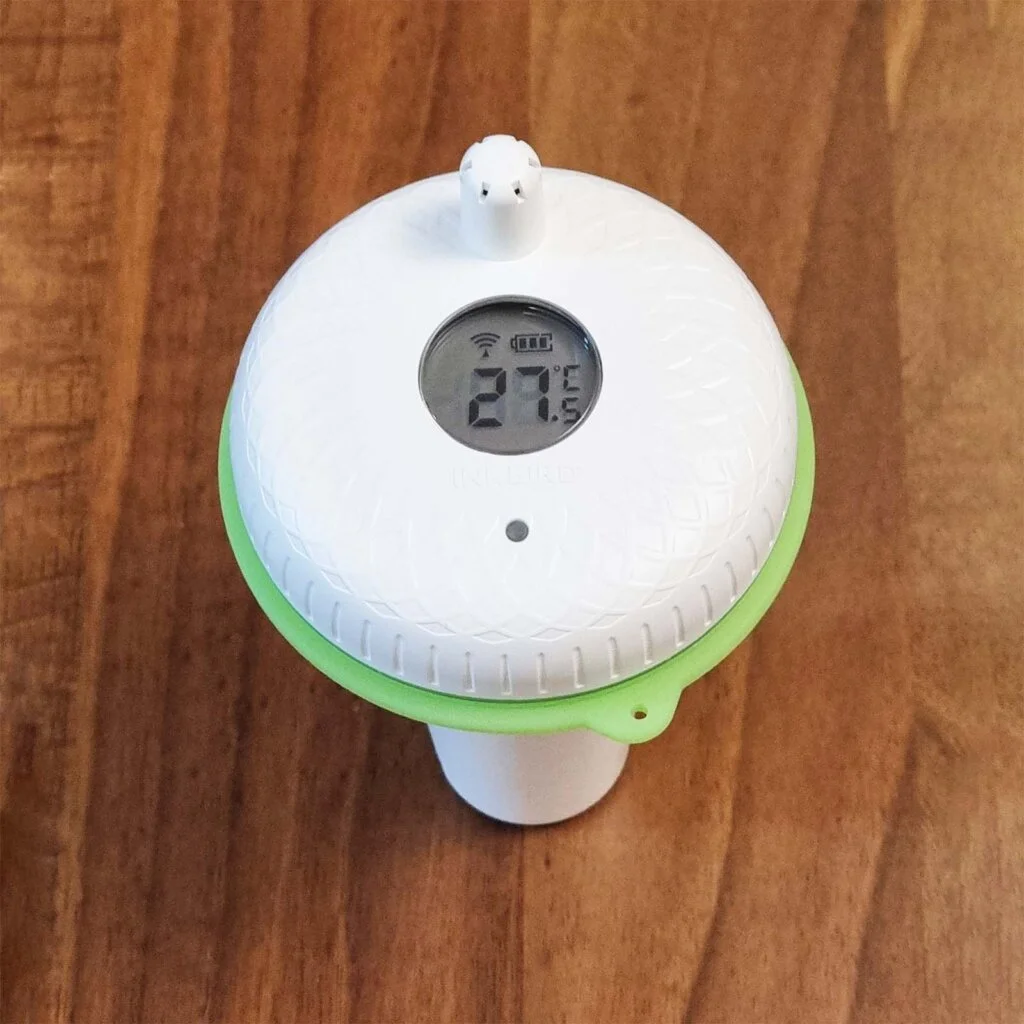 The transmitter unit is opened by unscrewing the top lid, where you are actually install the batteries. This device is powered by 2xAAAs, supposed to last a full year on a good set. The probe is connected to the main PCB with a silicone cable, which has enough length not to be twisted when screwing the top back in place.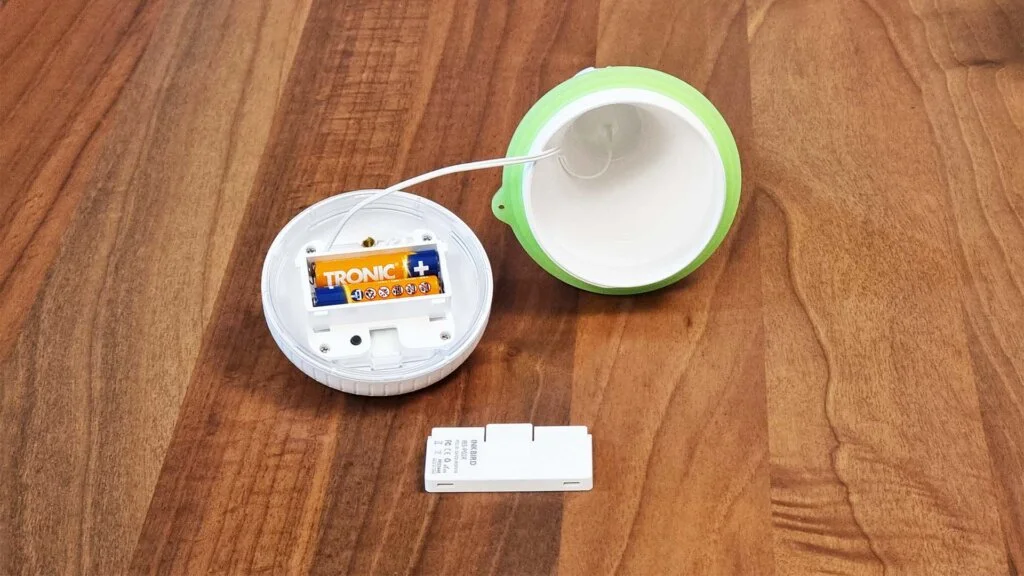 The actual sensor which measures the temperature is protruding through a small hole on the bottom. This probe is water and rust resistant, meant to spend it's life in the water.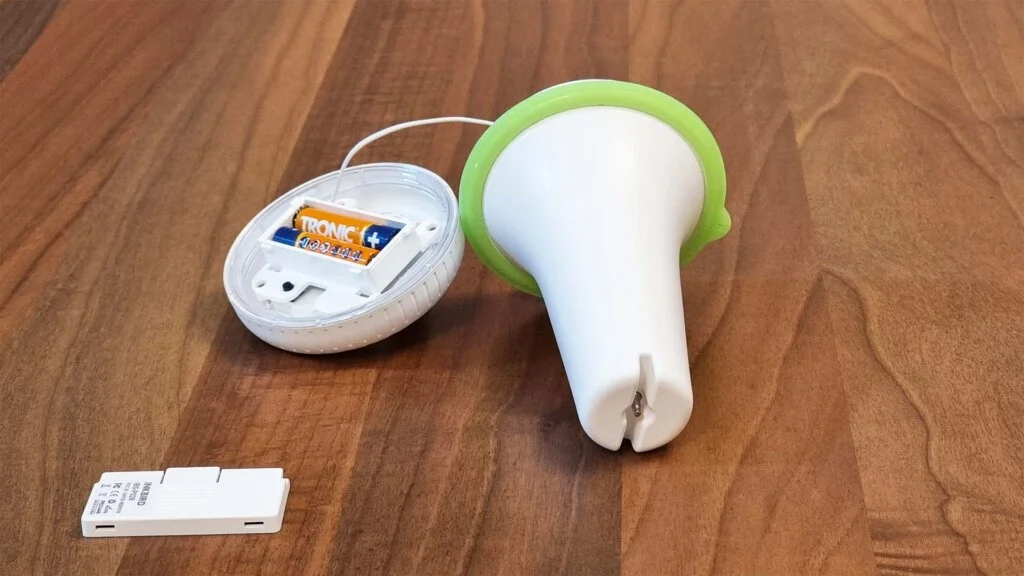 The screen of the receiver unit is actually quite solid, information can be be comfortably glanced from a distance. There are 3 buttons on the top of the device for controlling the unit:
1. Change communication channel (if you have multiple devices)
2. Change between °C/°F
3. Show Min/Max values (24Hours or All-Time)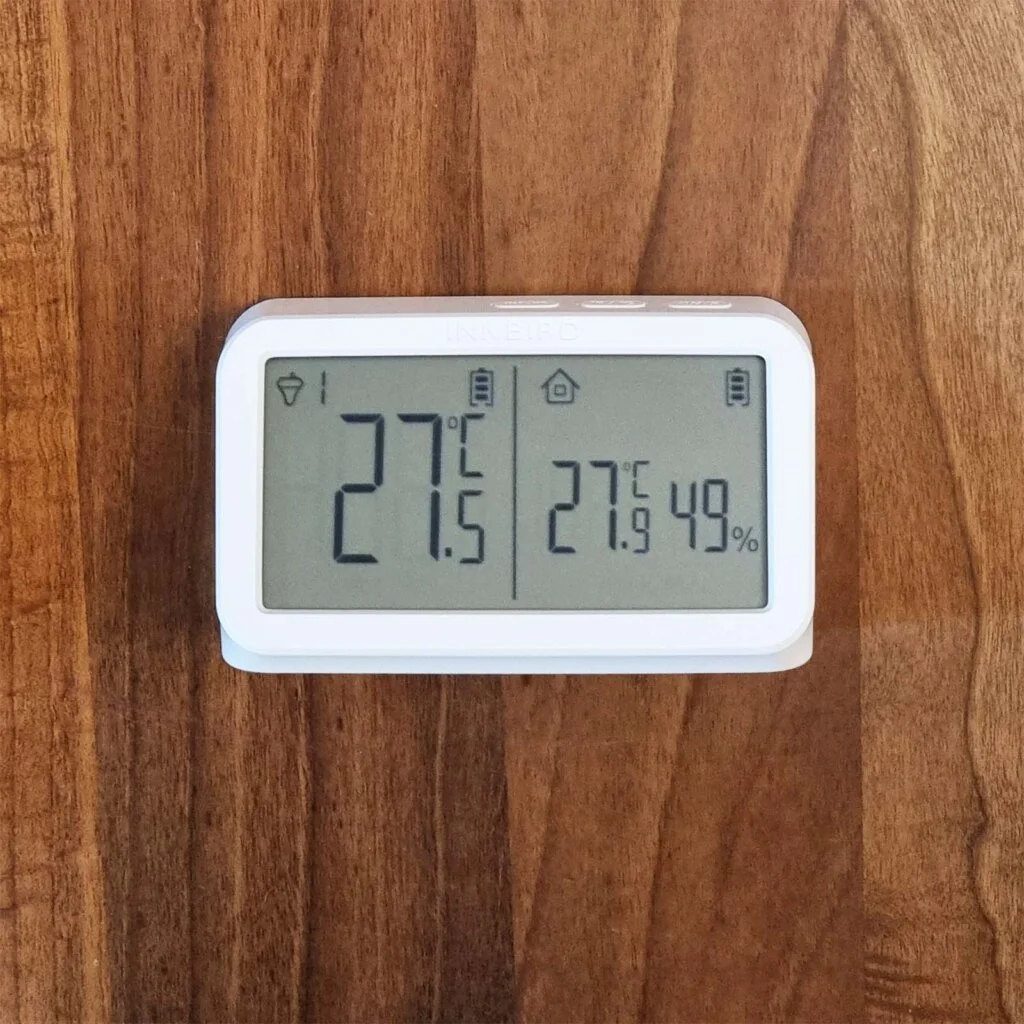 Dismantling the receiver unit was easy, everything is connected together by flat cables. PCB is neat and tidy, with a small antenna protruding through the bottom of the case for a better connection.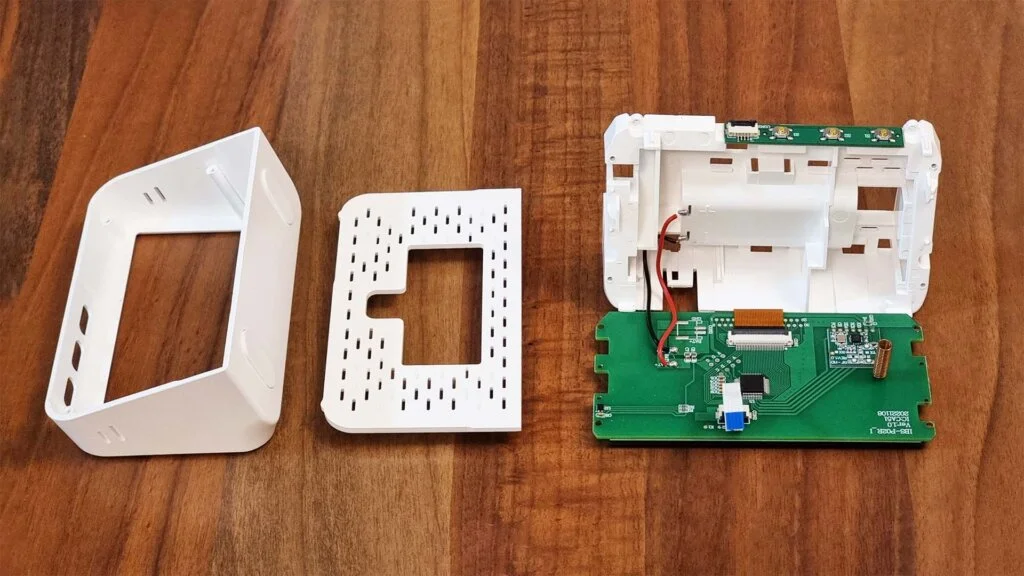 Since this is the 433MHz model, communication between the receiver and transmitter is handled through an RF module instead of Wi-Fi or Bluetooth. This results in larger range (about 300feet/90m) in open space, which can be convenient for larger pools and detached houses.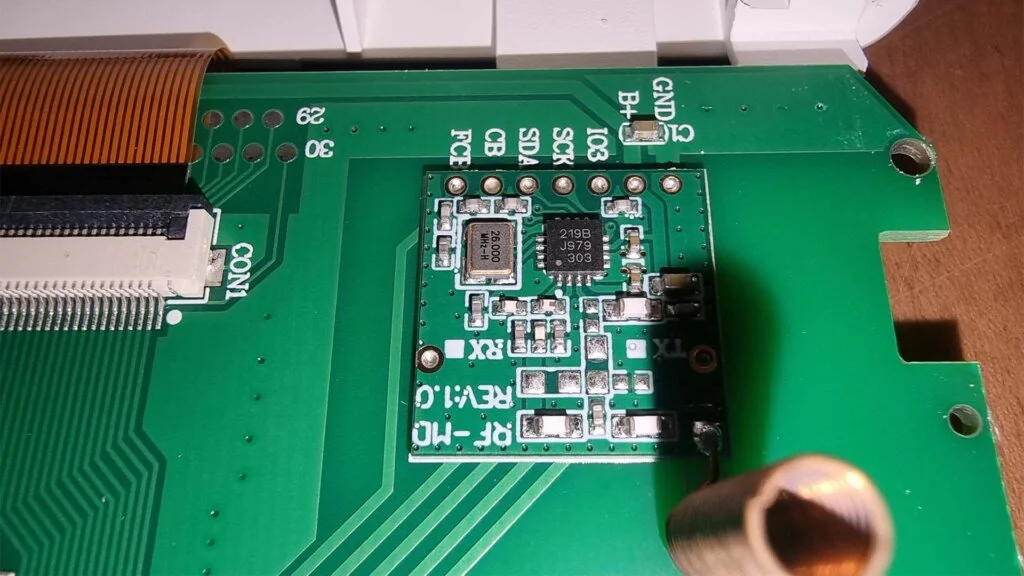 Home Assistant Integration
The Inkbird Pool Thermometers can be integrated in Home Assistant in a couple of different ways. Some models are easier (Bluetooth, IBS-P01B), others more involved (433MHz, IBS-P01R, IBS-P02R) and require additional hardware.
The RF models also have receiver versions that act as gateways (Wi-Fi, IBS-M1, IBS-M2) which be integrated through Tuya/Local Tuya Integration. This leaves us with two options:
Integrate through rtl_433 directly
Integrate their receiver (Wi-Fi) through Tuya/Local Tuya Integration
Whether or not the 433MHz integration is worth the effort is up to you to decide. There are some benefits to RF over Bluetooth, such as improved range over an open area. However, you can always capture BLE packets with an ESP32 board and proxy those to Home Assistant if you need to. In summary:
My version doesn't have the Wi-Fi gateway, so I could not test the Local Tuya Integration. I am currently waiting on a RTL-SDR dongle to test the rtl_433 Integration, will update this article when I get some information.
Testing
I don't own a pool (this device is going to be given away), so to get a sense of the reporting interval and accuracy of the Inkbird IBS-P02 Pool Thermometer, I dipped the transmitter in two glasses. One contains cold tap water (still kind of hot due to summer) and the other one hot boiler water, coming in at about 40°C.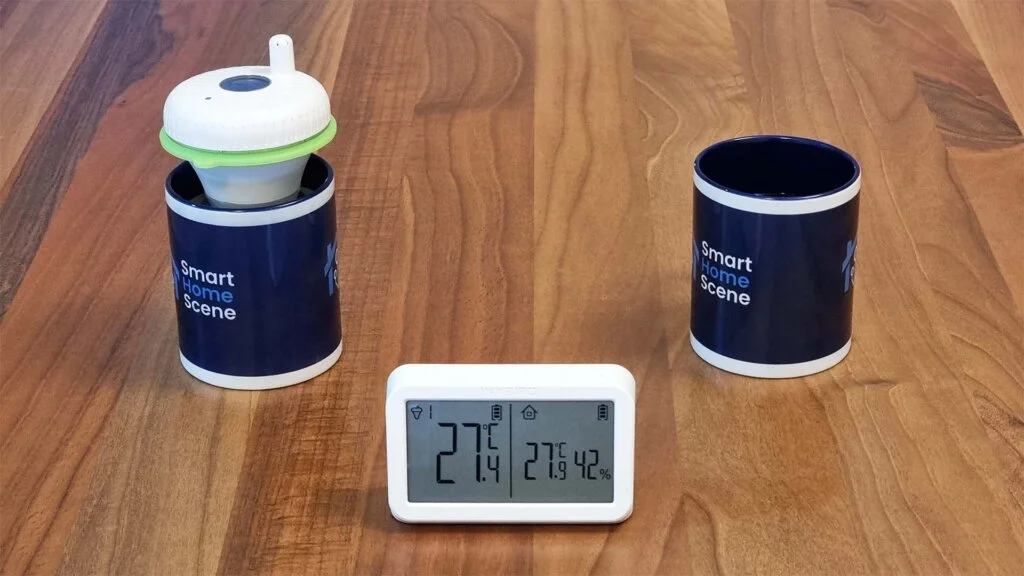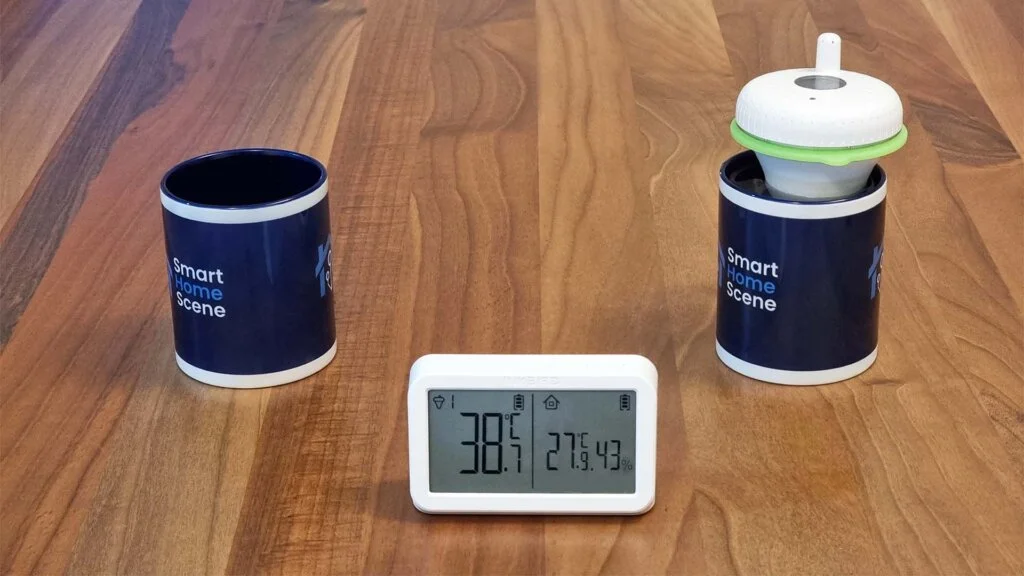 The values on the receiver unit were updated almost instantly, in about 3 seconds. As soon as I changed the mug back, the values changed back again. I'm not sure if such a fast reporting interval is useful for the purpose of this device, but it certainly doesn't hurt.
The temperature measured by the receiver unit deployed in my living room also appears to be accurate, compared to my e-ink Xiaomi LYWSD02 sensor. Overall, I am happy with the build quality and feature set of the Inkbird IBS-P02R.
Summary
This 2nd generation pool thermometer from Inkbird model IBS-P02R [Amazon, AliExpress] is capable of measuring the temperature in your pool, pond, aquarium or any mass of water really. It reports back very fast to it's receiver unit via radio frequency on the 433MHz band.
Whether or not investing in RTL-SDR dongle to capture it's payload is worth the effort is debatable, just so you could integrate the device in Home Assistant. If you have a pool near your home, you might be better off getting the first generation Bluetooth version – model IBS-PO1B [Amazon, AliExpress].
If you don't need to integrate the device in Home Assistant and simply want to glance information on it's receiver with a screen, than the 2nd generation IBS-P02R is certainly better. It's important to note 433MHz has significantly larger range over an open area than Bluetooth, ~90 meters for this particular device.
If you decide to go the Wi-Fi router and integrate the gateway through Tuya/Local Tuya, it's smarter to get the combo set which sells for a bit lets – IBS-P02R + IBS-M2 Gateway [Amazon, AliExpress]. You can add up to 9 pool thermometers on a single gateway.