---
On our AliExpress Reviews channel, we mostly test and review ZigBee-based smart home gadgets and hardware. This is because ZigBee is a great choice for home automation: local by design, mesh-capable, cheap and works with Home Assistant. We've tested some Wi-Fi devices as well, such as the cheapest Wi-Fi switch you can buy for a smart home.
Recently, a weird looking and unattractive device came into our domain for testing. It's a double probe sensor and switch, made by Inkbird, model IPT-2CH. This device is advertised as a "wi-fi reptile thermostat" by the company, so let's see what it contains inside and what can we use it for.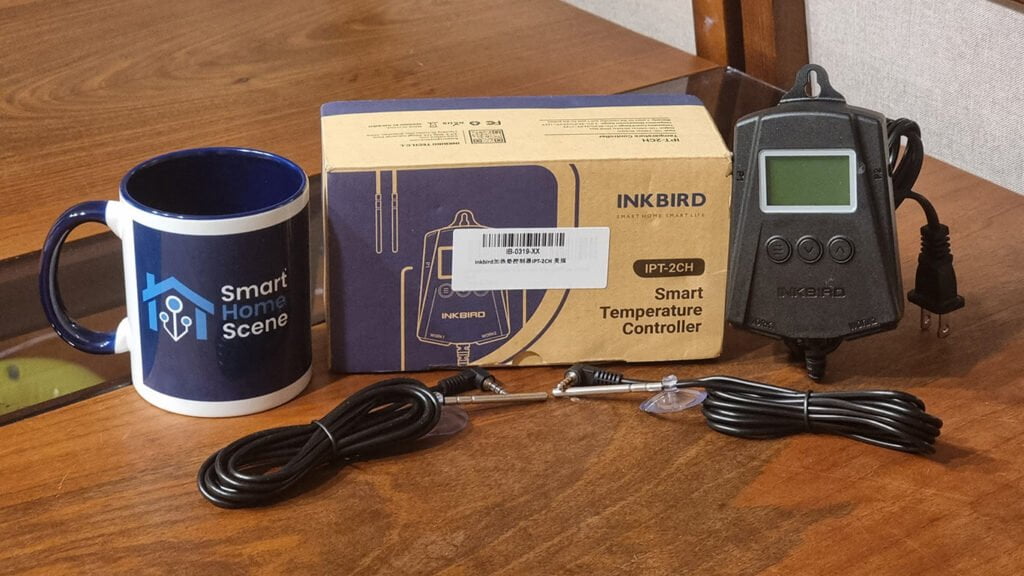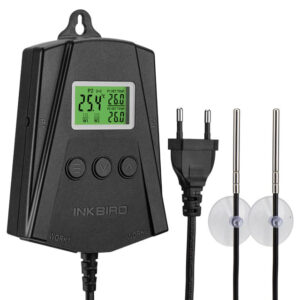 Technical Specification
Input: 100~240Vac 50/60Hz
Output: 100~240Vac 50/60Hz 500W Max (each 250W)
Probe Type: R25°C=10KΩ±1% R0°C=26.74~27.83KΩ B25/85°C=3435K±1%
Temperature Control Range: 0.0℃~45.0°C/32.0°F~113°F
Temperature Measurement Range: -5.0°C~50.0°C /23.0°F~122°F
Temperature Display Accuracy: 0.1°C/°F (T<100°C/°F), 1°C/°F (≥100°C/°F)
Temperature Measurement Accuracy: ±1°C/±2°F
Temperature Unit: Celsius °C or Fahrenheit °F
Operating Ambient Temperature:-20°C~60°C/-4°F~140°F
Storage Environment:

-temperature range: 0°C~60°C/32°F~140°F
-humidity range: 20~80%RH (not frozen or condensation)

Connectivity: Wi-Fi 2.4Ghz
What's Inside?
The Inkbird IPT-2CH ships with two temperature probes which connect to its sides via a 3.5mm jack. A monochrome display is placed on the middle as well some buttons for fast settings adjustment. There is a mounting hole at the top and two exit terminals on the bottom capable of controlling two separate devices via the inside relays. The terminals are standard US plugs.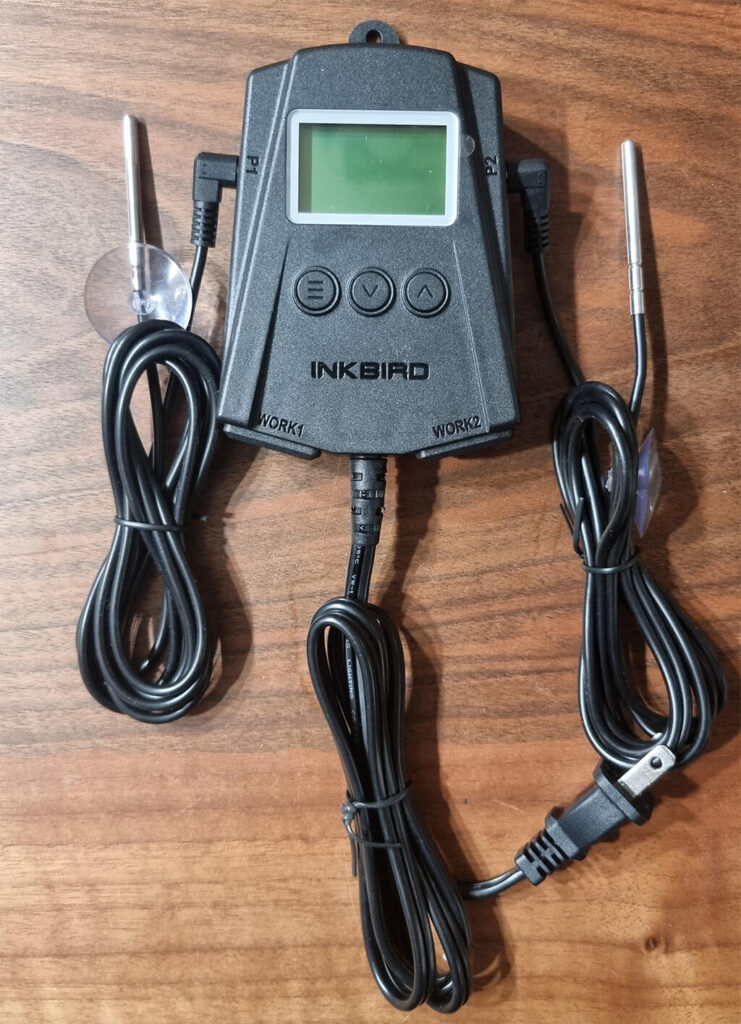 This device is based on Tuya TYWE3S which is Tasmota flashable, details here. This means, in theory, we could get rid of this gadgets' cloud dependency and flash a custom firmware for local control. A user was able to flash a similar device, the Inkbird ITC308, read more here.
On the sides of the panel, two 3.5mm female connectors are used to connect the temperature probes. These are easily replaced, considering they are plug-and-play.

In the middle, there's a copper coil transformer sticking out as well as some capacitors. The relays of the device are placed near the bottom, next to the US plug connectors.
On the front side, the monochrome display is dominating the PCB. Underneath, three buttons can be seen for controlling the smart thermostat.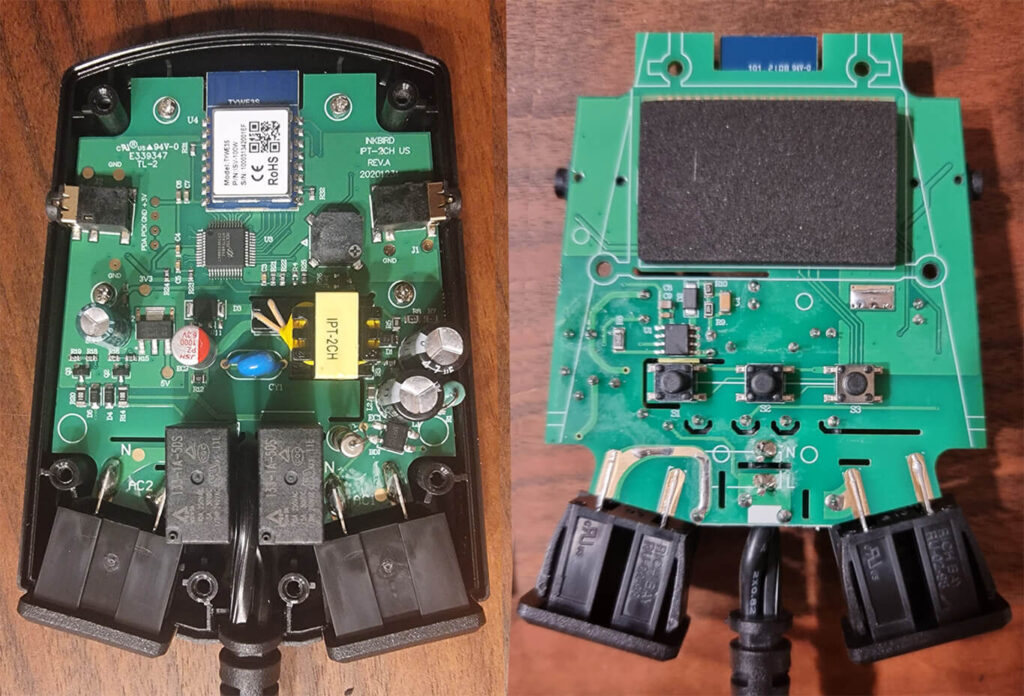 The relays themselves are rated for 10A each. They are manufacture by a company from Taiwan, named HSIN DA (Xinda) Precision Co. Ltd. This is the first time we're encountering these relays and manufacturer, so we have no idea what to expect. Details of the relay, model 133 can be found here.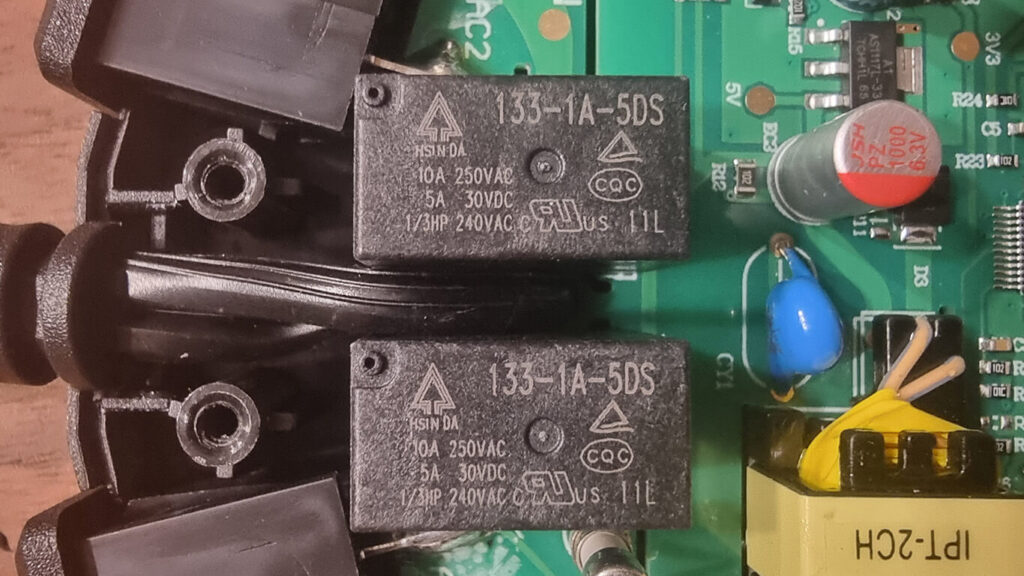 Fully disassembled, the device looks like something made in the 90s. The monochrome display reminds of a cheap calculator. Whether this is important or not, is completely subjective.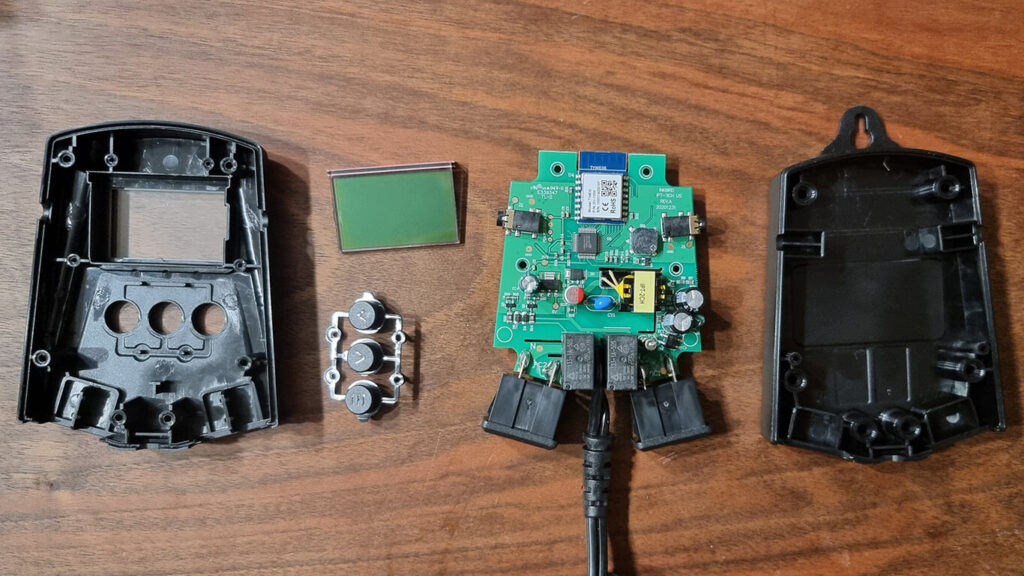 Wiring and Installation
This smart thermostat switch does not need to be hard-wired. It's completely plug and play, which means you connect it to your mains power and than connect your two entities at the terminals. For example, a reptile heat lamp and a water pump.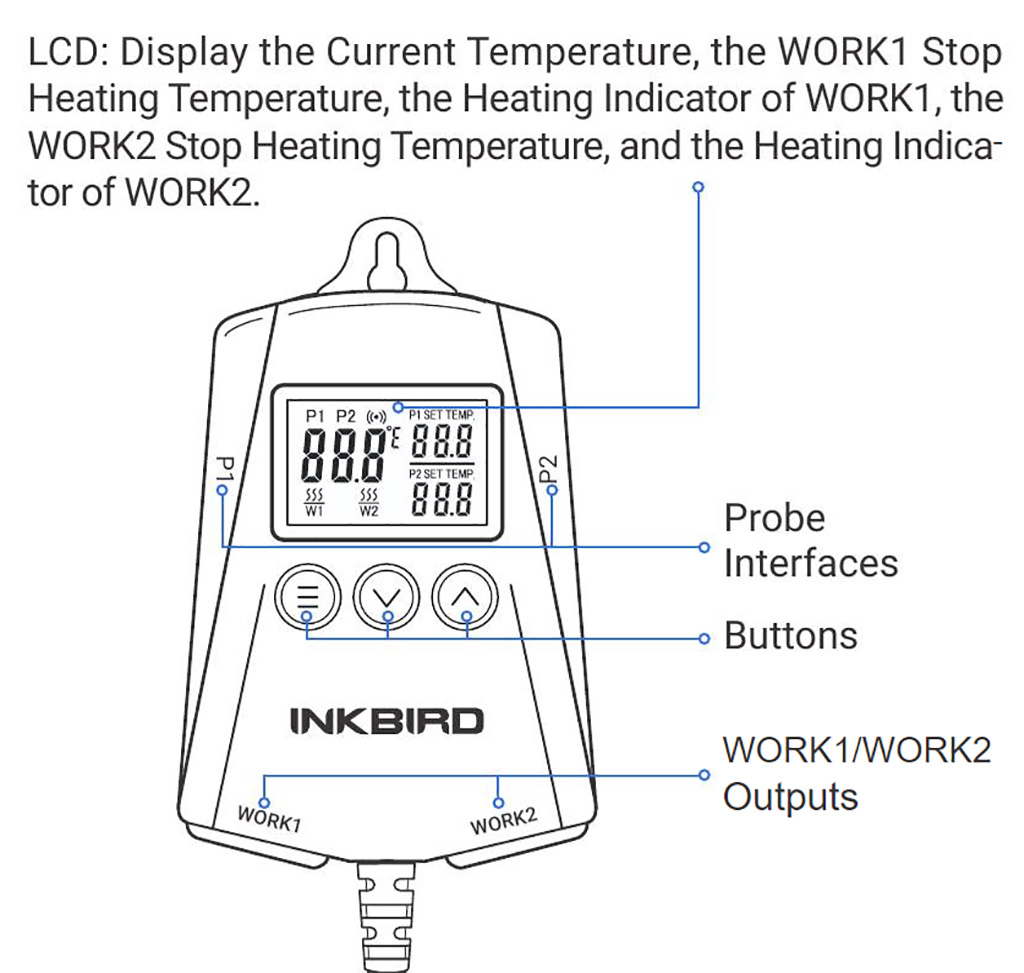 You could order the Inkbird IPT-2CH with EU plugs instead of US. You do not need to, because you could hard-wire your entities directly if you open it inside.
Features and Operation
This device is as simple as can be when it comes to operation:
You set your target temperature for Probe 1/2
You position the temperature probes to measure as accurately as possible
You connect your controlled entities (can be anything within 10A)
When the target temperature is reached, the appropriate device is turned off
The Inkbird IPT-2CH is controllable through their own app (Inkbird Pro) or Tuyas' Apps (Smart Life or Tuya Smart).
The Tuya app can be integrated to Home Assistant via its official integration. Please keep in mind this is still cloud dependant.
As a test, we've installed this gadget in two adjacent water boilers. Their water temperature can be measured by inserting a probe on the side of the body of the boiler. In the app, we can adjust a few things: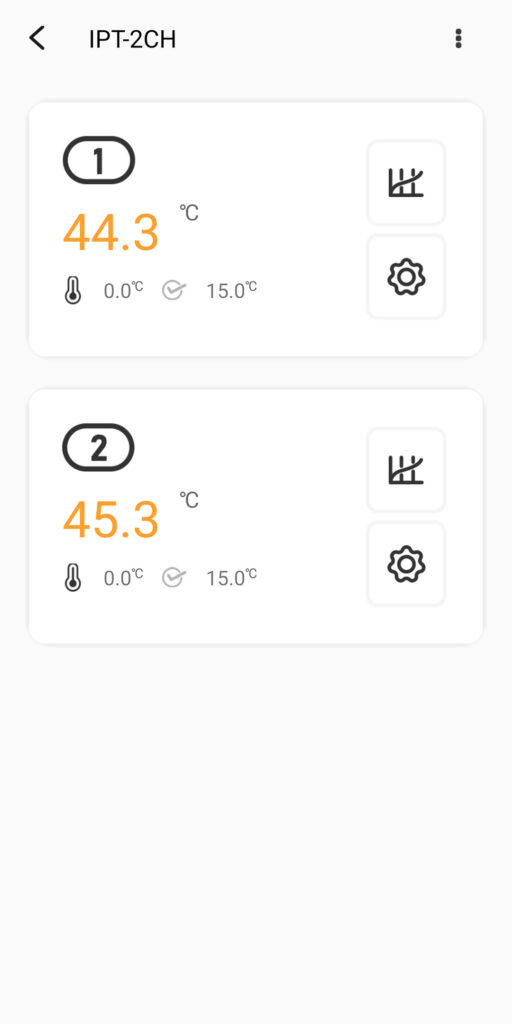 On the first screen, the probes readings are shown, as well the set temperature.

On the second screen, in the settings menu, an Alarm toggle can be turned on which will beep when an alarm setpoint is reached. Here you can set your temperature as a start and stop setpoint. There's a temperature calibration menu on the bottom, which could be useful when the readings are off.

On the third screen, you can scroll through your probe history measurements.
Verdict
This weird looking device is aimed and marketed at a very specific niche – Wi-Fi Reptile Thermostat. For this purpose, we feel like it will do it's job well. Even though at heart, it's just a combination of relays and temperature probes, we would not suggest using this device for anything else as there are far better alternatives.
As far as cloud dependency goes, we have not attempted flashing it with Tasmota because this device is not our possession, but a friends. He controls a turtle enclosure with it – a heat lamp and a water pump. In theory, the TYWE3S chip is completely flashable, however, user u/jaymemaurice on reddit flashed the similar ITC-308 and found a bunch of problems, like the temperature readings off by a factor of 1000!
So should you buy the device? Our suggestion is to skip it – it's large, weird looking and there are better alternatives out there for a probe temperature thermostat which can be completely local – ZigBee based for example.

If this fits a purpose, maybe for someone who does not care about its drawbacks, please consider using one of our affiliate links bellow.