---
On our AliExpress Reviews channel, we test many devices from the Moes brand. This is because as far as cheap smart home hardware goes, most of them turned out to be of good build, solid quality and will not break your bank. Today we are looking at a smart thermostat sold by Moes, the BHT-002.
As usual, we are going to pry it open, check the quality of the components, integrate it in Home Assistant and talk about its pros and cons. Let's get to it!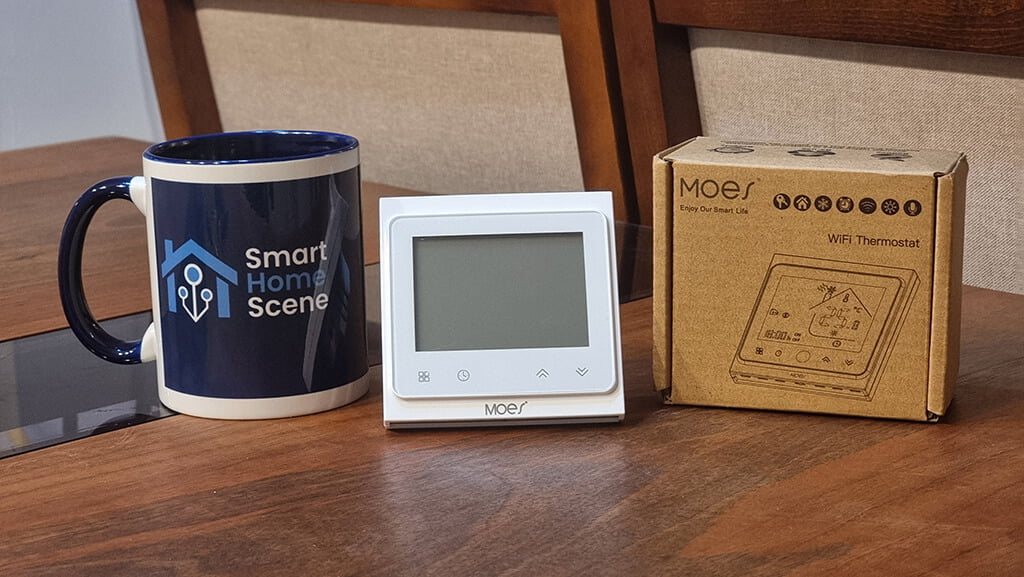 Technical Specification
Sensor: NTC3950
Accuracy: ±1°C
Power Consumption: < 1.5W
Timing Error: <1%
Power Supply: 95 ~ 240VAC, 50 ~60Hz
Current Load:

3A(water heating, water/gas boiler),
16A(electric heating)

Ambient Temp.: 0-45°C,5-95%RH (Non-condensing)
Storage Temp.: -5-55°C
Set Temp. Range: 5-35°C
Room Temp. Range: 5-99°C
Shell material: PC+ABS (flame retardant)
Dimension: 86x86x13.3mm
Installation: 60mm box
What's Inside?
The Moes ZigBee Smart Thermostat arrives neatly packed in a cardboard box, containing the thermostat, the manual of operation and some screw for mounting it on a wall. Its label says "WiFi Thermostat", even though it's the ZigBee version. This is probably done to save on packaging costs, so don't have a small heart attack when you unpack it first.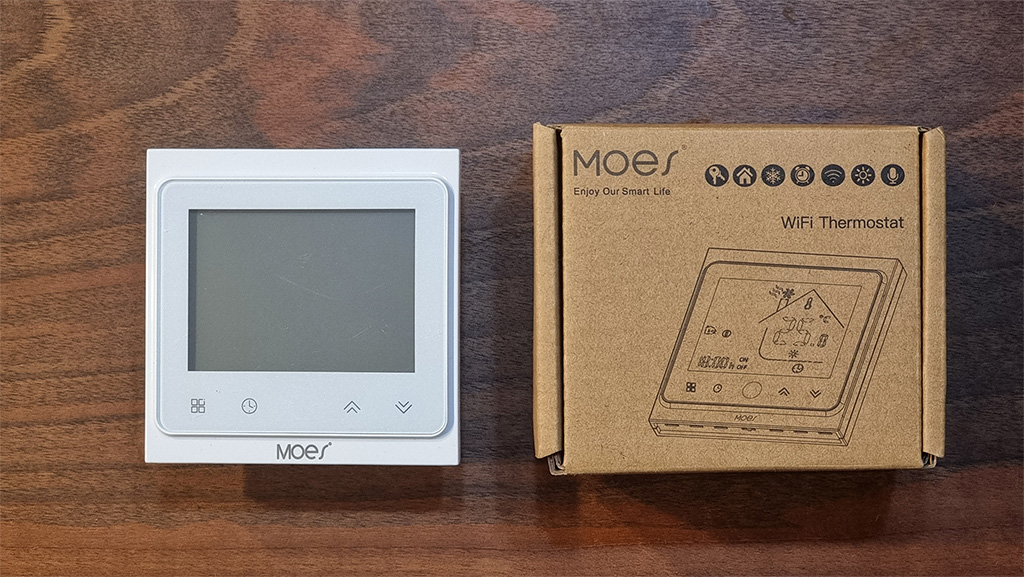 On the front plate, the display frame is neatly placed together with a few capacitive touch buttons. We suspect your main operation of this device will be automated or controlled via Home Assistant, but nevertheless they are nice to have.
On the back plate, four main terminals are placed together with some labeling. Two of those are used to connect it to mains power, N and L, and the other two are used to connect your heating/cooling entity. This particular model is for a water boiler, which requires Dry Contact to simply complete the circuit and start the boiler.
Next to the main terminals, are two smaller terminals labeled NTC 10k 3950. These two are used for connecting an external temperature probe or thermistor. This connector is used to add a second external sensor, we explain further bellow.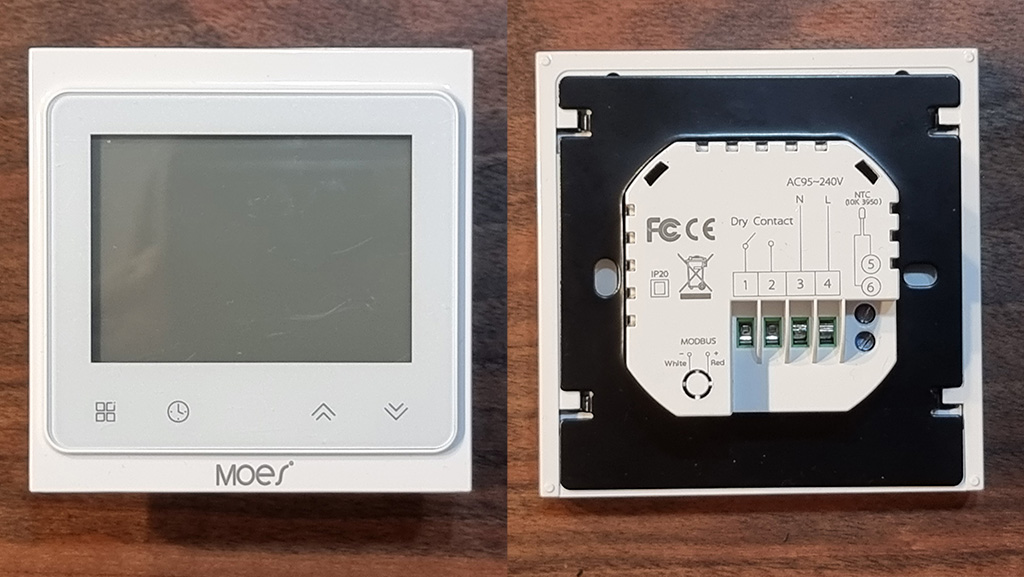 Once we remove the backplate, we can see the main PCB is connected to the terminals and relay with a flat cable. A protective PVC foil separates the two, two prevent accidental short circuits and heat conduction.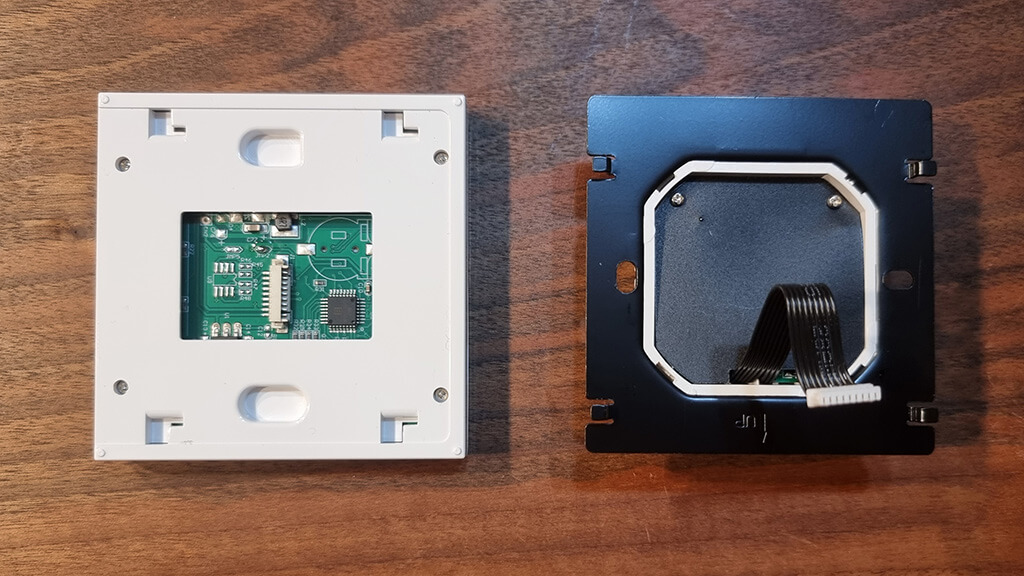 The backplate PCB contains the 4 main terminals, as well as the 2 temperature sensor terminals on the side. The backside components are fairly standard, such as resistors, diodes and are soldered properly by a machine instead of some student in a factory somewhere.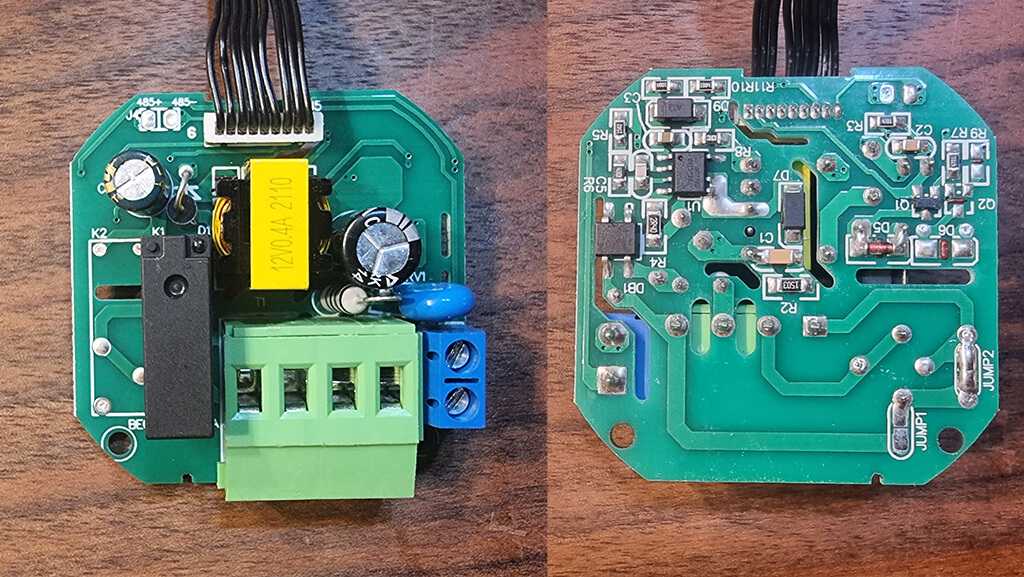 The relay HF46F is rated for 5A, considering this is the water boiler version (16A is electric heating). Its manufactured by Hongfa Technology, a Chinese industrial relay manufacturer based out of Xiamen-Zhangzhou. HONGFA boasts more than 30 subsidiaries worldwide, and its business covers more than 120 countries and regions.
Nevertheless, a distinct click can be heard when the relay is triggered, indicating a solid build quality. Quiet relays tend to be either very weak or of bad quality.

Note: If you ordered the Electric Heating version, this would be replaced by a 16A relay.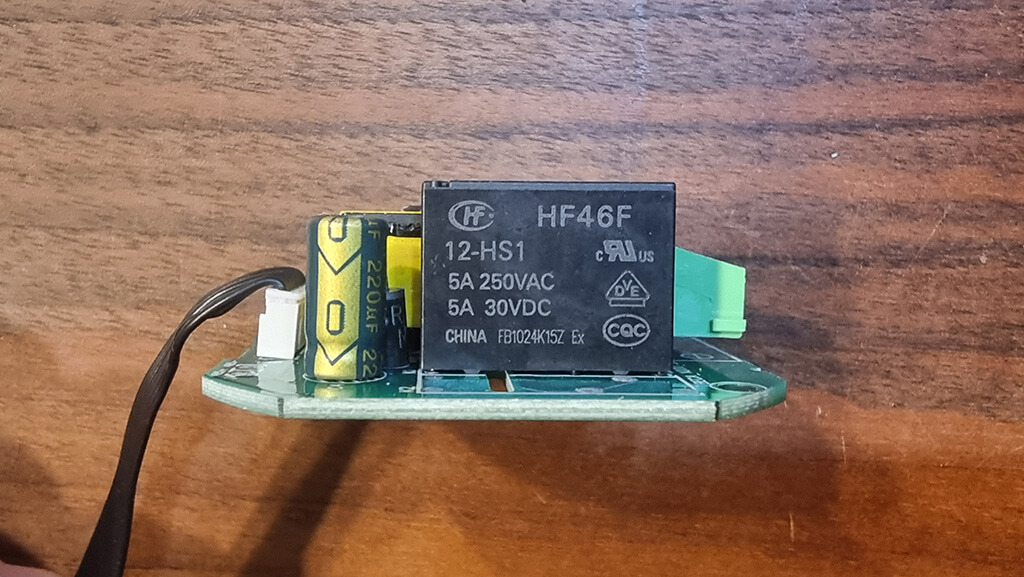 The front panel of the thermostat, contains the communication chip (in this case ZigBee) as well as the screen. The WiFi version of the thermostat would contain a WiFi communication module instead.
The built-in temperature sensor is mounted at the bottom of the metal plate sticking out of the body of the thermostat. It's a NTC 10k 3950 thermistor sensor, which might need calibration after installation.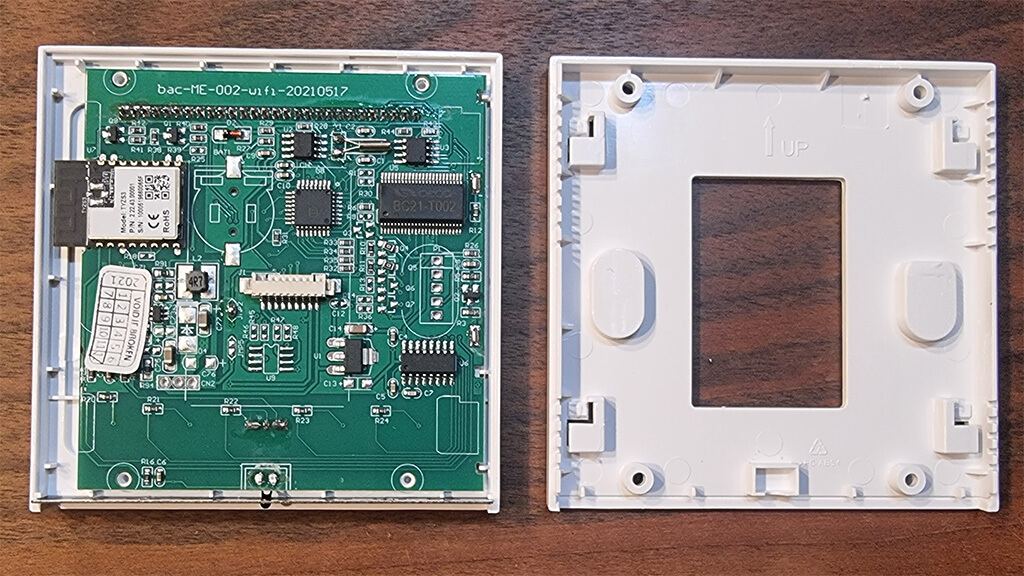 The chip itself is a Tuya model TYZS3 embedded with a low power-consumption 32-bit ARM Cortex-M4 core, 512-KB flash memory and 64-KB RAM. It's fit for its purpose, and considering the nature of ZigBee it's completely local.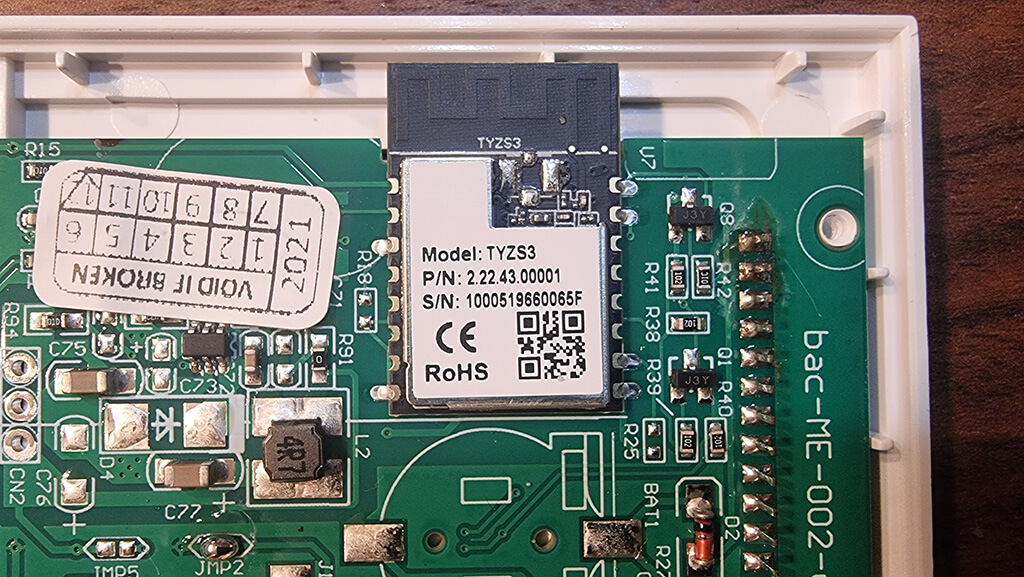 Different Model Versions
Perhaps the most important part of this review, is to understand the differences between the model variants of the Moes Smart Thermostat. This would ensure you order the right version for your heating installation.

In general there are three main models in which this switch is produced: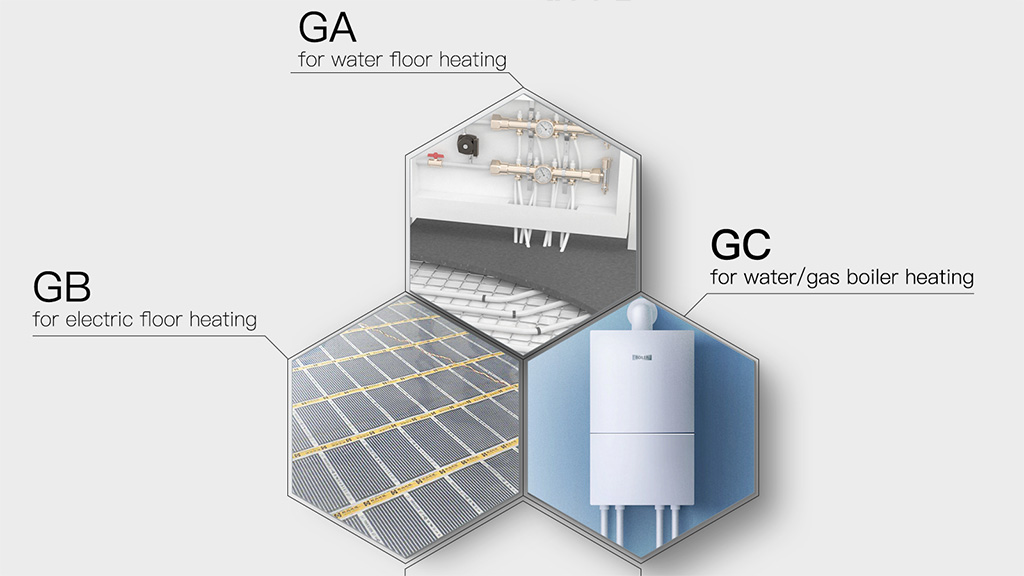 This further breaks down by connectivity, giving us a total of 9 different models.
Standard (No Wi-Fi or ZigBee)

BHT-002-GA: 3A Water Heating
BHT-002-GC: 3A Water/Gas Boiler
BHT-002-GB: 16A Electric Heating

ZigBee:

BHT-002-GALZ: 3A Water Heating

BHT-002-GCLZ: 3A Water/Gas Boiler
BHT-002-GBLZ: 16A Electric Heating

Wi-Fi:

BHT-002-GALW: 3A Water Heating

BHT-002-GCLW: 3A Water/Gas Boiler
BHT-002-GBLW: 16A Electric Heating
Picking The Right Model
IMPORTANT: The following explanation is just a general guideline and description! Do not take this advice exactly as written, if you are unsure ALWAYS consult with a certified electrician/HVAC installer. Alternatively, you can send us an email at editor@smarthomescene.com with your HVAC installation and we'll try to help you pick.
Main Models: This may confuse some readers, but it's fairly simple to distinguish:
If you use an electric heating system (floor heating coil, electric radiators, quartz heaters, any kind of electric heaters), where larger amount of current needs to pass through the relay than the GB model is probably for you.
If you use water heating, water boiler, gas boiler, pellet burners or similar where either small or no amount (dry contact) of electricity needs to pass through the relay, than the GA/GC model is probably for you
Connectivity: As usual, we advise you stay away from the Wi-Fi version as it is Tuya based. If you use ZigBee, than that's the version for you (ending in LZ). You can also order the standard variant, without any connectivity whatsoever. The Moes Smart Thermostat is more than capable of working as a standalone HVAC controller. You can program it, schedule it by days, week, and adjust its system settings from the built-in menu (see further bellow).
Wiring and Installation
The Moes Smart Home Thermostat BHT-002 is fairly easy to install. Considering most residential homes in need of a thermostat already have some sort of wires installed in a switchbox or maybe an old (dumb) thermostat.
Connect the two wires from your heating appliance (water boiler, electric heating coil etc.) to terminals 1 and 2
Connect the N-Neutral wire to the N-terminal of the thermostat, terminal 3
Connect the L-Live wire to the L-terminal of the thermostat, terminal 4
If you are installing an additional temperature sensor/probe, connect it to terminals 5 and 6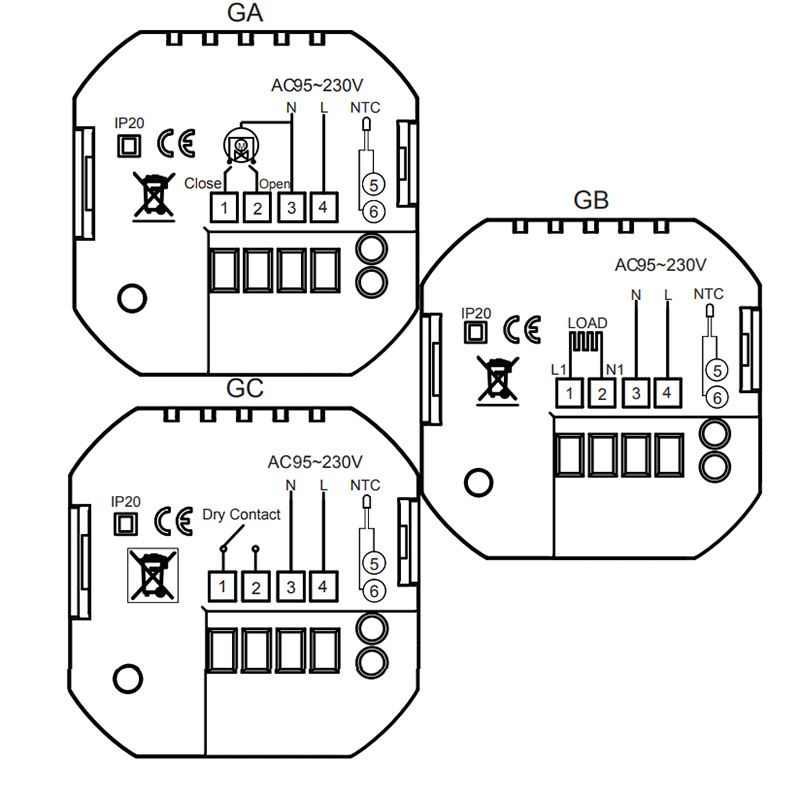 Features and Operation
This Moes Smart Thermostat is packed with features, capable of automating your heating system all by itself. It's fully programable and with some interesting capabilities for calibration and control. First, refer to the image bellow to understand the basic features of the display: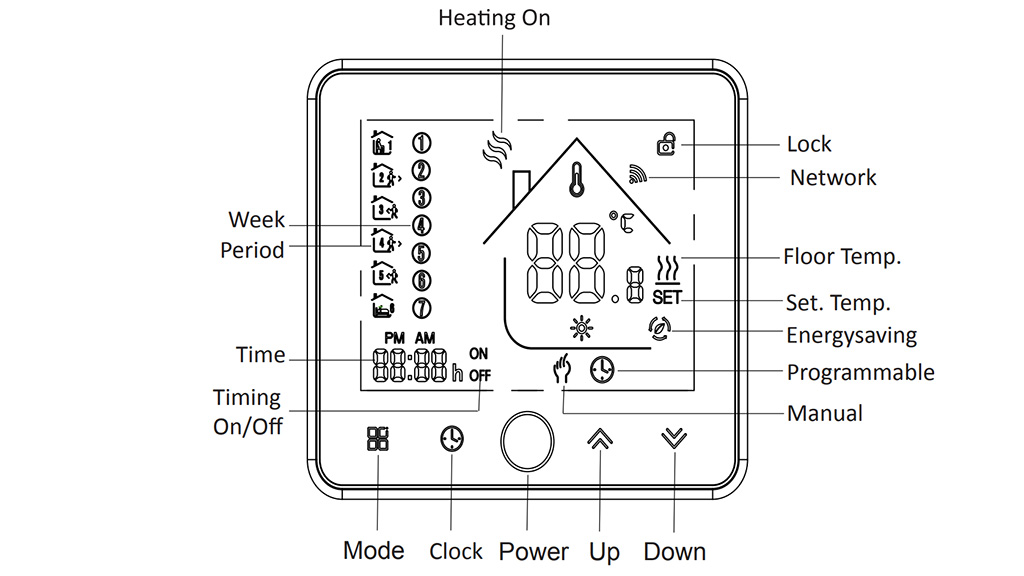 The programable options are pretty self explanatory and available on almost any thermostat. This is a fairly standard set of features also found in traditional (dumb) thermostats. What's interesting is, the thermostats system setting can be adjusted right from the control display using the buttons without the need of an app/hub/integration.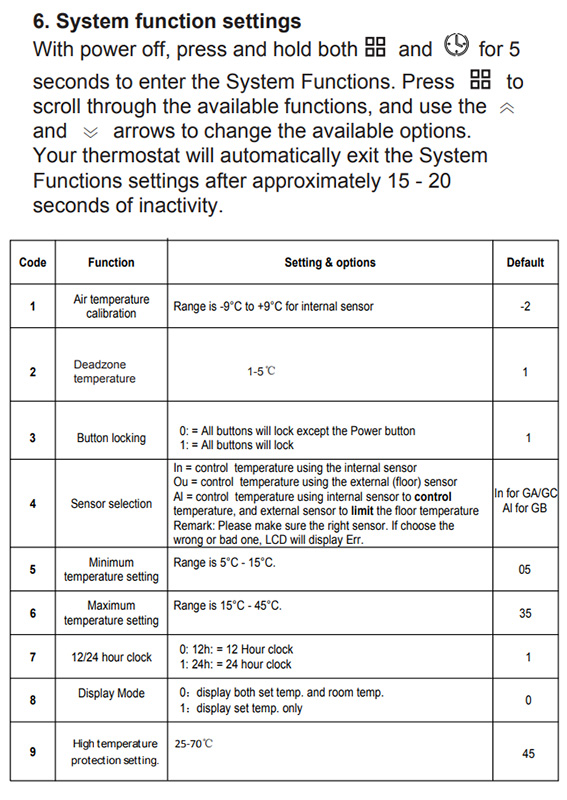 You can calibrate the sensor temperature, lock the buttons on the thermostat and set a minimum and maximum temperature setting. Settings like 12/24hour clock can also be changed as well as cycle between two display modes. Switching from C-Celsius and F-Fahrenheit is also an option.
Most of these setting are directly accessible through your ZigBee integration, so no need to bother to adjust them from the built in settings menu. The Sensor Selection is one important adjustment you must do to ensure proper operation for your use case (this is also available in Z2M).
Correct Sensor Selection
Upon initial installation of the thermostat, a default sensor type will be selected automatically for the appropriate model of the device:
IN – GA/GC (Water Heating/Water or Gas Boiler
AL – GB (Electric Heating)
To use an external sensor, you need to change the selection to EX. You can change this setting in one of two ways:
Using your ZigBee integration in Home Assistant
Using the settings menu on the Moes Smart Thermostat (See Picture Above!)
Whichever method you choose, three options will be available:
IN – Only Internal sensor used – To control or limit the temperature
EX – Only External sensor used – To control or limit the temperature
AL – Both Internal and External sensor used – Internal sensor to control the temperature, External sensor to limit the temperature
IMPORTANT: If you decide to connect an external sensor, you need to change the setting to EX or AL. Otherwise the thermostat will display an Err on the display and will not work!
Integration Compatibility
The Moes Smart Home Thermostat BHT-002 is officially supported in all three major ZigBee integrations, ZHA, Zigbee2MQTT and Deconz.
To pair it, first switch the thermostat off. Press and hold the temperature down button for +- 8 seconds to enable the pairing mode (display lights up and a Wi-Fi-like icon is blinking). After a successful interview with the coordinator you can turn the thermostat on again.
Once paired to your coordinator, the thermostat exposes a bunch of entities for settings and control:
Lock Entity: For locking the touch control buttons
Number Entity: Deadzone Temperature – The delta between local_temperature and current_heating_setpoint to trigger Heat
Number Entity: Maximum Temperature Limit – Used to set the maximum temperature allowed
Number Entity: Temperature Calibration – Used to calibrate the temperature reading of the sensor
Select Entity: Used to select the sensor (IN, EX and AL)
Climate Entity:

current_heating_setpoint: Temperature setpoint
local_temperature: Current temperature measured by the sensor
system_mode: Main mode of the device (Off, Heat)
preset: Preset mode of the device (Hold, Program)
running_state: The current running state (Idle, Heat, Cool)
local_temperature_calibration: Offset calibrate the sensor temperature (local_temperature)

Linkquality: Link quality (signal strength)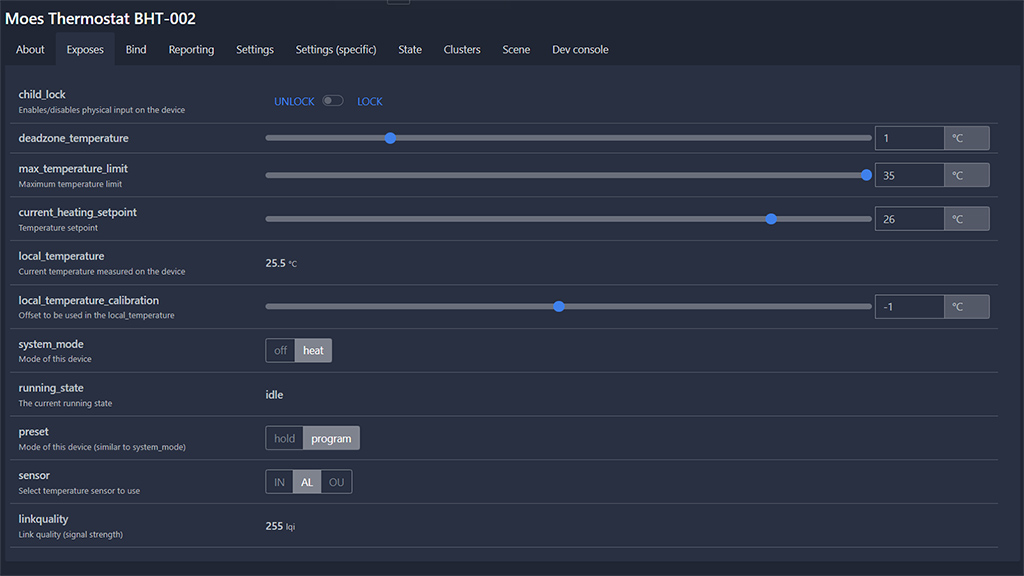 Usage
You can use the Moes Smart Thermostat right after integrating it in Home Assistant without any further setup. The climate entity contains all the basic functions you would need to start controlling you heating system. In this section, we are going to suggest a way to supercharge its function – the Scheduler Card by dev nielsfaber.
As an alternative to the built-in thermostat card, we suggest using the custom Simple Thermostat Card by nervetattoo. It's highly customizable, contains many configuration variables and you can make it very compact and style it to your liking.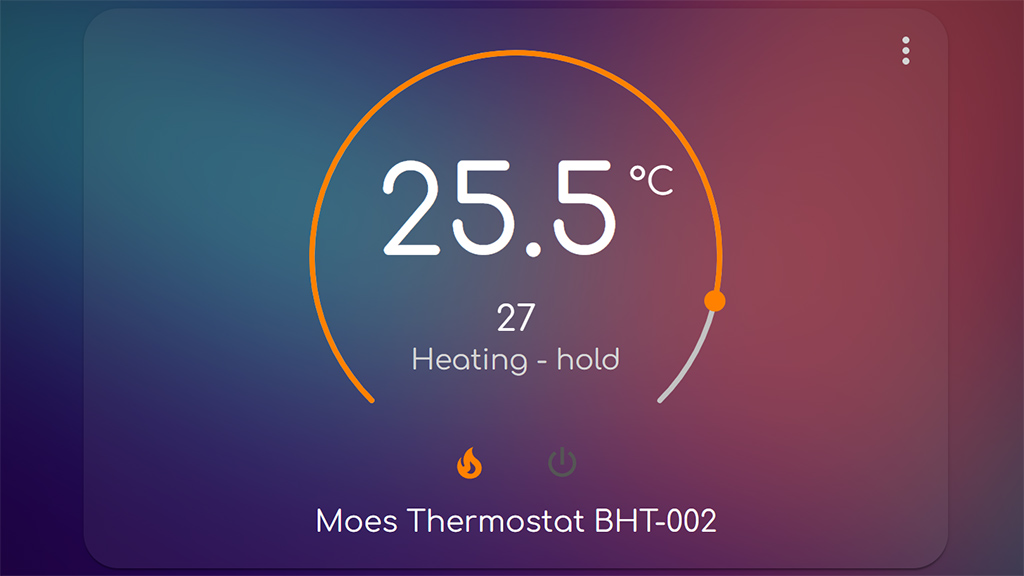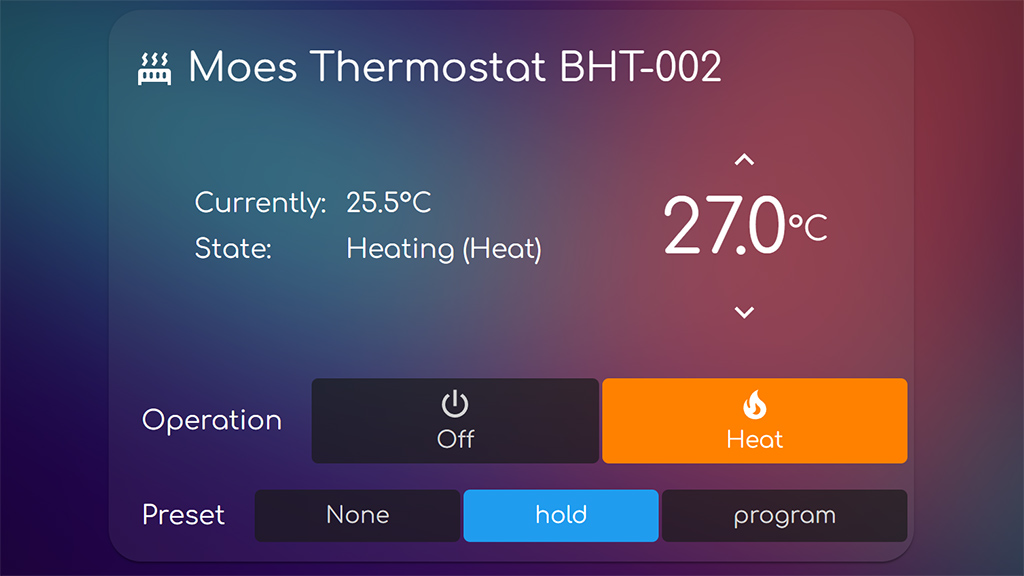 Scheduler Card & Component
The easiest way to setup programs, schedules and thermostat rules we are going to use the Scheduler Component and Scheduler Card. This particular custom card (works on top of the component!), has a very easy and user friendly UI when setup. It's capable of creating schedules and rules on the go, so lets see it in action.
Assuming you have already installed the custom component and custom card (preferably via HACS), we can go ahead and create our card in Lovelace:
#Scheduler Card for Moes Thermostat BHT-002




type:

 

custom:scheduler-card




include:


  

-

 

climate.moes_thermostat_bht_002




discover_existing:

 

false




title:

 

Moes

 

Thermostat

 

Schedule




Code language:

 

YAML

 

(

yaml

)
This will create a small card with a master switch for your schedules and rules. Triggering this switch, entirely disables anything you have created within the card. Once done, click Add and select Make Scheme than click Next: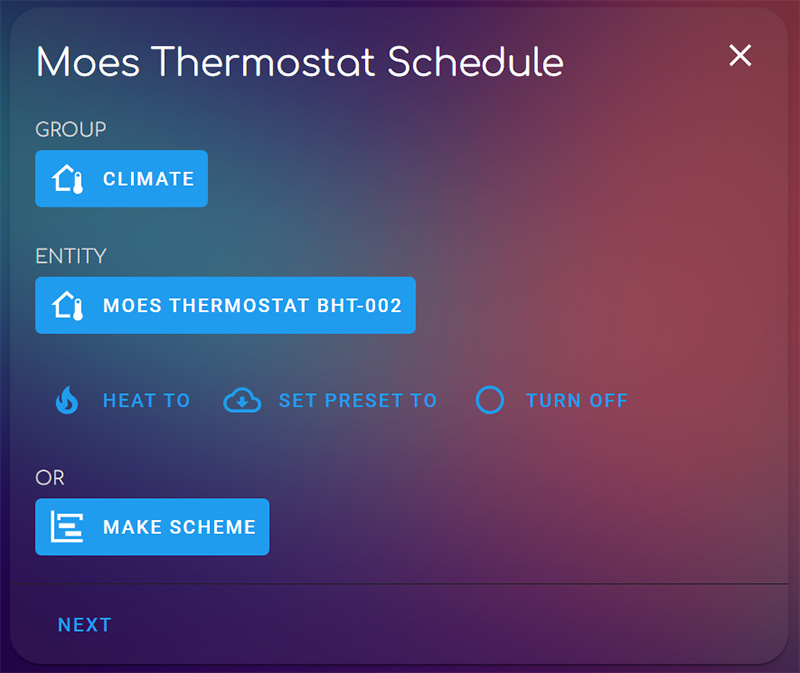 This will take you to the next screen, where you can create custom schedules by time, days, workdays, weekends etc. The Scheme bar in the middle is a time frame of 24hours, to which you can add additional hour frames to by using the ADD button.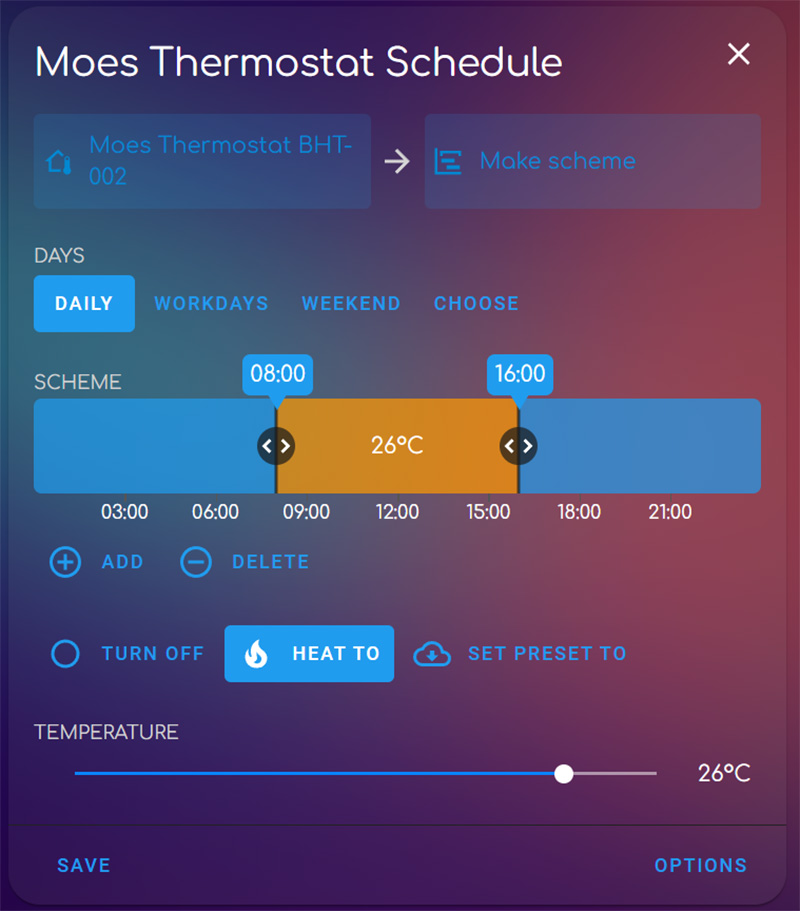 Here you can select a bunch of different options and set the thermostat to Heat accordingly. The scheduler card will control the Thermostat according to your rules and schedules. If you want to discover all the options this component/card combo offers, read our guide. Once you are done, hit save. The card collapses and is shown simply as a small list.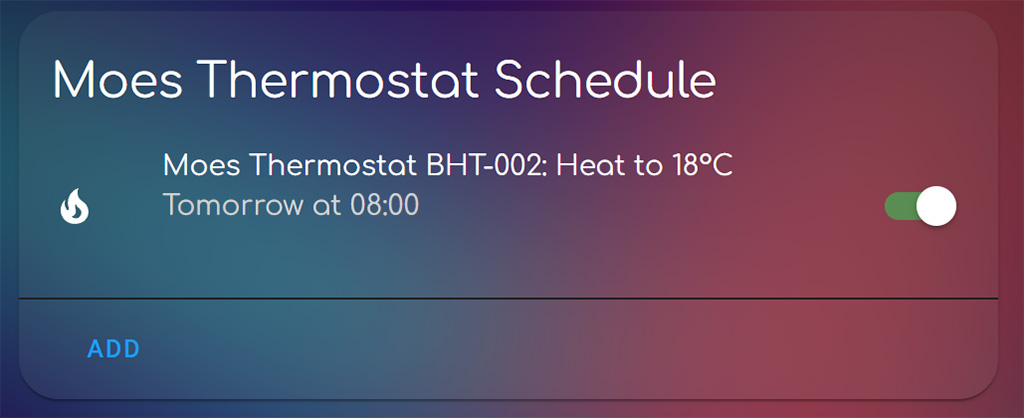 You can edit you schedule anytime by clicking its name, make any changes and additions or toggle the master switch for quick turning off/on.
Verdict
The Moes Smart Thermostat BHT-002 is a very capable and versatile small thermostat. It looks good mounted on a wall, it's cheap and can be easily integrated in Home Assistant. There are a few cons we didn't like though, so lets summarize:
PROS
Cheap
Home Assistant Compatible
Major ZigBee Integrations Compatible
Built-in Touch Buttons for quick control
Built-in System Settings for setup without connectivity
Additional Terminals for External Sensor
Automatic Screen Timeout
Child Lock
Easy wiring and installation
CONS
Screen is too bright
Screen content fades when looking at it from top or bottom (weirdly not from left or right!)
Wi-Fi Version is Tuya based
Built-in Temperature Sensor needs calibration
External Temperature Sensor needs calibration
This smart gadget will control your HVAC without issues. Considering it's easily brought into to Home Assistant, its functions and potential is supercharged. If you would like to test it out for yourself, consider ordering through one of our affiliate links bellow.
---
*N/A links will be added when available