---
UPDATE: We recently reviewed a better Zigbee-based alternative to the Neo 90db siren. Heiman Zigbee 95dB Siren and Strobe Review.
Last week I reviewed the TuYa ZigBee Smart Plug 16A which turned out to be a positive surprise for such a cheap smart plug. In this review I am going to test the Neo Tuya ZigBee Siren 90db which is one of the cheapest siren alarms on the market. It features a small led light, a built in temperature and humidity sensor and operates on ZigBee 3.0. In this AliExpress Review, we are going to disassemble it, take a peak inside and integrate it with Home Assistant.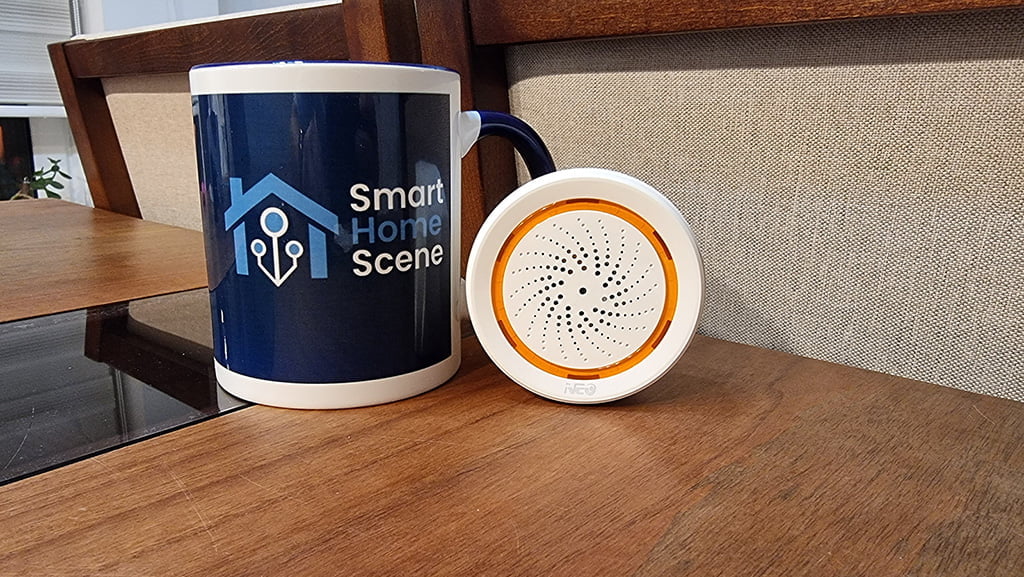 ---
*N/A links will be added when available
Technical Specification
Power Supply: Micro USB 5V/1A
Battery Backup: 2 x CR123A-3V x 2
Standby Current: 61uA-180uA
Sound Intensity: 90db
Sound Types: 18
Detection Temperature: -10℃ ~ 80℃
Detection Humidity: 0% ~ 100%
Wireless Frequency: 2. 4GHZ
Communication protocol: Zigbee 3.0
Size: 68x68x32mm
Certification: CE/FCC
Note: No batteries are included with the product. Only a 3 feet ~ 90cm MicroUSB cable. Batteries are used as a backup, so they are not necessary for operating the gadget.
What's inside?
The battery cap is removed by turning it clockwise. Once out of the way, the pairing button is revealed along with three Phillips head screws that hold the whole thing together.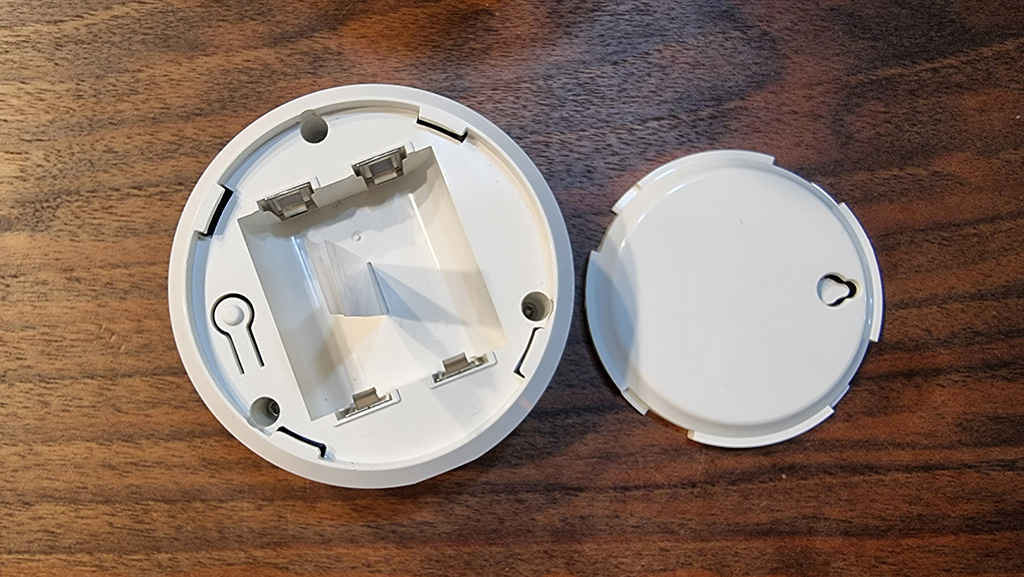 Once I opened I, I noticed this thing has a 2W 8Ohm loudspeaker which surprised me how loud it was for such a small speaker. It featured a Silicon Labs EFR32 Wireless Microcontroller which officially supports BLE, ZigBee and Thread connectivity. See HERE.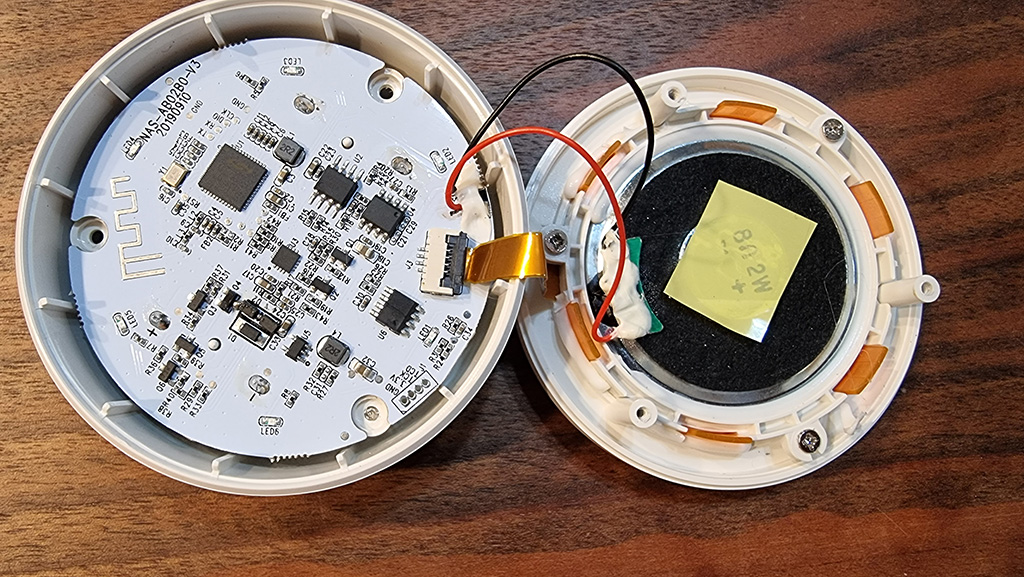 The PCB was well built, I noticed no hazards or bad placement of components. The wires connecting the speaker were a little flimsy, but this gadget is not meant to be opened in any case.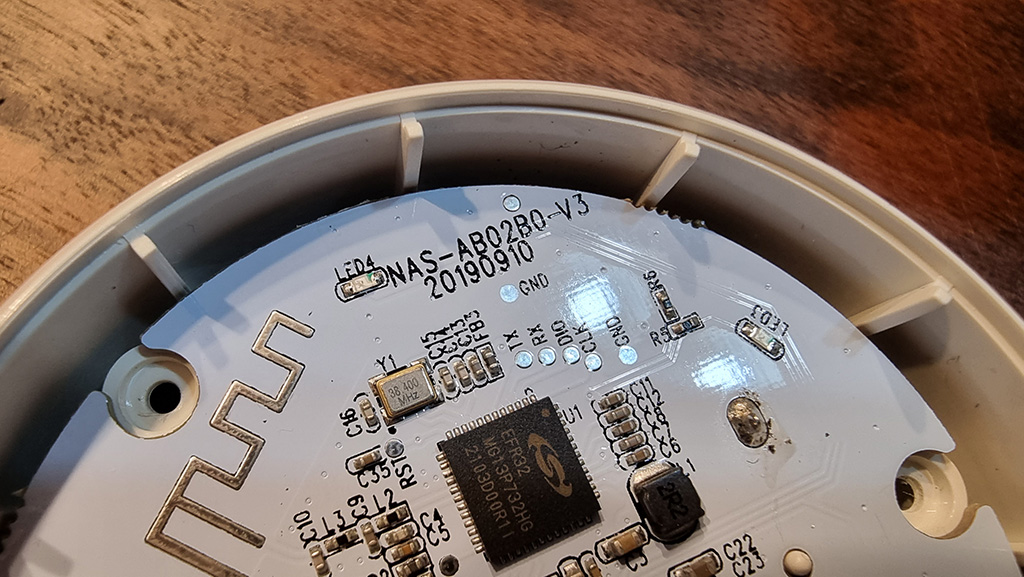 It was marked as model NAS-AB02B0-V3. What the V3 meant I had no idea, nor it seemed important, as it worked fine with Home Assistant.
Integration Compatibility
There are two variants of this Neo Smart Siren floating the market. One is the NAS-AB02B0 model and the other is marked as NAS-AB02B2. The second is a cheaper variant which doesn't have a temperature & humidity sensor. In this review, we are looking at the NAS-AB02B0 model which has the temp & humidity sensor and is supported in ZHA & ZigBee2MQTT.
ZHA Integration
This smart siren is compatible with ZHA, and a custom quirk has been implement for it. To pair it, hold the button under the battery cap for around 7 seconds until the LED on the front starts blinking fast. When I paired the siren with ZHA, it was discovered immediately and exposed three entities.
Alarm Switch
Temperature Sensor
Humidity Sensor
Some users still report issues with ZHA not exposing its entities at all, even after applying the quirk. Others were able to pair it successfully and all entities worked without issues.

In my case, It did not create an entity for volume selection or selection of sound type, as this smart siren comes with 18 different types of alarm sounds. To change the sound type, we must use ZHA clusters:
Open the Neo Smart Siren in ZHA
Open clusters
Select "TuyaManufClusterSiren"
Select "melody" and click Get ZigBee Attribute to get the current value
Change this value to a number from 1-18
Click Set ZigBee Attribute
Sound the alarm via the switch entity to test
Experiment until you have found one you like. For changing the volume, select the same cluster but instead of "melody", select "volume". Click Get ZigBee Attribute, change it to whatever level you like and click Set ZigBee attribute.
ZigBee2MQTT
As I expected, pairing the Siren in ZigBee2MQTT presented no issues. It paired immediately and exposed a bunch of entities in Home Assistant. More than were needed actually, but the more the merrier. Check the photo for the full list.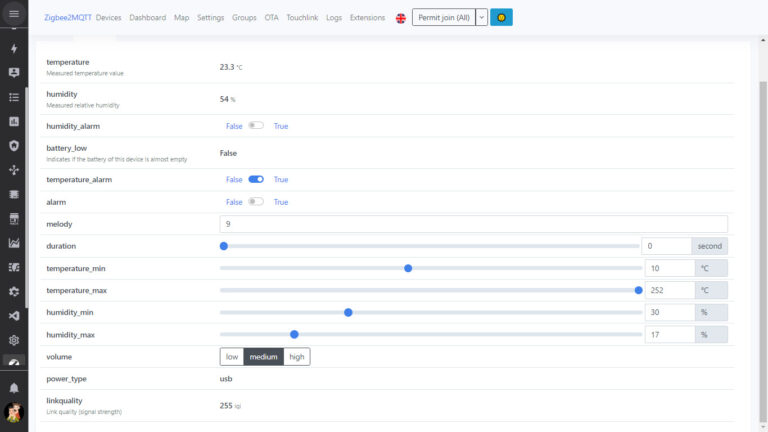 I went ahead and disabled some of these entities, as they are not needed and were pointless. I only needed the alarm switches, duration, melody and volume selection, readings of the temperature and humidity sensor. Everything else was useless to me, because I can make my own automations of those min/max values.

The alarm switch worked as it should, melody selector worked, but the volume entity bothered me because it only had 3 levels: low, medium, high. It was not possible to fine tune it from the entity. You could also set the duration of the alarm, which was not possible in ZHA.

Verdict
In experimenting with the siren, I found it was pretty stable in my ZigBee mesh. All the automations I tested worked fine with its entities. I tested many service calls, like setting the volume to High and sounding the alarm when it was triggered by a motion sensor for example. The siren responded fine and without delay.

I placed the siren next to a Xiaomi Temperature & Humidity sensor and surprisingly, the built-in temperature sensor was fairly accurate, with an offset of 0.3~0.4°C.

In my opinion, I think it is capable of deterring the occasional porch thief just fine if placed outside. You could pair it with a motion sensor and arm it while you are away. If you place it inside, It may be capable of scaring away burglars, but it is definitely not going to alert your neighbours. On the other hand, this could have many use cases if you pair it with some other gadgets in Home Assistant. For example, you could pair it with a smart plug on your dishwasher so it alerts you when the laundry is done.

In any case, although it is a fine gadget I would not label this as "Siren" in the true sense of the word, it is more like a very loud sound alarm. I would not rely on it to protect my home and integrate it in any alarm system.

If you want to test it, you can order it from one of our affiliate links. You would be supporting this blog at no additional cost to you.
---
*N/A links will be added when available