---
Temperature and humidity sensors are probably the most widely available and variable type of smart product that you can add to your smart home. With so many options to choose from, it can easily get confusing and something this trivial turned into a task. Because obviously you want a capable device, with solid battery life and low price tag.
I've tested a couple of temperature sensors on smarthomescene as part of my cheap hardware reviews effort, such as the recently released Moes T&H Sensor ZSS-KB-TH or the extremely cheap Tuya WSD500A.
Today I'm disassembling and benchmarking the newish Sonoff SNZB-02D Sensor with an LCD screen, to see how it compares to similar devices on the market. I bought this device from AliExpress for $11 after coins discount, but it's also available on Amazon or the official Itead Store.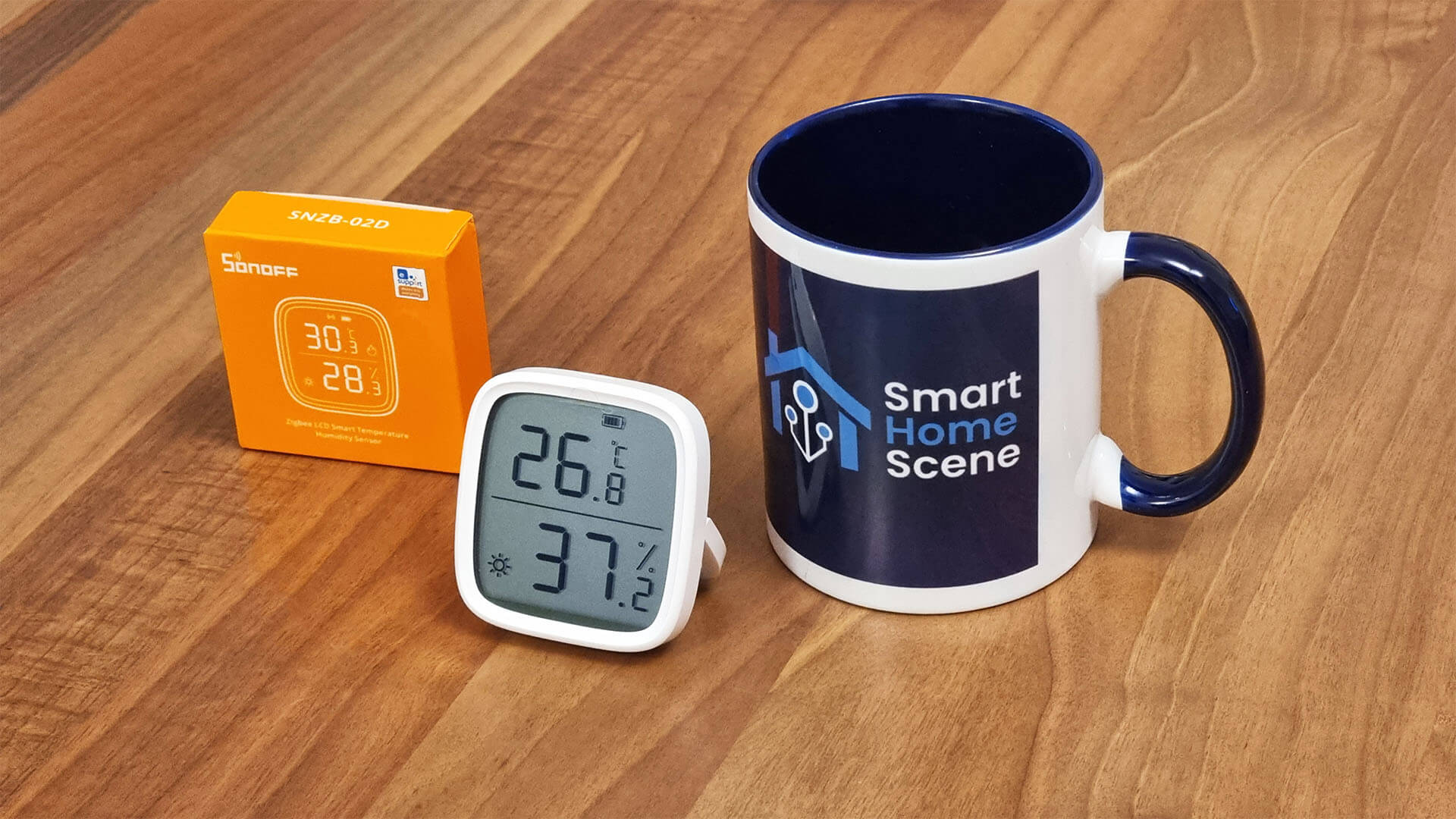 Technical Specification
Model: SNZB-02D
Communication Protocol: ZigBee 3.0
Temperature Range: -10°C~60°C
Temperature Accuracy: ±0.2°C/±0.4°F
Humidity Range: 0%—99%RH
Humidity Accuracy: ±2%RH
Working Voltage: DC3V
Battery: CR2450
Battery Life: 2 Years
Dimensions: 62.5×59.5 (2.46×2.34 inch)
Reporting Interval: 5sec
Disassembly
The Sonoff SNZB-02D came packaged in a recognizable bright orange brand box, containing the sensor, a manual and a magnetic mounting bracket. The screen had a pre-applied protective sticker as well as a plastic battery contact blocking strip, naturally you need to remove these before the device can be used.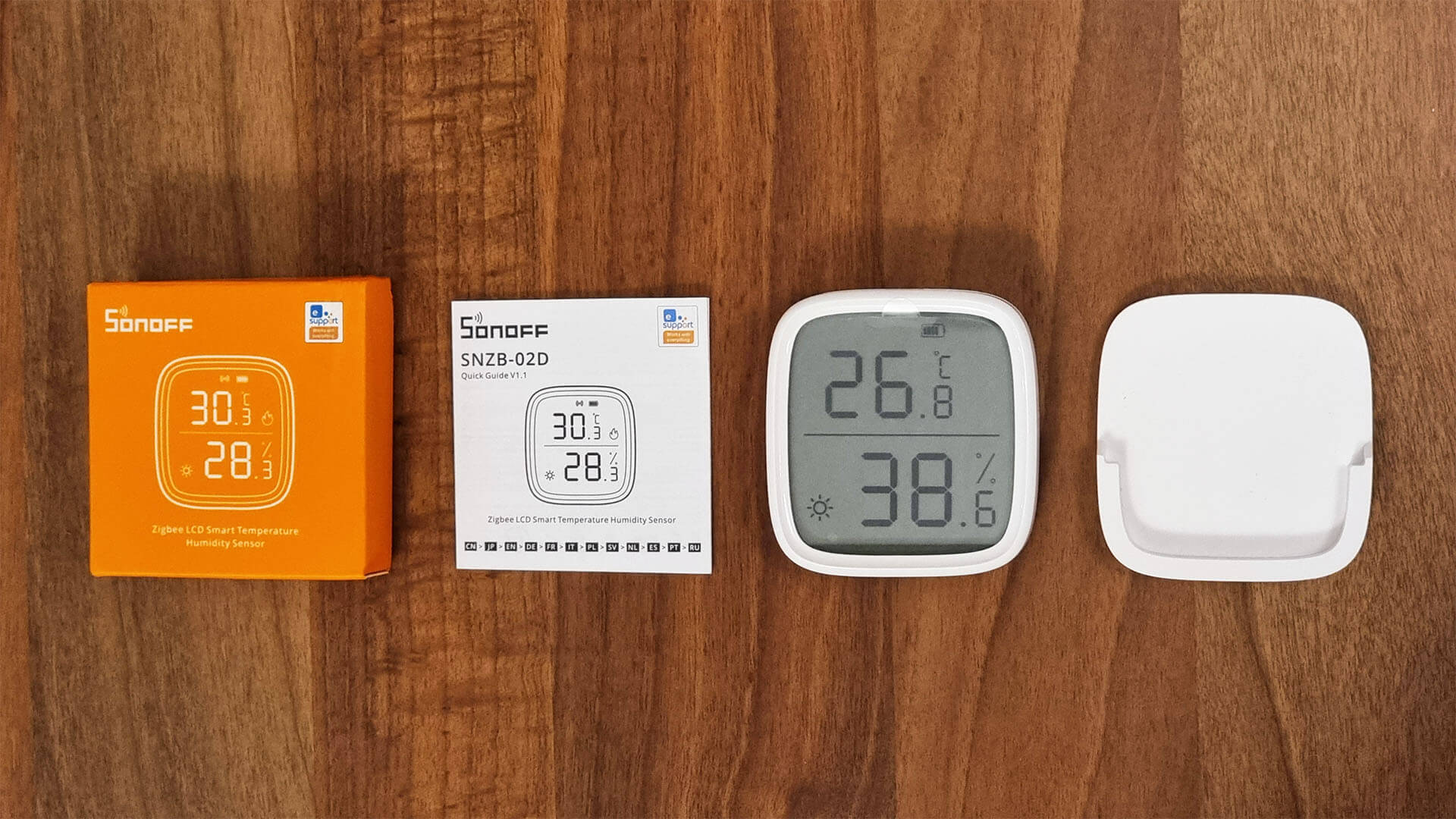 On the backside, the Sonoff SNZB-02D has a mounting bracket with a magnet for installing the device on a metal surface. There is a small leg stand for simply placing it on a desk, coffee table or night stand. It's build quality is great, feels light yet compact when held.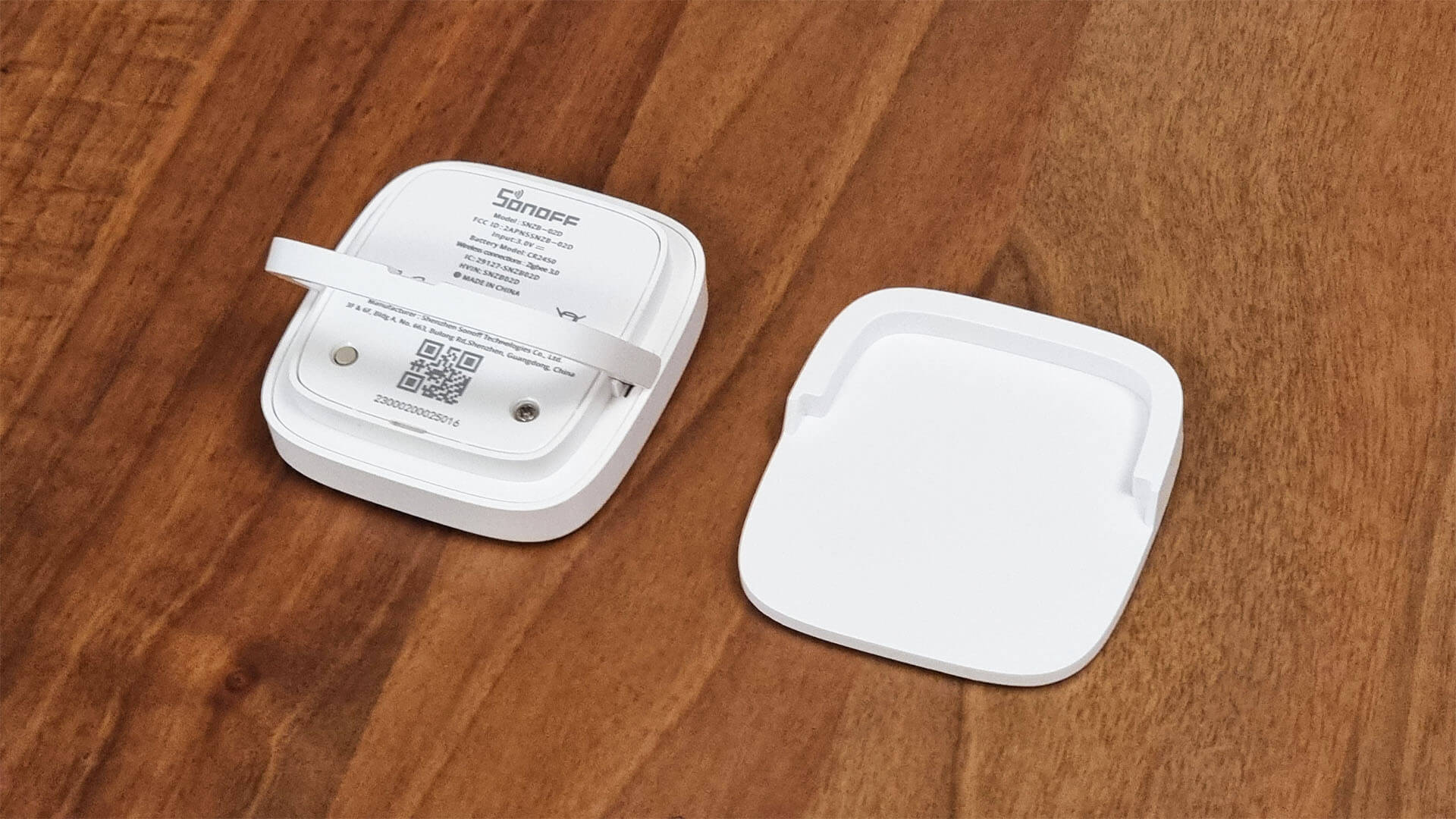 Removing the back cap reveals the device is powered by a single CR2450 button battery, which are very common among these types of gadgets. The pairing button is placed in the left corner, protruding through the back plate for easy access.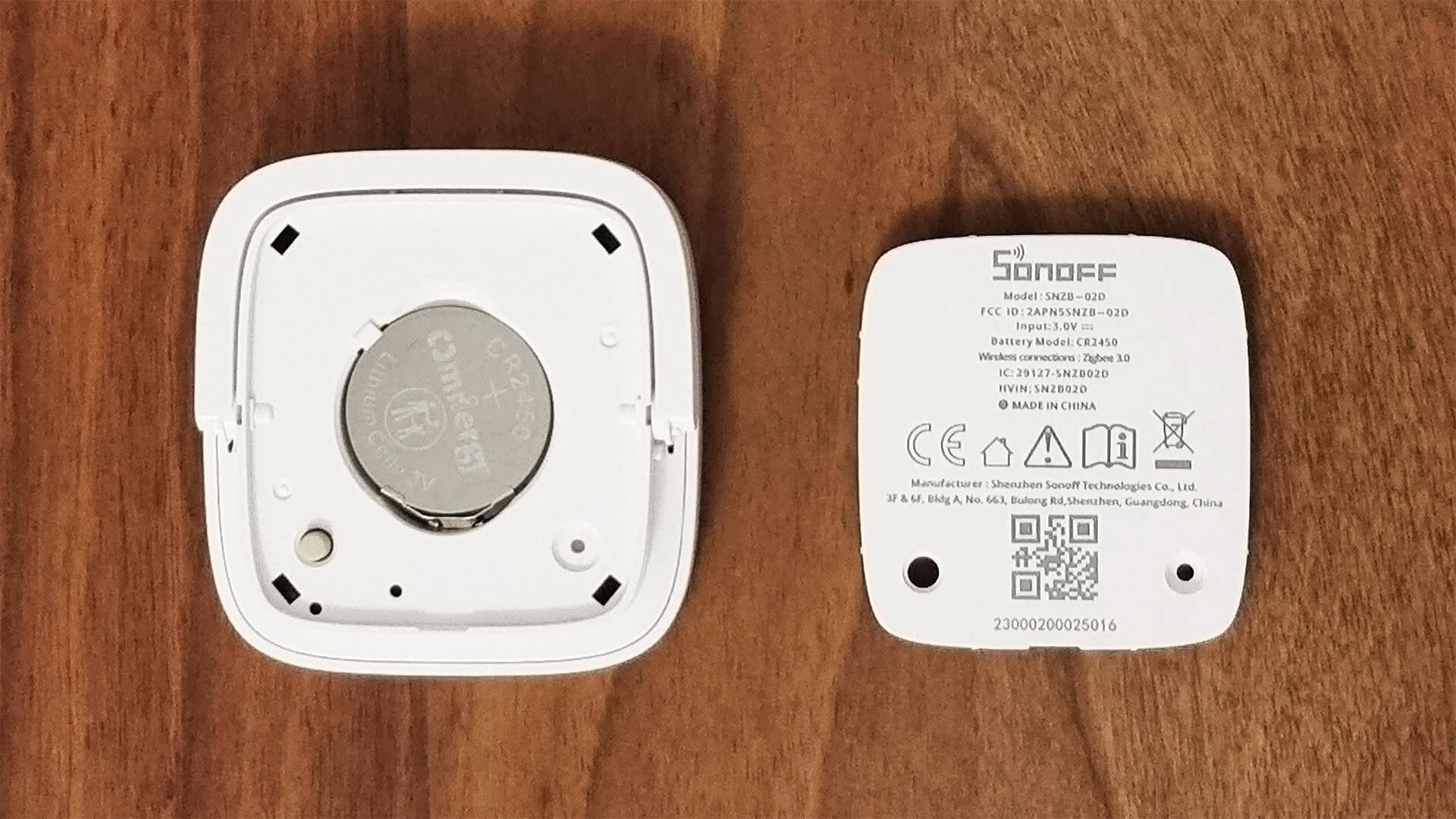 Opening up the device, you see a neatly manufactured green PCB fit inside. The first thing you notice is a the black component in the corner, which the LCD segment driver model BU9792FUV [Datasheet] developed by a company called ROHM Semiconductor from Japan. This model is capable of pushing 144 different LCD segments.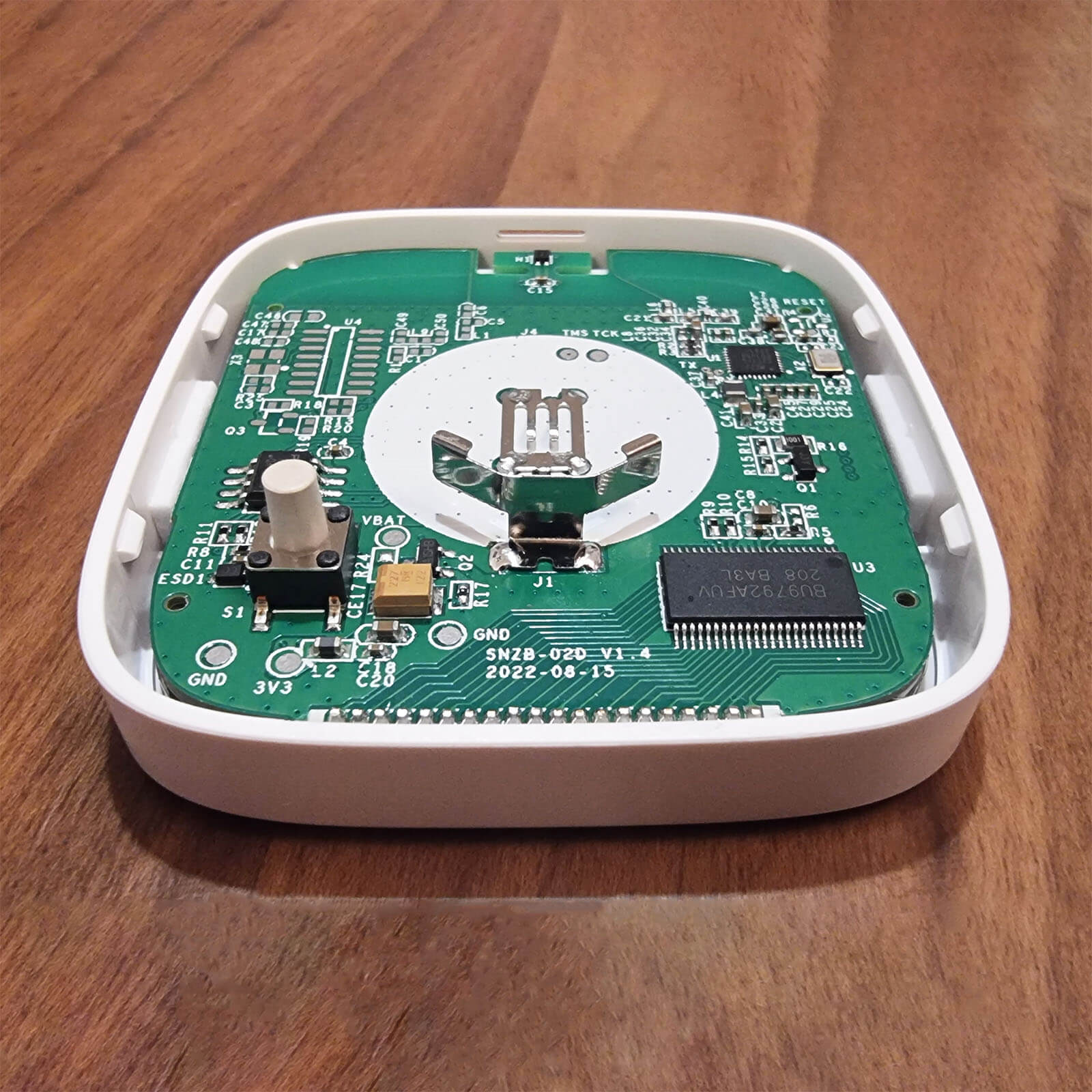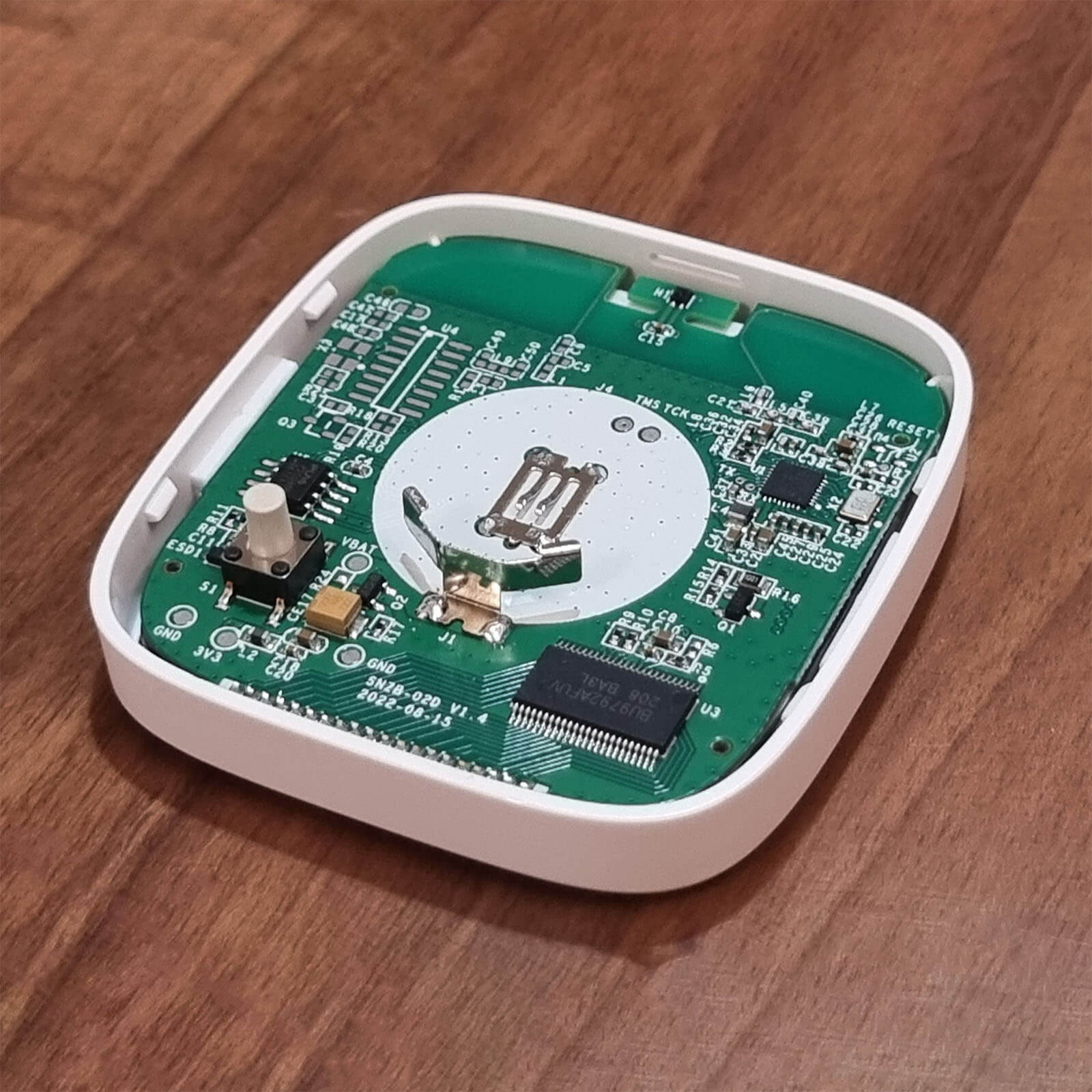 Zooming in to the communications module, I found the device is powered by an EFR32MG22 [Datasheet] module developed by Silicon Labs from Austin, Texas. This is a low power Zigbee SoC Chip meant for battery powered End Nodes with a 76.8 MHz MHz ARM Cortex-M33 processor.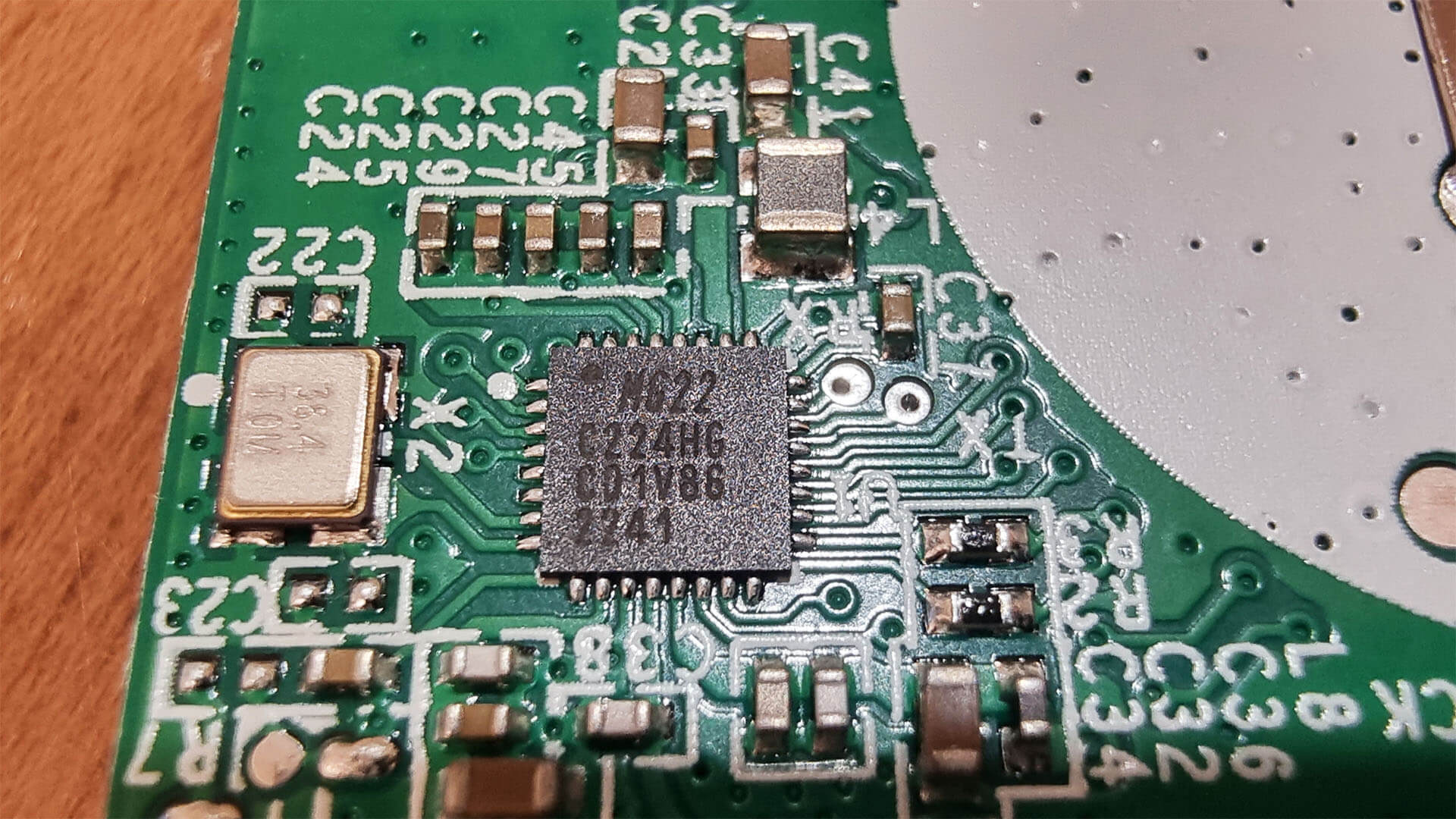 The temperature and humidity sensor model SH60 AD1AFU is a recognizable design by Sensirion, a Swiss company based in Strafa, Switzerland which produces temperature, humidity, CO2, VOC and PM sensors with over 20 years of experience in the field.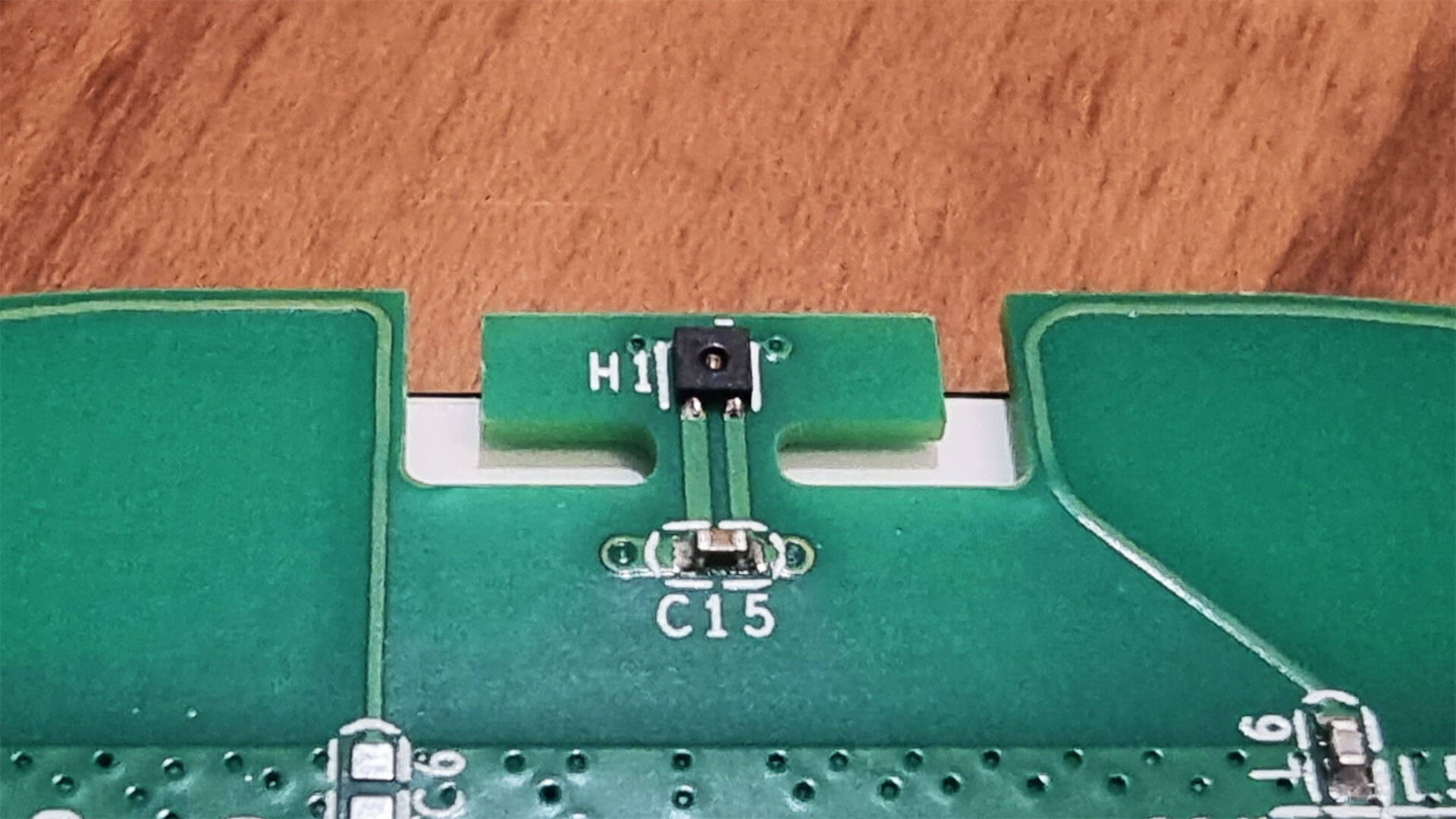 Here's a photo of the Sonoff SNZB-02D fully disassembled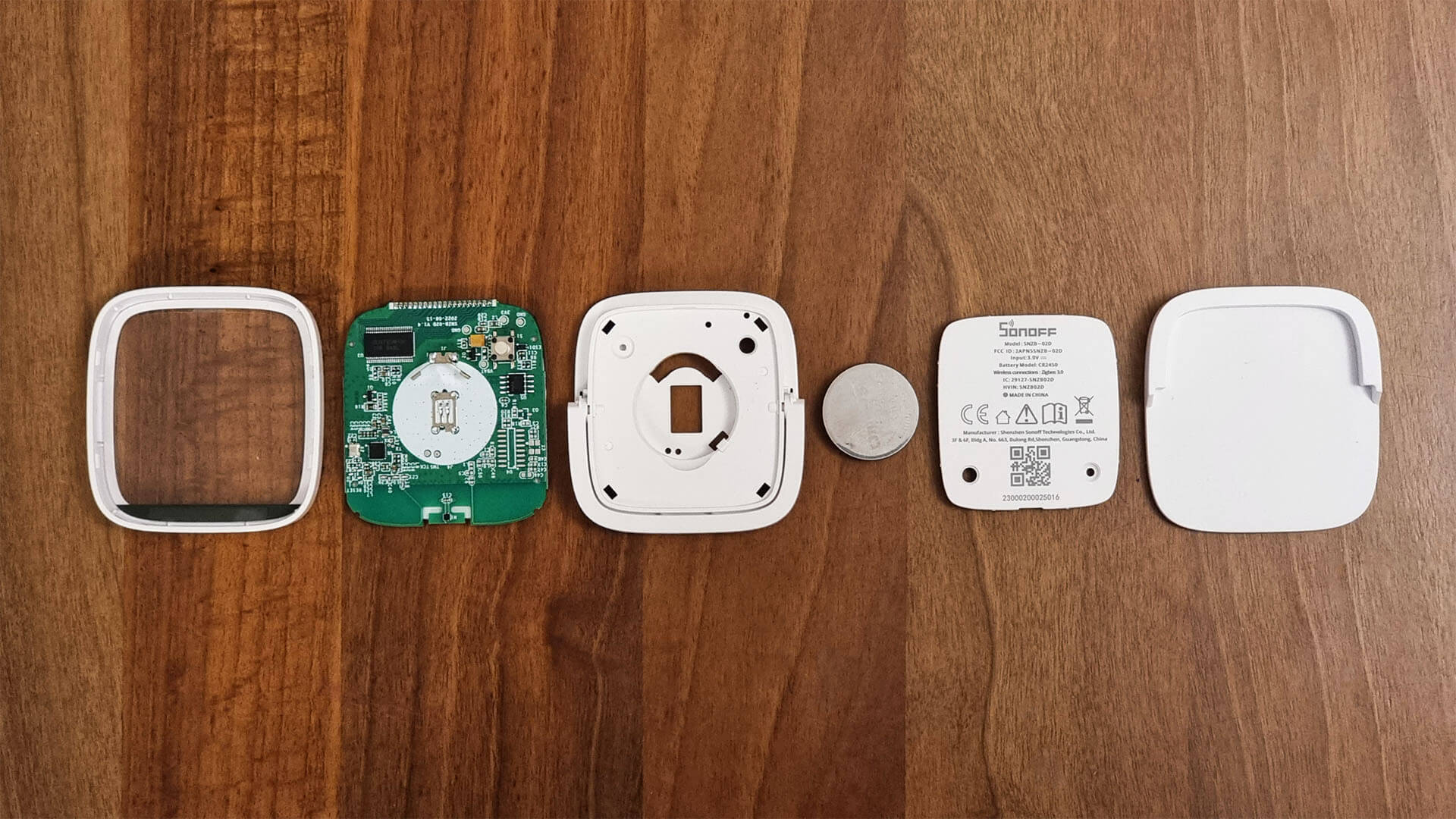 Home Assistant Integration
The Sonoff Temperature and Humidity Sensor SNZB-02D can be easily integrated in Home Assistant through Zigbee2MQTT, ZHA or Deconz. To pair it, press the button on the back for 5seconds.
Zigbee2MQTT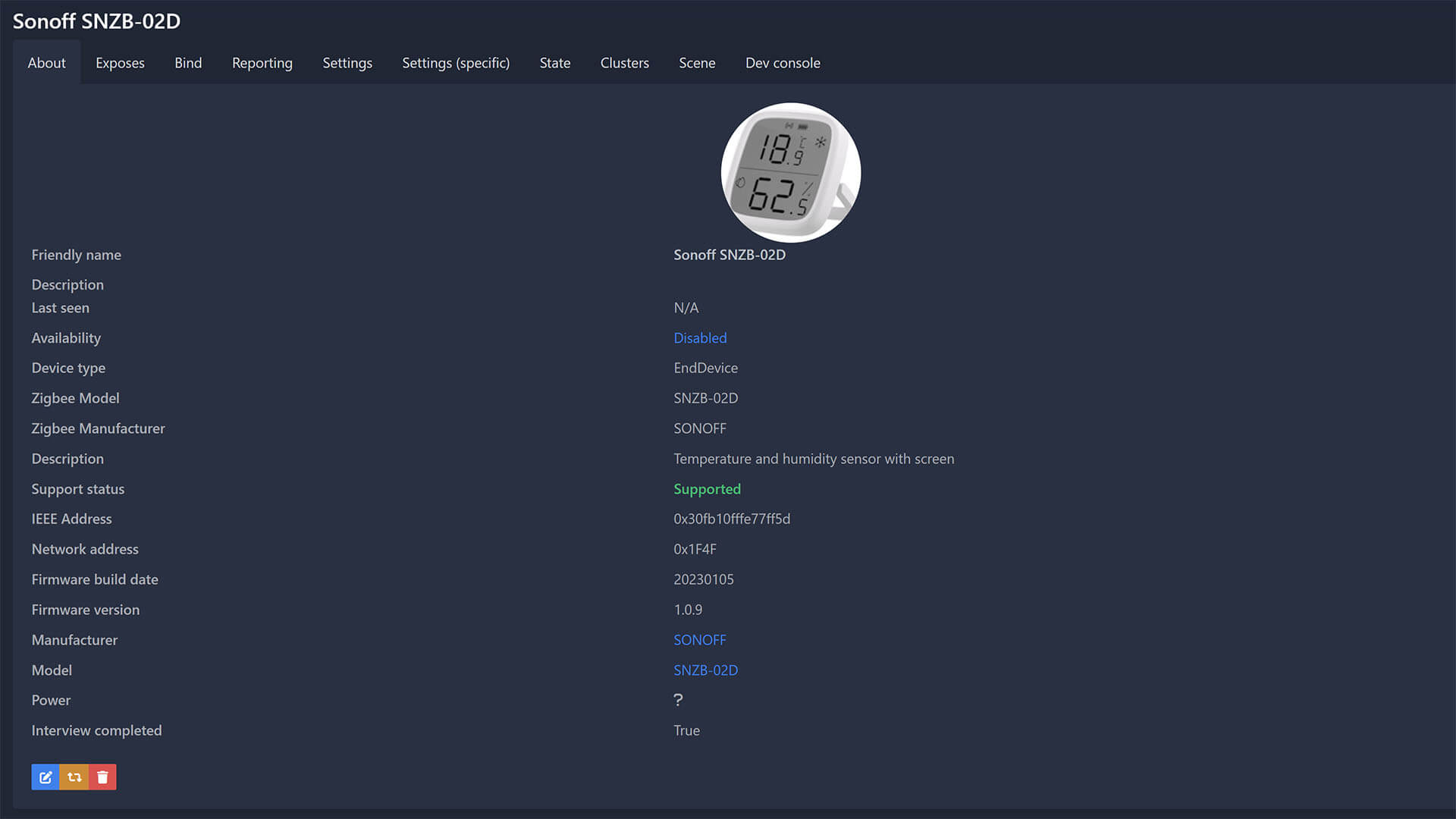 Once paired, it is identified as model SNZB-02D by Manufacturer SONOFF. It exposes the following entities in Home Assistant through Zigbee2MQTT, all from the sensor domain:
temperature: Reading in °C/F
humidity: Reading in %
battery: Reading in %
voltage: Reading in mV
linkquality: Signal quality in LQI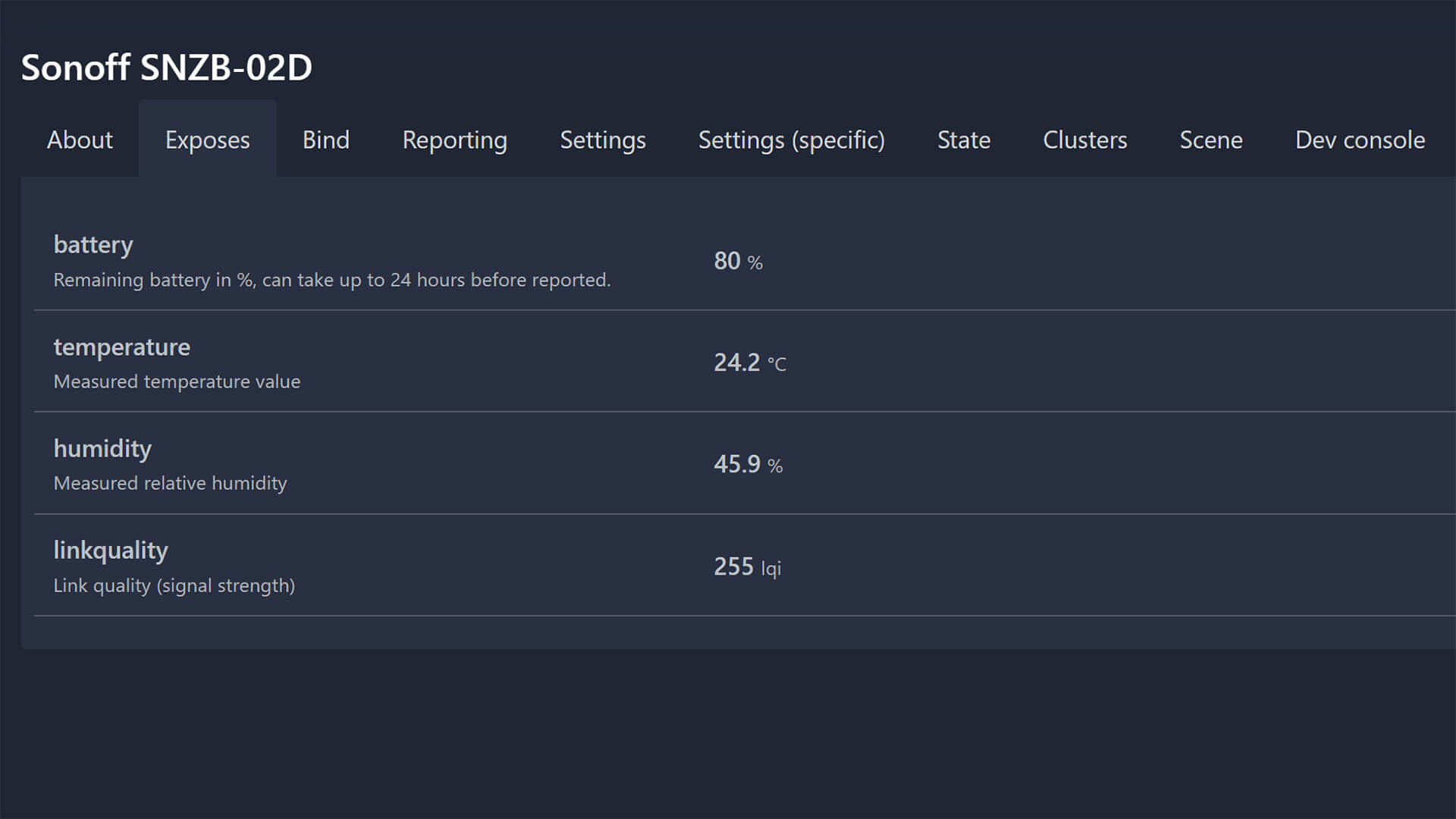 You can calibrate the readings directly from the UI of Zigbee2MQTT and set the precision (decimal points) in the reported states of the sensor.



ZHA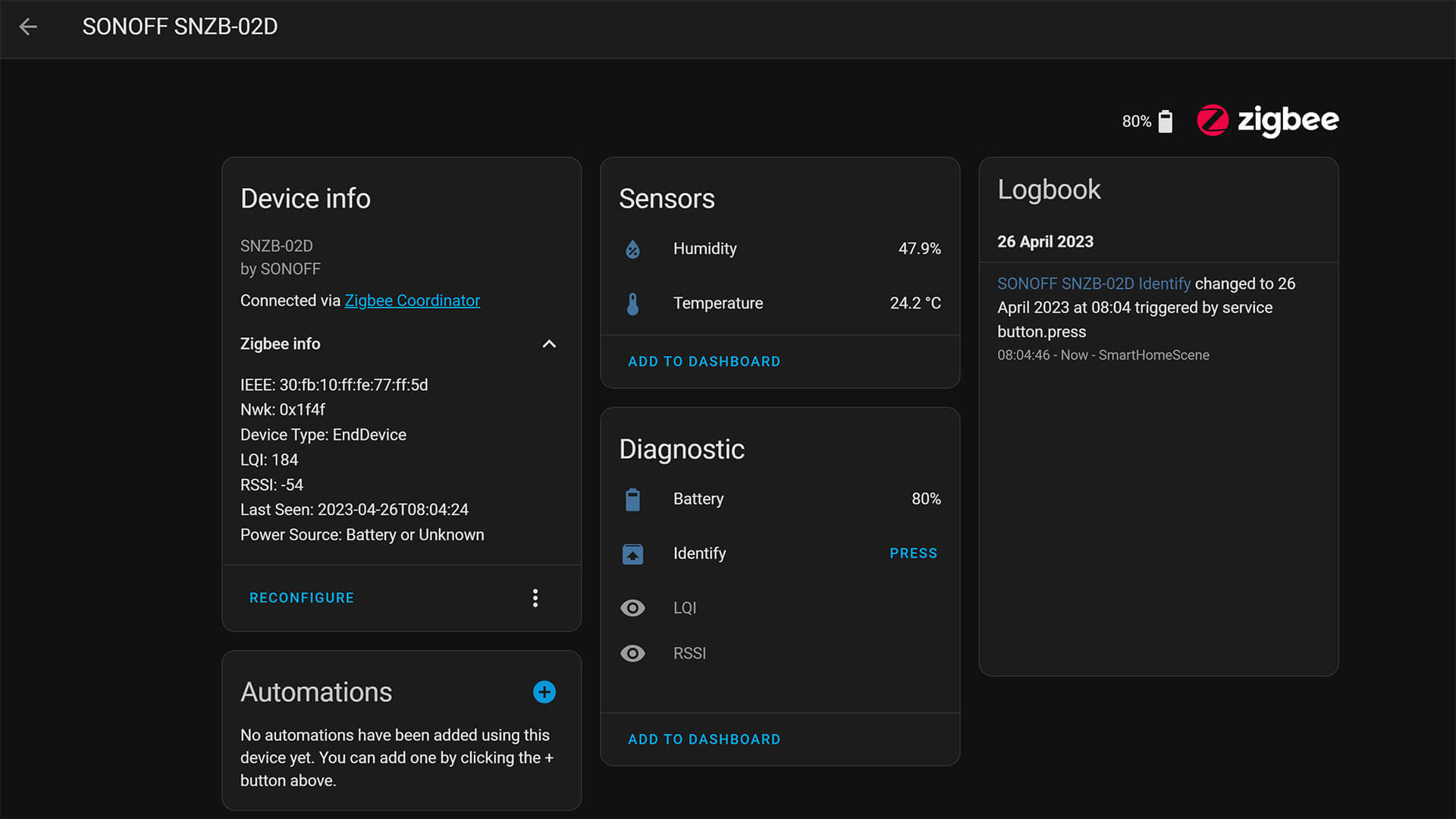 The Sonoff is also supported in ZHA, being identified as model SNZB-02D by manufacturer Sonoff. The device is also correctly labelled as an EndDevice. It exposes the same entities as Zigbee2MQTT:
temperature: Reading in °C/F
humidity: Reading in %
battery: Reading in %
identify: Identifies the Sonoff on your network
linkquality: LQI and RSSI (disabled by default)
Testing
To benchmark the accuracy of the temperature and humidity readings, I paired the Sonoff SNZB-02D with a calibrated Xiaomi LYWSD02 [AliExpress] BLE sensor that I have already deployed in my home. This device has been my main living room thermostat sensor for almost three years, because of its frequent reporting interval, long battery life and beautiful e-ink display.
To achieve accurate readings, I placed the Sonoff next to my Xiaomi sensor on a shelf without any obstructions nearby. I made sure it has a stable connection to my Zigbee coordinator and it gave me the following results, graphed with the History Explorer card in Home Assistant with data decimation off:
Temperature

The temperature reading on the Sonoff was very accurate, no calibration was needed. It closely mirrored the reading curve of the LYWSD02, offsetting slightly at certain times. I calculated an average difference of 0.3% from 40 different measurements, which completely on point.
Humidity

The humidity measurement was very different from the Xiaomi sensor. It reported lower humidity across 5 days, offset of about 6-7%. Calibration is definitely needed. Zigbee2MQTT users can create an offset directly in the UI, under the Settings (Specific) menu. ZHA users can create template sensors with the offset.
Reporting Interval
Regarding the reporting interval, just like most Zigbee battery sensors, it operates in the following manner:
With a change of ≥0.2°C, it pushes an update instantly
With a change of ≥5%, it pushed an update instantly
With no significant changes, it can take up to 30 minutes for an update to be pushed
This device is advertised as pushing an update every 5 seconds, which is simply not true. If you use it with their eWelink app, you will get a data point in the app every 5 seconds, but it will not be an actual reading from the sensor unless the threshold of 0.2°C is passed. Instead, it will be a duplicate of it's previous reading, resulting in measurements displayed in the app every 5 seconds.
Summary
The Sonoff SNZB-02D is a good quality temperature and humidity sensor with an LCD screen. The sensor is capable and accurate, although humidity calibration was needed in my case. If I decrement the reading in Home Assistant for about 5%, it mirrors the humidity measurements of my Xiaomi LYWSD02.
Regarding Zigbee communication, the EFR32MG22 module gave me no issues with connectivity in both my testing setups. For reference, the first one is Zigbee2MQTT with a Sonoff ZBDongle-E and the second one is ZHA with a Conbee II stick. The reporting interval is not as frequent as a BLE-based sensor, but this is a Zigbee characteristic to save battery.
The only thing I really didn't like is the LCD screen of the SNZB-02D. It has bad viewing angles, the contrasts gets distorted fast and you cannot glance it from a distance. This is somewhat expected with an LCD, but for comparison, the SwitchBot Meter Plus has as an incredible LCD screen with thick numbers which can be seen from across the room. Here is a photo of the Sonoff, SwitchBot and Xiaomi E-Ink sensor placed on my fridge: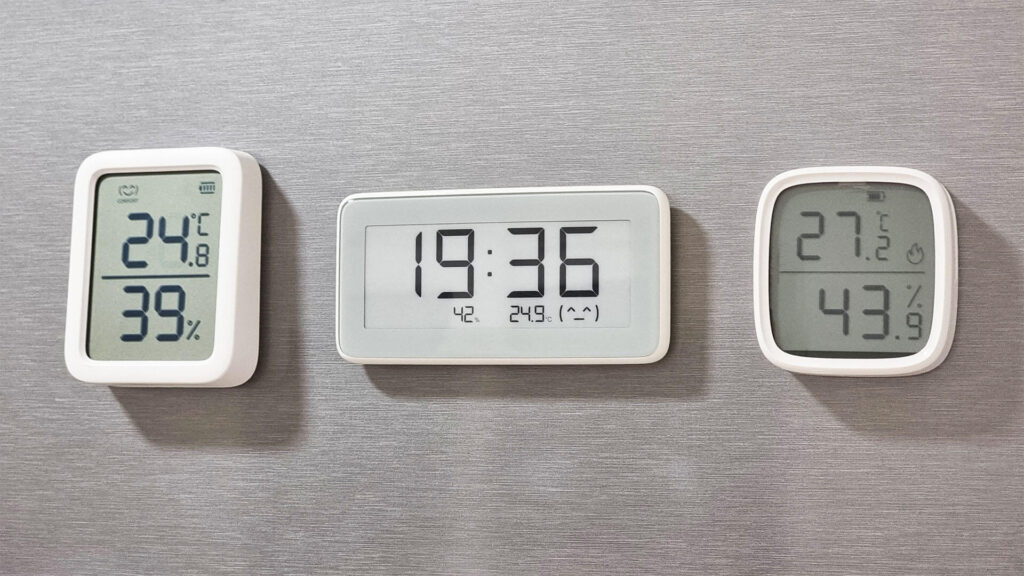 Interestingly, the screen on the Sonoff is okay-ish when viewed from it's sides at an angle. It's when you look at it directly that the information fades and you cannot correctly view the readings. This obviously becomes more pronounced when the distance between you and the SNZB-02D increases. In summary, here's how I would rate the Sonoff SNZB-02D Temperature and Humidity Sensor and it's main features:
Where to buy?
If you want to buy the Sonoff Temperature and Humidity Sensor SNZB-02D, it's available on AliExpress and some Amazon stores. You can also buy from Itead directly, the company that manufactures Sonoff products. The price and shipping varies, depending on your location and availability. If you buy through the links bellow, smarthomescene receives your support in the form of a small commission at no additional cost to you.
OFFICIAL ITEAD STORE
Sonoff SNZB-02D




AliExpress | AliExpress | AliExpress | AliExpress




United States | Canada | United Kingdom
Germany | Netherlands | Sweden | Spain
France | Italy | Poland | Australia
*If links fail to open, try disabling your AdBlocker.