---
If you own a lot of Chinese-made Smart Home devices in your home, than you are probably familiar with a couple of brands that stand out from the rest. One of those brands is MoesHouse, often abbreviated to just Moes or MoesGo for the US market.
They make a variety of smart devices, ranging from simple switches and sensors, to touch dimmers and multi gang switches, curtain controllers as well as smart locks. Judging the quality of the brand as a whole is tricky and difficult because of their diverse product palette, but I will go on record and personally label Moes as one of the better Chinese brands when it comes to home automation devices.
I've disassembled and reviewed few of their devices on our AliExpress Reviews channel, such as the Smart Thermostat BHT-002, Smart Knob ERS-10TZBVK-AA or their awesome touch dimmer EDM-1ZBA-EU.
This is a a complete disassembly and review of one of their simplest devices, an LCD temperature and humidity sensor model ZSS-KB-TH.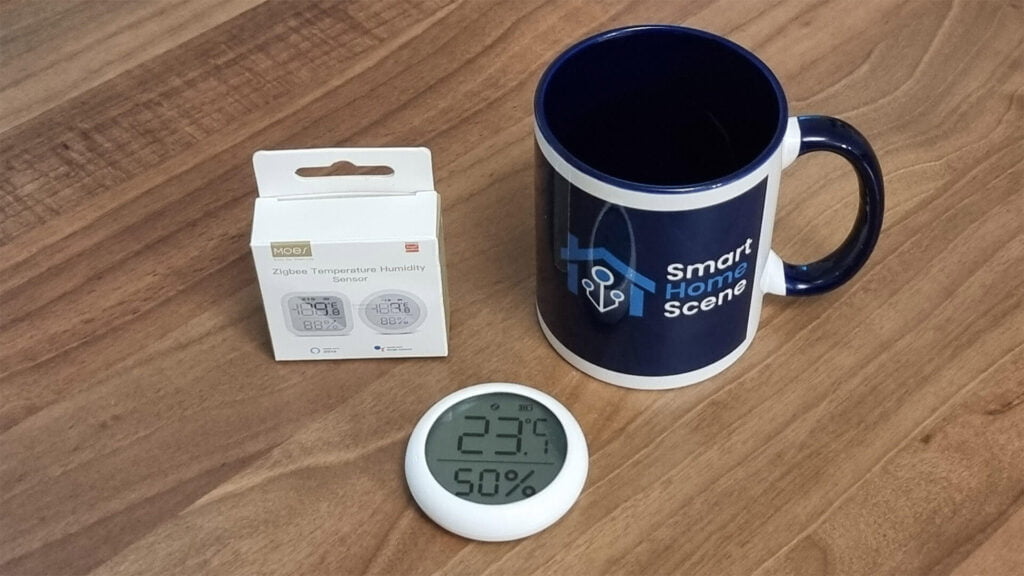 AliExpress | AliExpress | AliExpress | AliExpress




United States | Canada | United Kingdom
Germany | Netherlands | Sweden | Spain
France | Italy | Poland | Australia
*If links fail to open, try disabling your AdBlocker.
Technical Specification
Model: ZSS-KB-TH
Communication Protocol: ZigBee
Temperature Range: -10°C~50°C
Humidity Range: 0%—99%RH
Working Voltage: DC2.4V-3V
Battery: CR2032 [Amazon, AliExpress]
Dimensions:

φ60×16.7mm(Round)
16.7×60×60mm(Square)

Screen Size:

φ46.5mm(Round)
46.5×46.5mm(Square)

Net Weight: 42g(Round), 49.5g(Square)
Disassembly
The Moes T&H Sensor model ZSS-KB-TH comes neatly packaged in a tiny box containing the sensor, a manual, some screws and a mounting bracket with a sticker. This device is available for purchase in two shapes: a square and a circle. In this review, we are disassembling the round model.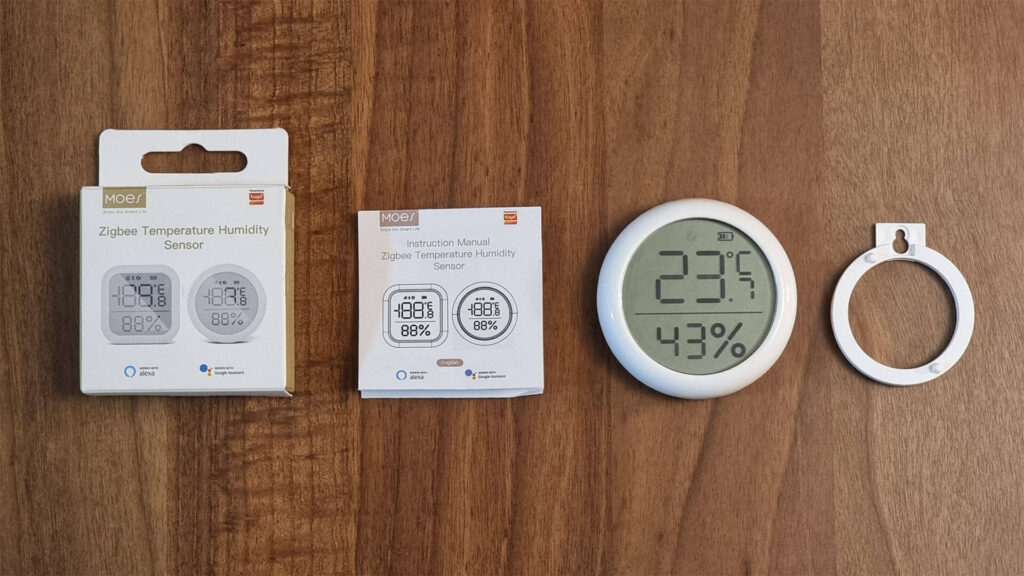 The sensor case is made out of glossy ABS plastic, which feels very smooth to touch. The screen is good and produces solid contrast ratio as far as LCD screens go. The viewing angles are not great, as I expected from an LCD screen. I would have preferred to see an e-ink display, but the price possibly limited this.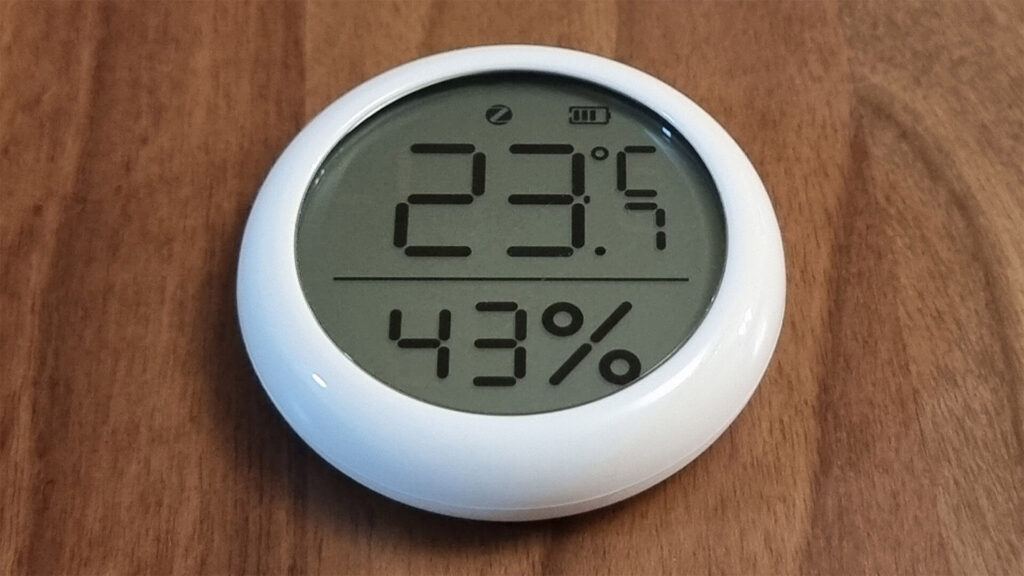 On the backside, there are two slots placed for twisting the mounting bracket in place. On the top of the case is the pairing button, which you would need to press with a small pin or a pen. The battery cap is removed in the same manner as the mounting bracket, by twisting and rotating it sideways.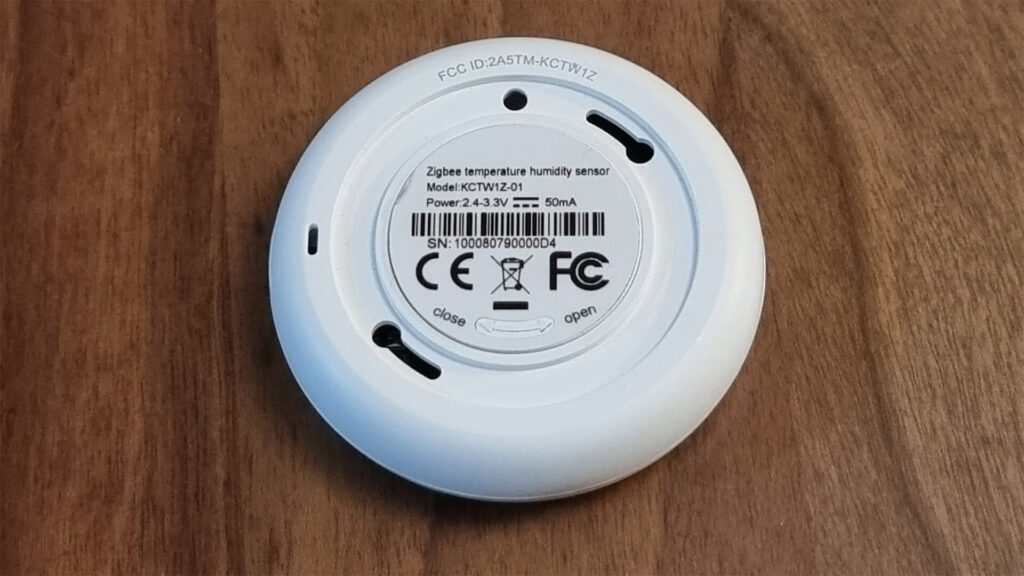 This device is powered by a CR2032 [Amazon, AliExpress]. button battery, like many other devices of this type. It's easily replaceable and can be purchased dirt cheap online. This one comes shipped with a battery already pre-installed.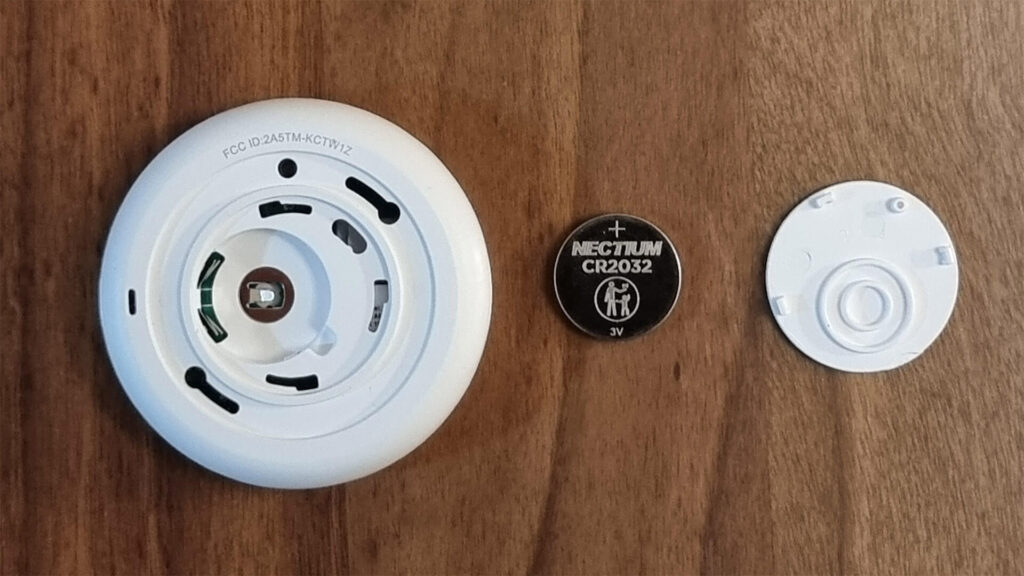 The device is easily disassembled by prying it open with a screwdriver. The LCD screen has a protective glass on the front, to avoid scratches directly on the LCD when handling the device.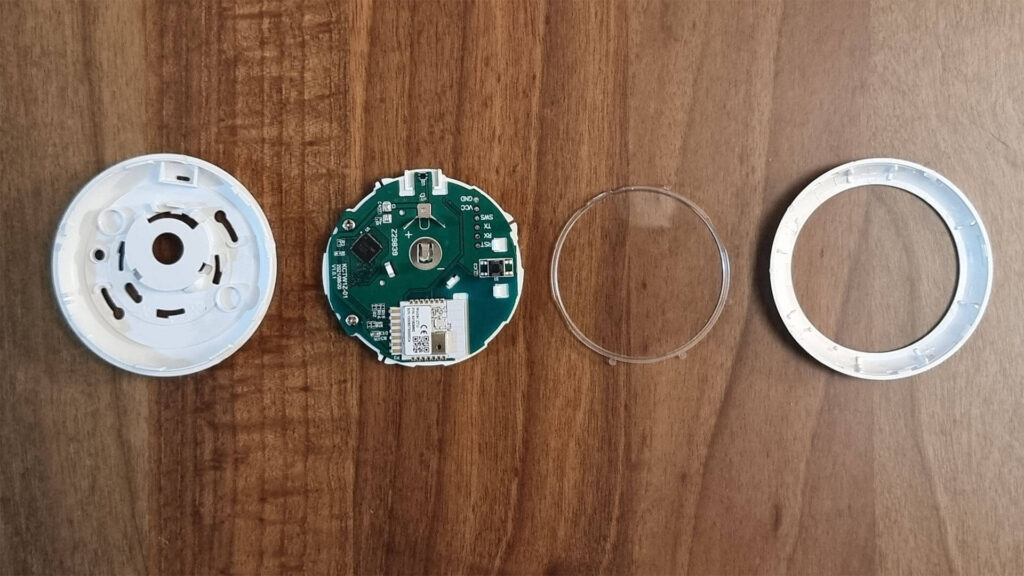 The Moes Temperature and Humidity Sensor is powered by a Tuya ZTU module [Datasheet], embedded with a low-power 32-bit CPU, 1024-KB flash and 64-KB RAM. This chip is found mainly in battery powered devices in my experience (Water Leak Sensor ZW-08), and is not used when Zigbee routing is needed because it's fairly weak and low power.
The driver for the LCD screen is Vinka model VKL144B [Datasheet], capable of displaying data in 36 different segments.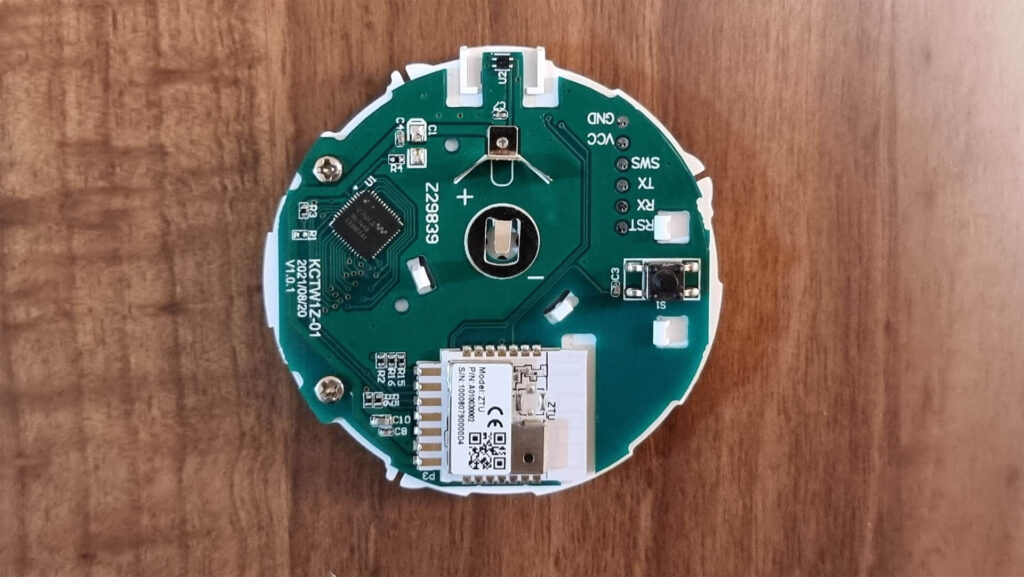 The Moes Temperature and Humidity Sensor model ZSS-KB-TH fully disassembled.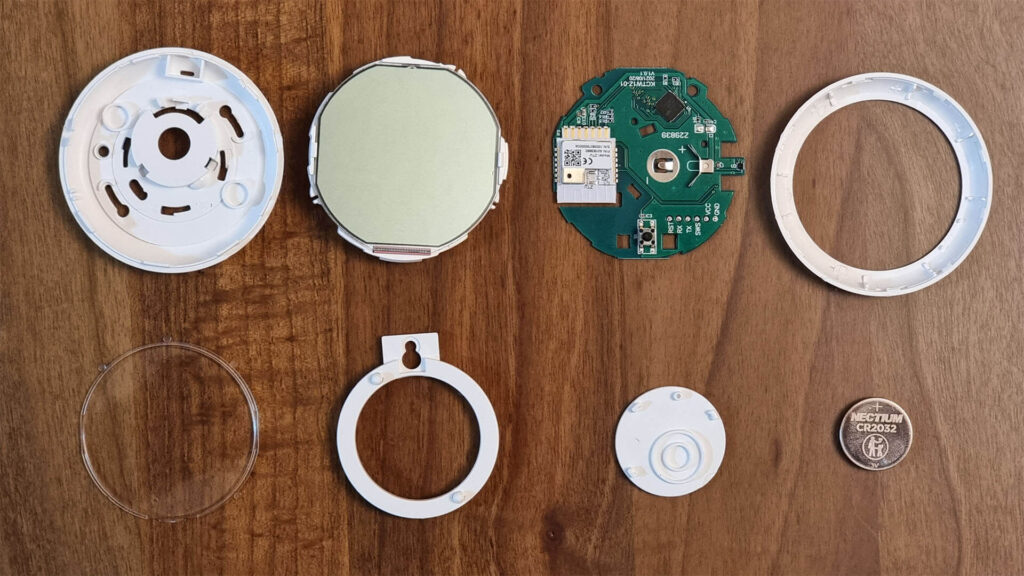 Home Assistant Integration
The Moes Temperature and Humidity Sensor model ZSS-KB-TH is supported in ZHA and Zigbee2MQTT. To pair it to your coordinator, you need to press and hold the button for ~5 seconds.
Zigbee2MQTT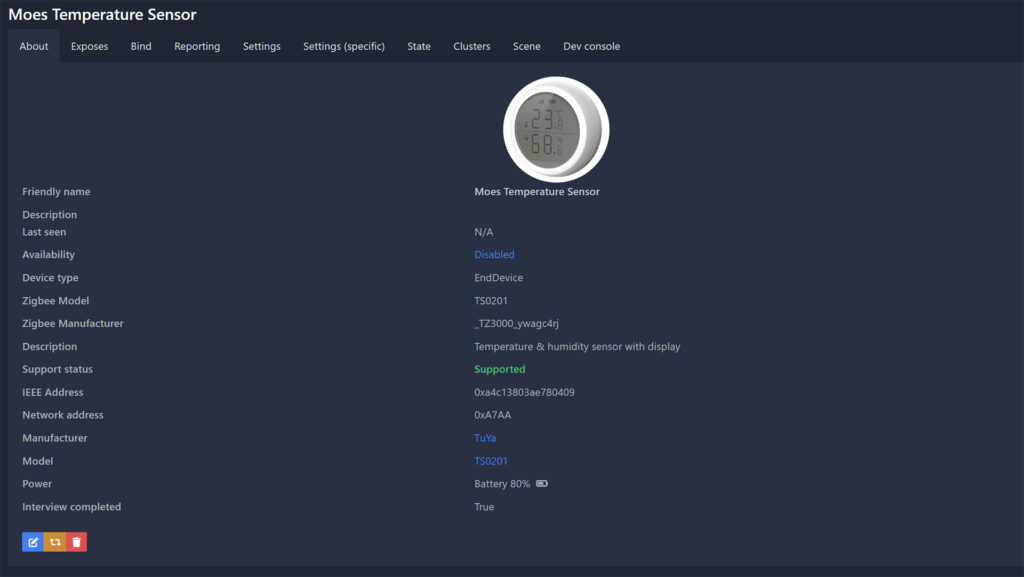 Once paired through Zigbee2MQTT, it is identified as model TS0201 and manufacturer _TZ3000_ywagc4rj. Considering the Tuya ZTU chip is reused in many devices, this T&H sensor can be found sold by Blitzwolf, Tuya and Moes. There are design differences between manufacturers, but the overall functionality is the same. For example, the Blitzwolf version is bigger than the Moes version and has a underline at the bottom of the screen.
It exposes the following entities in Home Assistant through Zigbee2MQTT, all from the sensor domain:
temperature: Reading in °C/F
humidity: Reading in %
battery: Reading in %
voltage: Reading in mV
linkquality: Signal quality in LQI
Zigbee2MQTT offers some device specific settings, such as the possibility to calibrate the readings directly from its UI and set the precision (decimal points) in the reported states.

ZHA
The Moes Temperature & Humidity Sensor is also supported in ZHA. It's identified as model TS0201 by manufacturer _TZ3000_ywagc4rj. The sensor has a custom quirk automatically applied to it, zhaquirks.tuya.ts0201.MoesTemperatureHumiditySensorWithScreen.
Once paired, it exposes the following entities in Home Assistant: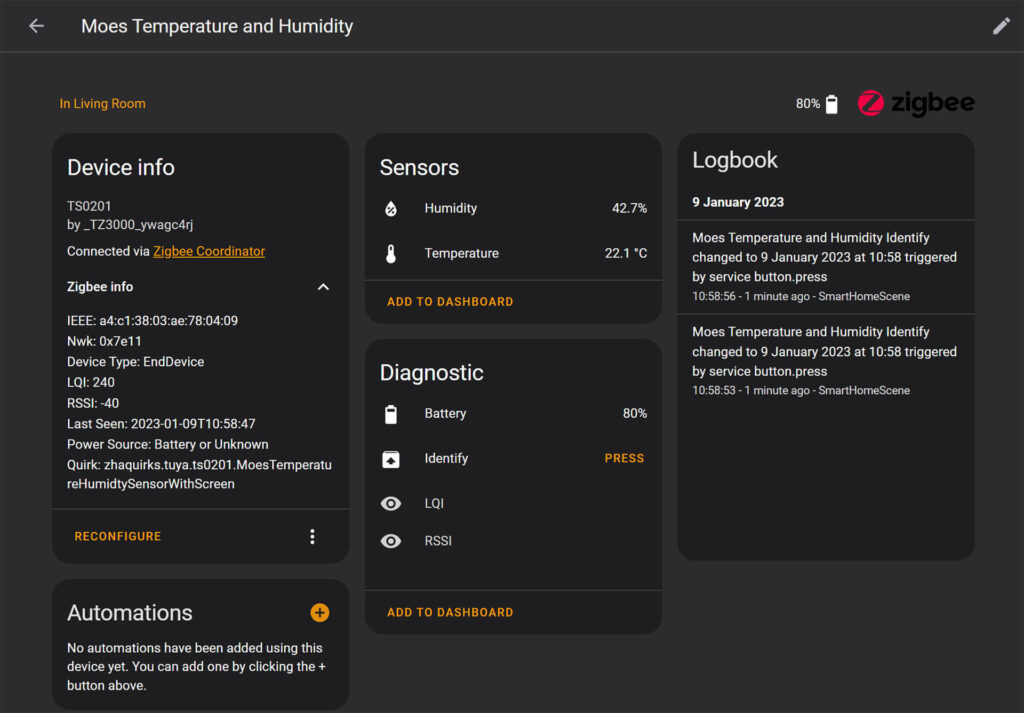 Readings Accuracy
To test the readings accuracy of the sensor, I compared it to a calibrated Xiaomi BLE sensor LYWSD02 [AliExpress], that is already deployed in my home. This device has been my main thermostat sensor for almost three years, because of its frequent reporting interval, long battery life and beautiful e-ink display.
To accurately reflect the reading, the sensors were placed next to each other without any obstructing objects. The readings are mapped with the History Explorer card in Home Assistant.

In my instance, the Moes ZSS-KB-TH sensor was very accurate. It mirrored the readings from my LYWSD02 as far as temperature goes. No calibration was needed at all.

Humidity was a different story. Even though its sensitive enough to detect humidity changes like my LYWSD02, it consistently reported lower humidity than the LYWSD02 by a margin of 3-6%. Calibration is absolutely needed.
Reporting Interval
One of the most common issues of Zigbee based temperature and humidity sensors is the reporting interval of the device. Manufacturers try to find the common ground between frequent reporting and longer battery life. This often results in the sensor reporting a state change when there is a large drop/increase in temperature or after a preset time interval.
For comparison, this is not the case with BLE-based sensors. They can advertise their readings up to 20 times a minute, which can be useful when using the device in a DIY thermostat for example.

When compared to my LYWSD02 sensor, this reporting interval design is mirrored. The BLE sensor pushes it's state 5-10 times a minute, while the Moes ZSS-KB-TH sensor can range from 3 minutes up to 1 hour! Whether or not this is a deal breaker is up to you to decide.
Verdict
The Moes Temperature and Humidity Sensor model ZSS-KB-TH is a solid device all things considered. It never dropped of my Zigbee network and reported its state without issues. However, there are some drawbacks of this device, so to summarize:
Pros
LCD Screen for quick glance
Stable in a Zigbee network
Common Button Battery, CR2032
Long battery life
Small and good looking
Two shapes available (round, square)
Cheap ~$14
Cons
Weak reporting interval
Humidity calibration needed
Mediocre screen viewing angles
If you are looking for a simple Zigbee based Temperature and Humidity Sensor with good accuracy, this Tuya based Moes model is an okay choice. If you don't need temperature reported 10 times a minute, than the reporting interval should not present an issue to you. If you want something with high reporting rate, than you probably need a BLE (Bluetooth Low Energy) device such as the LYWSD02 [AliExpress] or Cleargrass CGG1 [AliExpress].


AliExpress | AliExpress | AliExpress | AliExpress




United States | Canada | United Kingdom
Germany | Netherlands | Sweden | Spain
France | Italy | Poland | Australia
*If links fail to open, try disabling your AdBlocker.