---
Ever since I tested the SwitchBot Outdoor Spotlight Camera, I've been constantly tinkering with their app, trying out features and automations based on the cam. If you are not a Home Assistant guy (which you should be), than SwitchBot has one of the best smart ecosystems out there in my opinion.
In this article, I'm sharing a detailed breakdown of the SwitchBot Outdoor Thermo-Hygrometer or Meter and it's Home Assistant integration. I've had the sensor for a while now, but never got around to actually test it and share my opinion of the device.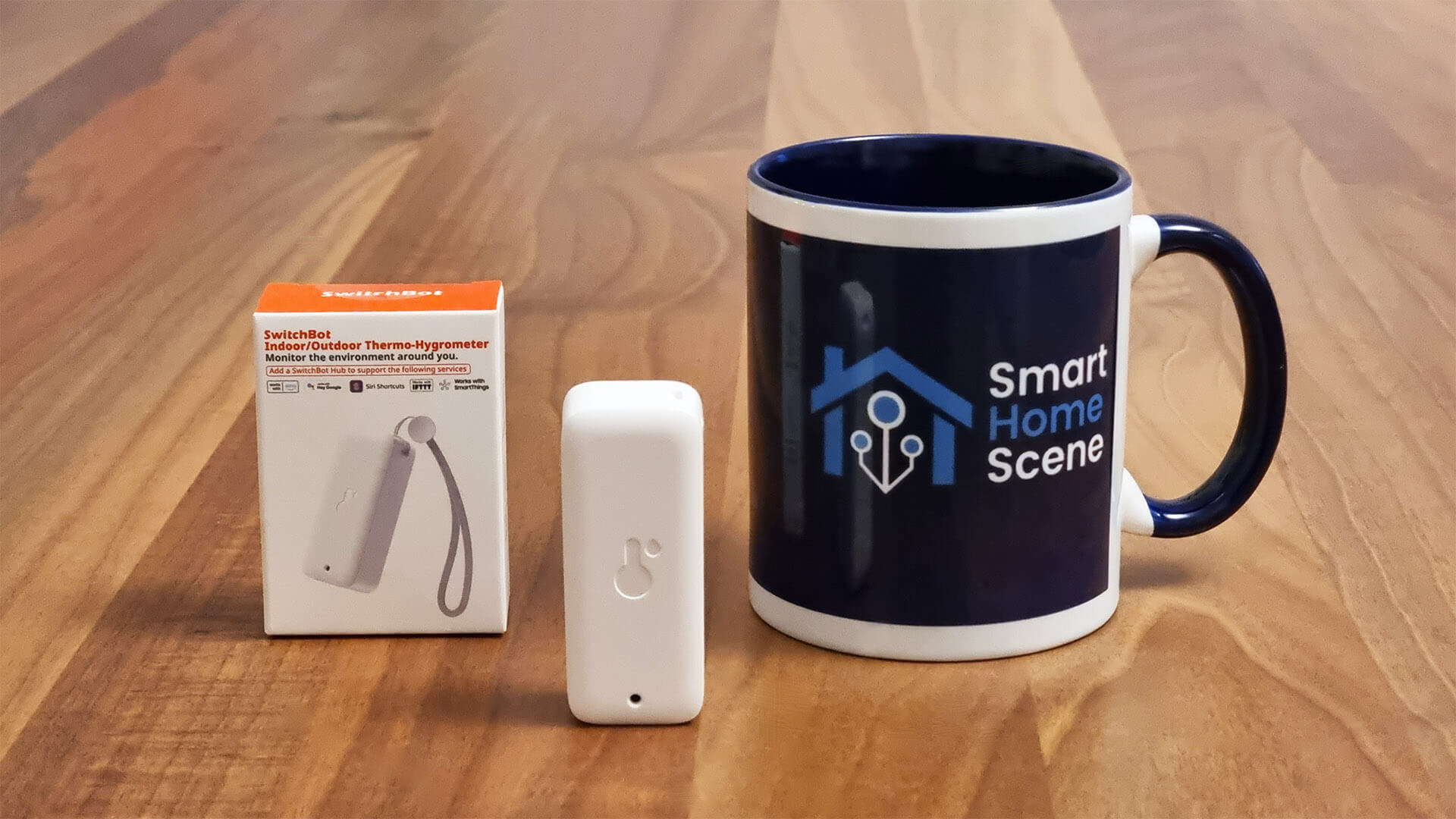 Usually, you can get this sensor for $15 on their official Webstore or Amazon but SwitchBot is running a Prime Day Sale currently with significant discounts, dropping the Outdoor Meter to $10.50!
Technical Specification
Model: W3400010
Color: White
Material: ABS
Size: 60x28x20mm (2.4×1.1×0.8 in)
Weight: 44g (1.6 oz)
Power: 2xAAA Batteries
Battery Life: ~ 2 Years
Connectivity: Bluetooth Low Energy (BLE)
Ingress Protection: IP65
Operating Temperature: -20°C to 60°C (-4°F to 140°F)
Operating Humidity: 0 to 90% RH
Temperature Accuracy:

-20°C-0°C ±0.4°C
0°C-65°C ±0.2°C
65°C-80°C ±0.4°C

Humidity Accuracy:

0-10%RH ±3%
10-90% ±1.8%
90-99% ±3%
Teardown
The SwitchBot Outdoor Meter ships in a small box containing the device itself, a user manual and a lanyard for easily hanging the sensor. Two AAA batteries are also included and pre-installed in the device.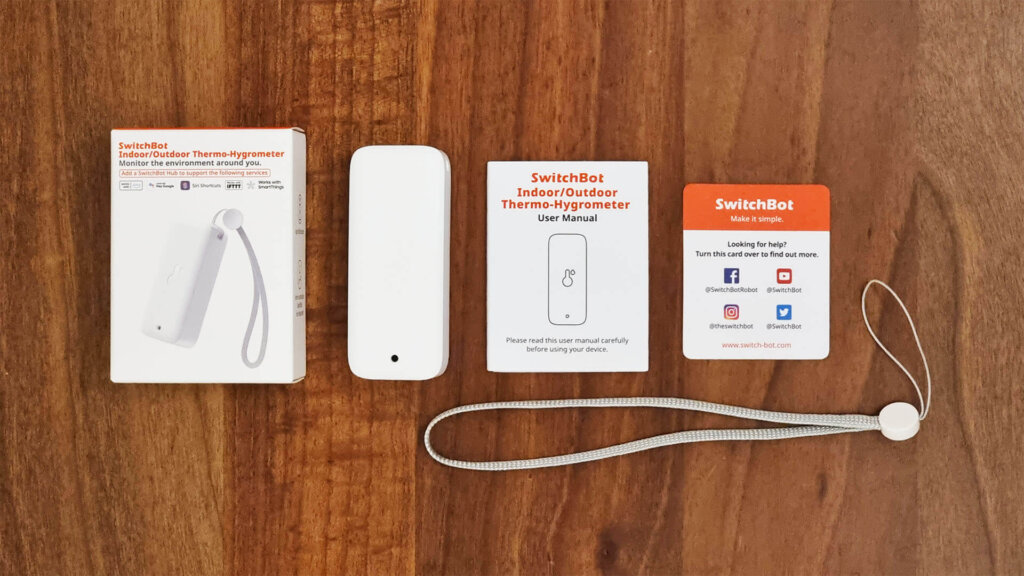 The sensor is extremely lightweight without batteries, does not feel heavy but does feel sturdy. A small hole on the front of the ABS case allows for better air circulation and accuracy of the sensor. There's some general information on the back of the case, which is actually the battery cap.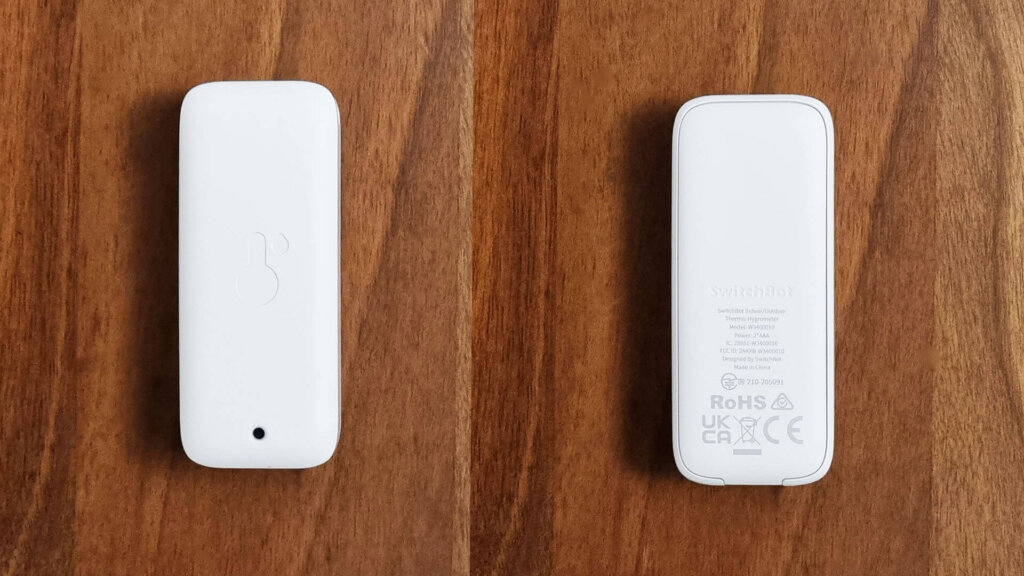 You can open it easily with your fingernail when you need to change batteries. A pair of AAs are already in place, you simply need to remove the contact foil and the sensor will turn on. The small button under the batteries is used to reset the sensor.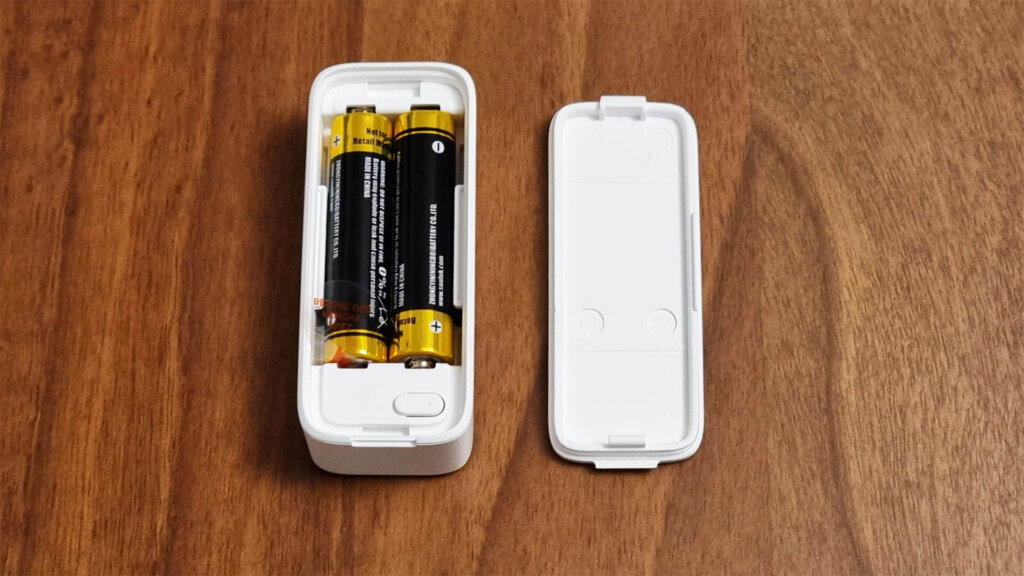 I disassembled the sensor easily with a flathead screwdriver and was met by a white PCB with a familiar layout. Connectivity is handled through a B762CMF BLE module, a variant of which almost every SwitchBot device carries.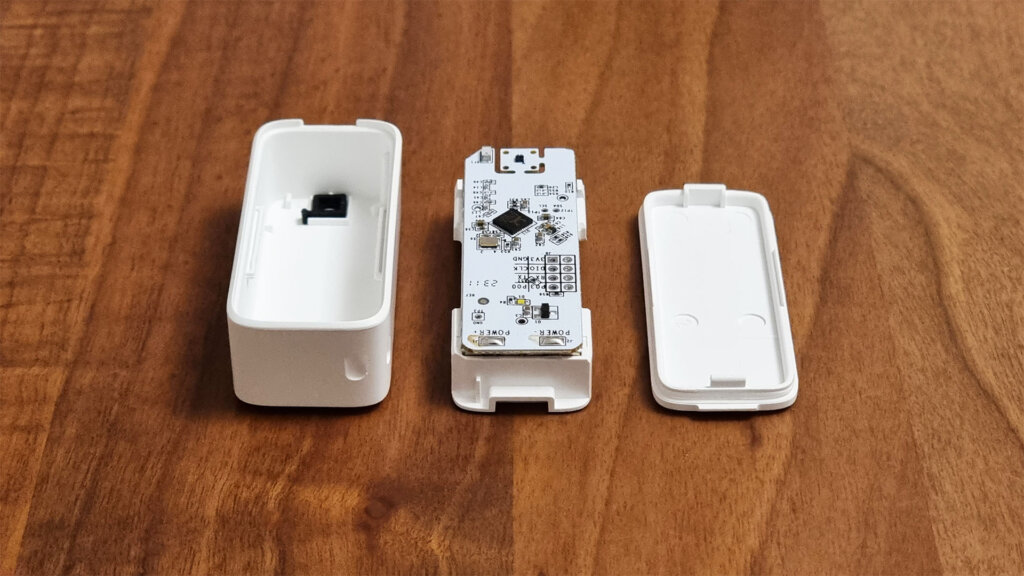 Judging by the shape, I knew this was a Sensirion Temperature and Humidity sensor I just didn't know which model. I had to flash it with my camera at a certain angle, which revealed it's the SH40 [Datasheet] version.
This particular model has a typical accuracy of ±1.8% in the 10-90% humidity range and ±0.2°C in the 0°C-65°C temperature range, which is great.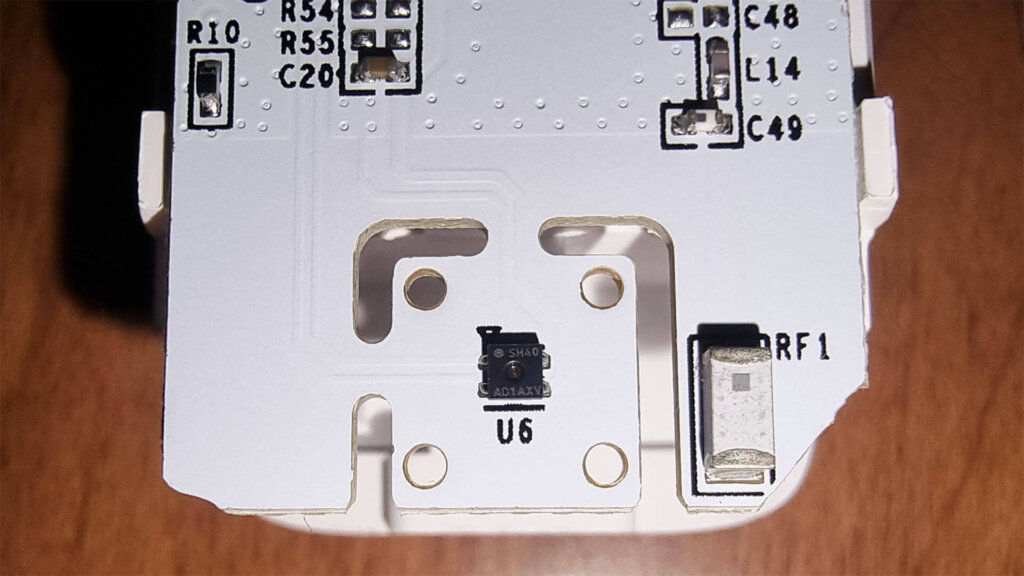 SwitchBot Outdoor Meter in the App
Even though I don't actually end up using the SwitchBot app for their devices, I love playing around with it. Looks great and makes integrating devices a breeze within their ecosystem. The SwitchBot Outdoor Thermo-hygrometer is no exception.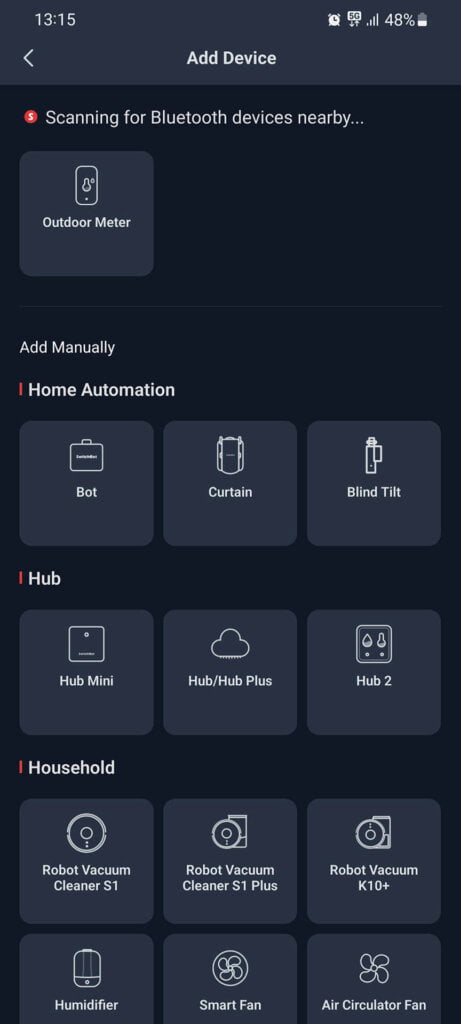 After you've paired the device to the SwitchBot app, you will get a notice that the readings might be unstable for the first half an hour, due to the sensor self-calibrating. Once it stabilizes, you can still recalibrate the temperature and humidity within the settings menu of the app if you feel it's incorrect.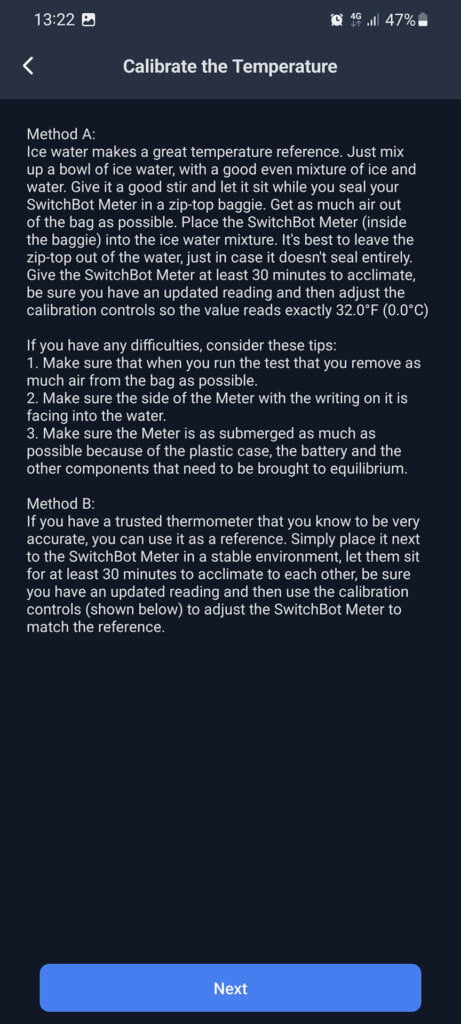 SwitchBot guides you through a couple of calibration methods, some of which can be done at home without any additional tools while others require calibration kits. Specifically, the iced water method is a great temperature reference for calibrating the measurement.
Once the meter is running and collecting data, you will encounter the following readings in the menu:
Temperature:
Humidity:
Absolute Humidity:

Absolute Humidity is the measure of water vapor (moisture) in the air, regardless of temperature.
Reading in g/m3

Dew Point:

The dew point is the temperature to which air must be cooled to become saturated with water vapor, achieving a relative humidity of 100%.
Dew point is a measure of how comfortable the air moisture feels to a human.
Reading in °C/°F

Vapor Pressure Deficit:

VPD is the difference (deficit) between the amount of moisture in the air and how much moisture the air can hold when it is saturated.
Reading in kPa
Some of these can be utilized further than just getting the ambient temperature and humidity of the room. For example, VPD is useful in monitoring the environment for plant growth since absorbing water, CO2 and other essential processes are driven by transpiration.
If VPD is too low, the transpiration will slow down as plants grow and mold may start to appear. If VPD increases significantly, plant will need to draw out more water from the soil through their roots which can cause the plants to dry out and die.
Home Assistant Integration
The SwitchBot Outdoor Meter is supported in Home Assistant through the official SwitchBot Integration. Since almost all devices are Bluetooth/BLE, you need to have the Bluetooth Integration enabled in HA as well.
Once your Bluetooth is enabled, the device gets auto-discovered. You simply click confirm and add it in Home Assistant.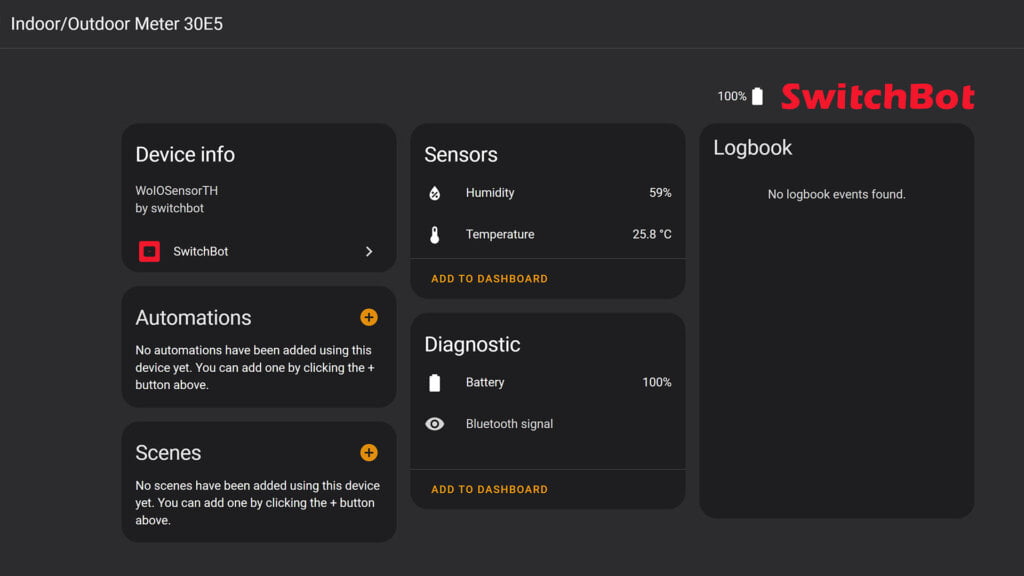 Alternatively, you can also use an ESP32 board to integrate SwitchBot devices in Home Assistant via MQTT. This project is called SwitchBot BLE MQTT ESP32 and is maintained on github by devWaves. Here's what you'll need to make this method work:
MQTT Broker Setup in Home Assistant (Mosquitto)
MAC Addresses of your devices

Can be found in the App, under each Device Info

Installation Method

Arduino IDE or
Visual Studio Code PlatformIO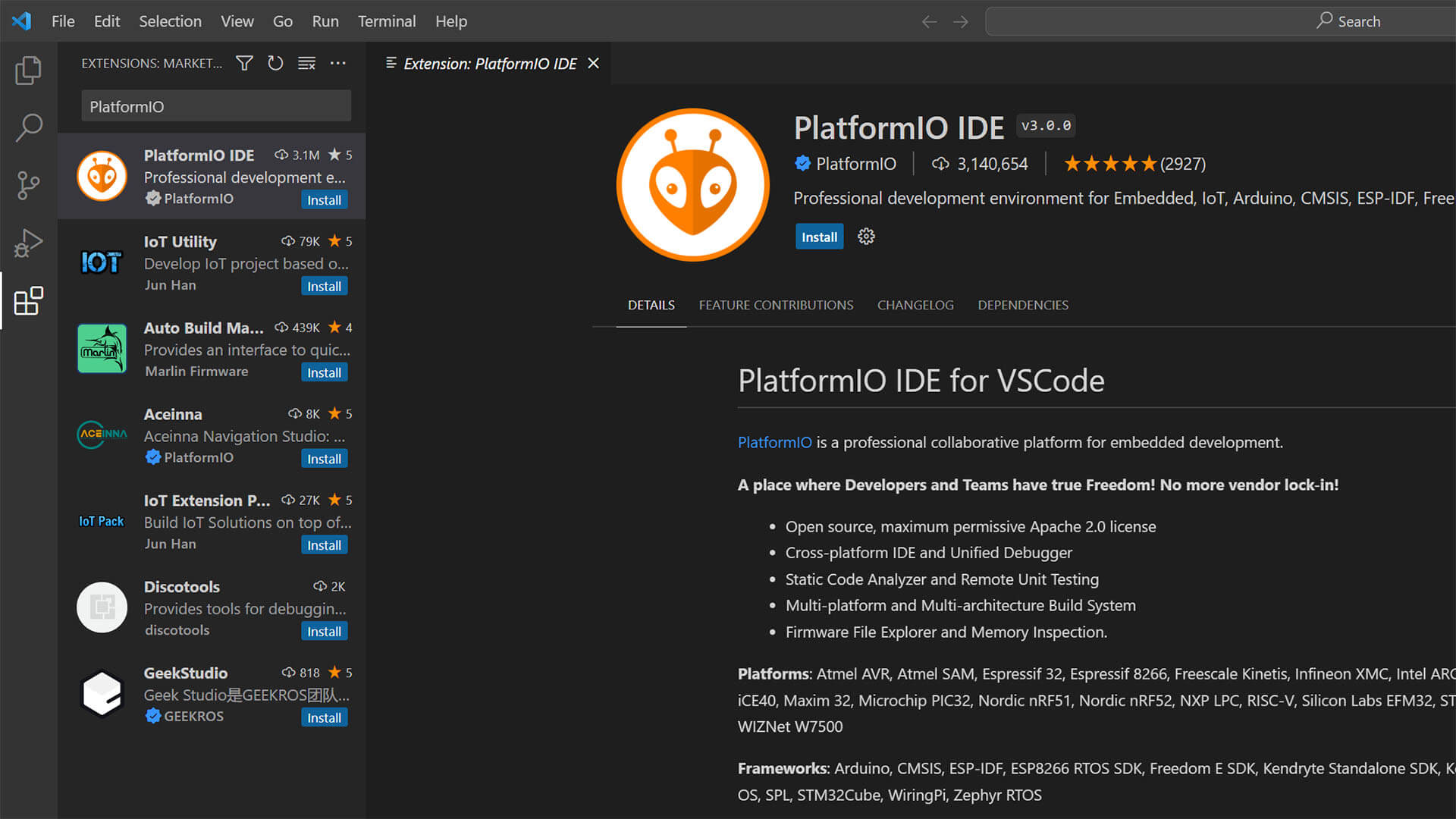 I've detailed the PlatformIO installation method in this guide. Using an ESP32 board gives you more flexibility in placement, effectively extending the communication range with the SwitchBot Outdoor Thermo-Hygrometer.
Testing
To compare the measurements of the SwitchBot Outdoor Meter, I benchmarked it against my calibrated Xiaomi LYWSD02 climate sensor, which is also BLE. They are both placed on a shelf in my living room, about 2 meters from the Bluetooth dongle.

I don't debounce the measurements of the LYWSD02 sensor, I leave it noisy on purpose. It reports about 10-20 times a minute. In the span of 24 hours, they both reported almost exactly the same readings. Average offset is about 0.35% which is incredibly accurate. A win for the SwitchBot Outdoor Meter.

Humidity reading gave me about the same result, with an average offset of 1.2%. This doesn't warrant calibration by my standards and is perfectly acceptable. The LYWSD02 is still noisier when reporting humidity, but not as much as with temperature. Another win for the SwitchBot Outdoor Meter.
Summary
The SwitchBot Outdoor Thermo-Hygrometer is a nice addition to their Smart Home ecosystem, especially if you already have other SwitchBot devices. The IP65 rating makes this device dust and water proof, perfect for gardens, greenhouses, bathrooms our terraces.
Even though I don't rely on anything other than Home Assistant for automation and control, I've already said many times the SwitchBot app is one of the best proprietary smart home software out there.
Home Assistant Integration of this Outdoor Meter is also very easy and completely automatic with the official integration. Alternatively, you can use an ESP32 board to capture the measurements of the device and extend range via Bluetooth proxies.
The device is calibrated out of the box, it mirrored the readings of my LYWSD02 sensor in Home Assistant with a slight variation. You can recalibrate if you need to, the app guides you through a couple of methods.
Connectivity is the only gripe I have with SwitchBot devices, Bluetooth is probably the weakest communication protocol for a smart home. It's interferes with Wi-Fi and Zigbee, since they are all on the 2.4GHz band. The more Bluetooth or BLE devices you have, the messier it becomes.
Pricing and Prime Day Sale
SwitchBot is currently running a Prime Day Sale on their Webstore and Amazon. You can get the Outdoor Thermo-Hygrometer for $10.50 by using the promo code listed bellow.
SwitchBot Webstore

July 4th – July 12th

25% discount for the duration of the sale
5% additional discount with code XMSWITCHBOT
Valid for US/UK/CA/EU only

Amazon Prime Day

July 9th – July 12th
25% discount for the duration of the sale
5% additional discount with code XMSWITCHBOT
Valid for US/UK/CA only
To get the most out of the Prime Day Sale, I suggest you look into their Combo offers. Things are seriously discounted when bought in bulk, like the Curtain + Hub 2 Combo or the Blind Tilt + Hub 2 Combo. Don't forget to use XMSWITCHBOT for an additional discount!