---
Cheap Home Automation devices and gadgets coming from AliExpress are abundant. All shapes, sizes, brands, connectivity standards. Often these devices are complete trash and after initialization they find their place in the ever growing bin of useless cheap hardware. The purpose of our AliExpress Reviews channel is mainly this – separate the trash from the gold sold out there.
We've reviewed many cheap Ali hardware, such as the Cheapest ZigBee Smart Switch, Cheapest ZigBee Door Sensor & Cheapest ZigBee PIR Motion Sensor. In this review we are looking at another device of this category, a cheap Tuya Water Leak Sensor ZW-08. We're going to disassemble it, test it and integrate it in Home Assistant.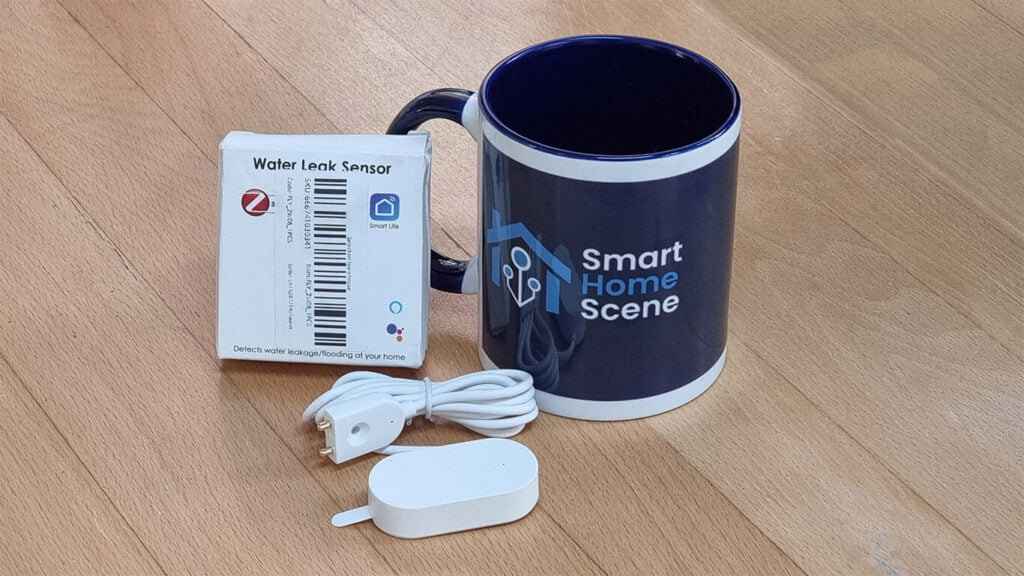 Technical Specification
Battery: CR2032 (Included)
Battery Life: ~ 1 year
Wireless Type: ZigBee IEEE802.15.4
Working Temperature: 0℃~40℃ (32℉ ~104℉ )
Working Humidity: 20%~85% RH
Storage Humidity: 0%~90% RH
Shell Material: ABS
Shell Dimensions: 52.5×26.5x13mm
Probe Cable Length: 1m
What's Inside?
The Tuya ZigBee Water Leak Sensor ZW-08 comes packed in a cheap cardboard box. It contains the sensor inside, a manual, and a sticker for easy mounting. Packages from AliExpress often come crumbled up and damaged, like this one. Luckily, the device was undamaged.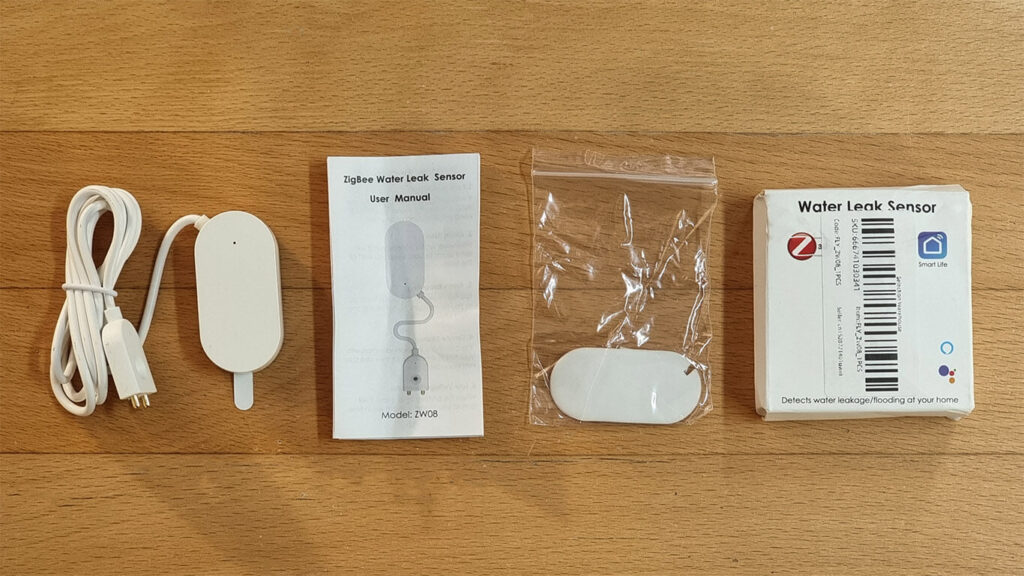 The front and back shell of the device is almost identical. The front has a status LED, which indicates state change and pairing mode while the back has a small button. This button is used to "send state", NOT pairing.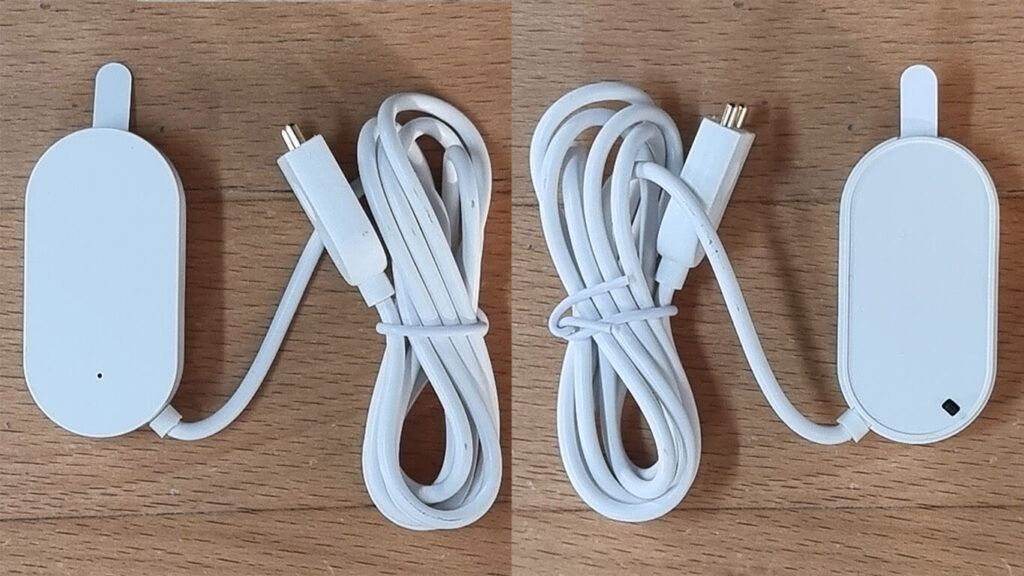 It's can be open easily with a flathead screwdriver or a small knife. You will have to do this, because the real pairing button is inside. Hold this button for ~5 seconds and the device will enter pairing mode, indicated by the LED blinking. Why they decided to make this design decision, pairing button inside, send state button outside, who knows.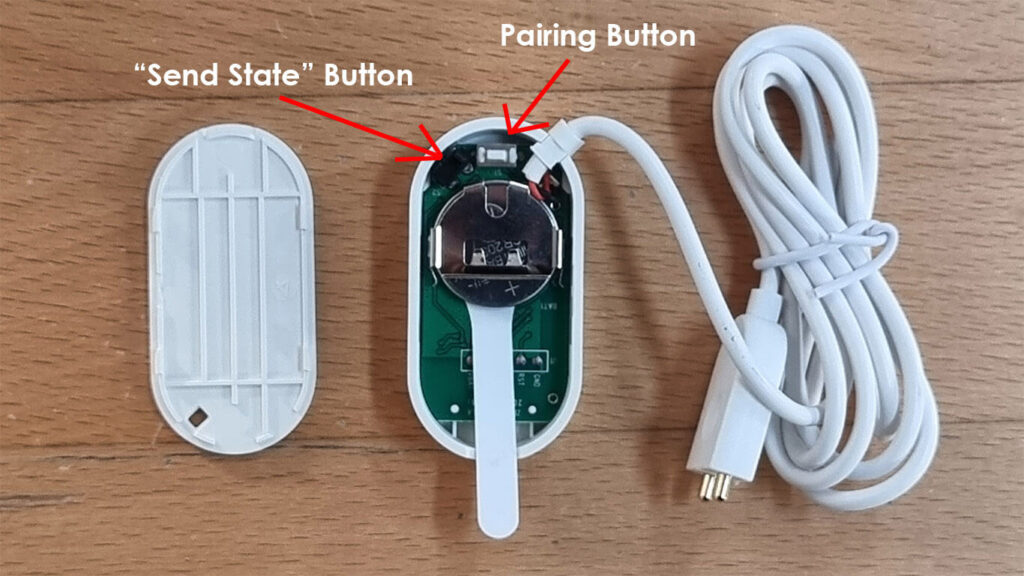 The battery is fairly standard, button CR2032. It can be found in almost any convenience store or ordered online. The probe is soldered directly onto the PCB and has a 1m cable length. This allows for mounting the sensor in one position and the probe in another.
The ZigBee communication module is ZTU, developed by Tuya. It's a fairly weak chip, but considering the nature of this device (battery operated) it's fit for its purpose. ZTU is embedded with a low-power 32-bit CPU, 1024-KB flash and 64-KB RAM.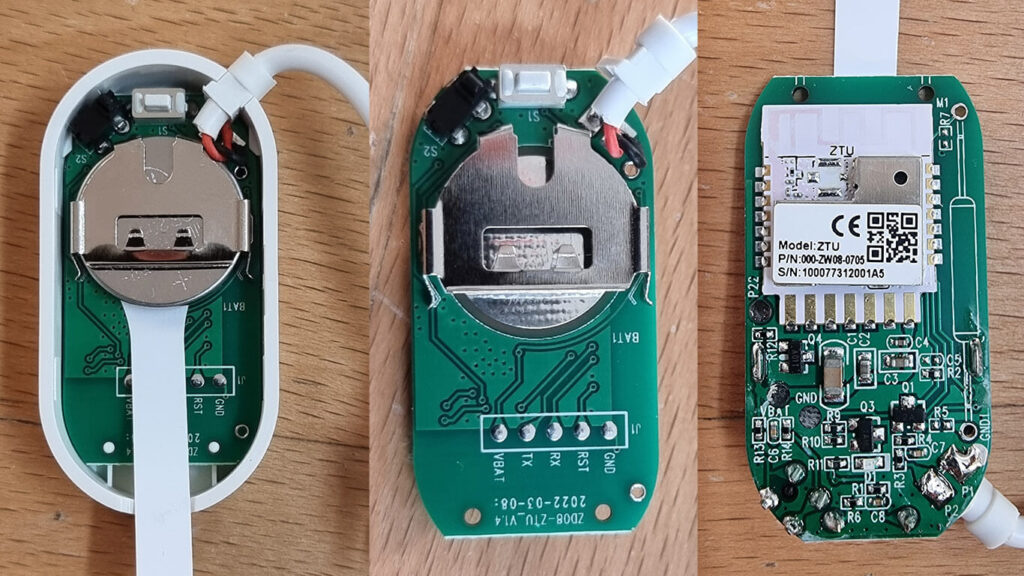 Installation and Mounting Positions
This cheap water leak sensor is not IP67 rated which means the shell is not waterproof or dustproof. For example, the Aqara Water Leak Sensor is rated IP67 and you can just toss it under the sink without issues. For the Tuya ZW08, you would have to mount the sensor in one position and the probe in another.

If you are mounting it under a kitchen sink for example:
Glue the sensor on the side of the cabinet with the sticker, away from water
Place the probe under the drain using the 1m long cable
This presents a design flaw of the sensor: The contacts of the probe are a little too high from the ground.
For example, if you are placing it in a standard kitchen cabinet and water leaks from the sink, and does not hit the probe contacts directly, it will just pass under it and slowly flood you kitchen.
Further, if the probe is not horizontally secured, it can twist vertically and bring one contact way above the ground, making slow water leaks impossible to detect. There is a small hole on the probe head, in which water can enter and close the circuit so a leak can be detected. But this is an aiming scenario: will you position it precisely so water will enter the small hole?
All this requires a little bit of tinkering to position the probe correctly, such as using some kind of fastener or duct tape. But that presents problems of its own. As is, mounting is very inefficient.
Integration Compatibility
There are two version of this sensor floating around. One uses a standard AAA battery, model WL-898WZ, the other uses a button battery CR2032, model ZW08. Both are identified as ZigBee model TS0207, manufacturer _TZ3000_85czd6fy and _TZ3000_upgcbody.
Both versions are supported only in ZHA & ZigBee2MQTT. There is ongoing feature request for implementing the sensors in Deconz.
To pair the Tuya ZigBee Water Leak Sensor, you need to open it and press the pairing button (like we noted above) for ~5 seconds. This will send the device in pairing mode and can than be added to your coordinator. Once paired, it exposes a few simple entities both in ZHA and ZigBee2MQTT:
binary_sensor:

water leak: on/true, off/false
battery_low: on/true, off/false

sensor:

battery_percentage: 0-100%

linkquality: signal quality in LQI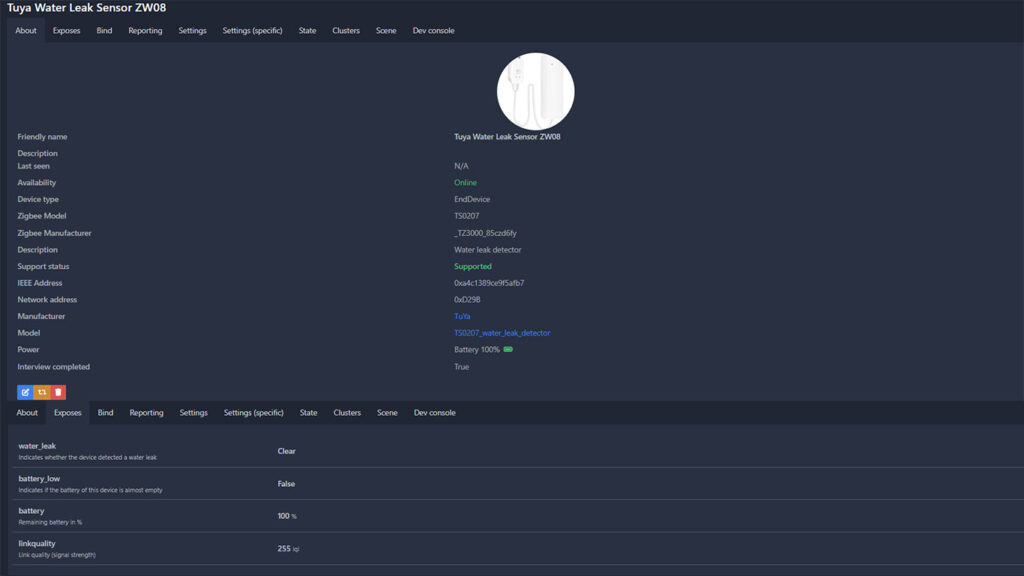 Verdict
The Tuya ZW08 is probably the cheapest ZigBee water leak sensor you could purchase, but pricing does not automatically exclude it from being an eligible device for water detection. In our test, it never failed to report a water leak! As far as functionality in a ZigBee mesh network goes, the device performed well.
However, the probe is somewhat of a nuisance to correctly setup and position. We feel like there is a real possibility this sensor will miss water leaks because of the probes' contacts being to high from the ground or the probe twisting, turning and not staying in place. If you find an eligible and secure mounting position, where you are confident it will not miss any leaks, the Tuya ZW08 will perform its function well. Another drawback to consider is the sensor itself is not waterproof. If water gets to it, bye bye birdy.
As an alternative, we suggest looking at the Aqara Water Leak Sensor. This one does not have a probe, is completely water and dustproof, and it's contacts touch the ground so there is no possibility of missing a leak.

If you decide to test the Tuya or order the Aqara, please consider using one of our affiliate links bellow as it helps us maintain this blog.
Tuya ZigBee Water Leak Sensor ZW08 ~ $10-$12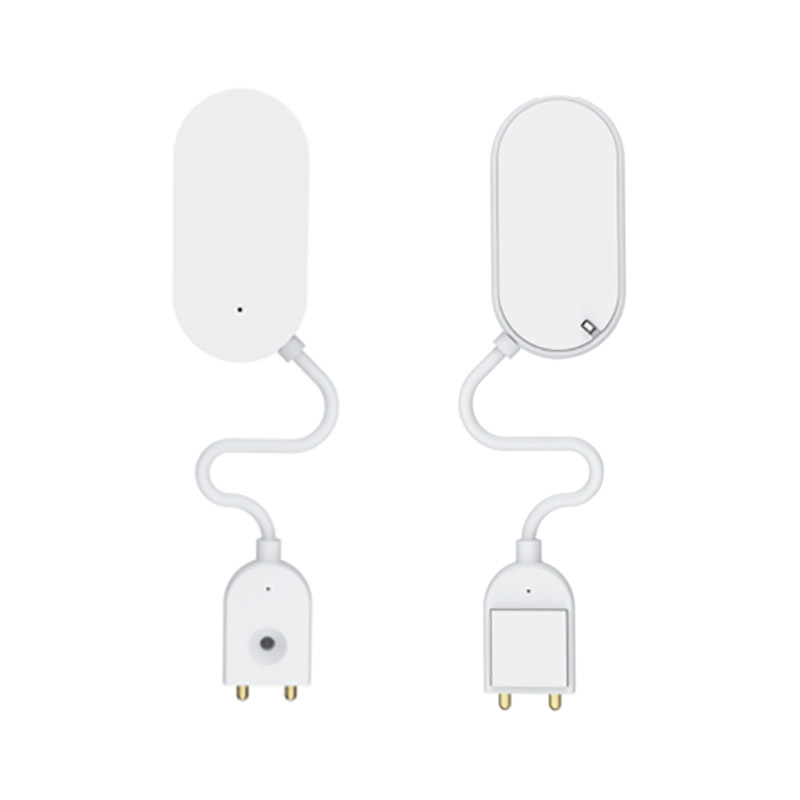 AliExpress | AliExpress | AliExpress | AliExpress




United States | Canada | United Kingdom
Germany | Netherlands | Sweden | Spain
France | Italy | Poland | Australia
*If links fail to open, try disabling your AdBlocker.
Aqara ZigBee Water Leak Sensor – $17-20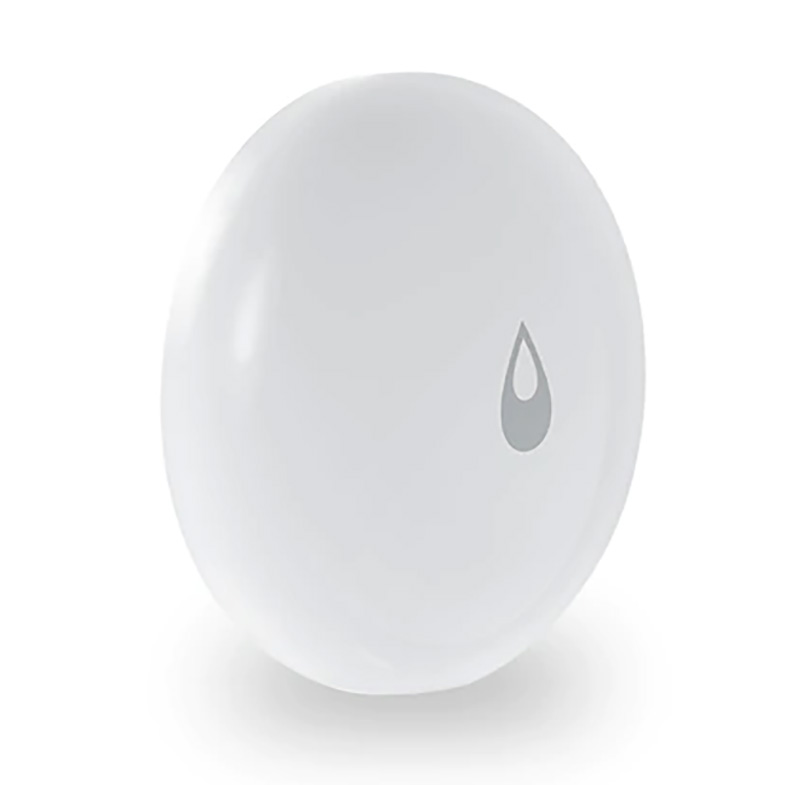 AliExpress | AliExpress | AliExpress | AliExpress




United States | Canada | United Kingdom
Germany | Netherlands | Sweden | Spain
France | Italy | Poland | Australia
*If links fail to open, try disabling your AdBlocker.