---
Recently we talked about the Cheapest Wi-Fi Switch you can buy, which turned out to be a surprisingly solid little mini switch. Today we are looking at the Tuya 20A Wi-Fi Boiler Touch Switch which features a 20A 4400W rated relay.
This switch is advertised as boiler switch because of this, but in reality it a generic switch which can be installed on almost anything. It is priced at ~$16.5 and available in EU and US versions, and although a ZigBee variant can be found from different manufacturers, we will not talk about it in this review as it is not the same model. It has been shipped and we will review that one once we receive it. Let's pry this one open and see what's inside!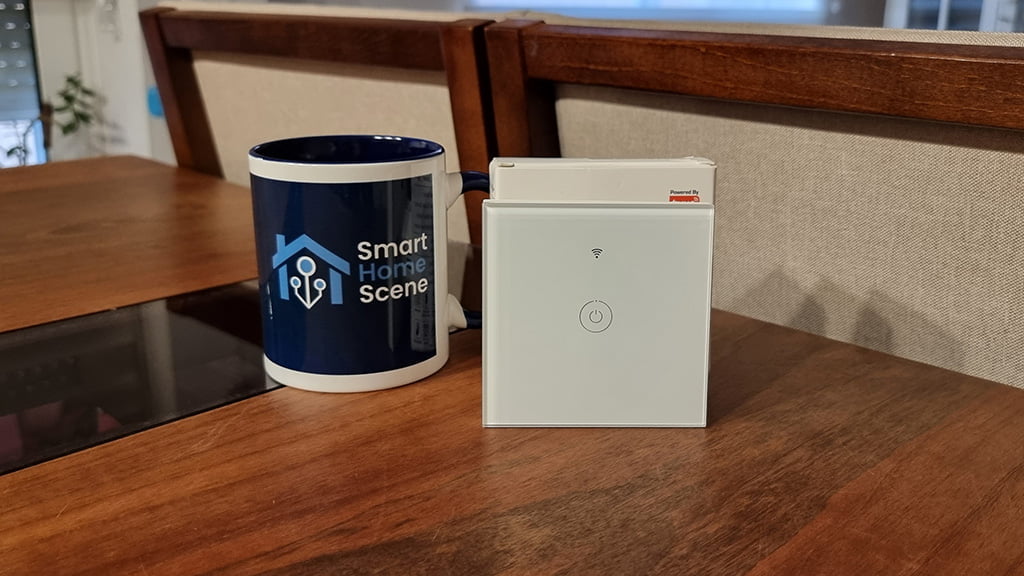 Technical Specification
Working Voltage: 110-250V, 50-60Hz
Maximum Current: 20A, 4400W
Size: 86x86x11mm (EU), 118x72x11m (US)
Communication Protocol: WIFI 2.4GHZ
Shell Material: Flame Retardant PVC
Panel Material: Tempered Glass
Certification: CE, FCC, RoHS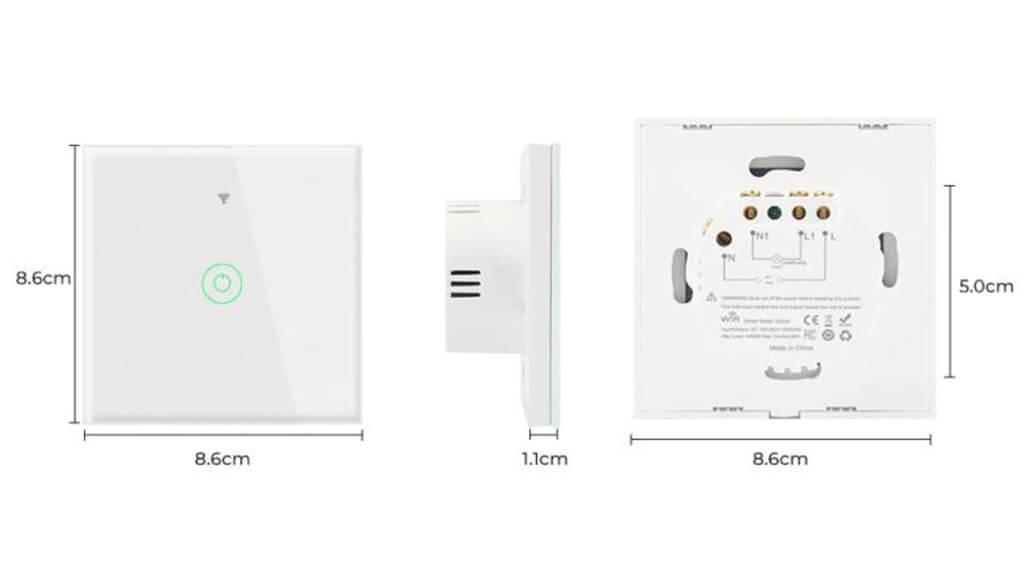 What's Inside?
The front panel of this smart switch is made out of tempered glass, it features a round touch button and a connectivity indicator at the top. The button lights up using different colors depending of the state. The back body of this gadget is produced from flame retardant PVC plastic.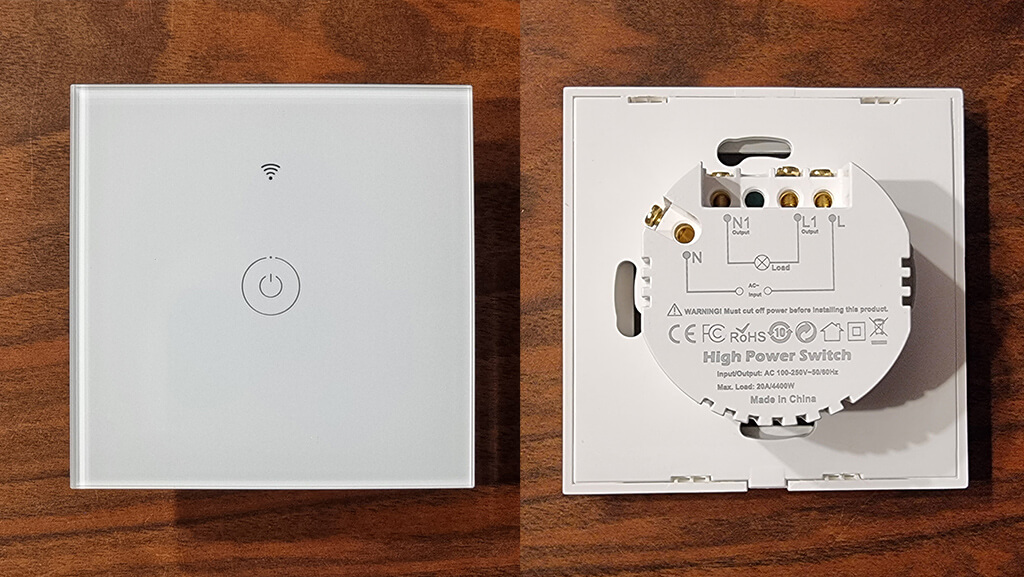 Once the front panel is removed, the touch button receiver can be observed together with a Wi-Fi connectivity module.
It's a CB3S Wi-Fi and Bluetooth module developed by Tuya which consists of a RF chip BK7231N. CB3S is built in with a 32-bit MCU whose running speed can be up to 120 MHz, a 2-MB flash memory, and a 256-KB RAM. It features rich peripherals, such as PWM and UART. There are 5 channels of 32-bit PWM output, making the chip very suitable for high-quality LED control.
Note: As this module is based on the BK7231N chip, it cannot be flashed with Tasmota.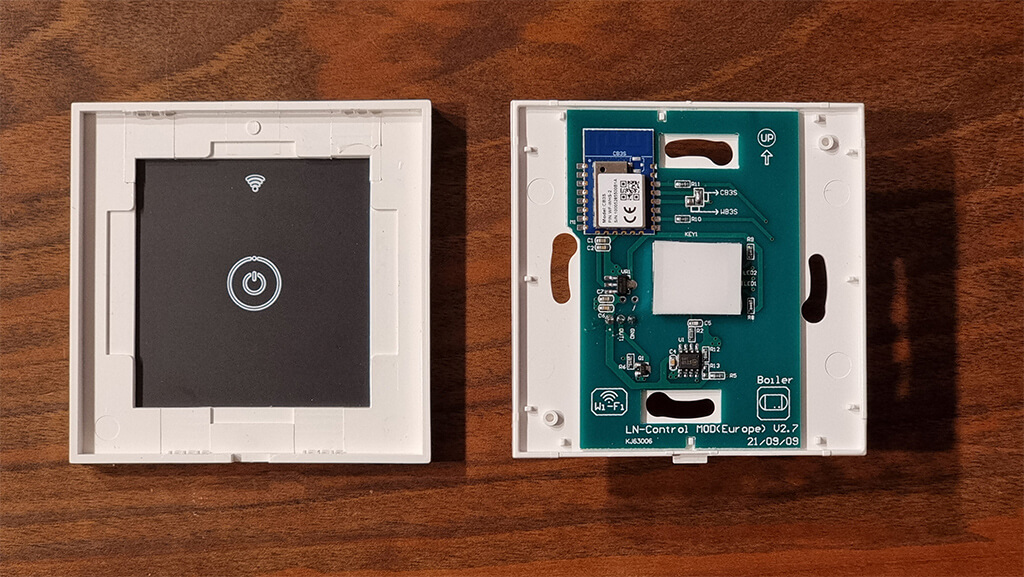 The touch PCB is held in place with some kind of double sided sticky tape. It took extreme patience to pry it open with a small screwdriver from the plastic without cracking it. Once it's removed, we discover a thin PVC film separating the touch PCB from the relay block. It is held in place by 3 Phillips screws and connected to the first PCB through 3 Dupont pins.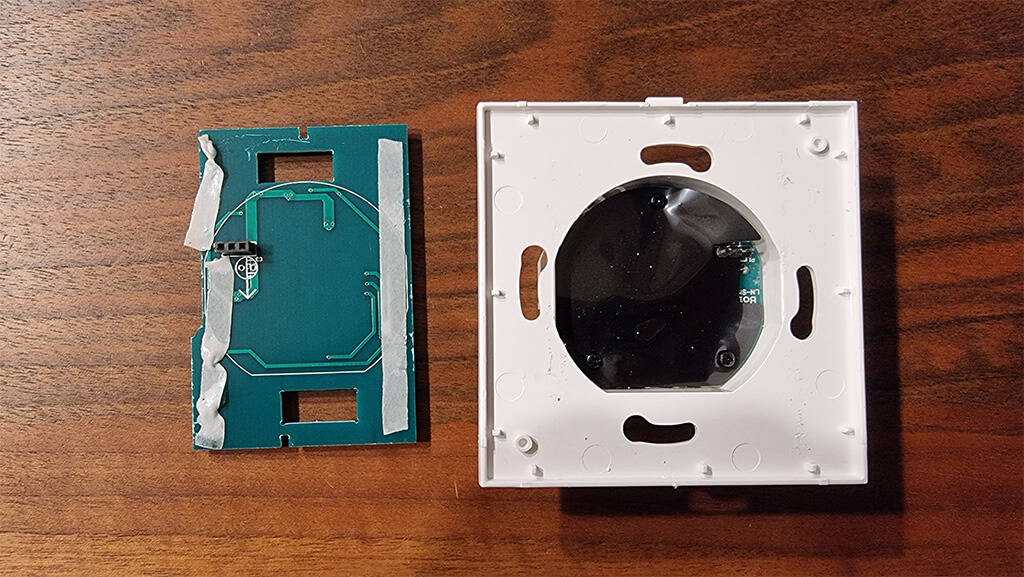 After removing the screws and film, we can get to the relay PCB. We can notice the relay is a FANHAR model W36-1AT rated at 20A or 4400w made by Chinese company FANHAR based out of Shenzen and is CE, FCC and RoHS certified.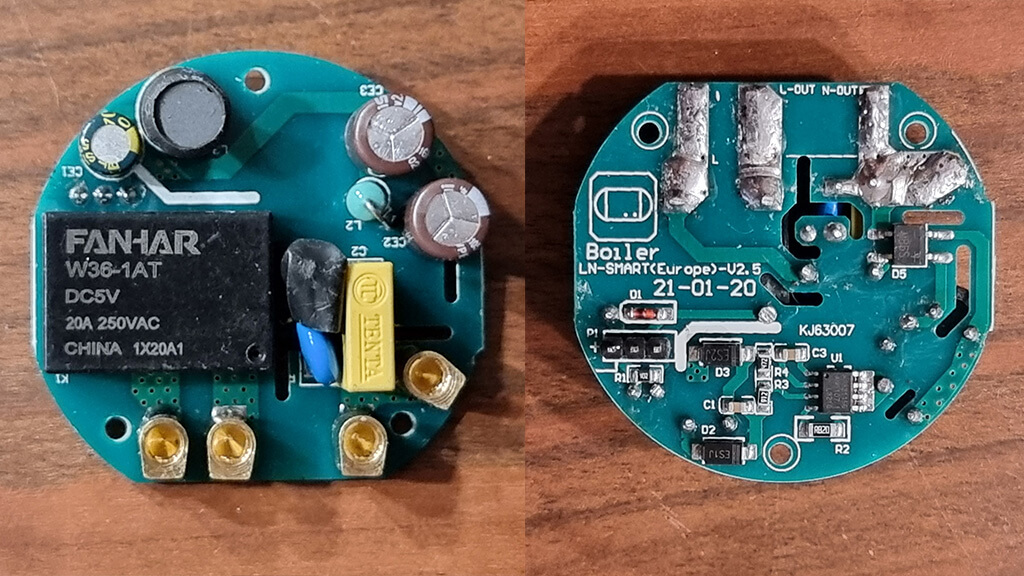 On the backside, the terminals are soldered pretty good with a heavy chunk of alloy placed on each. Most residential EU boilers use heaters rated from ~2000-3500W so this is done to be able to withstand the current from the boiler.
Installation and Wiring
Wiring this switch is pretty straightforward, but N-Neutral is required.
The L and N from the mains are connected to L and N terminals of the switch
The L1 terminal is connected to your out wire going to your boiler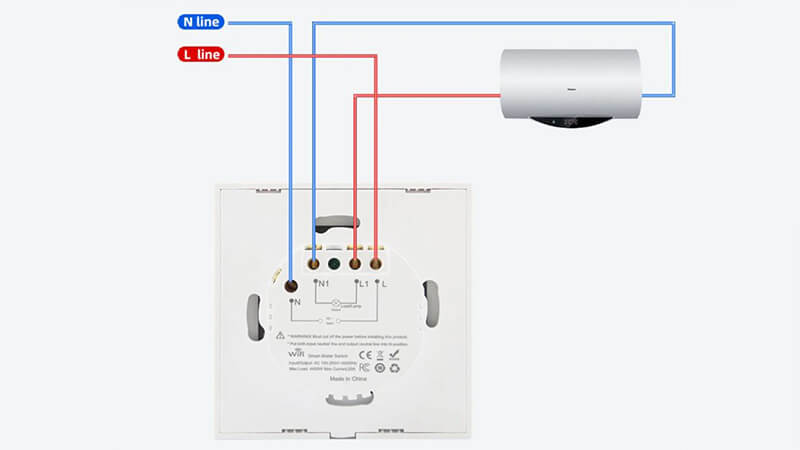 Important: If you are wiring the module inside a switchbox, the N-1 terminal remains unconnected. This is because your boiler is already connected to Neutral somewhere in your home installation. If for some reason your existing wall switch also cuts out the Neutral when flipping it, you need to connect the neutral wire going to your boiler to the N1 terminal of the switch.

Integration Compatibility
As this is a Tuya based Wi-Fi switch, we can use the official Tuya Integration in HA or the custom Local Tuya Integration (switches are supported in LocalTuya). Integrating Tuya devices locally in HA, is a tedious and somewhat difficult process. I intend on making a separate up-to-date tutorial in the near future to cover everything you need to know.

If you haven't already integrated your Tuya devices, follow this tutorial:
When adding this Tuya Boiler Touch Switch in Home Assistant, it exposes two entities:
Switch Entity
Power-On State Entity

The default state of the switch can be set when powering on the mains power. 0=OFF, 1=ON, 2=Remember last state
Even though it uses Tuya firmware, this Tuya 20A Boiler Switch integrates without issues when using the official integration. As we mention earlier, the switch is also supported in Local Tuya. You could use that integration to block it from connecting to Tuyas cloud service, or "calling home".
As of the writing of this article, this switch is not officially supported by Tasmota or ESPHome as it carries a BK7231 chip. There is a ongoing Github project by openshwprojects which claim they developed a Tasmota-like system for these modules. You can keep tabs HERE.
Verdict
This Tuya based 20A switch is easily integrated in Home Assistant via the official Tuya integration. The relay offers a really LOUD click when toggled which means it uses a strong coil to move the contacts. In general this is considered a good trait and is a distinction of higher quality relays.
The aesthetics are pleasing to the eye, and a different LED illuminates the button depending on the state of the switch. Red – toggled OFF, Green – toggled ON, Flashing – pairing mode.
Keep in mind that after all, this is a generic 20A switch, so it can be installed to whatever appliance you want. I've had it installed as a main boiler switch (as advertised) for almost 1 month, and it presented no issues so far. It creates no heat, connection is stable an is quick to respond to input commands.
The unavailability of Tasmota or ESPHome is a major disadvantage of this switch, which means for the time being you cannot get rid of its Tuya firmware completely. It probably will be possible in the near future and if this is not a problem for you, you can try this relatively inexpensive gadget yourself.
You can support this blog by using one of our affiliate links bellow.
Tuya 20A Boiler Touch Switch EU – Wi-Fi
AliExpress | AliExpress 2
Tuya 20A Boiler Touch Switch US – Wi-Fi
AliExpress | AliExpress 2