---
When it comes to smart lights, there are so many options and variants sold out there, you get confused just thinking about it. Each and every Smart Home company manufactures some kind of controllable light, bulb, LED strip or similar.
Installing the right ambient lightning in your home will significantly improve the WAF, I know it did for me with these awesome kitchen under-cabinet puck lights. That is the one time I broke my rule: No smart bulbs, just smart switches/dimmers and it paid off.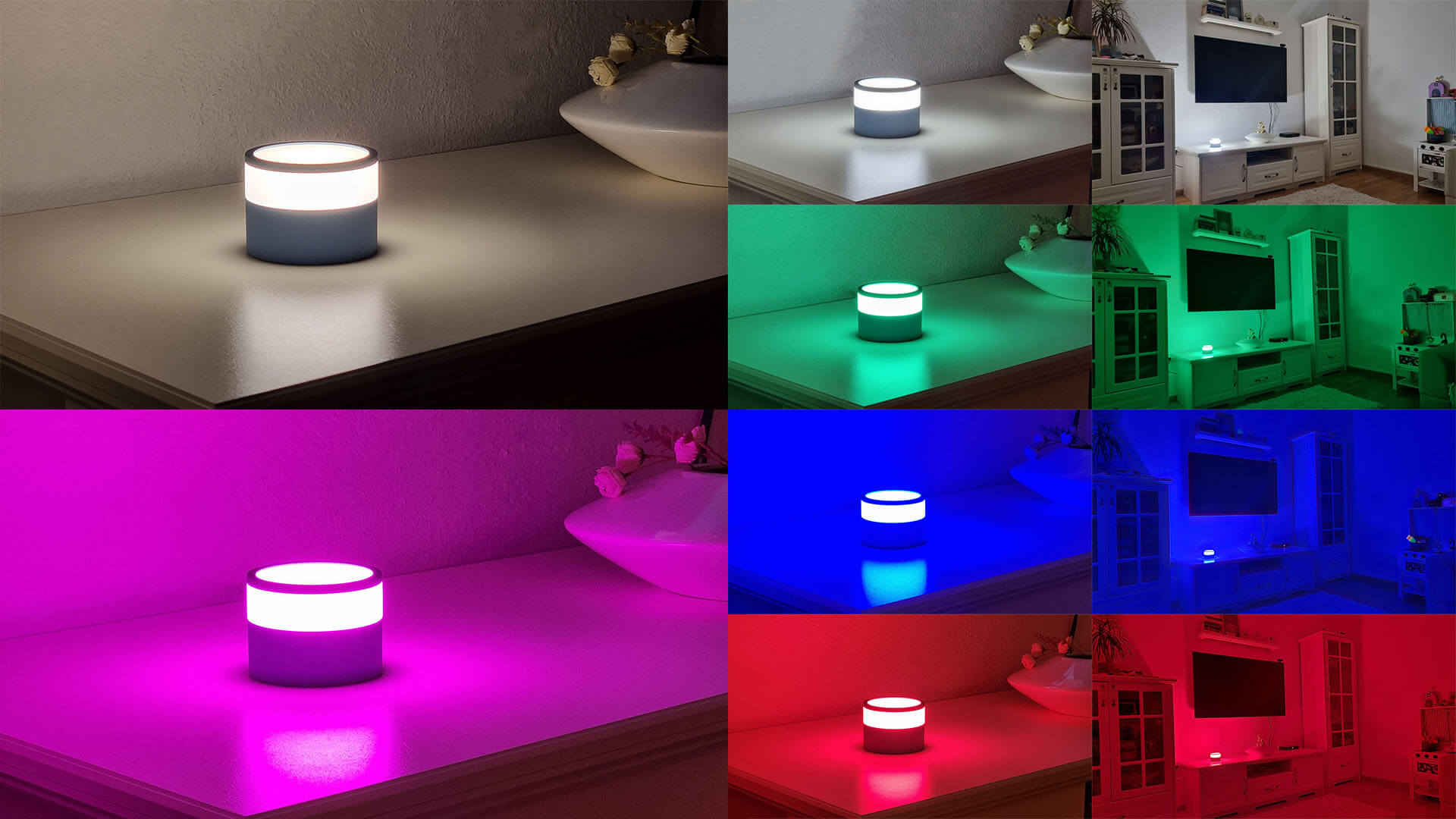 Today I'm sharing an interesting ambient spotlight by Zemismart labelled model LXZB-ZB-09A I ordered a while ago. This is an RGBCW capable LED dimmable ceiling lamp which costs ~$25 on AliExpress and is also available on the Zemismart Official Store.
Technical Specification
Model: Zemismart LXZB-ZB-09A
Input: 100 – 240V AC
Power: 9W
LED Type: RGBCW (16mil colors)
Lumens: 750 lm
Beam Angle: >100 degrees
Case Material: Aluminum/ABS Plastic
Wireless Protocol: ZigBee 3.0
ZigBee Repeater: Yes
Working Temperature: -20 °C – 45 °C
Working Humidity: < 80%
Standby Power Consumption: <0.5W
Disassembly
The Zemismart Ambient Spotlight LXZB-ZB-09A ships in a cardboard box with the device additionally wrapped in a plastic bag. Nothing else is included inside, not even a manual.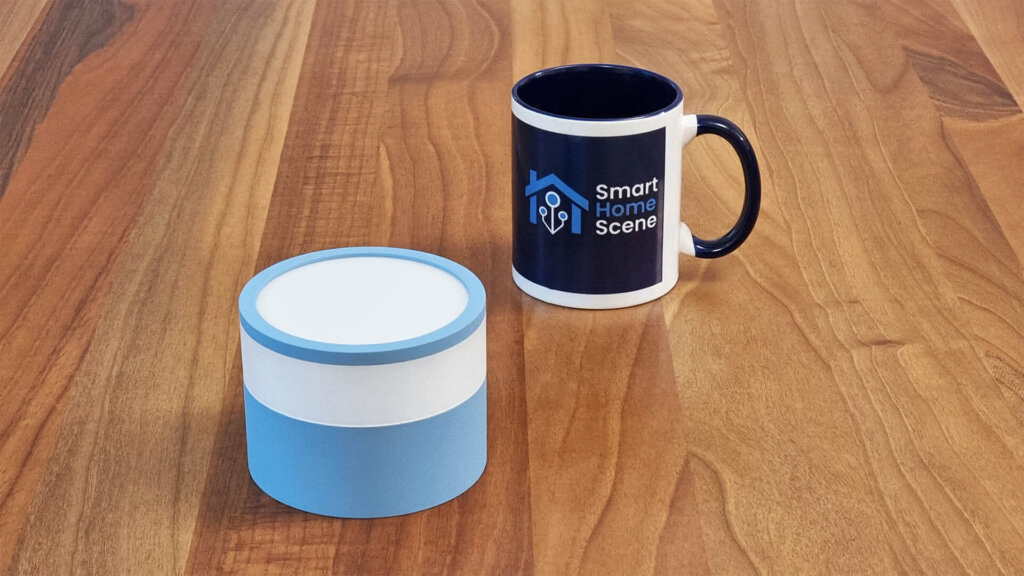 The device has a neat cylinder-shaped body which assembles by screwing in the different parts of the case. The plastic plate used as a LED light diffuser is commonly found on any off the shelf brand of ceiling lights.
On the backside, the Zigbee Intelligent Lightning module is secured to the bottom backplate. The two wires used to power the device are about 10cm long, but they can be extended if needed. This particular LED controller module is unknown to me.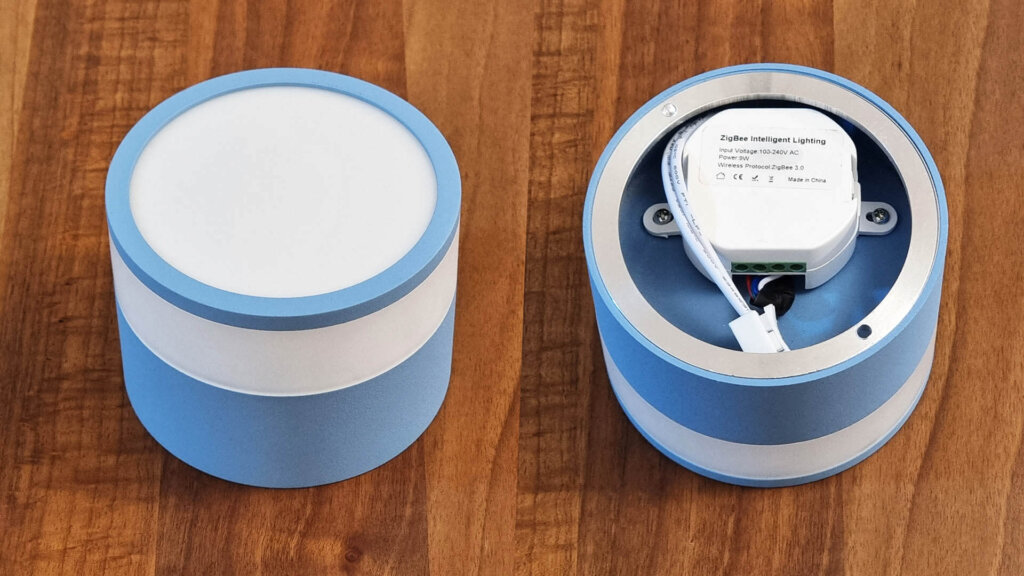 You remove the mounting bracket by unscrewing it gently from the grooves. Two holes are used to install this on a ceiling or wall, connect the wires and screw it back in place. It's machined from a single aluminum piece.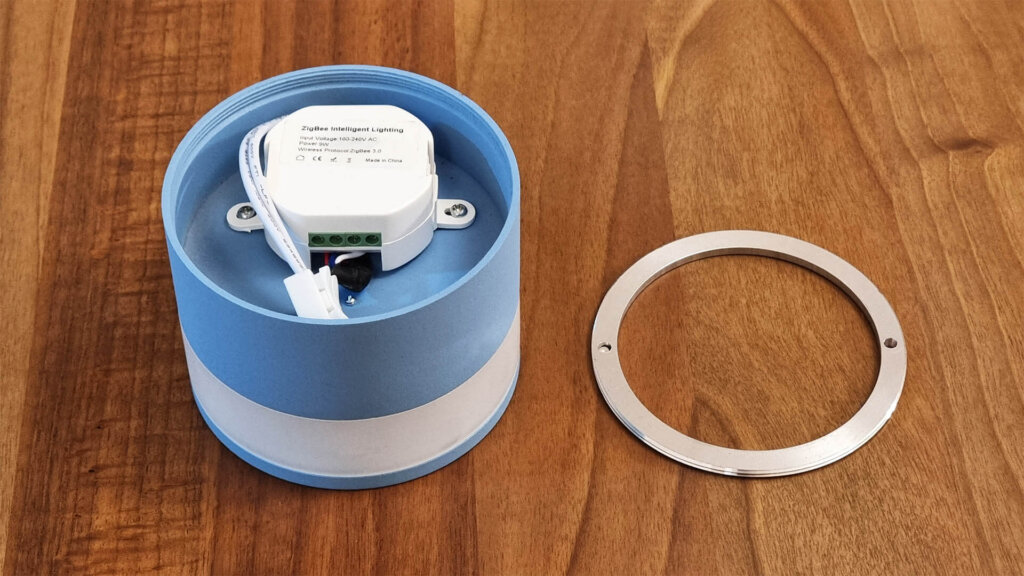 In the same manner, the top part of the case can be removed. A cluster of LEDs arranged in a circular shape giving off about 9W power this device. They are labelled as C (Cool White), W (Warm White), and R (Red), G (Green), B (Blue), respectively.

In total, there are 21 RGB and 30 CW LEDS, which hints that white colors will emit more light than color, standard practice in cheap RGBCW lights.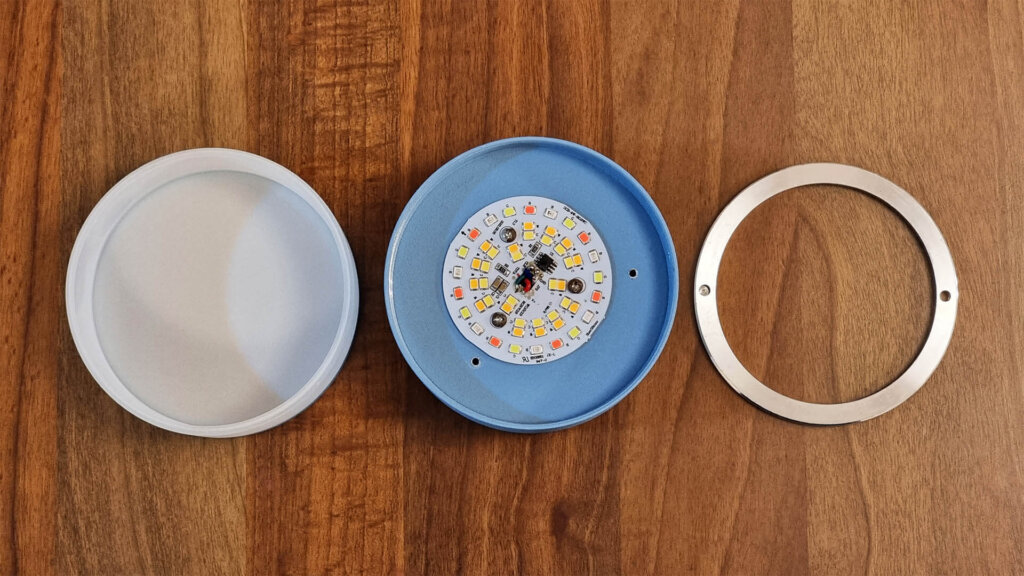 Opening up the control module, you see a couple of different components on the main PCB. First, the current transformer takes the input 100-240VAC and turns into 12V to power the LEDs. A cluster of capacitors ensures a stable flow of current to the LEDs and avoid flickering.
The input wires feeding power to the module can easily be replaced with new ones if you find them to be too short, by directly removing them from the terminals.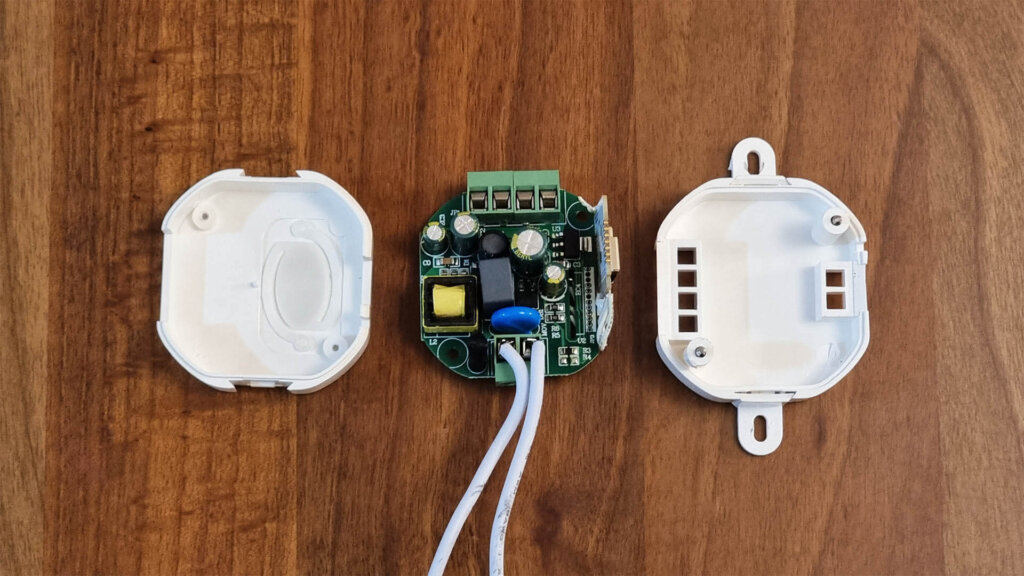 This device is powered by the Tuya ZTU module [Datasheet], which I've found to be very common lately in Tuya Zigbee devices. For reference, it handles Zigbee communication in the SZ-T04 Temperature and Humidity Sensor, the BSEED 16A Zigbee Energy Monitoring Outlet and a more powerful (ZTU-IPEX) variant is found in the Zigbee Home Energy Meter for 3 Phases PC321-Z-TY.
I do not like the way the Zigbee module is installed. It's pronged up perpendicular to the main PCB, held together by some sort of adhesive. It's flimsy and unsecure in my opinion, it should have been soldered on the back, where the actual connections are.
If you get this device and it fails on you someday, this is the weak spot that will most likely cause a problem. You can easily solder them back together if needed.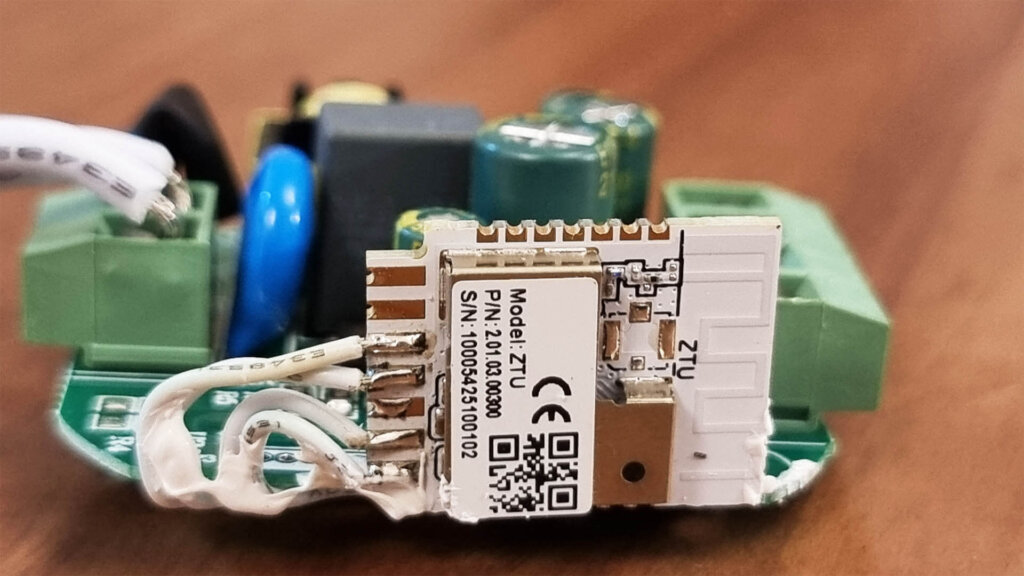 Installation and Wiring
Mounting this Zemismart Spotlight on a ceiling is not actually necessary, you can simply place the device on a shelf or a bedside table, which is how I intend to use it. If you decide to install it though, the manufacturer includes a simple enough manual: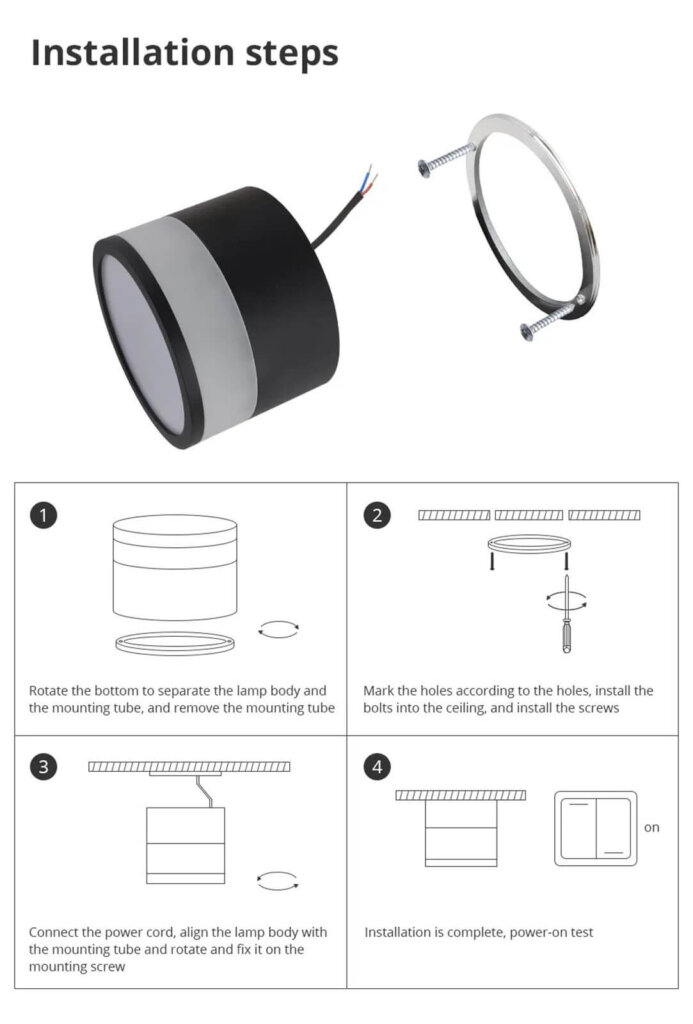 Testing
I placed this Zemismart Ambient Spotlight LXZB-ZB-09A on the console table in my living room, underneath the TV for testing. Tinkering with the colors and brightness, I was surprised how actually vivid it is. All settings are pushed through Zigbee2MQTT in Home Assistant: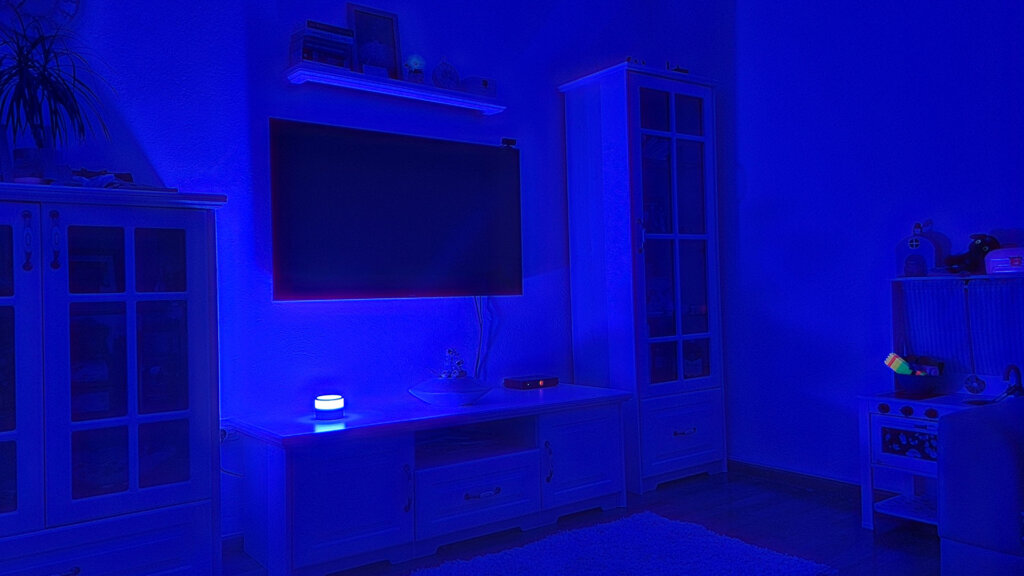 The colors it renders are pretty accurate and well represented on the color wheel in Home Assistant. In a dark setting set to 100%, it fully illuminates the whole room which is a bit too much for me. It's good to know it has the capability though, which is great for larger rooms. Here's a gallery of a bunch of different colors at 100%: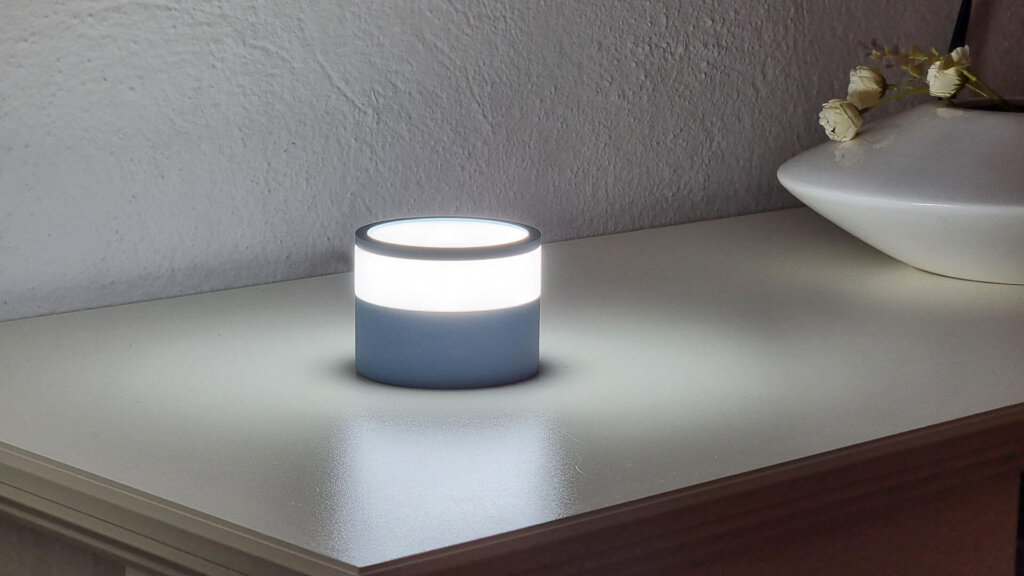 Transition times are super smooth on this ambient spotlight by Zemismart, fading in and out without choppiness. However, in testing light effects I found out only the 'breathe' effect worked pushed from Zigbee2MQTT. The others simply repeated the same one.
The external converter needs some work for making this behave like they are described. You can create an automation though, and have the light blink, change color, brightness in any sequence you like.
Home Assistant Integration
The Zemismart LXZB-ZB-09A LED spotlight is officially supported in both Zigbee2MQTT and ZHA. Pairing is a bit tricky and it took me a while to figure out, but if you know the trick you can do it easily. There is no button on the device, so toggling it 10 times is needed before it entered pairing mode. Here's how I did it:
Plug it into a smart plug
Toggle the smart plug 10 times at exactly 1 second intervals

If you do it too fast, it will not enter pairing mode
If you do it too slow, it will not enter pairing mode

Wait for the breathing effect of the LED
The device is now in pairing mode
Zigbee2MQTT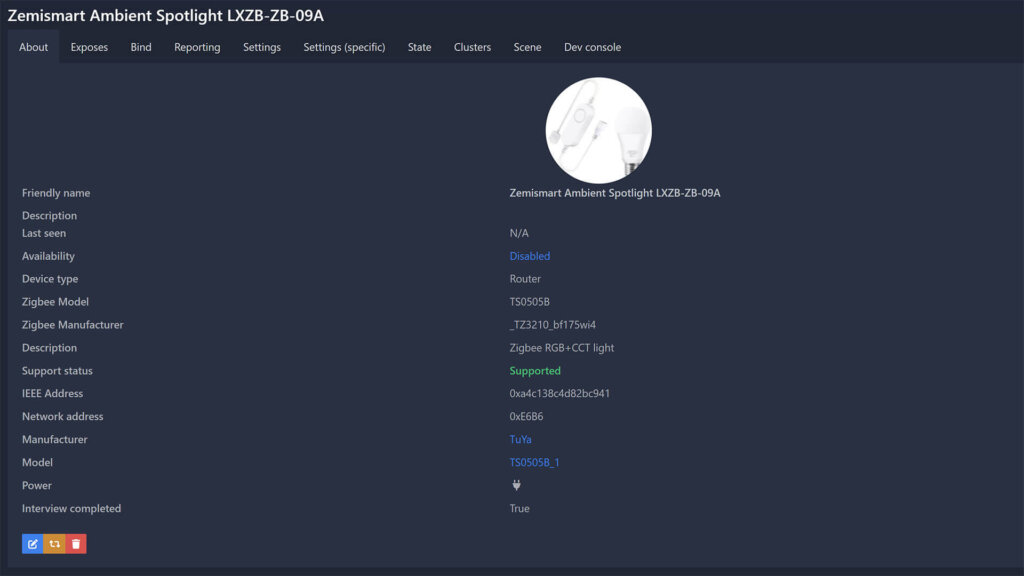 Once you've successfully paired the device, it is identified as an RGB+CCT Light model TS0505B by manufacturer _TZ3210_bf175wi4. Being correctly labelled as a router, it can also relay Zigbee traffic and improve your network. It exposes a bunch of entities for control in Zigbee2MQTT: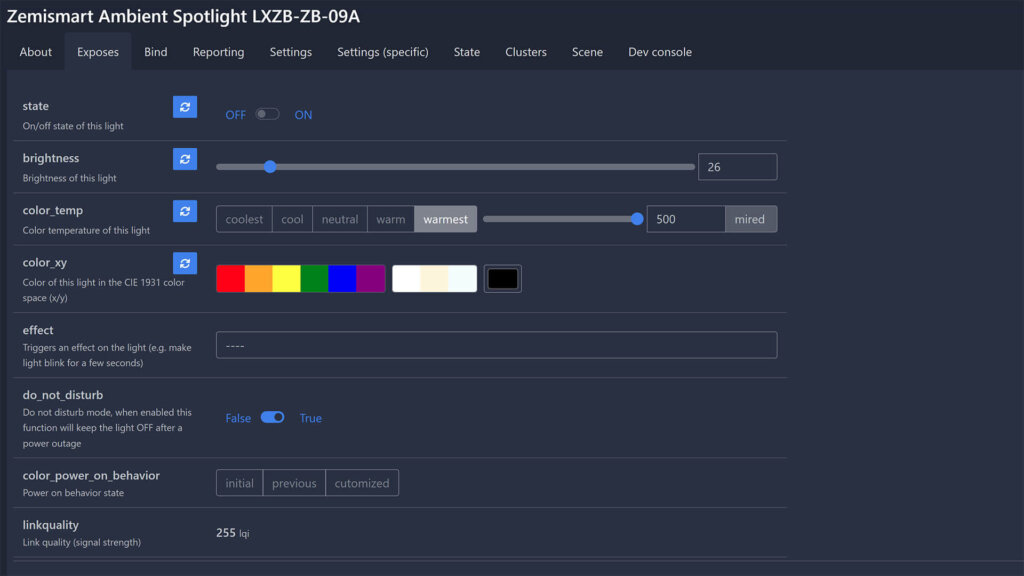 The state toggle obviously simply turns the device on/off while the brightness slider can used to dim/brighten the light. Color_temp and color_xy are clusters used for controlling the RGB and CCT featured of the LED, changing color and warmness.
Under the effect dropdown menu, there are a couple of lightning effects that you can choose for the device to perform for you. I found that whatever you choose, it outputs the breathe effect, the others are not working and need tweaking the the external converter.
The do_not_disturb toggle will keep the light OFF after a power outage. On the other hand, the color_power_on_behavior simply sets the behavior of the color LEDs after an outage, you can have it turn on but without color, just white/warm.

In the Settings (Specific) menu of Zigbee2MQTT, there is a color_sync option available which automatically makes a conversion from color x/y to color temperature when the toggle is on.
The transition time set in seconds can control the time it takes for the light to change color/temperature once you issue a command. I found out you can slow this down, but not speed it up for this particular model.
ZHA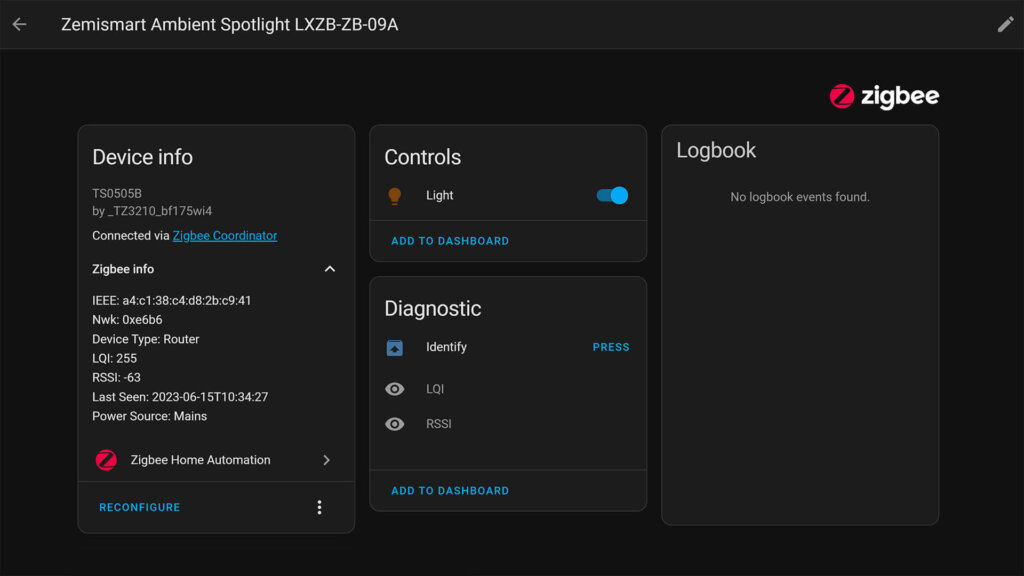 The Zemismart LXZB-ZB-09A Ambient Spotlight is also supported in ZHA, without the need of applying a custom quirk. It is identified as model TS0505B by manufacturer _TZ3210_bf175wi4 and labelled as a Router, just like in Zigbee2MQTT.
---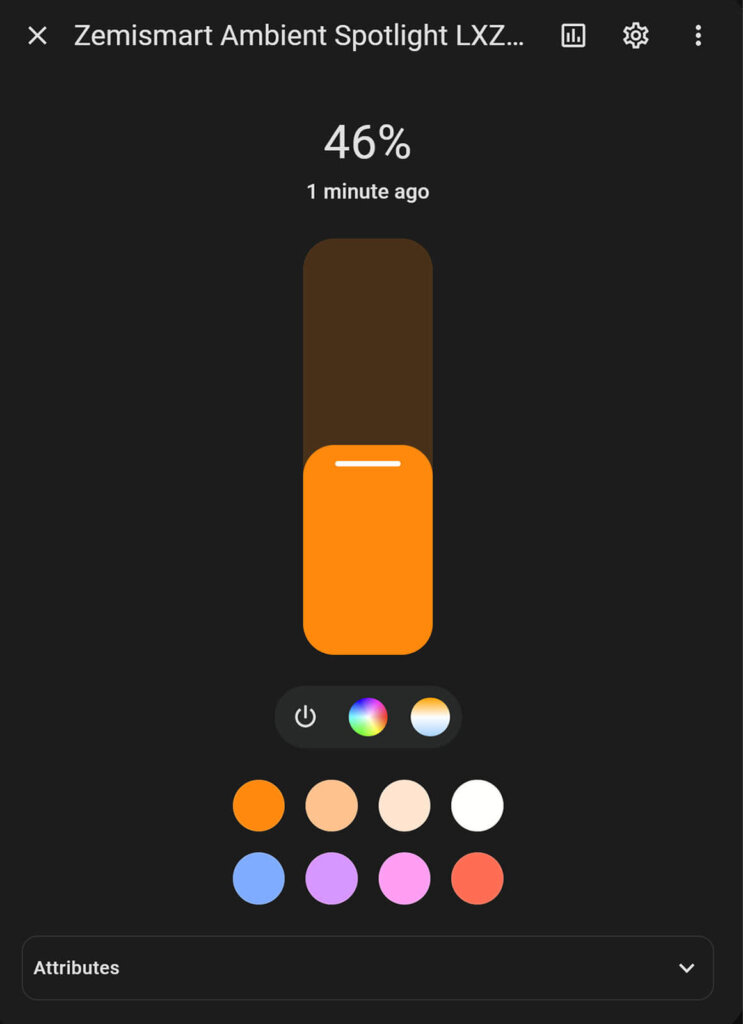 Since ZHA is native to Home Assistant, all features are fused into one entity from the light domain.
Once you click the icon of this entity, you are presented with Home Assistant's latest light dialog window which is pretty awesome.
Here you can toggle the light, control color and brightness as well as CCT of the Zemismart Ambient Light.
You can preset your own set of colors, which you can later use for quick applying them from this popup window.
Summary
The Zemismart LXZB-ZB-09A Spotlight or Downlight as they've named it is a neat little inexpensive ambient lightning solution. It's supported out of the box in both Zigbee2MQTT and ZHA and controlled without hiccups in Home Assistant.
The light it produces is surprisingly accurate and on point, colors are reasonably bright and vivid with the warm and cool white being brightest. This is common in these types of devices, since they use separate LEDs for those two colors.
The advertising and mounting bracket included with this device, indicate it's meant to be installed on a ceiling and illuminate a room from the top down. It is perfectly suitable for this use case, however I intend to use it as an ambient light illuminating the ceiling rather than the floor. Or you can just leave it on your night stand, it can work as a bedroom light too, that's totally up to you.
I had trouble putting the device in pairing mode initially, but once I found out the exact timeout between toggles it went into pairing mode without issues. The interview completed instantly like it normally would. The device being a router is also a big plus.
Build quality of the case is good, it's formed into a cylinder by screwing the three parts together. The one thing I didn't like was the flimsy connection of the Zigbee module to the main PCB. It's a sloppy solder with tiny wires, so If you encounter connectivity issues that's the first thing you need to check.
Where to buy?
If you are looking for a ambient spotlight of this type, I can recommend it considering the price tag. There are a few colors available as well as a Wi-Fi version, although it's within the Tuya Ecosystem (Cloud dependent) so I suggest you avoid it.
The device can be used with HomeKit if you add it through Zemismart HomeKit Hub ZMHK-01.

You can get it on AliExpress and the Official ZemiSmart Store, there are no Amazon listings at this moment.


AliExpress | AliExpress
AliExpress | AliExpress (Wi-Fi)

ZEMISMART OFFICIAL STORE
Zigbee | Wi-Fi

*If links fail to open, try disabling your AdBlocker.