---
Moes is a brand which produces a wide variety of Smart Home devices. Switches, curtain modules, all kinds of sensors, thermostats and smart lights. We've tested a few of their smart devices on our AliExpress Reviews channel, such as the Moes ZigBee Smart Switch Module and Smart Dimmer Module, designed to be installed inside a switchbox on mounted on a DIN rail. They also manufacture one of the best looking dimmer wall switch available in touch and rotary variants.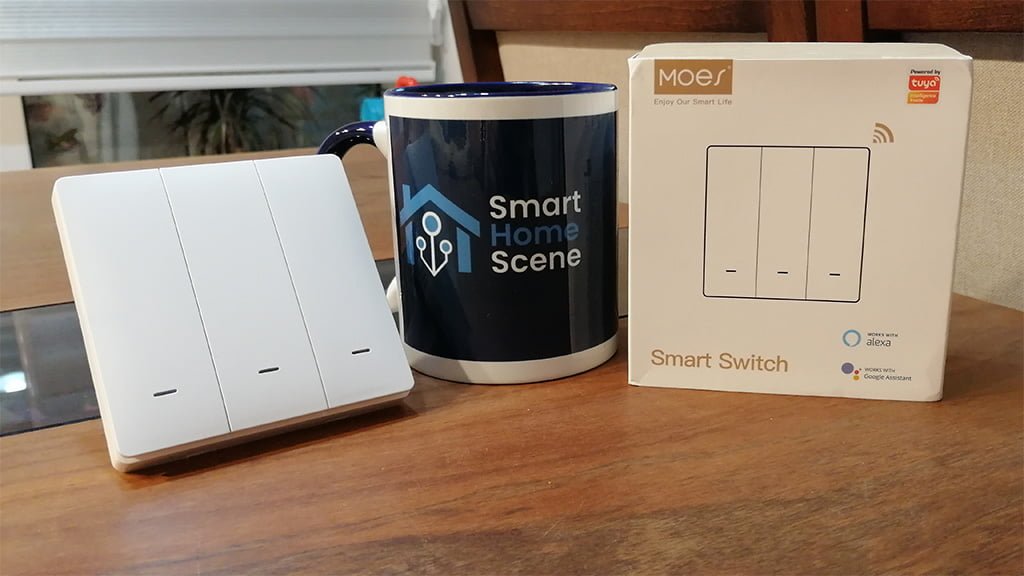 In this review, we are testing a modern looking button wall switch, the Moes ZigBee Wall Switch ZS-EUB, available in 1/2/3 gang variants ranging from $17-$21 on AliExpress.
Technical Specification
Working Voltage: 100-250V, 50-60Hz
Maximum Current: 10A
Inductive load(LED/CFL): 3-120W
Resistive load(Incandescent): 3-300W for 110V; 3-600W for 220V
Communication Protocol: ZigBee
Wiring: Neutral Optional
Certification: CE, FCC, RoHS
NOTE: This is the only switch that we've reviewed so far, that has an optional N-Neutral wiring.
With N-Neutral connected: the device will be detected as a Router, however it will still not route Zigbee traffic
No N-Neutral connected: some bulbs will not function properly and it's possible they cut power to the switch itself when turned on, rendering it useless. No capacitor is needed for this switch, as the device will not produce noise from the electric current like some other no neutral switches.
In our review, we are going to use the 3 gang version and test it without Neutral!

What's Inside?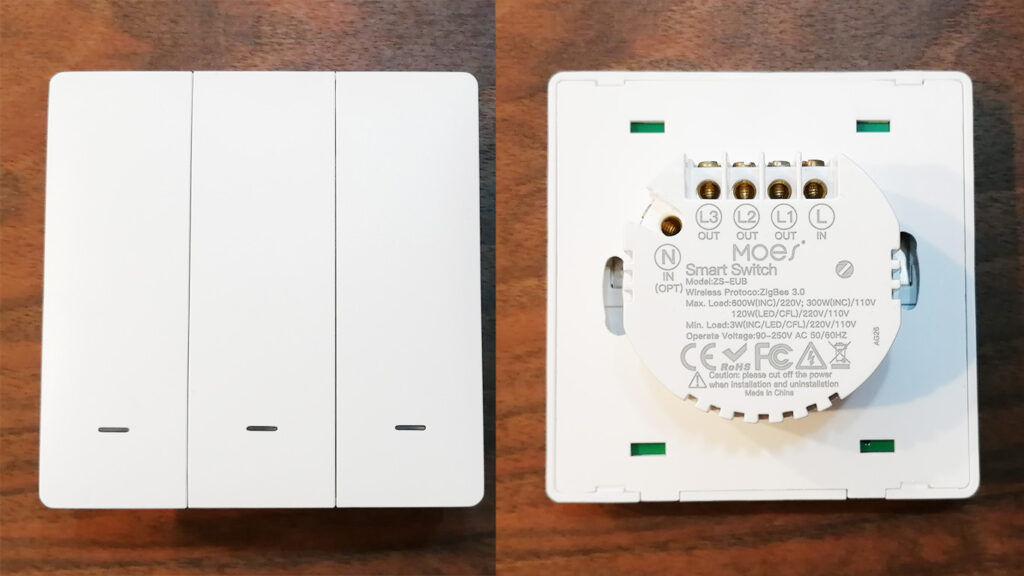 The shell is made out of some form of PU plastic, which feels slick to the touch. The buttons are very clicky providing accurate tactile feedback. On the backside, there are 5 standard terminals for wiring with Neutral being optional.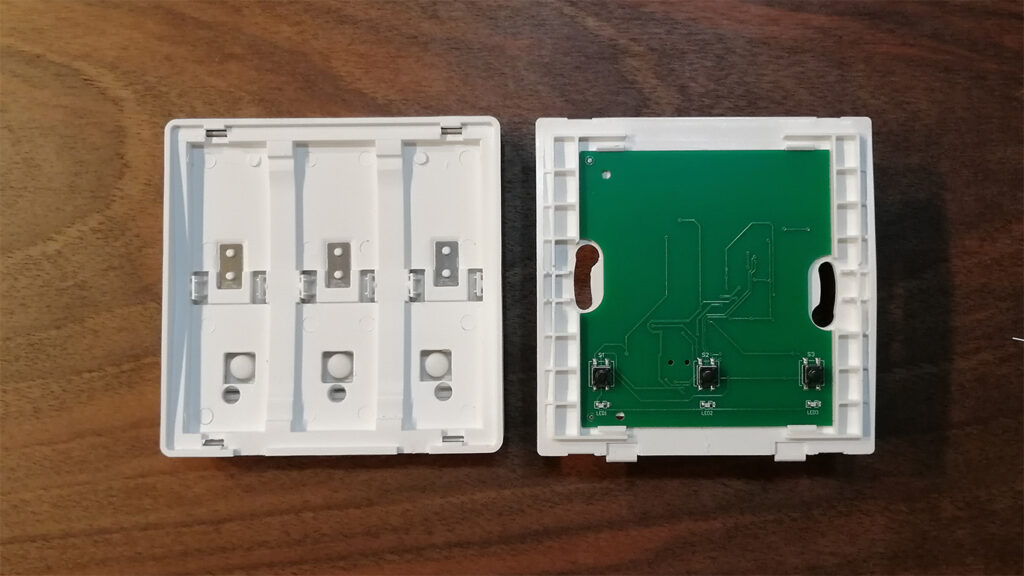 Once the front button shell is removed, we can see three small push buttons at the bottom of the panel. There is a small indicator LED under each button.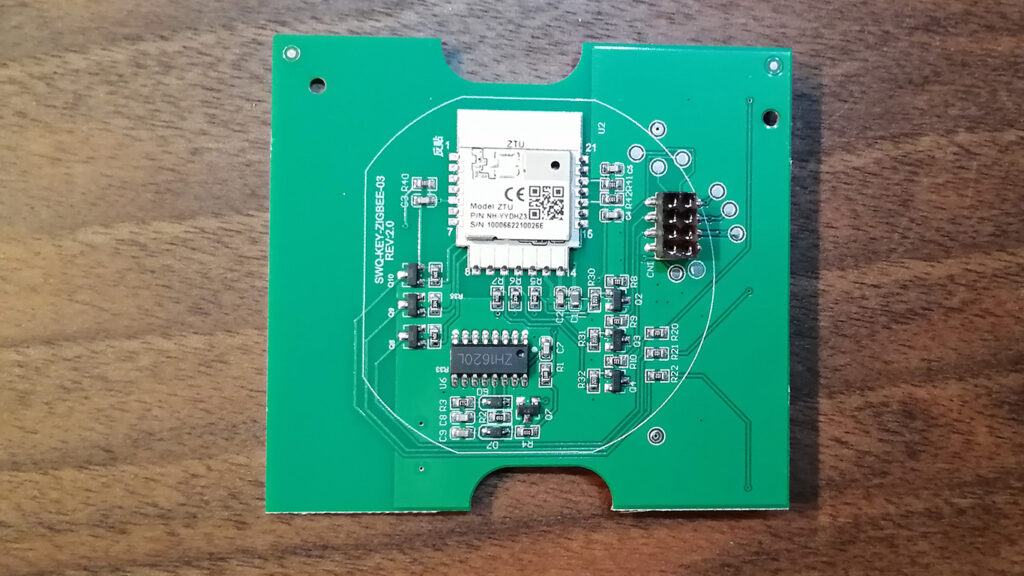 On the backside of the first PCB, the ZigBee communications chip can be found. It's a ZTU Zigbee module developed by Tuya. It consists of a highly integrated RF chip (Z2), and a few peripherals. ZTU is embedded with a low-power 32-bit CPU, 1024-KB flash , 64-KB RAM, and rich peripheral resources.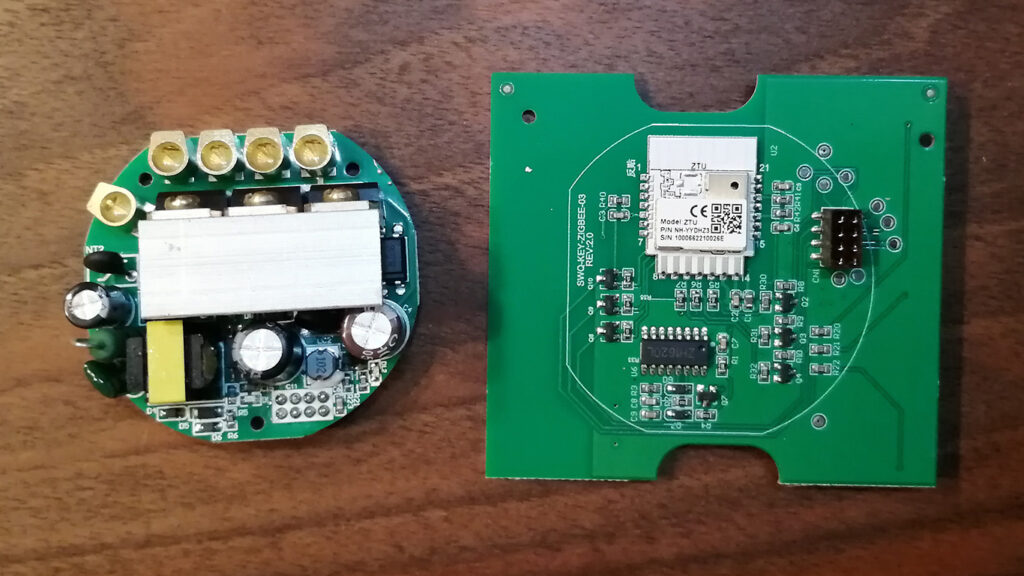 On further disassembly, we reveal the main PCB holding the terminals and relay switches. The two PCBs are connected together with 8 Dupont pins. If for some reason you decide to open up the device, make sure you place them back at a straight 90 degree angle, to avoid bending or breaking them.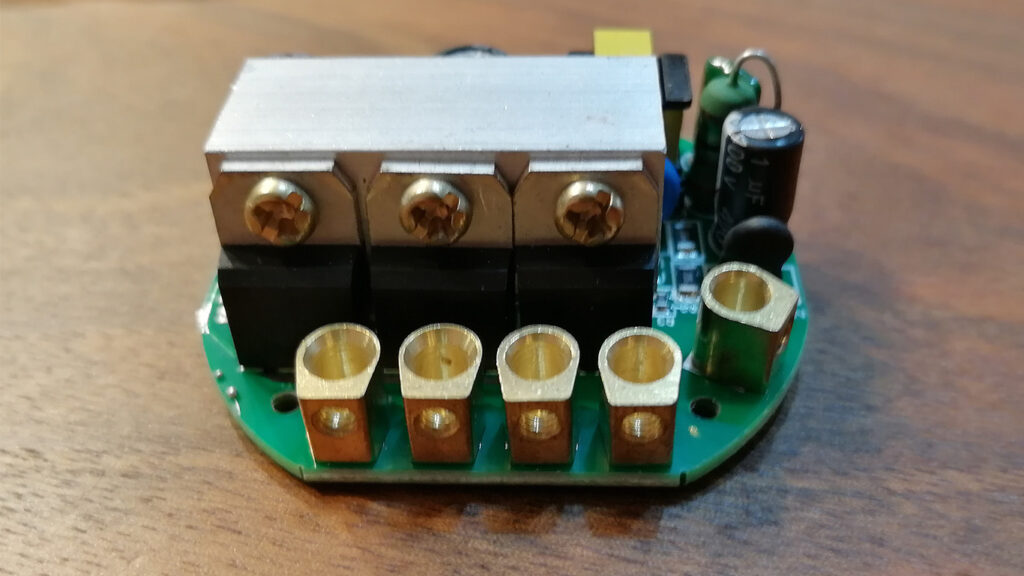 The relays are model BTA16 developed by STMicroelectronics. These are 16A relays suitable for AC on/off switching. Full specification can be found HERE. ST (superior technology) is a well known Chinese brand which produce a wire variety of home appliances and gadgets.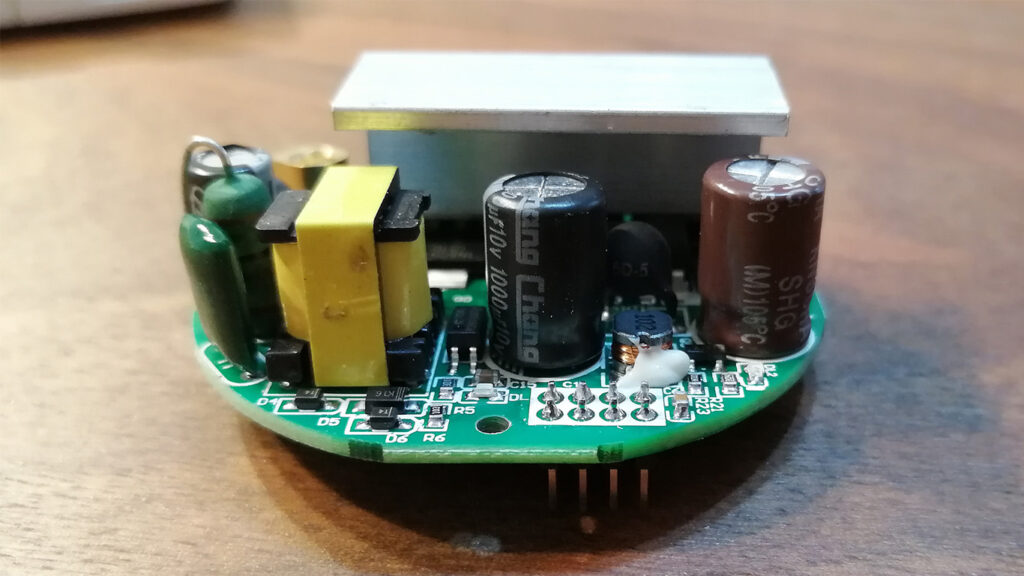 What is interesting about this device, is the three relays are connected with a solid Aluminium block for heat dissipation. This is a passive cooling solution, which means Moes decided to do something about devices of this kind often producing excess heat.
Installation and Wiring
The wiring of this device is as simple as can be:
Connect L-Live wire to L-Terminal
Connect your first light to L1 Terminal, second to L2, third to L3
(Optional) Connect N-Neutral wire to N-Terminal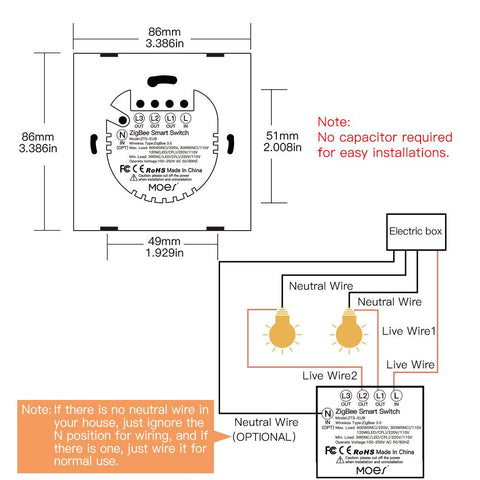 Integration Compatibility
This switch is compatible with ZHA, ZigBee2MQTT and Deconz. To pair this switch to the coordinator, hold any button for around 10 seconds until the LED starts blinking. In all three integrations, the same entities are exposed to Home Assistant:
Switch Entity S1: Toggling ON/OFF
Switch Entity S2: Toggling ON/OFF
Switch Entity S3: Toggling ON/OFF
Link Quality: LQI Signal Strength
The device is identified as ZigBee model TS0013. It's device type is set as EndDevice, because we decided to test the switch without neutral. Therefore, it cannot act as a router device, even if it's mains connected.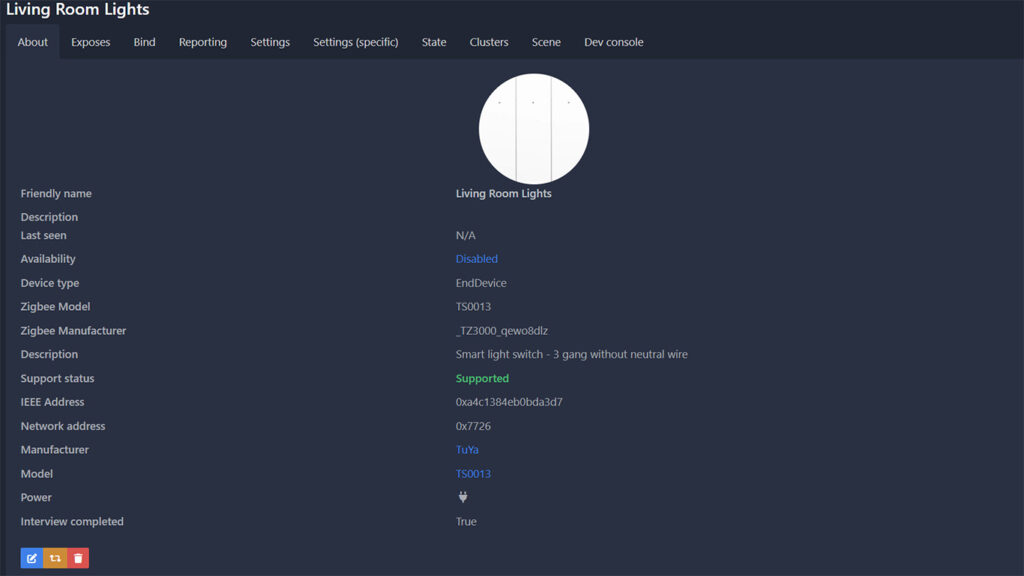 NOTE: Some people have reported issues with earlier versions of this switch, it would un-pair from the coordinator after exactly 2 minutes in ZHA. We did not experience this issue at all, but if you did follow this pairing guide HERE.
Verdict
The Moes ZigBee 3 Gang Wall Switch is a modern looking smart switch. It replaces your traditional wall switch and toggling the light is instant and satisfying. Touch variants of smart switches can also look good, but they lack convenience, as you would need to aim for the touch area (small circle/square) in the middle of the panel.
The "clickiness" of the buttons adds a certain traditional feel to the wall switch, your wife will certainly approve and the smart home enthusiast in you will be able to automate it easily within Home Assistant. The panel comes in a couple of colors as well as 1/2/3 gang variants.

If you want to add this switch to your smart home, consider using our affiliate links bellow.