---
As part of their S1 product line up, Aqara recently released a pretty awesome dynamic touch wall switch. The Aqara S1E Magic Switch is a highly customizable and versatile Wi-Fi based LED display wall panel switch. It can store 6 different display screens with 9 zones (cards) each, which can be populated with three physical switches and six wireless scene switches.
You might be wondering, why is the S1E Magic Switch Wi-Fi and not Zigbee? Aqara is known for their Zigbee devices. Well, there is a couple of reasons but the most obvious one is this device is capable of video feedback from compatible cameras, such as the Aqara G3. Zigbee is not capable of such bandwidth by design, so Wi-Fi is a requirement. Further, downloading themes for the screen requires Wi-Fi, as they are directly stored on the device.

In this review, I will disassemble the Aqara S1E, talk about it's components and integrate it in Home Assistant.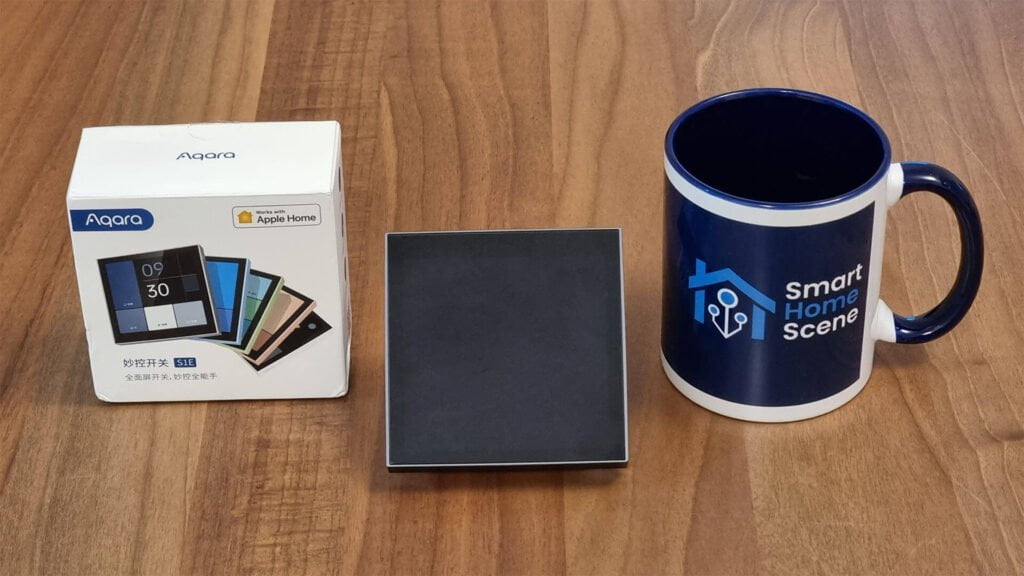 The Aqara S1E can be currently bought for ~$45 only on AliExpress.
Aqara S1E Smart Magic Switch ~ $45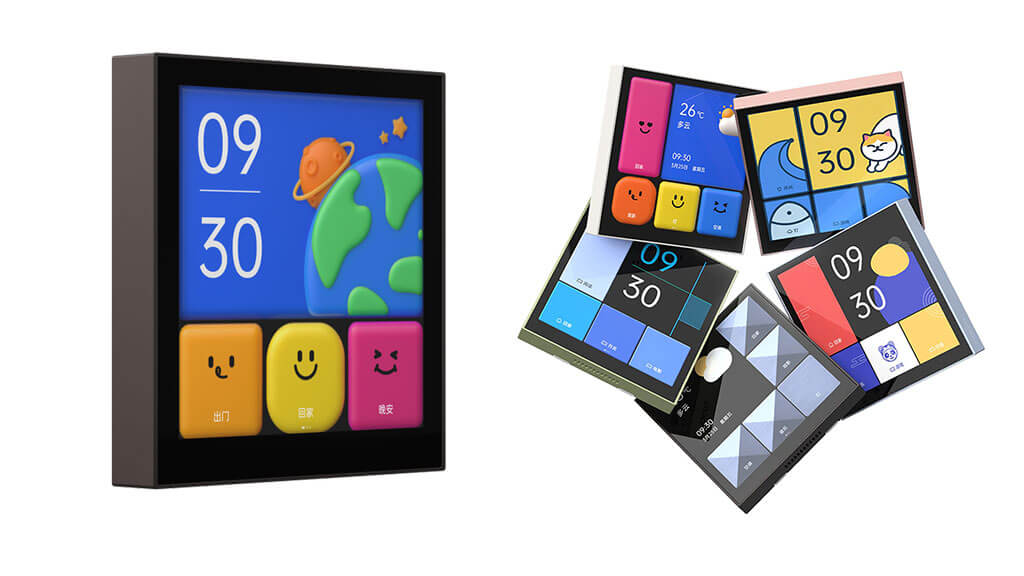 AliExpress | AliExpress | AliExpress | AliExpress




Amazon.com | Amazon.co.uk | Amazon.de
Amazon.ca | Amazon.nl | Amazon.es
Amazon.it | Amazon.fr
*If links fail to open, try disabling your AdBlocker.
Technical Specification
Name: Aqara Control Switch S1E
Product Model: CJPKGO1LM
Product Size: 86×86×41.35mm
Connection: Wi-Fi IEEE 802.11 b/g/n 2.4GHz
Input: 220V~, 50Hz
Screen Resolution: 480×480
Max Load (Total):

LED Bulb, Fluorescent Bulb ≤ 400W

Working Temperature: -10℃~+40℃
Working Humidity: 0~95% RH
Disassembly
The Aqara S1E Magic Switch comes packaged in an Aqara branded box containing the switch itself, a manual and a set of screws for installing the device. The switch itself is very heavy and feels like you are holding a premium device. This device is officially available for Chinese markets only, so everything is in Mandarin.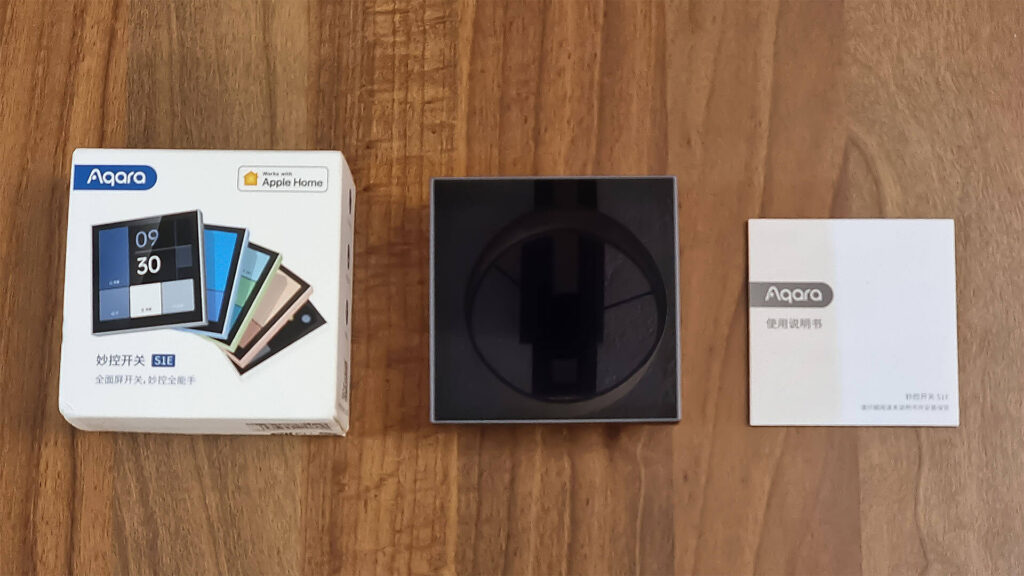 On the backplate of the switch, the terminals are clearly labelled and placed in convenient order. This switch requires N-neutral to work, which I expected. Three different lights can be controlled with the S1E, by connecting them to the corresponding terminals L1, L2 and L3. The plastic is of high quality and the device feels very sturdy and compact.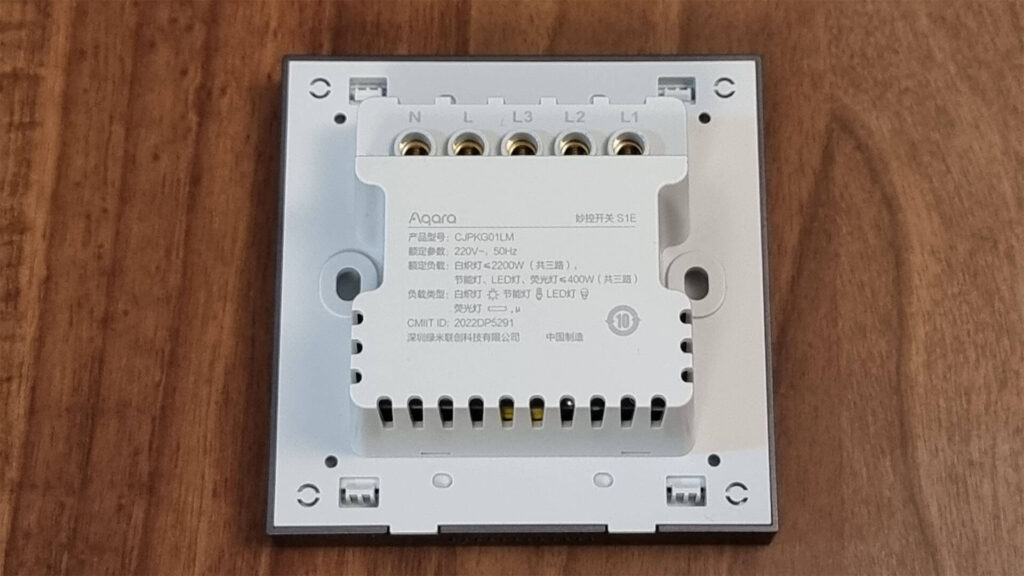 Removing the backplate gave me some trouble, the clips holding the two plates together were extremely tight. Once I managed to pry it open without damaging anything, a few pins revealed themselves which connect the screen to the main PCB and relays.
I especially liked the additional hard plastic plate covering the PCB, an added layer of security and insulation. Switches of this type usually have a cheap foil separating the two components, for example the Tuya 20A Boiler Switch.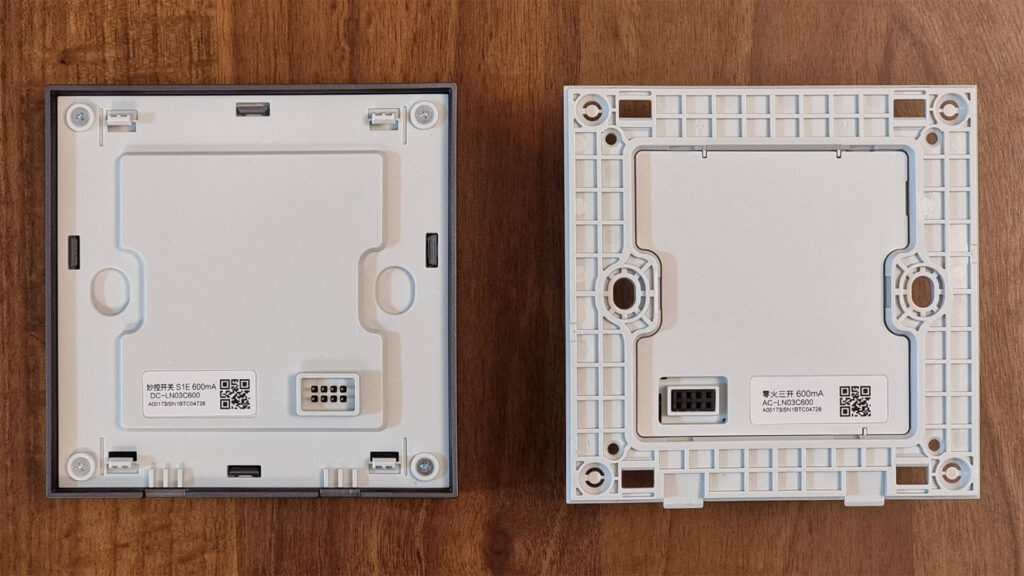 Once the 4 screws holding the screen together are removed, a PCB which manages the LED display is revealed. It's a distinct black color PCB, typical for Aqara products. Aside from resistors, diodes and power regulators, a FM25G01 [Datasheet] NAND flash chip handles the memory aspect of things. This is a 3.3v module capable of holding data for up to 10 years according to the manufacturer.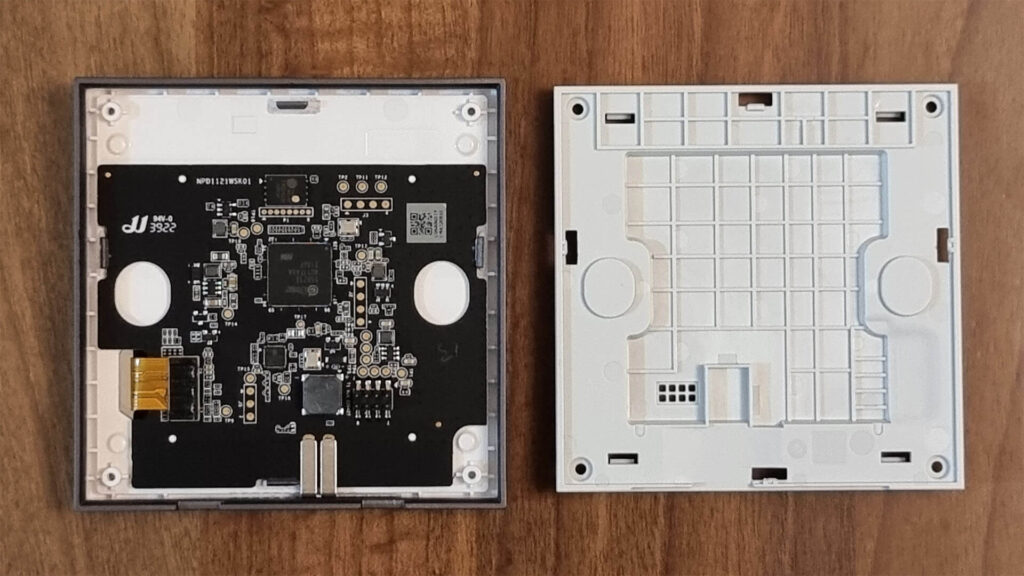 The screen is controlled by a SOC Chip SSD212 [Datasheet], a highly integrated SOC product for VOIP and display applications. Based on ARM Cortex-A7 dual-core, the SSD210 integrates 2D graphics engine, TTL/serial RGB display with adjustable picture quality engine and other useful peripherals.
It's developed by a company called SigmaStar out of Taiwan, which specializes on consumer electronics, security, Internet of Things and multimedia artificial intelligence chips.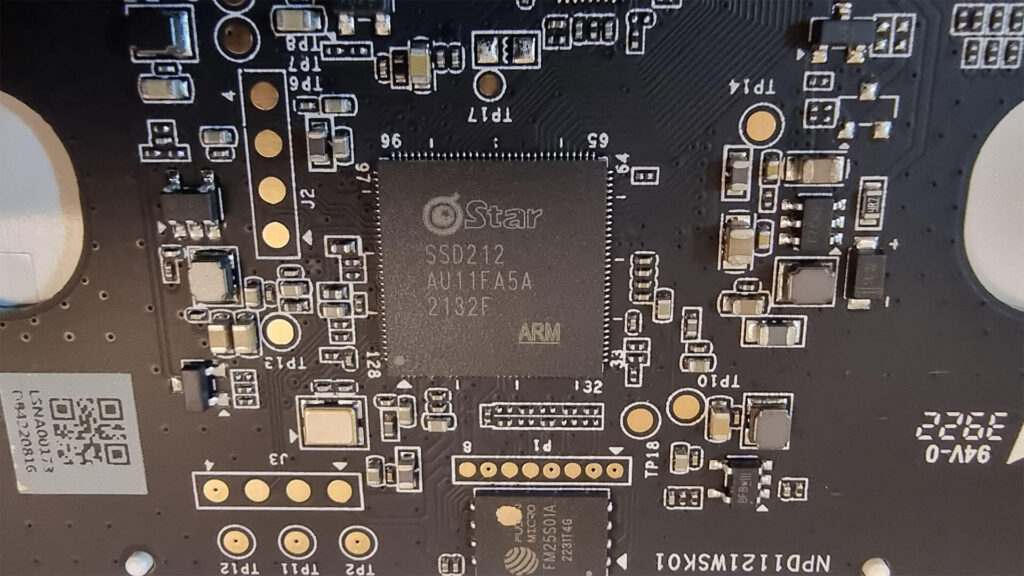 Once I pried open the backplate of the Main PCB, my "high quality device" hunch was confirmed. The solder is incredibly thick and professionally done, I see no point for potential failure. This is how a high quality switch PCB should look like.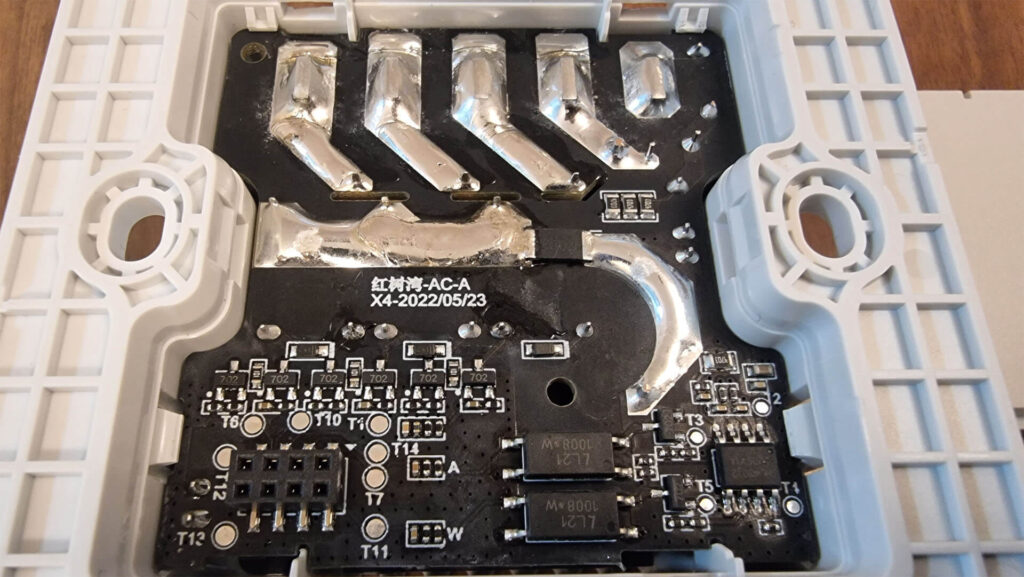 Close-up of the front and back of the main PCB.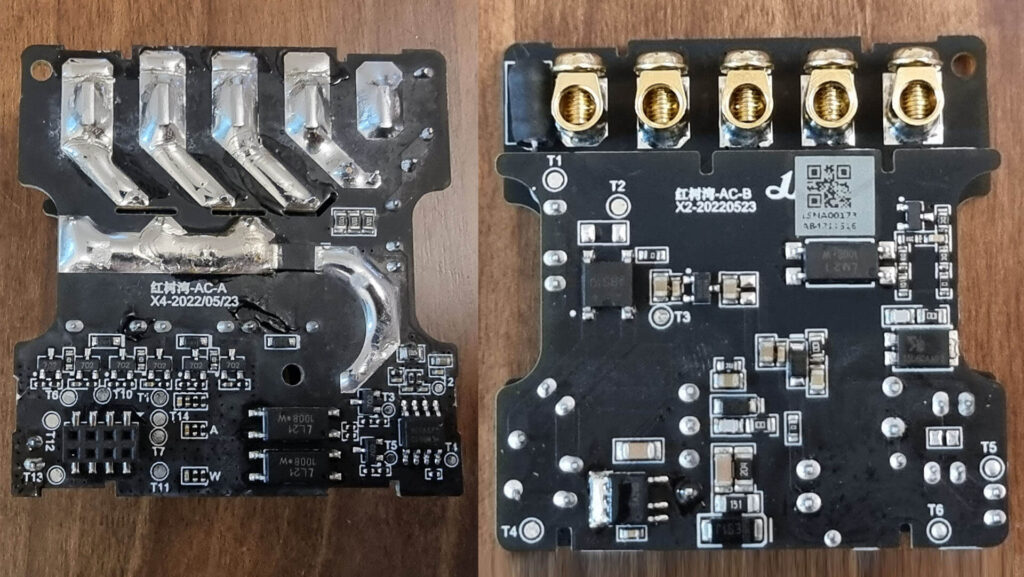 The terminals themselves are made out of brass and are a bit larger than you normally would encounter in these types of devices. They are screw terminals instead of clip-ons, which is expected from Aqara.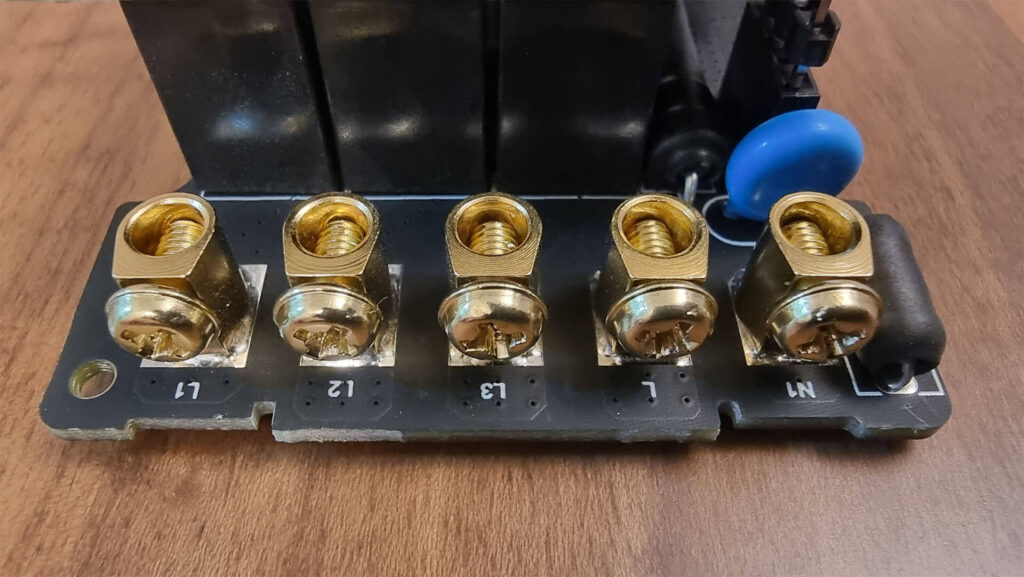 The relays controlling connected lights are model HF32FV-G [Datasheet], rated for 10A. These are made by a company called Hongfa Technology, a Chinese industrial relay manufacturer based out of Xiamen-Zhangzhou.
Relays from this company seem to be a popular choice among IoT manufacturers, as they are also found in the Moes BHT-002 Thermostat and the EVVR No Neutral Smart Switch.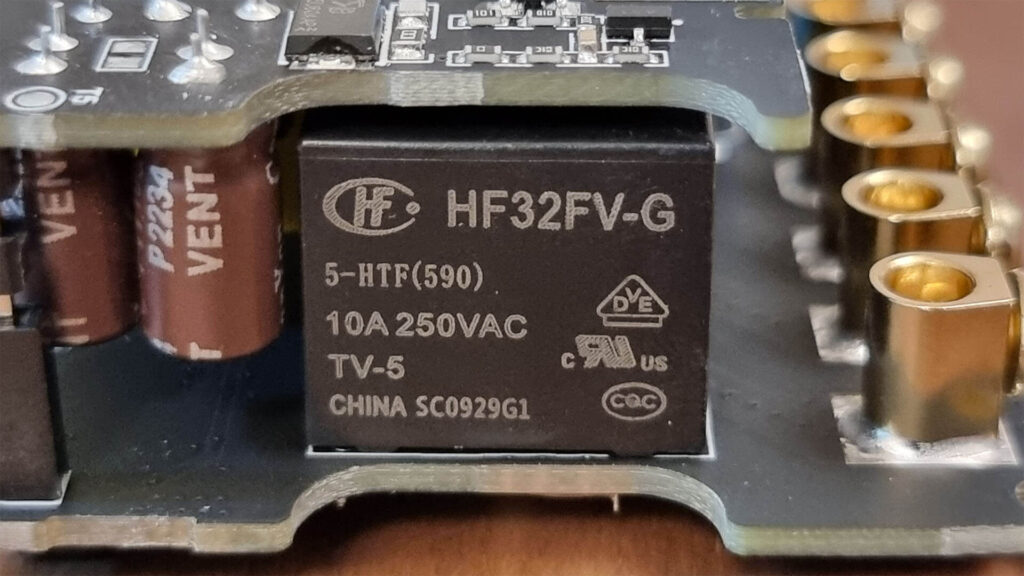 Here is the Aqara S1E Magic Switch fully disassembled.

Installation
Wiring the Aqara S1E is pretty straight forward:
Wire the L-Live Wire to the L-Terminal
Wire the N-Neutral Wire to the N-Terminal
(Optional) Wire the L1, L2, L3 Terminals going to your lights
Note: Neutral is a requirement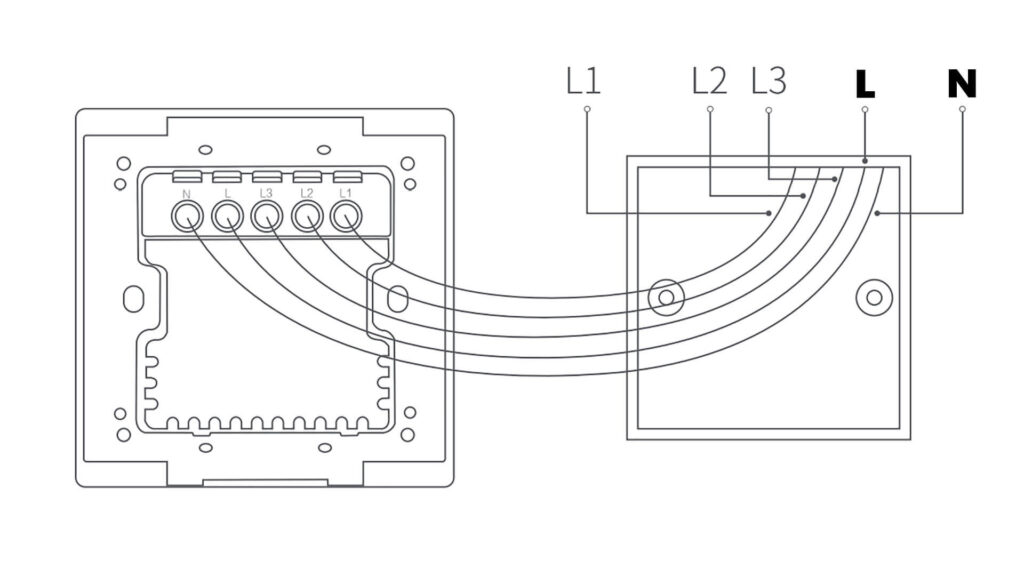 It's important to note, the Aqara S1E will not fit in standard single-gang US switchboxes which are 2×4″. The back plate of the S1E measures 2.2×2.2 inches. Other double gang boxes are fine and can accommodate the switch. An international version in the near future may be released, which will fit inside different switchboxes for different markets.
Aqara Home App Setup
After you power up the Aqara S1E Smart Switch, you will be greeted with a QR code on its screen that will take you to the store to install the Aqara Home App. It's important to note that you must set the location to China (Mainland) to be able to initially setup the Aqara S1E.
IMPORTANT: The Aqara S1E Magic Switch is only able to display information in Chinese (Mandarin) language. For me, this is a non-issue, as you setup everything within the Aqara app and label the buttons and switches whatever you like. The only thing remaining in Chinese is the built in menu and the Clock widget on the device itself. I expect this will possibly be remedied with a future update, as the device becomes more mainstream.
In the Aqara Home App, click the + in the top right corner
Click Add Accessory
Click the QR Icon in the top right corner
Scan the QR on the Aqara S1E
Go through the initial setup
Select Wi-Fi, Password
Name the Device and Setup Icons
Once finished, you will notice the screen on the Aqara S1E says "Aqara Home App". This means the device is added and you can continue customization within the app.
Customization
Themes
Within the Aqara app, you can customize the S1E Magic Switch by adding a bunch of display dashboards and different themes. When you click the Theme style section, you are taken to a selection screen from where you can pick a different look for the S1E: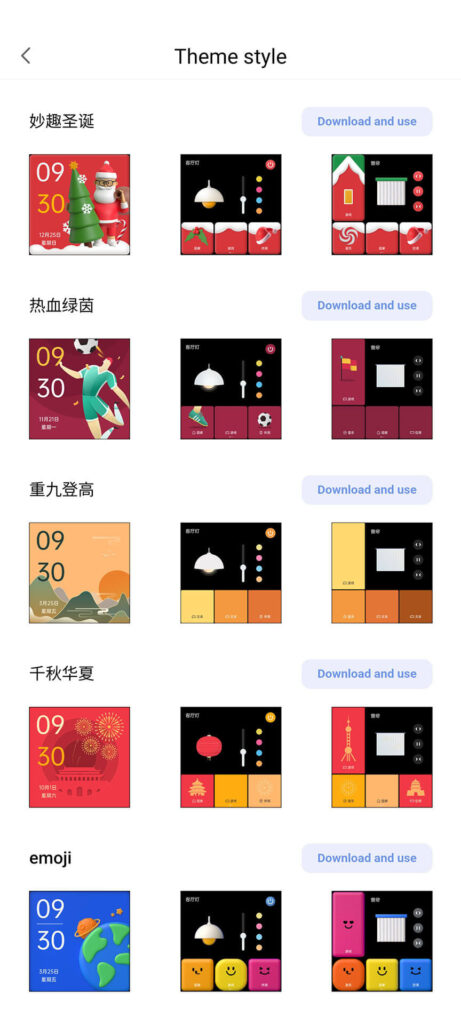 Click download and use, and the theme is automatically applied to the Aqara S1E. For example: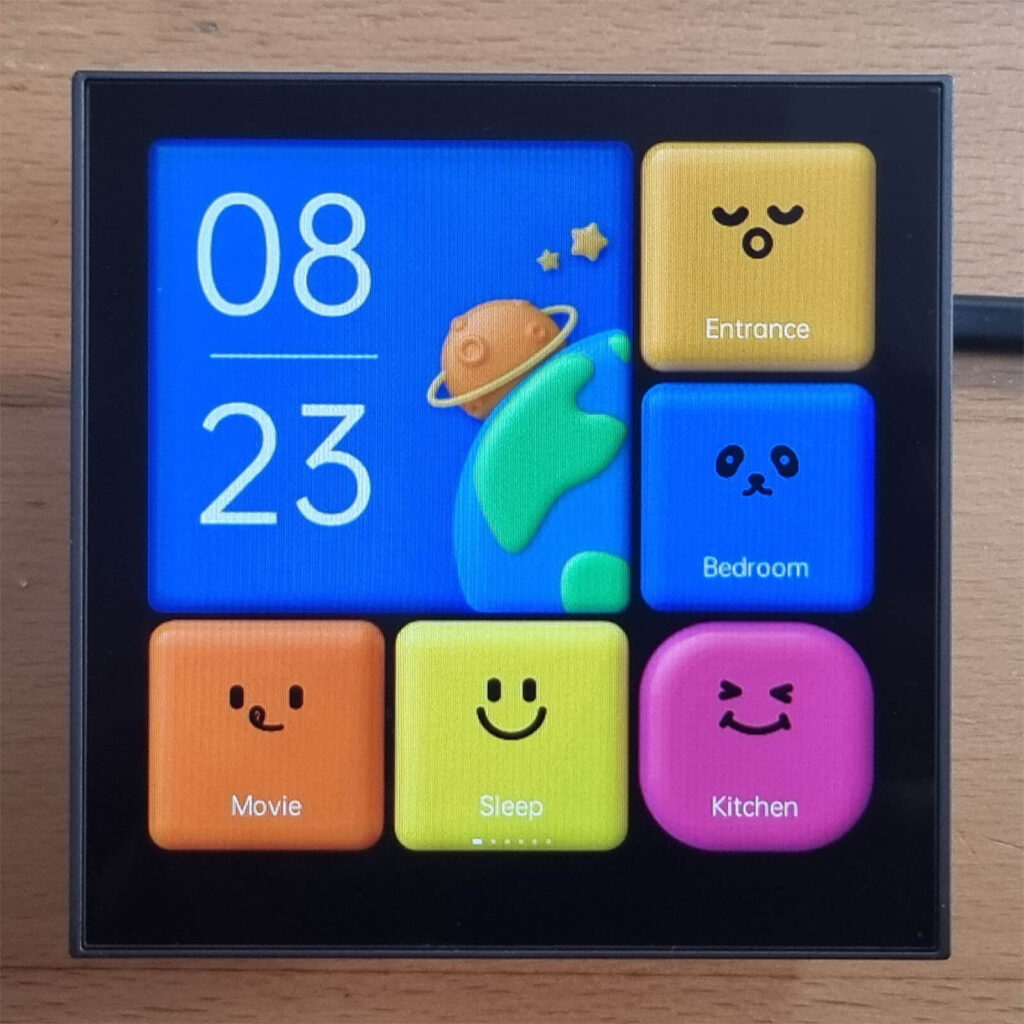 Screens
You can add a total of 6 different screens (dashboards) on the Aqara S1E Magic Switch with different layouts. You can swipe through these screens on the device itself and showcase a different set of devices. A default screen can also be set so no matter where you left the device, it always goes back to the default one after a while.
Each screen is divided into 9 customizable zones. A separate device or widget can be added to each of these and controlled through the display. The black zones on the screen can only accommodate services or widgets available from your devices integrated into the Aqara app. This includes things such as video feed, weather, clock etc. The smaller gray zones are individual switches, toggles and scenes which you can activate with a click. This includes things like the physically connected switches and virtual switches.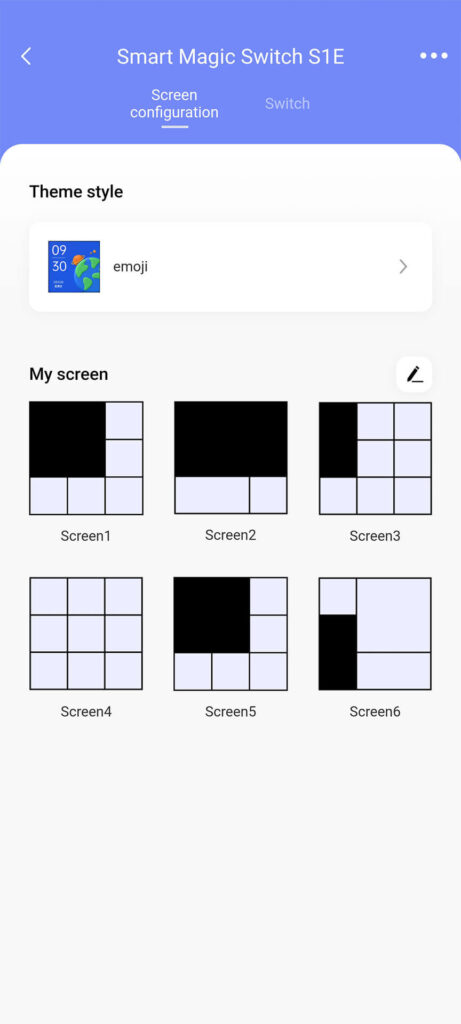 Switches
The switches and scenes can be preset, so you subsequently add them to your screen layout more easily. If we click the switch menu at the top, the main physical switches are displayed. We can change the name, icon add add it to favorites.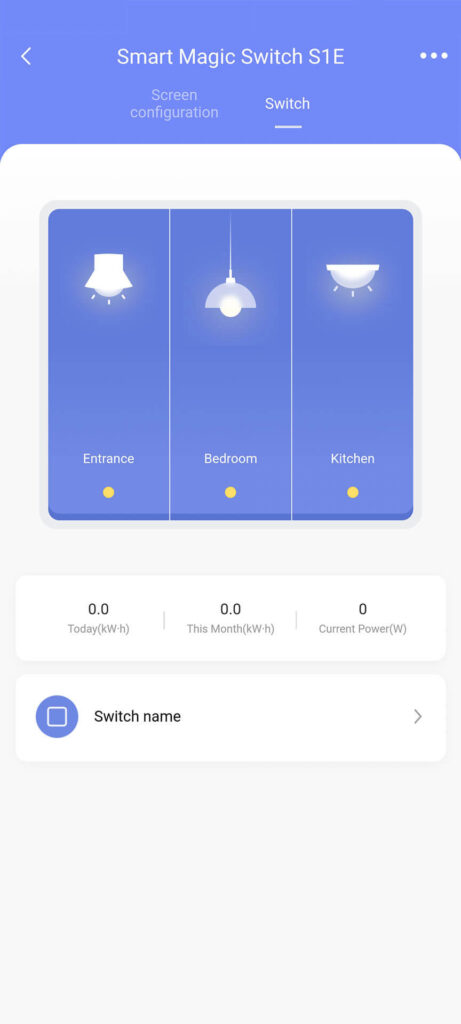 As a nice bonus, the Aqara S1E Magic Switch measures power consumption of the physically connected light bulbs. This information is displayed in kWh on the switches screen, separately for today, month and current power draw.
Settings
There are a couple of things you can change from the Aqara Home App settings menu for the S1E Magic Switch. If you click the three dots in the top right corner, you will be presented with a few adjustable settings and some device information.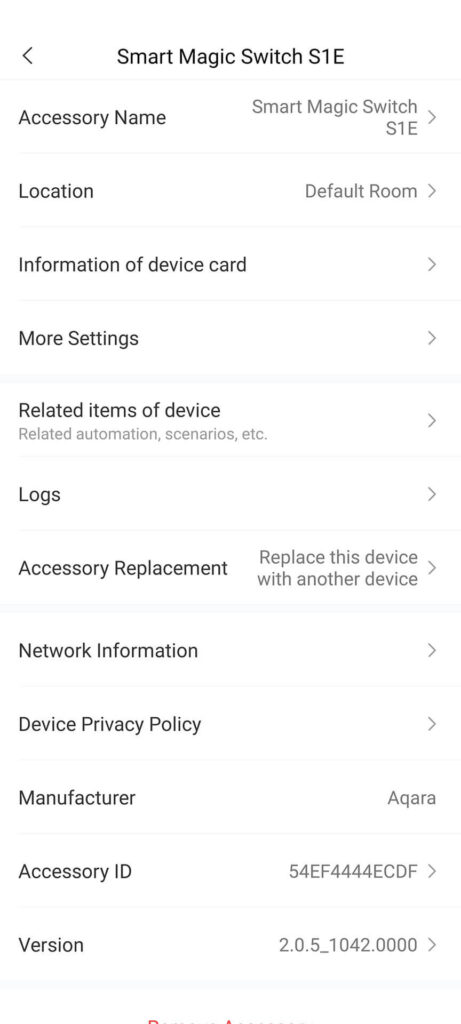 From the menu, you can change the room location, name and switches icon. You view some general information about the S1E, such as network information, ID and firmware version. From this screen, you can also update the firmware of the device by clicking Version at the bottom. This will check whether or not an update is available.
When you navigate to More Settings, the power-off memory can be toggled on/off. This will allow the device to return to its previous state in case of power failure.
The brightness, screen standby time and screen saver can also be setup from this menu. If you turn off the screen saver, the display will turn off completely after the preset standby timer expires.
Another useful addition to this menu is the logs screen, which reveals what was toggled and when in a nicely populated timestamped list.
Home Assistant Integration
Homekit Controller
The HomeKit controller integration allows you to connect accessories with the "Works with HomeKit" logo to Home Assistant. This integration should not be confused with the HomeKit integration, which allows you to control Home Assistant devices via HomeKit.
When you connect the Aqara S1E Magic Switch to your Wi-Fi network, Home Assistant will automatically detect the device and send you a notification in the sidebar. However, first we need to enable Homekit binding on the device itself. This can be a bit tricky to navigate, because the whole menu is in Chinese.
Here is a step by step navigation of the menu. Hint: You can use Google Lens to translate live with your camera:
Note: Between steps 4 and 5, the device may prompt you to restart and enable the Homekit binding window. Click confirm to the popup dialog message and let it restart. Once it comes back online, navigate again to the menu to obtain your binding key.
Write down this 8-digit binding key somewhere. The binding window is active for 10minutes only, if you miss it you will need to repeat the process. Back in Home Assistant, click Configure under the Homekit Controller: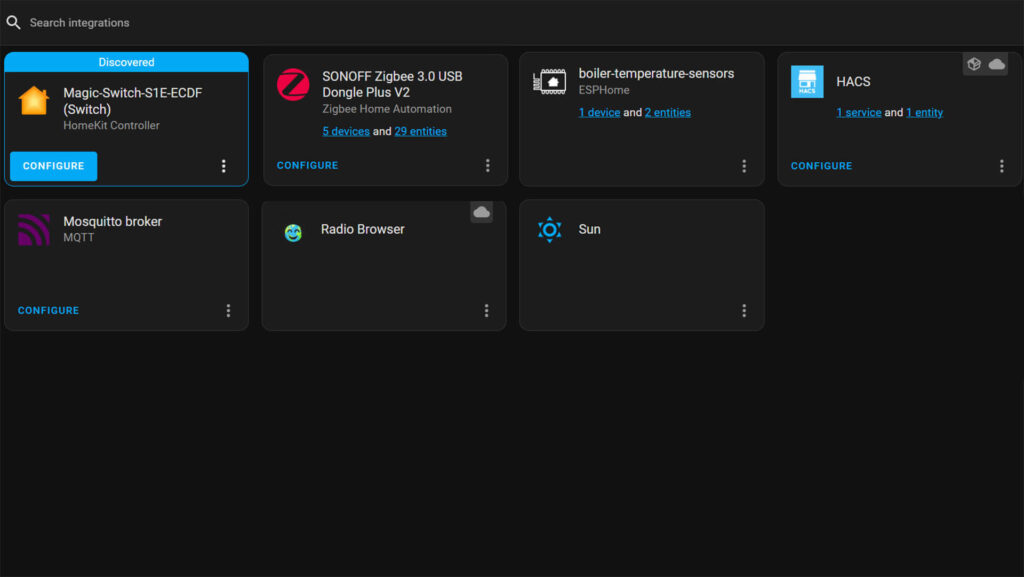 You will be prompted to enter the pairing key. You must enter the key in the following format: XXX-XX-XXX (with dashes!). Click Submit and you will be greeted with a success message. Now you can control the Aqara S1E Smart Magic Switch from Home Assistant!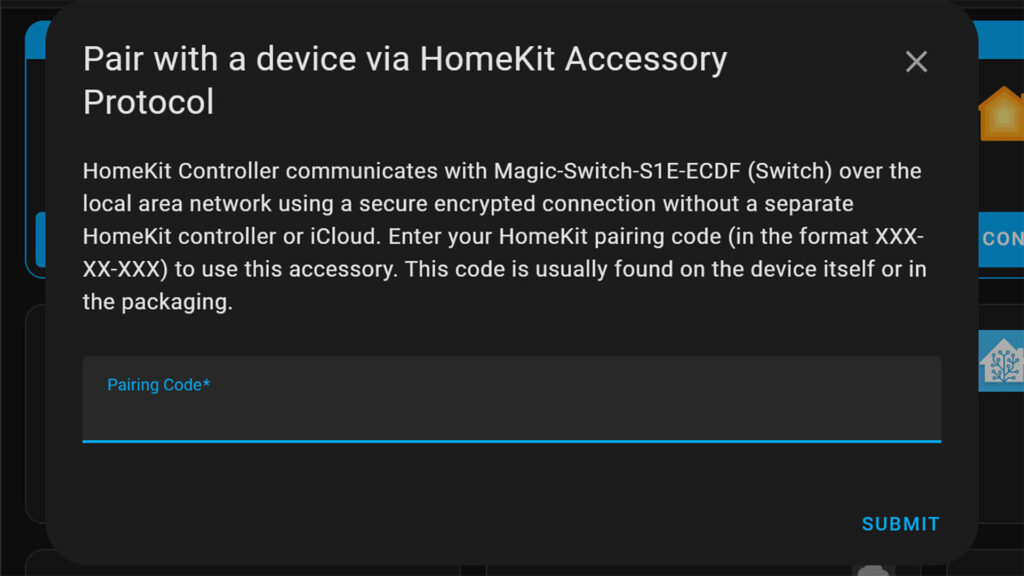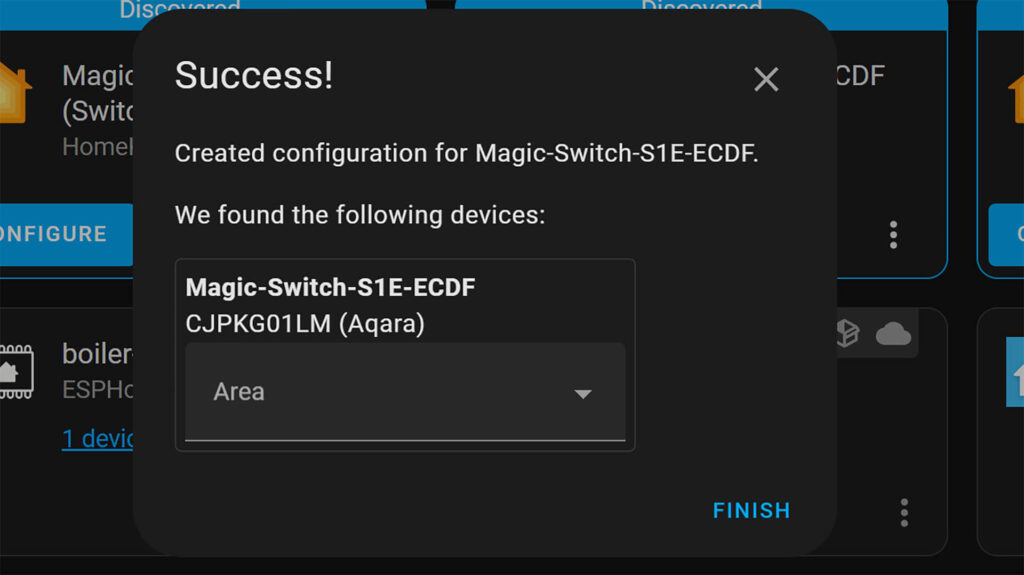 Custom Component
There is a custom component being developed for the Aqara S1E Magic Switch by dev niceboy on github. It's a bit hard to implement, involves soldering and interrupting the device UBOOT via UART. This is absolutely not for the non tech savvy, however it does enable some incredible things and further customization.
This ultimately integrates the Aqara S1E Magic Switch in Home Assistant via MQTT and enables a bunch of sensors: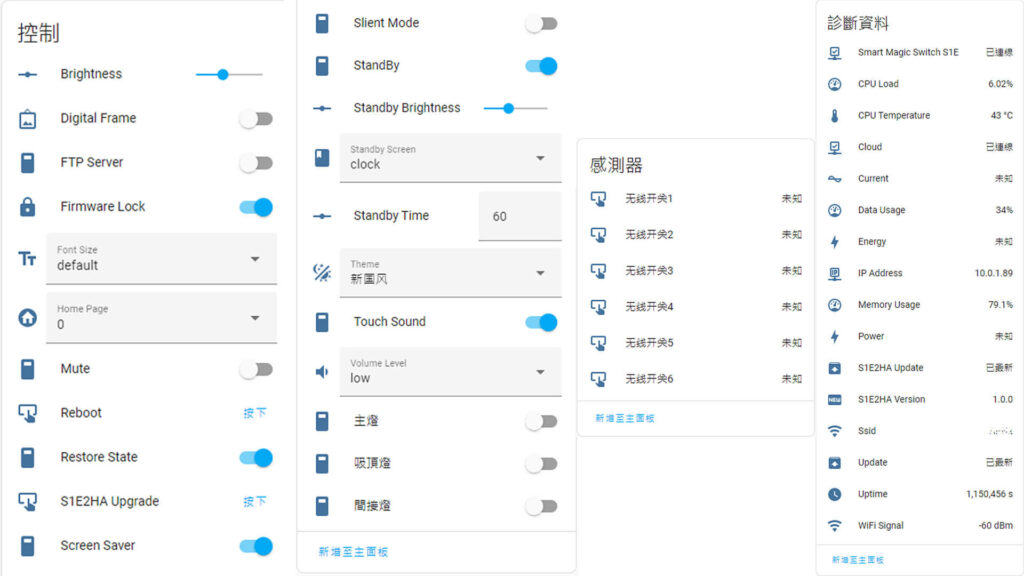 If you do decide to integrate the switch via MQTT, you have two options:
Ask Aqara via e-mail for the root password LOL (No soldering)
Solder UART interface and delete the password to login
Dev niceboygithub goes into detail in this guide. If you decide to do it, you can use his pic_resizer.py script to flash custom images to the device and customize it to your liking.
Verdict
The Aqara S1E Magic Switch is an excellent device with a lot of potential. It's extremely well built, highly customizable and beautiful to look at. For an LED, the display is top notch with solid viewing angles. Response times are great when toggling things and controlling devices through it. In summary:
Pros
Very high build quality
Customizable display
6 different scrollable screens
9 different zones per screen
Vibrant colors, fun themes
Apple HomeKit compatible (no hub necessary)
Built in quick settings menu
Cons
No language options (for now)
Cloud dependent
So, should you buy the Aqara S1E Smart Magic Switch? Well, as of this moment, I would not consider the S1E a mainstream smart home device. Especially since it's dependable on the Aqara cloud. If you are a tinkerer and like to experiment, sure, go for it. This magic switch looks absolutely stunning when mounted on a wall. I expect the device language to be changeable with a future firmware update as well as some more features added, maybe custom screen images out of the box. A great Zigbee alternative to the S1E is the S1 (ZNCJMB14LM).
Aqara S1E vs Aqara S1
If you prefer something a little simpler, the S1 model (ZNCJMB14LM) is Zigbee based, compatible with ZHA and Zigbee2MQTT and also highly customizable directly from Home Assistant. You can change things like the default homepage, brightness, font size, volume, language, standby time, screen saver, icons and choose between two available themes. You can also control three physical switches with the S1 model. Because it's Zigbee based, the S1 model is completely local and no hubs are necesarry.
Aqara S1E Magic Smart Switch – $45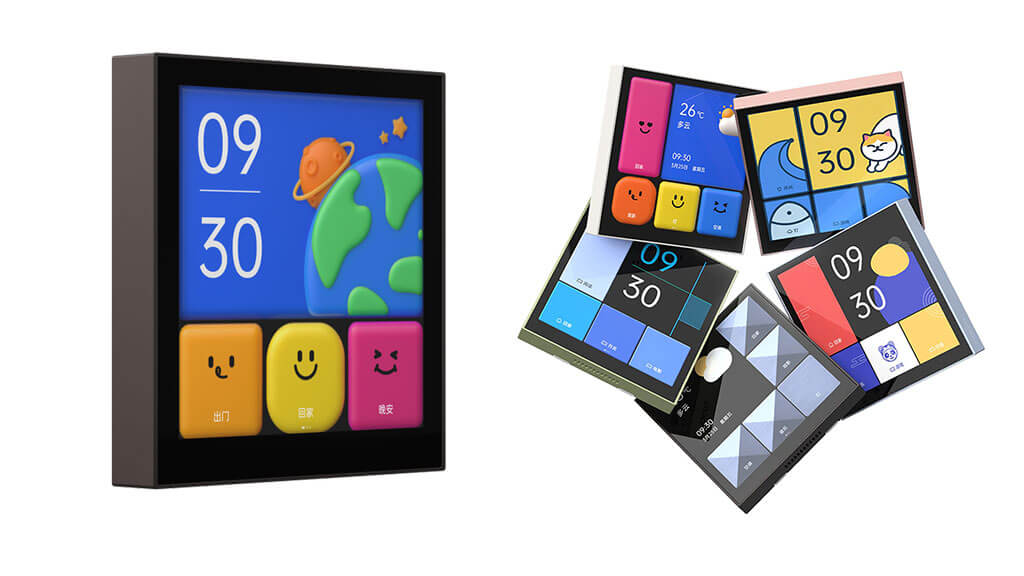 AliExpress | AliExpress | AliExpress | AliExpress




Amazon.com | Amazon.co.uk | Amazon.de
Amazon.ca | Amazon.nl | Amazon.es
Amazon.it | Amazon.fr
*If links fail to open, try disabling your AdBlocker.
Aqara S1 Smart Switch Panel ~ $85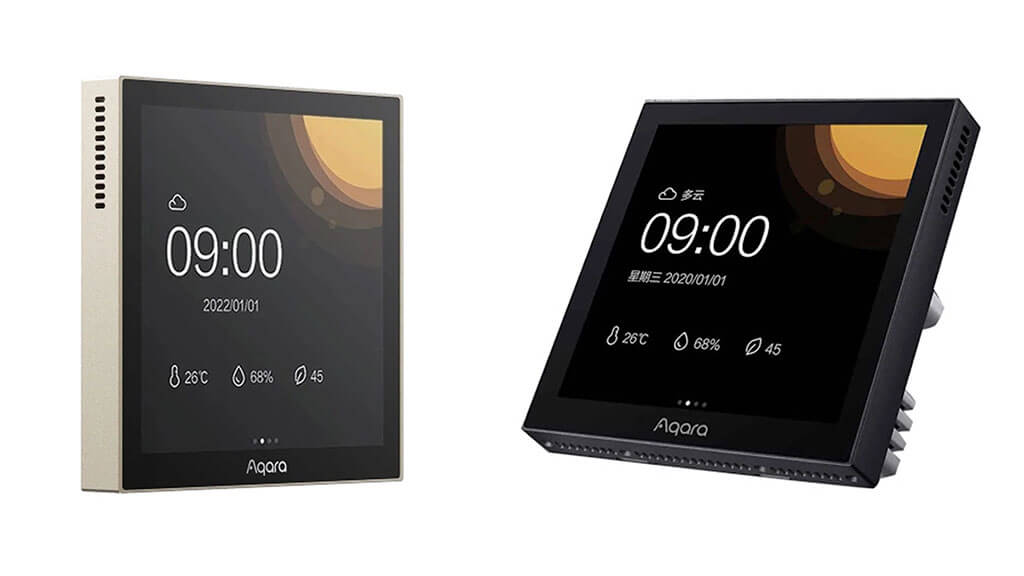 AliExpress | AliExpress | AliExpress | AliExpress




Amazon.com | Amazon.co.uk | Amazon.de
Amazon.ca | Amazon.nl | Amazon.es
Amazon.it | Amazon.fr
*If links fail to open, try disabling your AdBlocker.
If you would like to try out the Aqara S1E or the S1, consider using one of our affiliate links above. Helps us keep the blog going and order more devices for testing.