---
Zigbee Presence Sensors have been popping up on AliExpress like mushrooms after rain, the marketplace is filled with different devices with 24G/5G mmWave sensors. For the past two months or so, I've been buying any that seemed interesting and promising enough for testing.
A couple of days ago I talked about a pretty great 24GHz presence sensor with a built-in relay from the Tuya ecosystem, model MTG075-ZB-RL. It turned out to be a very capable ceiling mounted presence sensor, with no delay when detecting motion.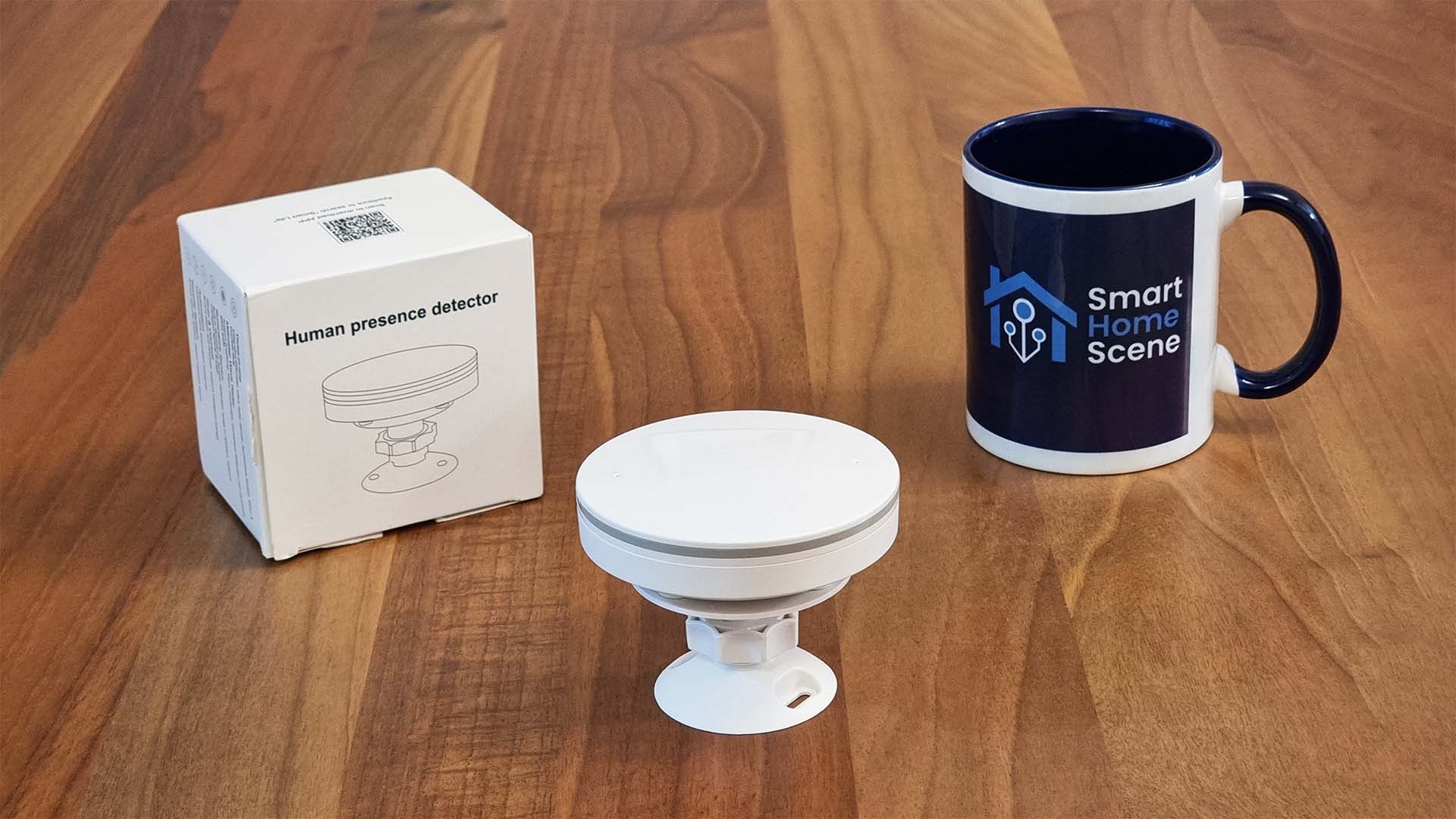 This article is a review of a similar combo device – A presence sensor with a built in alarm siren. This one is white labelled Tuya model ZG-205ZL and is available for $21 on AliExpress, with the Wi-Fi only version available on Amazon.
Technical Specification
Model: ZG-205ZL
Manufacturer ID: _TZE200_hl0ss9oa
Connectivity: ZigBee 3.0 / Wi-Fi 2.4GHz
mmWave Radar: 5.8G / 24G
Input: Micro-USB 5V/1A
Siren Alarm Volume: ~90dB
Indicator Light: Red + Blue Indicator Light
Detection Angle: 110°
Detection Distance: 6m/19.69ft
Illumination Value: 0~2000lux
Working Temperature: -10°C~+55°C
Working Humidity: 0-95% RH
Product Size: Φ85mm×27mm/Φ3.45inch×1.06inch
Teardown
This Tuya Presence Sensor model ZG-205ZL came in a box with a user manual, screws for installation and a pin for resetting the device. A USB-A to Micro-USB cable was also included, although it's not pictured. The device is powered by 5V1A, but no adapter is included in the package, you will have supply it.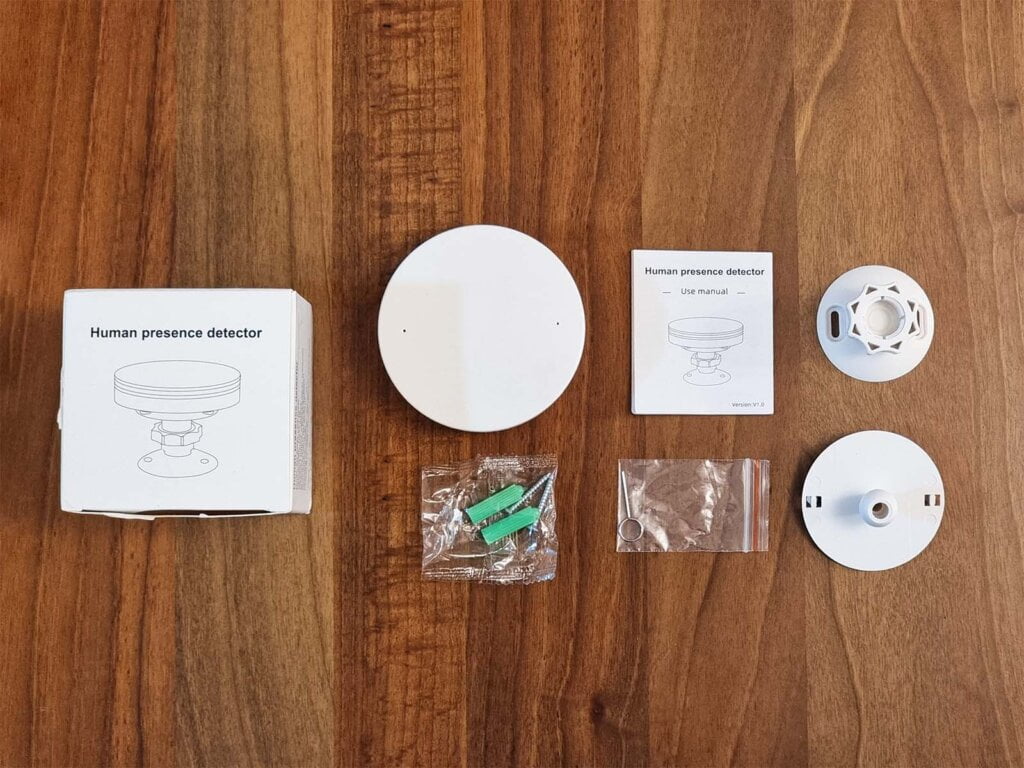 The device comes with a rotating swivel, very similar to the one on the Everything Presence One. It can be installed on the ceiling or wall and you can position the swivel anyway you want, which can help with eliminating false triggers.
If you decide not to use the swivel, there is a screw mounting hole on the back which can be used to install the device flat on your ceiling/wall and reduce it's bulk size.
The gray ring around the frame is an LED indicator, which can be used to signal presence detection in two colors: red and blue. The two small holes on the front are used by the illuminance sensor, to get a more accurate measurement.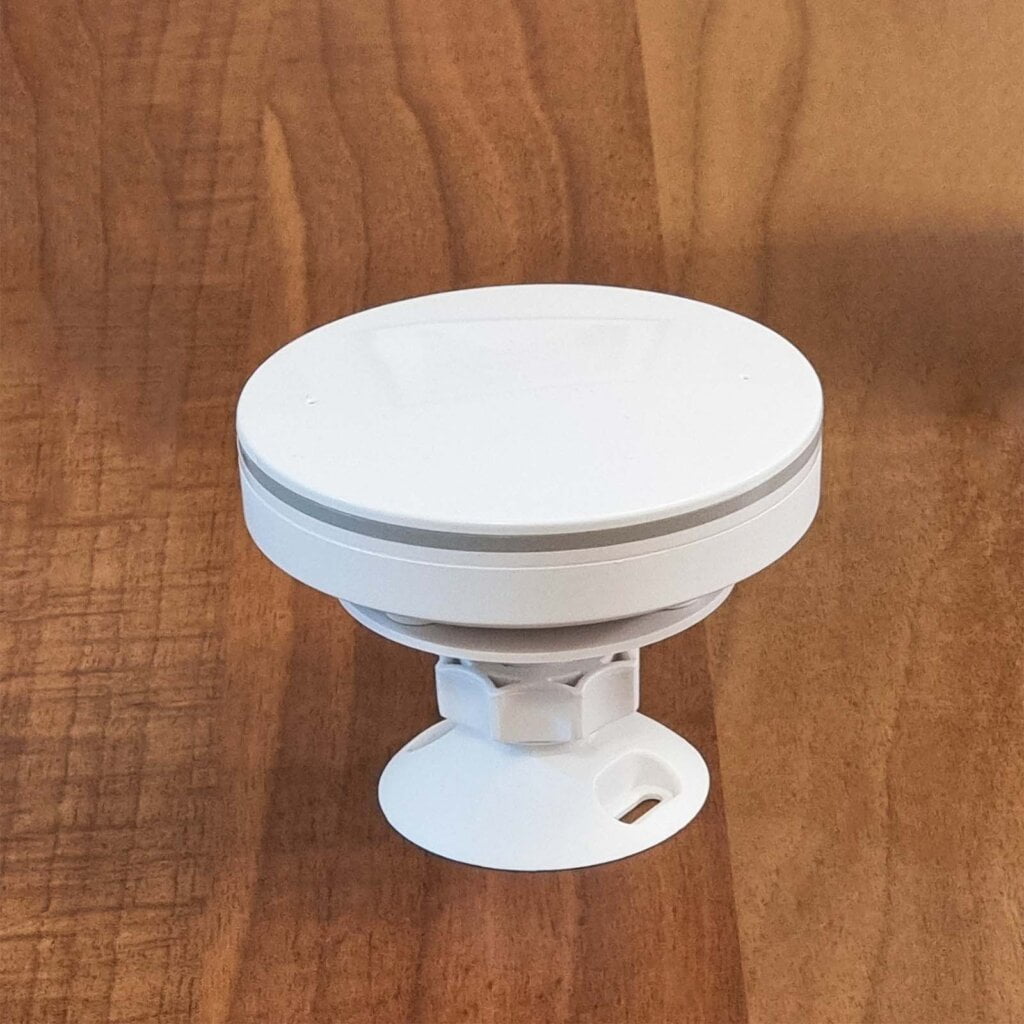 Opening up the device reveals a dark PCB, a recognizable trait in Aqara devices. This is a purely cosmetical observation, it serves no other purpose. The mmWave radar sensor is located in the middle, next to the communication module. A total of 8 LEDs are used as the indicator lights for the outer ring.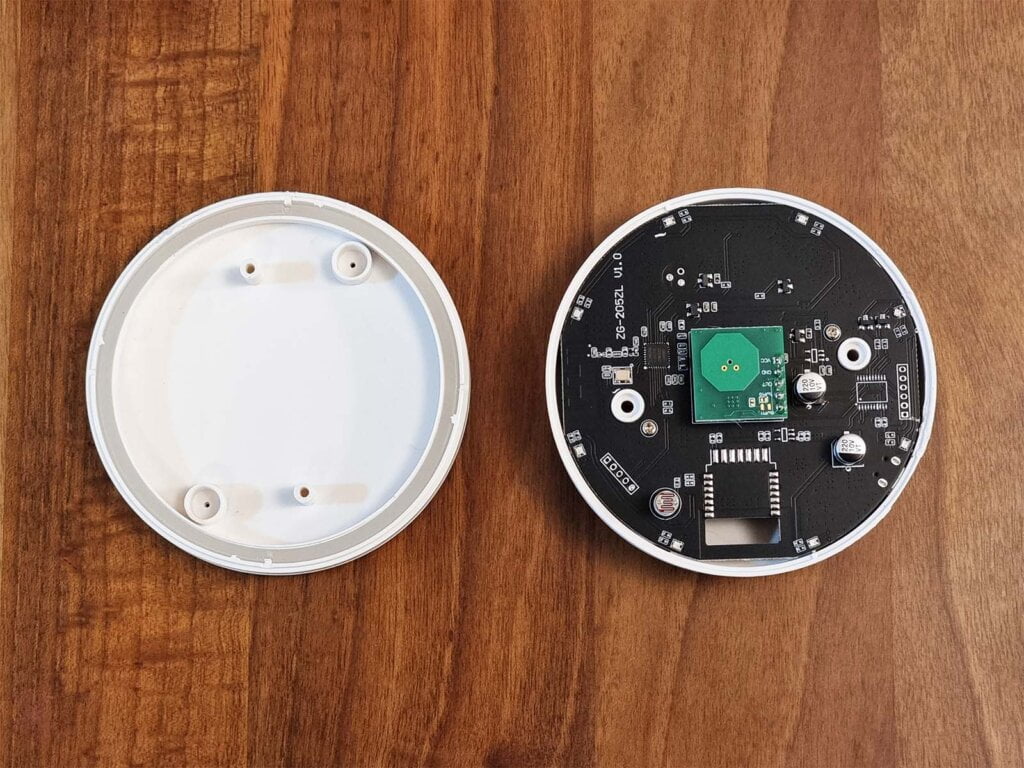 I am not entirely sure what the actual model of the mmWave radar is, but it appears to be this one: FR58L4HS-2020L [Datasheet]. The company and sensor are unknown to me, so I will of course test it's performance.
IMPORTANT NOTE: Even though this device is available in both 5GHz and 24GHz variants, many users reported the sensor is actually 5.8GHz on BOTH. I ordered the 5.8GHz version, so I cannot verify if this claim is true. In any case, I don't consider this crucial for the performance of the device. Even though technically 24GHz should perform better than 5.8GHz, the latter is still a capable radar sensor. For example, the ZY-M100 had a 5.8GHz radar and operated better than the Aqara FP1 (60GHz) or Tuya PS-HPS (24GHz) in my tests.
Illuminance sensor is just an off-brand variable resistor used to provide the lux reading of the device.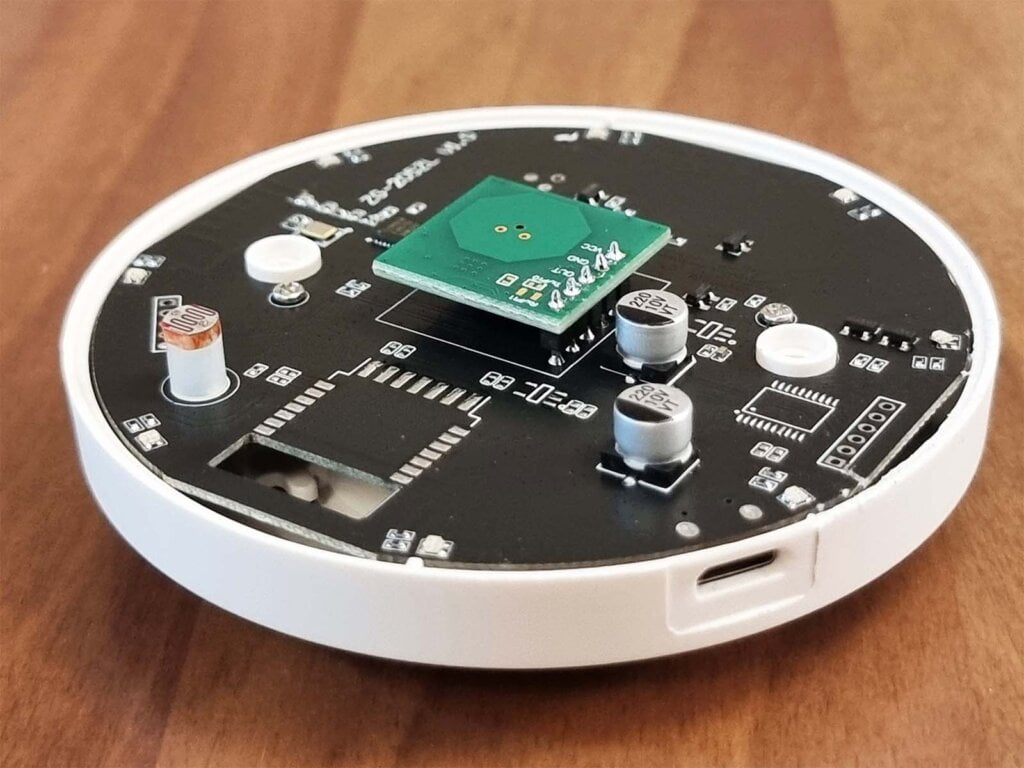 Removing the main PCB from the case reveals the actual siren installed on the back. It's more of a loudspeaker than a siren, but it's loud enough if you want to use it as an audible indicator of presence detection. For anyone wondering, yes, you can control it independently.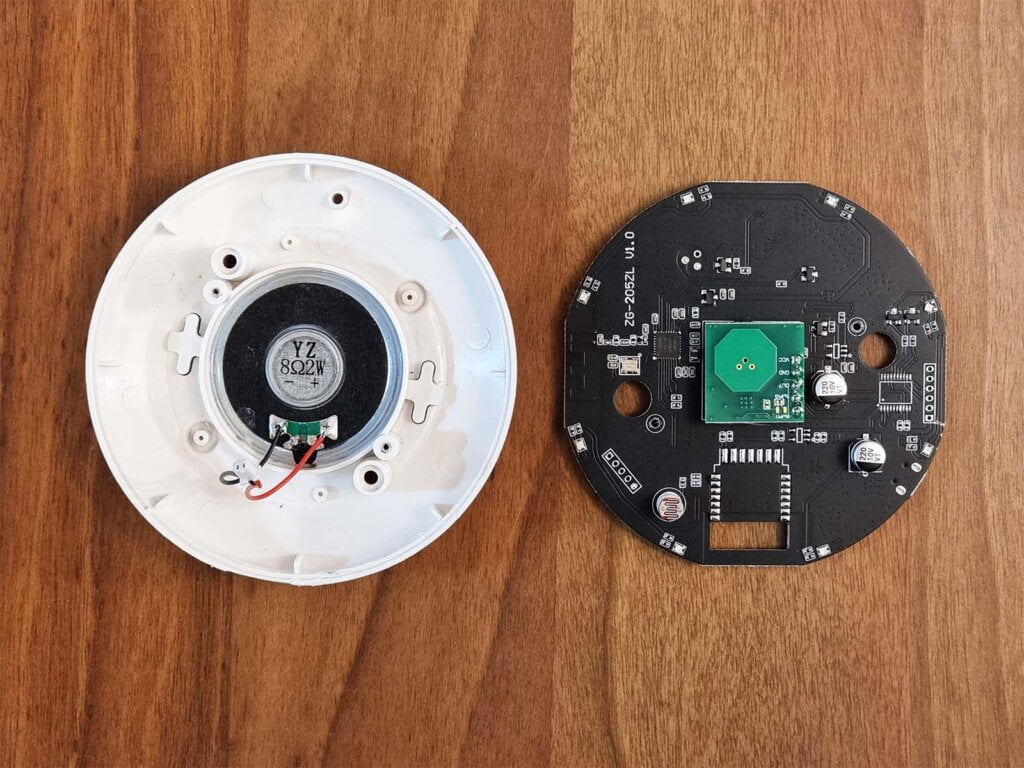 The Zigbee communication module is again model Telink TLSR8258 [Datasheet], a SoC I've encountered many times in cheap temperature and humidity sensors [ZG-227ZL, ZL02-ZX]. I've never had any communication issues with this module, although I always clarify that I have a very robust and solidified Zigbee mesh network.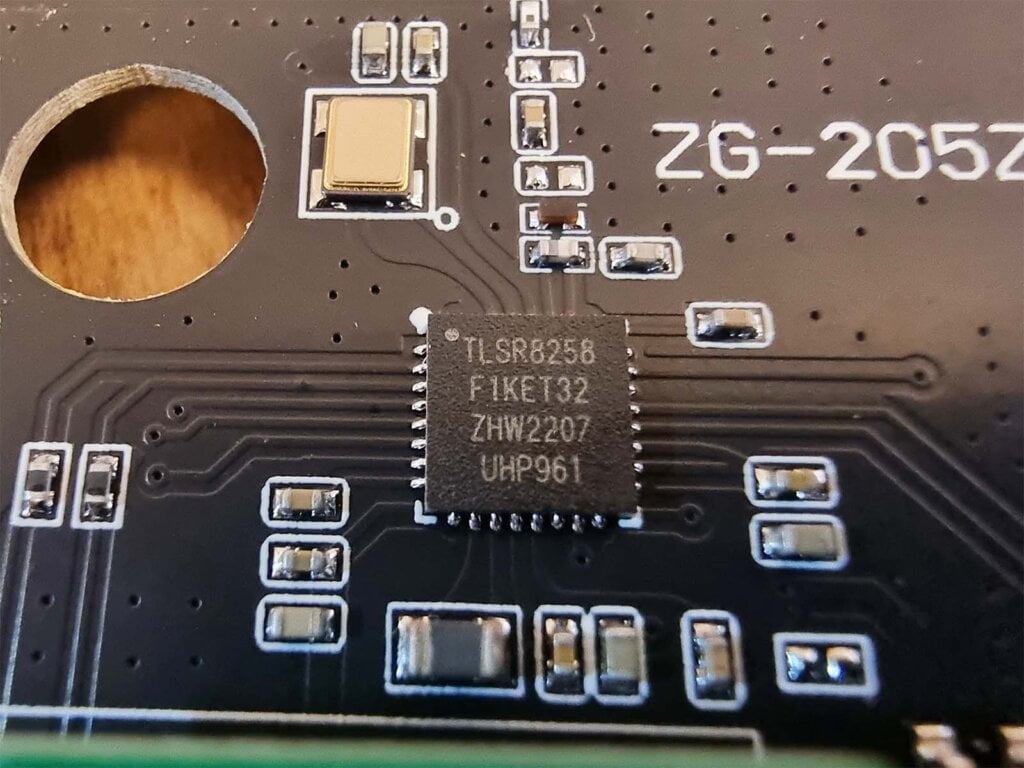 Installation and Setup
This Tuya Presence Sensor ZG-205ZL is very simple to install, although hiding the cables can prove to be a challenge. I am sharing an image from the user manual with the device mounted on the ceiling, which also explains the detection range of the device.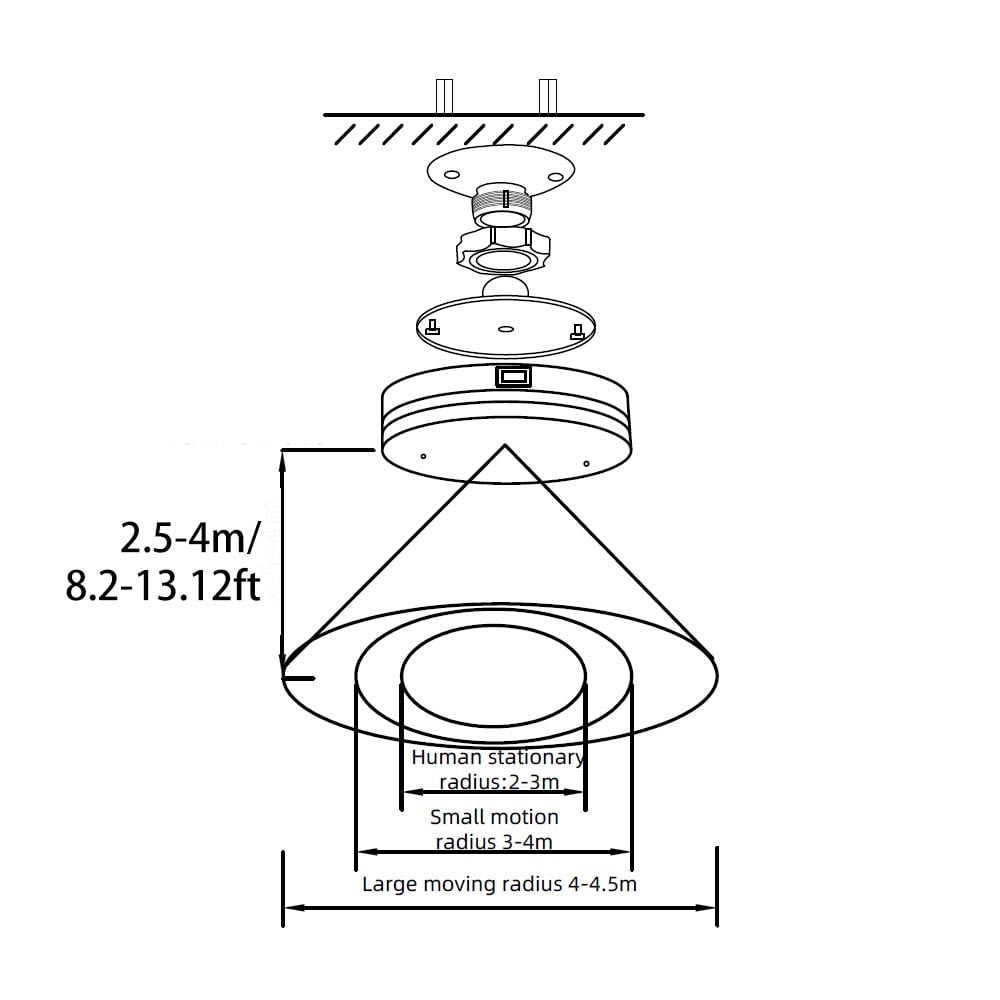 Note the three different detection radii of the sensor, these will be useful in understanding the exposes clusters in Zigbee2MQTT. Basically, the device can detect static presence in a radius between 2-3m at a distance of 2.5-4 meters. Outside of this, it's supposed to detect motion only.
These numbers seems rather generalized, it's easy to miss the logic they were going for, especially since the distance overlaps on all of them. I will test the actual range to see if they match and clarify everything in the testing section bellow.
The rotating mount is not entirely flexible, although it has enough swivel to help you eliminate potential false triggers by aiming the sensor away/at. Build quality is good, it will hold the device in place without issues.
Home Assistant Integration
The Tuya Presence Sensor ZG-205ZL is supported in Zigbee2MQTT and partially in ZHA. Tweaking clusters can be used to fine-tune the operation of the device in Zigbee2MQTT, while only a single motion sensor entity is available in ZHA. To pair it, use the included hairpin in the package.
Zigbee2MQTT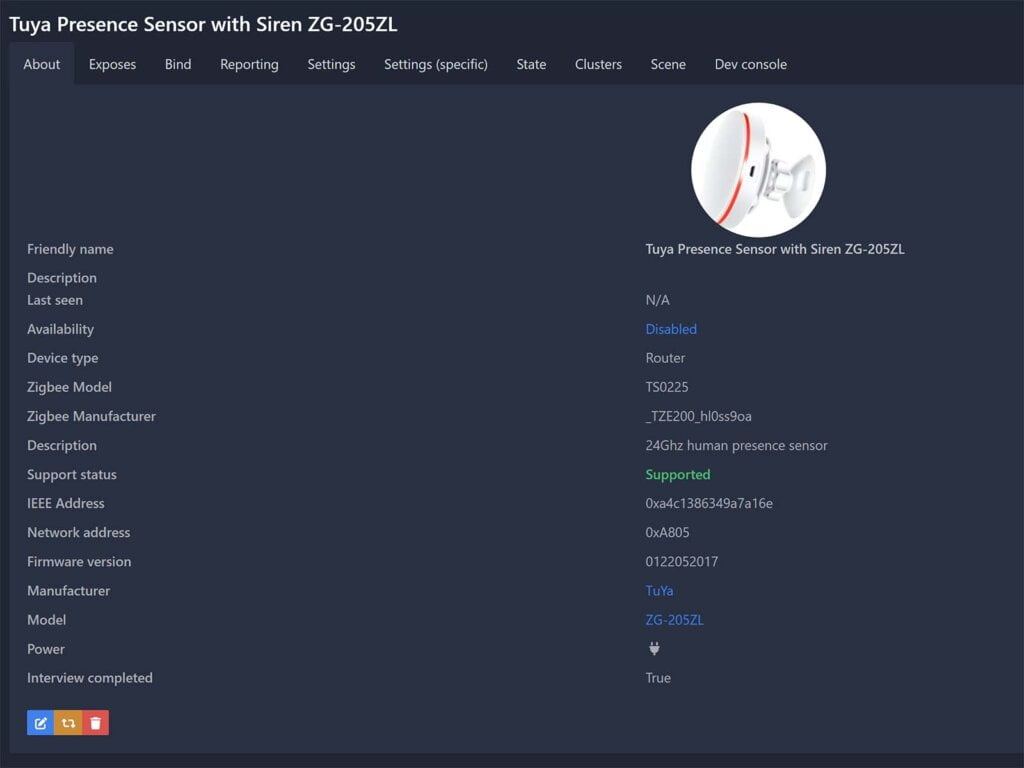 Once the device is paired to Zigbee2MQTT, it is identified as model ZG-205ZL by manufacturer _TZE200_hl0ss9oa. The device is also a router, capable of relaying Zigbee traffic of adjacent devices.
It exposes a bunch of different things in Home Assistant through Zigbee2MQTT, some of which are useful in tweaking the operating of the sensor.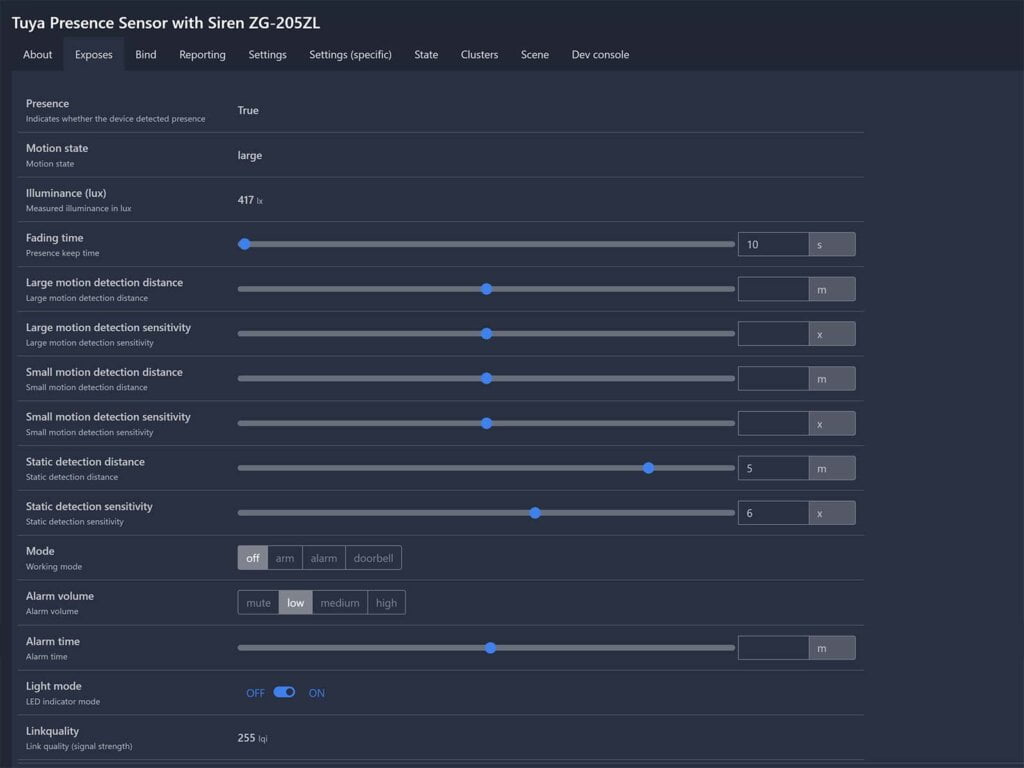 The static detection parameters are the only area that the sensor can detect static presence

Radius from 2-3m directly under the sensor, at a distance of 2.5-4m

The small motion detection parameters detect motion outside of the static detection radius

Detection radius of 3-4m at a distance of 2.5-4m

The large motion detection parameters detect motion outside the small detection radius

Detection radius of 4-4.5m at a distance of 2.5-4m
The motion state entity can have 4 states indicating in which zone presence is detected: none, static, small and large. This also changes the state of the binary presence entity, which simply goes from false to true whenever the state of the motion entity is not none.
Toggling the mode changes the sound of the loudspeaker/siren, which are just a beeping sound, an unpleasant alarm sound and some skewed classical music in mono audio. Changing the Alarm level does change volume, but by very small steps.
The light mode toggle can be used to turn off the indicator LEDs, which is lightning up anytime presence is detected.
ZHA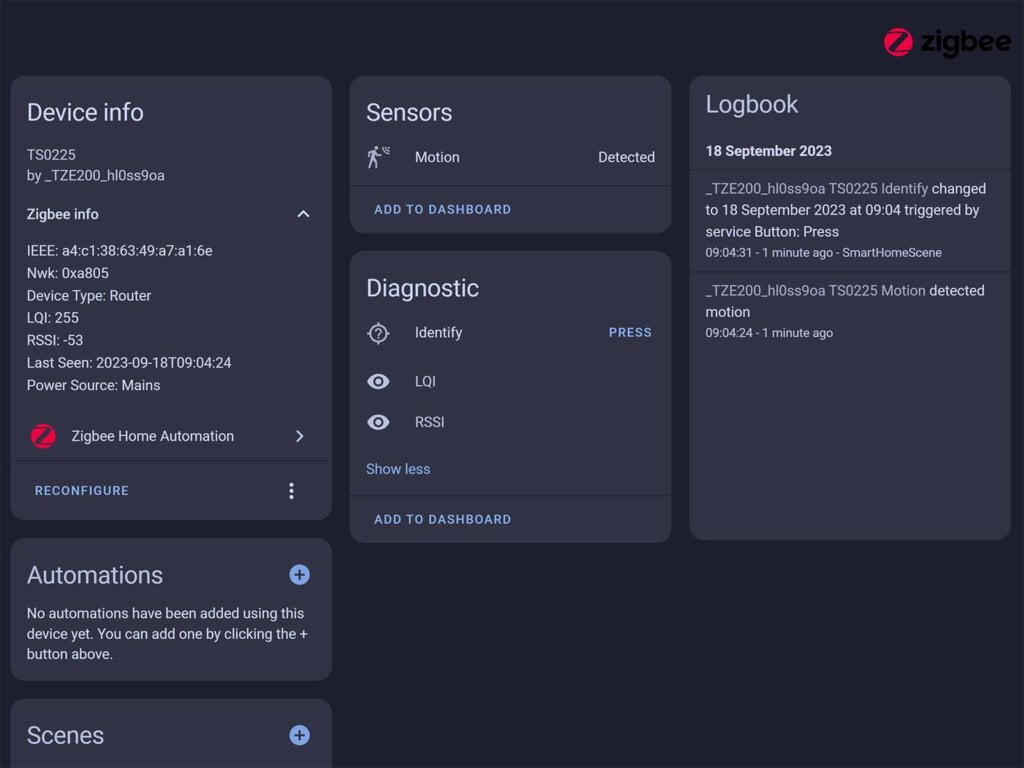 The device works partially with ZHA, no other clusters are usable except for a single binary motion sensor. The siren cannot be controlled and parameters can be tweaked for the operation of the radar sensor. A custom quirk is apparently in the works, you can follow discussion here.
Testing
To test the performance of this sensor, I installed it in two locations: my office and my home living room. The reason for this is, I got such bad results in my first location (office) I decided to test a second one (living room) and possibly eliminate any interference sources. Here's a summary of my tests:
Office Mount (Ceiling, 2.4m)

Initial detection was accurate and immediate
Motion state entity kept bouncing from large to small and vise versa, even when I sat at the same distance from the sensor (2.1m)
Presence would not clear in 7 out of 10 tries, modifying any setting resets the presence to Away
Presence keep time was not respected by the sensor at all, when it did clear motion it would clear it randomly

False positive triggers were impossible to eliminate in my office, even though I believe I turned off everything that could cause a false trigger
The test was performed multiple times, with various parameter ranges. Sometimes it would produce slightly different results with same general conclusion: unreliable.

Living Room Mount (Ceiling, 2.7m)

Initial detection was accurate and immediate
Motion state entity kept bouncing from large to small and vise versa, even when I sat at the same distance from the sensor (2.5m)
Presence would clear accurately in 8 out of 10 tries
Presence keep time was not respected by the sensor at all, when it did clear motion it would clear it randomly
The test was performed multiple times, with various parameter ranges. Sometimes it would produce slightly different results with same general conclusion: unreliable.
Siren mode, duration and volume all worked
Once I moved the device to my living room, I was able to get a bit more consistent performance out of it. It possible something was triggering the device while in my office, although I could not identify what.
Even still, I got the same "unreliable" vibe from the device even when installed in my living room. The detection radius was completely inaccurate and the presence clear time not respected at all. With no one in the room, sometimes it would clear presence in 10 seconds, other times in 20 minutes.
Summary
To summarize my experience with this sensor: I do not think this device is accurate, reliable or useful enough for Home Automation. Too many clusters seem to operate in their own manner and not respect user set parameters.
Even though motion is detected instantly every time, failure to reliably keep the presence state defeats the main purpose of this device: static human presence. The device keeps the Home state for much longer than it should, completely ignoring the set presence clear delay time.
Tweaking the available parameters did not result in acceptable results in my tests, so my final thoughts are to avoid this device. Here's the listing I purchased it from, for informational purposes.
It's possible a better external converter can remedy some of these drawbacks of the device, but at this point we have no way of knowing if this is just bad hardware implementation, which I believe it is. I suggest you check out other cheap alternatives, like the ZY-M100 or MTG075-ZB-RL. If you want to use zones, the Aqara FP2 has come along way with firmware updates and can now be controlled locally.