---
In this AliExpress Review, I'm fully disassembling and testing the Moes Dual USB Zigbee Smart Socket, model ZP-LZ-FR2U. It's a relatively cheap (~$20) and simple smart plug, which features a standard plug and two USB ports underneath for powering 5V devices.
It seemed interesting enough for me to buy, disassemble and review so let's see what it's got. My other reviews of some Moes products can be found HERE.
The Moes Dual USB Smart Plug can be bought for ~$20 on AliExpress, Amazon.de and Amazon.nl.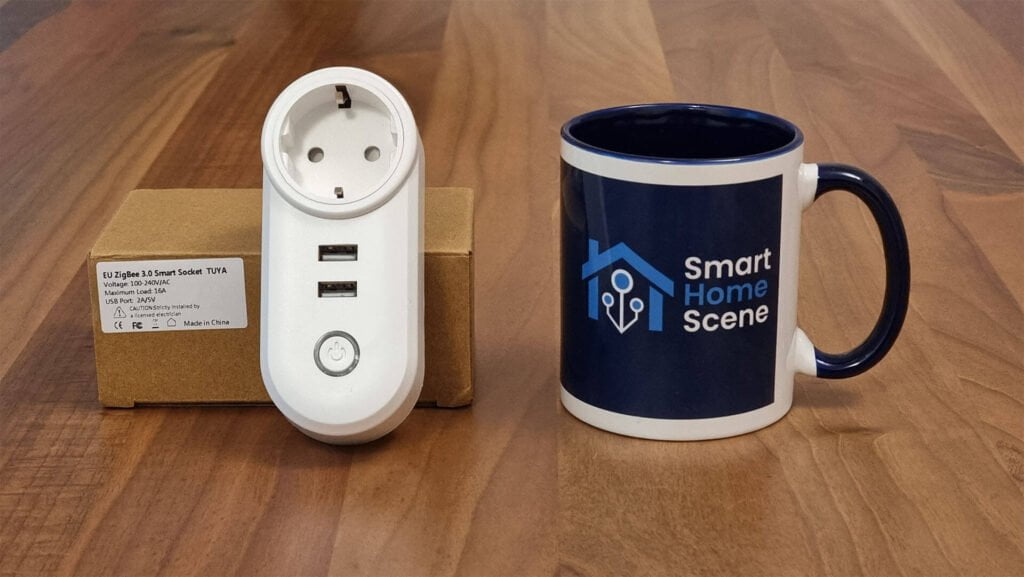 Technical Specification
Model: ZP-LZ-FR2U
Input Voltage: AC 110/240V, 50/60Hz
Max Current: 16A
Standby Power Consumption: Less than 1W
Communication: ZigBee 3.0
ZigBee Device Type: Router
Working Temperature: -22°C~45°C
Product Size: 120x56x30mm
Disassembly
The Moes Double USB Zigbee Smart Plug came packaged in a cheap, cardboard box containing nothing but the smart plug and a manual. Aside from a general sticker, there is nothing else on it or inside. The package came intact though, so its just AliExpress things. It's possible the package will be different between sellers, but the product the same.
Unlike other plugs of this type which span horizontally, this one is meant to be installed vertically in your wall plug. It has a standard plug (US, UK, EU, FR, CN, IT, JP & others) on the top and two USB ports underneath it, as well as a quick control and pairing button.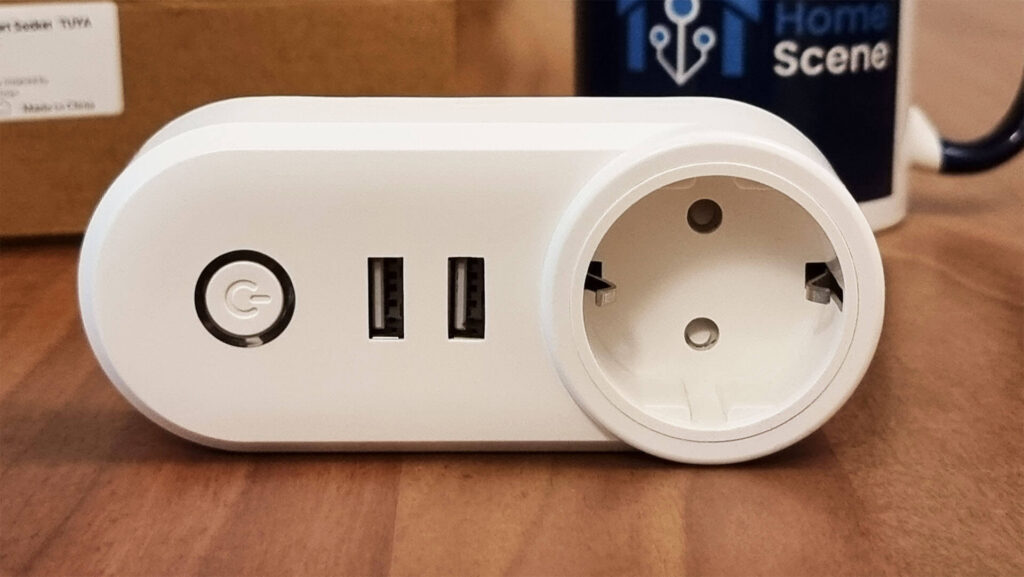 The case is very sturdy and neatly designed, there's a sticker on the bottom with some general information, mentioning the USB-A ports are 5V2A. The CAUTION: "Strictly installed by a licensed electrician" made me lol though.
The button is used to pair the device (held for ~10sec) or quick toggle the main relay. You can child-lock it via Zigbee2MQTT.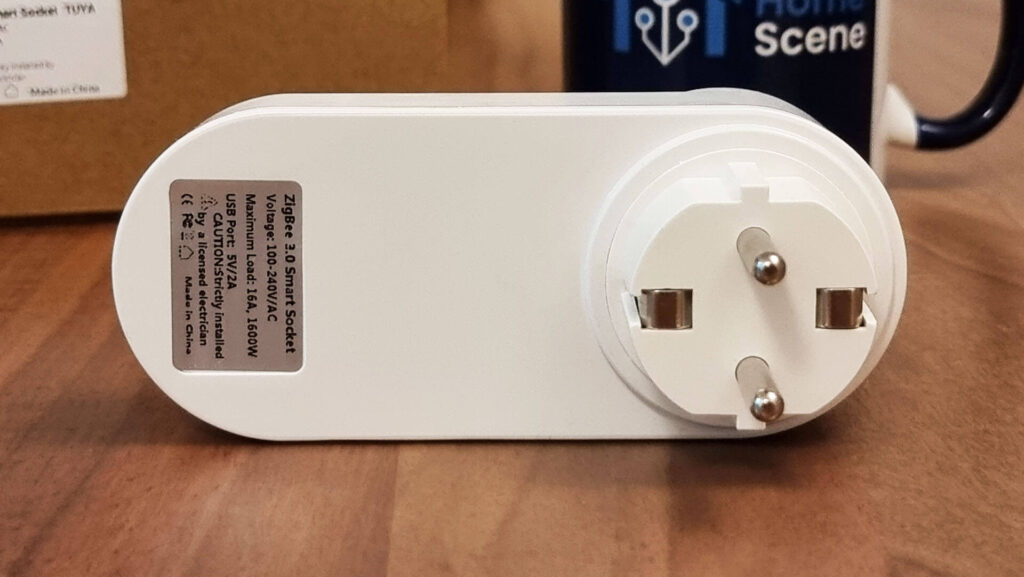 Prying the socket apart gave me some trouble because I was trying not to damage anything. Once I opened it, you can see the plug is connected by three (3×2.5mm) wires to the main PCB. It's important to note this smart plug is not grounded, which offers an additional path for the electrical circuit to flow into the earth so as to not endanger anyone working with the electricity nearby in the event of a short circuit.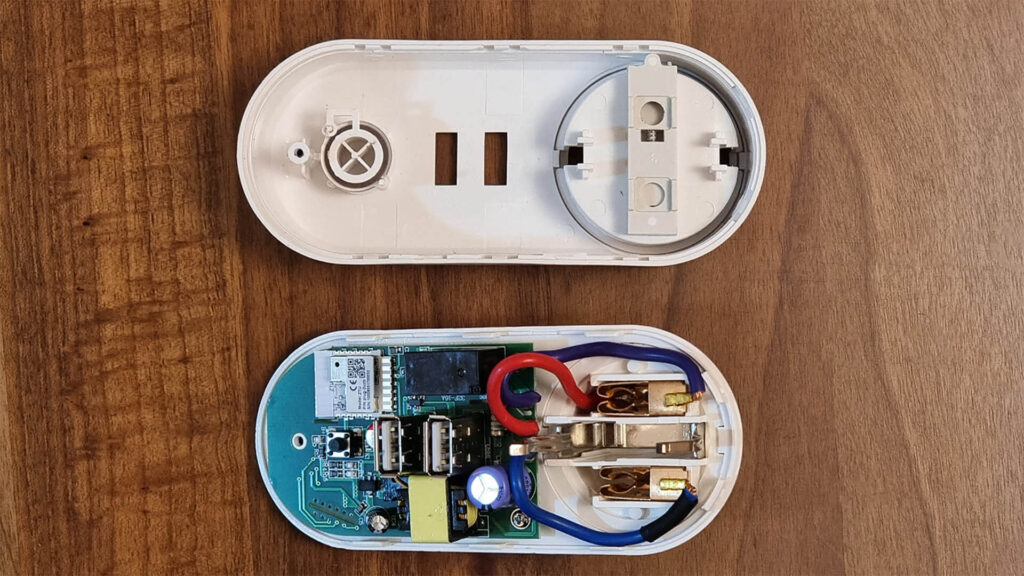 The two USB ports are soldered solid in the middle of the PCB. I tried jiggling them a bit to see if they will perhaps break apart, but they were good. Some capacitors and a current transformer can be seen on the PCB and that's about it.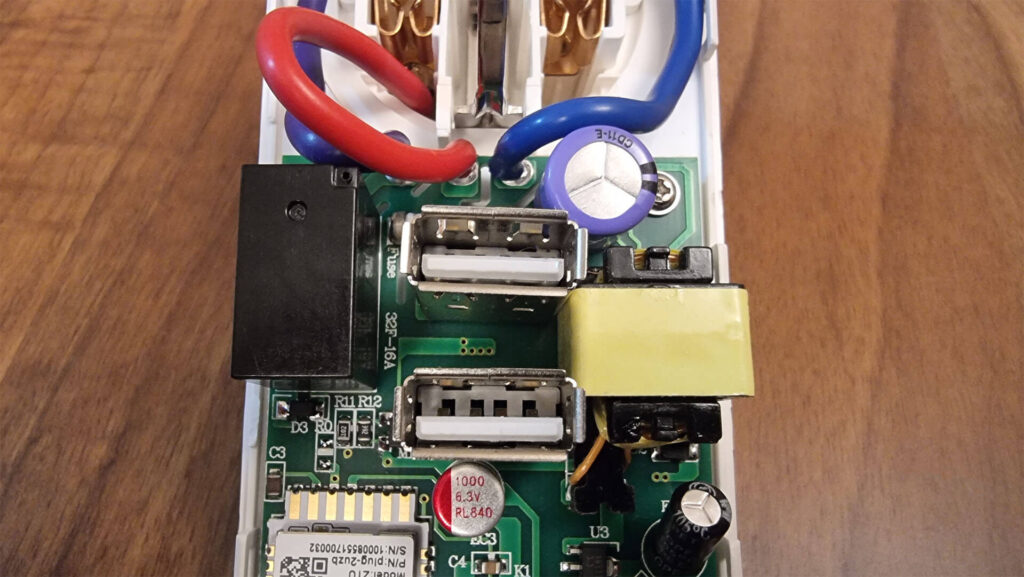 Zigbee communication is handled through a Tuya ZTU Module [Datasheet], also found in some other Moes/Tuya products such as their new Temperature & Humidity Sensor ZSS-KB-TH or their clicky 3 gang wall switches, ZS-EUB.

This module is setup as a router/repeater in this particular device and presented no connectivity issues whatsoever in my setup.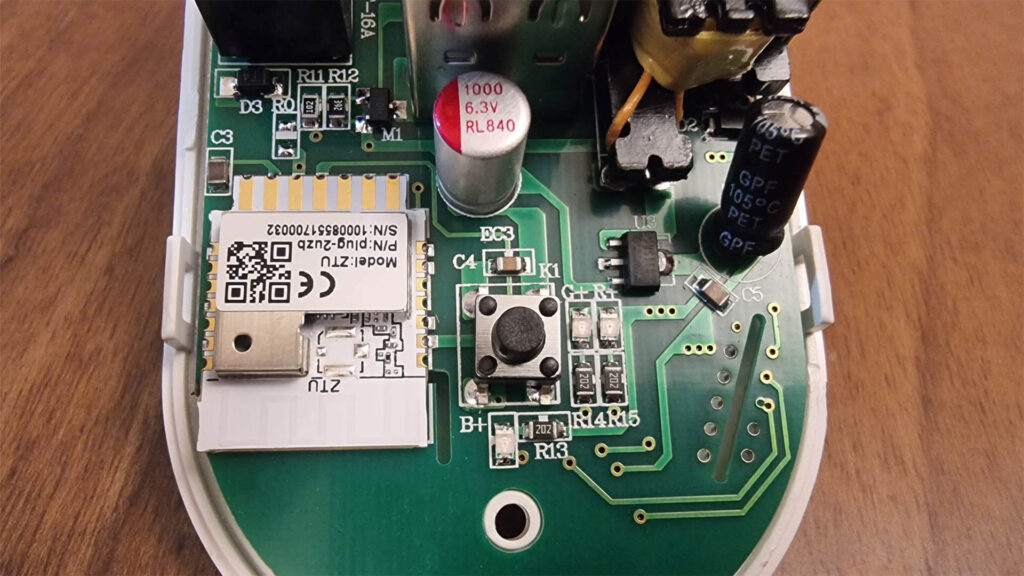 It was a bit difficult to photograph, but the main 16A relay is manufactured by a company called Fanhar based out of Shenzen, China. This relay is also found as a 10A variant in the Moes 2 Gang Switch Module. I've had some of those installed as a daily driver in my hallway lights, they are pretty solid.
They feedback a nice clicky sound when toggled, which is a good thing in my experience, weaker relays will give out a fainter sound.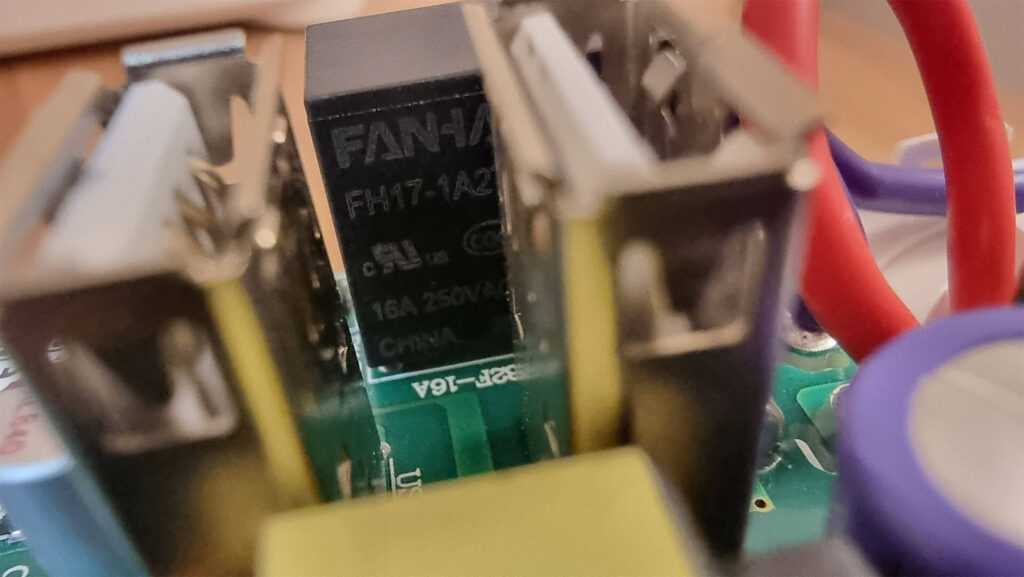 Home Assistant Integration
The Moes Dual USB Zigbee Smart Socket model ZP-LZ-FR2U is compatible with ZHA and Zigbee2MQTT in Home Assistant. To pair the device, hold the button for around 10 seconds until the LED starts blinking.
Zigbee2MQTT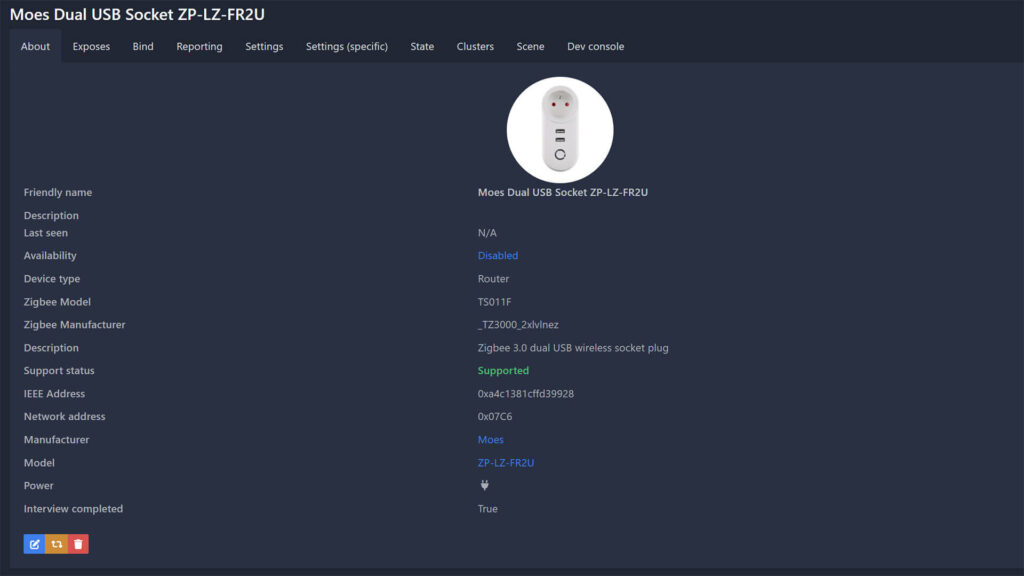 The socket is identified as Zigbee Model TS011F and manufacturer _TZ3000_2xlvlnez. It's also correctly labelled as a Router, meaning it's capable of relaying Zigbee mesh traffic.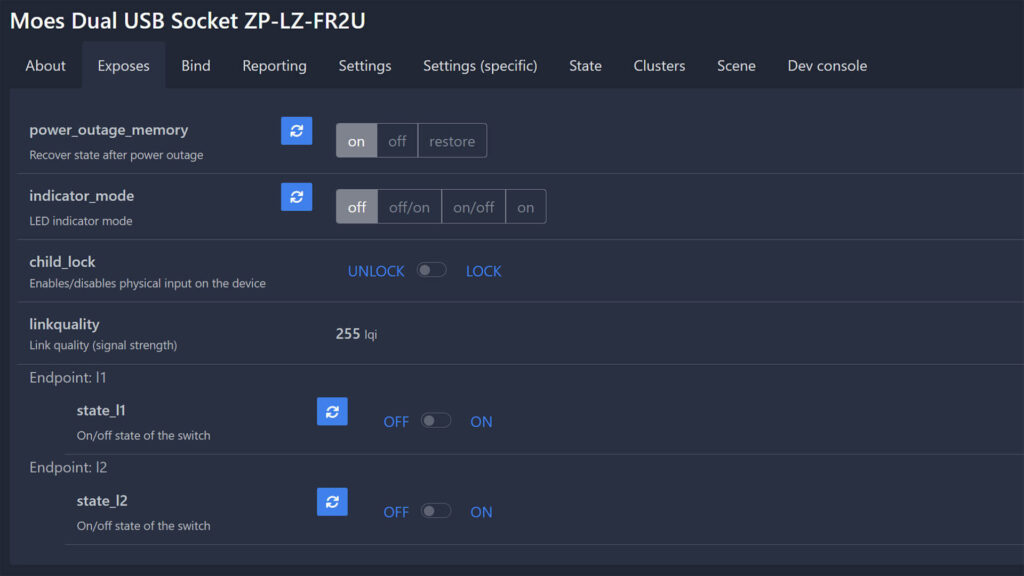 It exposes some interesting entities in Home Assistant through Zigbee2MQTT.
select:

power_outage_memory: Recover state after power outage
indicator_mode: LED indicator mode

lock: Child lock (locks the button)
switch:

endpoint1: Toggles the main relay ON/OFF
endpoint2: Toggles the USB ports ON/OFF
Note the operation of the exposed switches: The first switch toggles the main relay or whatever you have plugged in it at 110-220V. The second switch toggles both USB ports at the same time, they are NOT individually controlled. A small disappointment here, meaning both devices you have connected to 5V will be power cycled when you toggle switch 2.
ZHA
The plug is partially compatible with ZHA, being identified as model TS011F by manufacturer _TZ3000_2xlvlnez. Unfortunately, ZHA lacks some functionality as the only things controllable are the switches.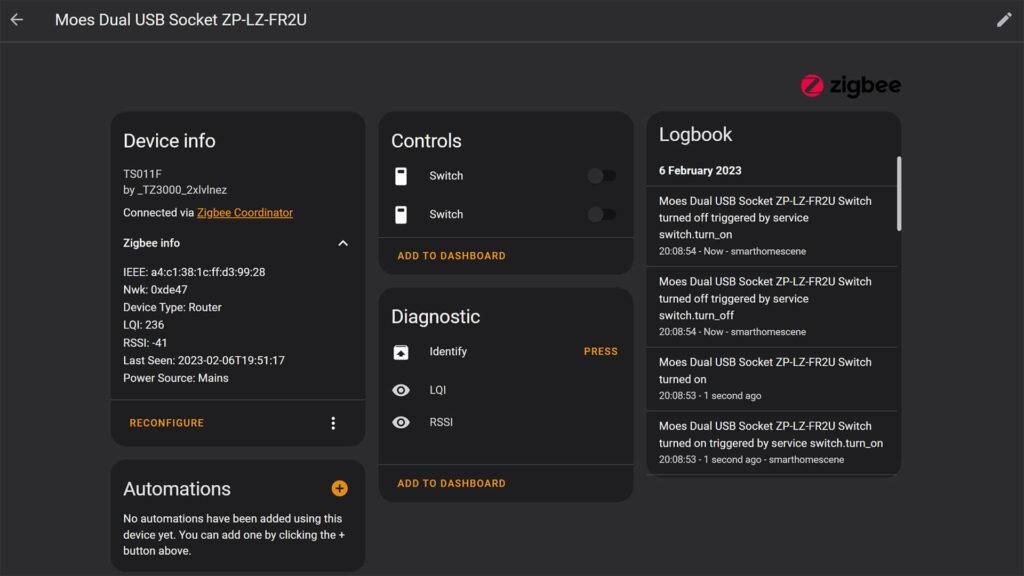 A custom quirk is missing, so its possible a future update will bring some configuration variables in ZHA from Zigbee2MQTT for the Moes Dual USB Smart Socket.
Usage
I can think of some great use cases for the Moes Dual USB Smart Plug. For example, let's say you have some remote ESP boards or sensors that you need powering up. You can freely use the USB ports, without extra adapters or plugs. This will save you an adapter, which would normally occupy some standard wall plug somewhere.

Here is a list of some ideas:
Powering ESP32 & EPS8266 boards (Very useful!)
Powering Presence Sensors (eg. Aqara FP1, Tuya ZY-M100)
Powering Curtain Controllers (eg. Aqara E1)
Powering 5V Led Strips
Powering Portable Speakers
Power-cycling Routers (Check Voltage Rating!)
Powering Any 5V2A Appliance
Charging phones

I've tested this and while it works, I would not trust this plug to charge your phone
The crucial thing to remember is that the USB ports are not individually controllable. Switch 1 toggles the main relay, switch 2 toggles both USB ports. Keep that in mind when planning things out.
Verdict
This is an interesting Zigbee-based smart plug by Moes. The USB ports are definitely useful and free up some 5v adapters than you normally would have to plug in separately for different devices. Zigbee communication was great in my robust mesh network and the plug relayed Zigbee traffic. I tested this with a Tuya Temperature & Humidity sensor by pairing it directly to the plug in Zigbee2MQTT.

In summary:
Pros
Quality ABS plastic
Vertical case design
Sturdy and robust build
Protective Covers on Plug Holes
Child Lock Protection
Zigbee 3.0
Can power any 5V2A device
Cons
No energy monitoring
USB ports and not individually controllable
Not grounded
If you have any use for this smart plug, consider ordering through one of our affiliate links above. Helps us keep the blog going and keep testing AliExpress Hardware. Thanks!


AliExpress | AliExpress | AliExpress | AliExpress




Amazon.com | Amazon.co.uk | Amazon.de
Amazon.ca | Amazon.nl | Amazon.es
Amazon.it | Amazon.fr
*If links fail to open, try disabling your AdBlocker.