---
I've written about SwitchBot products a couple of times in the past, disassembling and thoroughly testing each device they sent me. Build quality is better than most in their respective categories and even though I'm heavily against using cloud-based ecosystems, SwitchBot has one of the best apps and user interfaces when it comes to proprietary Smart Home controllers.
I use all SwitchBot devices with Home Assistant, if you are interested in digging deep into their ecosystem and HA Integration, here are a few of my articles:
The SwitchBot Curtain 3 is a next generation curtain controller which is advertised as being extremely low noise yet twice as powerful as it's predecessor, the Curtain 2. It ships with an optional Solar Panel 3, which is supposed to provide "unlimited power" to the curtain bot, whose battery should last up to 8 months on a single charge otherwise.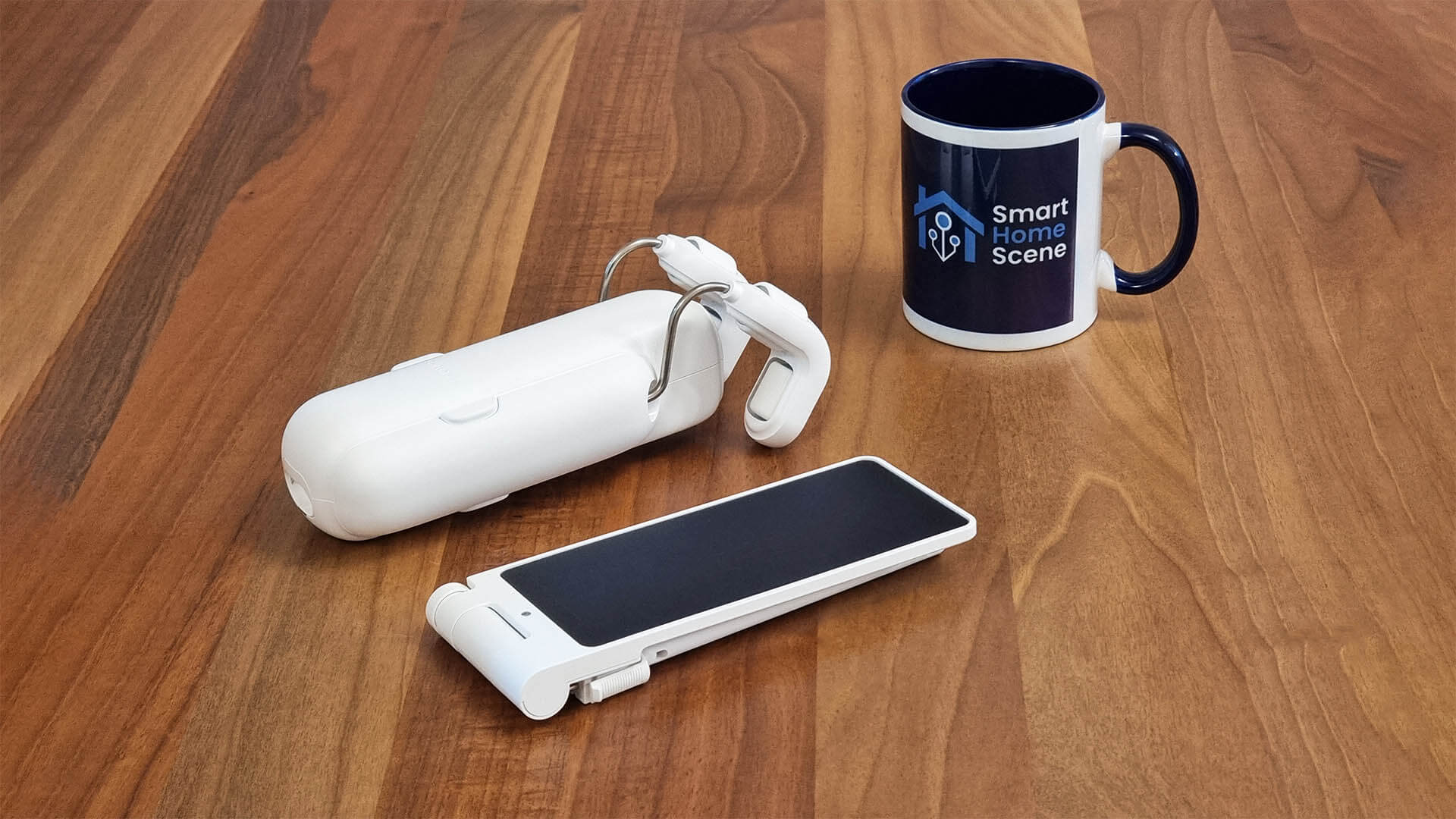 In this article I'm dismantling the SwitchBot Curtain 3 to get a sense of it's build quality and install and test the device on a curtain rod in my home. You can get the Curtain 3 on SwitchBot's Official Webstore or Amazon, use code XMHOSCENE for an additional 10% discount! See the end of this article for the best combo deals.
Technical Specification
Model: SwitchBot Curtain 3 (Rod) W2400000
Material: ABS + PC (Anti UV, Fire Resistance V-0)
Battery: Lithium-ion 18650, 3350mAh
Battery Life: 8 Months
Input Type: DC 5V1A, Adapter USB-C or Solar Panel
Dimensions: 42x51x173mm
Connectivity: Bluetooth 5.0
Strength: Curtains of up to 15kg
Max Runway: 3m
Max Rod Size: 15-40mm diameter, 47-125mm circumference
Noise Level: 42dB in Normal Mode, 25dB in QuietDrift™️ Mode
SwitchBot Curtain 3 Teardown
It wouldn't be a true SmartHomeScene review if the device isn't dismantled, no matter what kind it is. The SwitchBot Curtain Rod 3 ships in a branded box containing the main unit, a pair of hooks, beads chain, some clips, USB-C cable, magnet attachment for positioning and a user manual.
You might get a little overwhelmed when looking at all the things inside the box, but it's actually really simple to install. If you get the solar panel too, it's even simpler as you do not need to charge the device with an USB-C cable.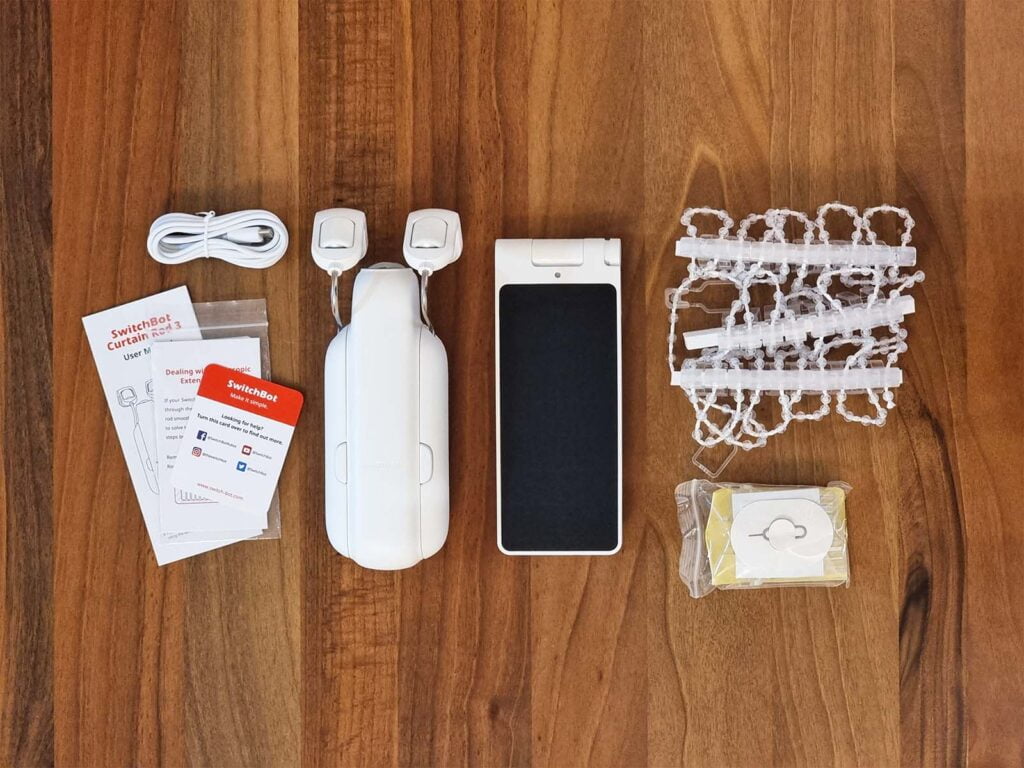 The solar panel can supply unlimited power to the Curtain 3 according to SwitchBot, as long as it gets 3 hours of sunlight per day. It's attached permanently with a clip via USB-C and hangs behind your drapes facing the window. The Curtain 3 bot carries the solar panel whenever it moves, keeping the battery charged at all times.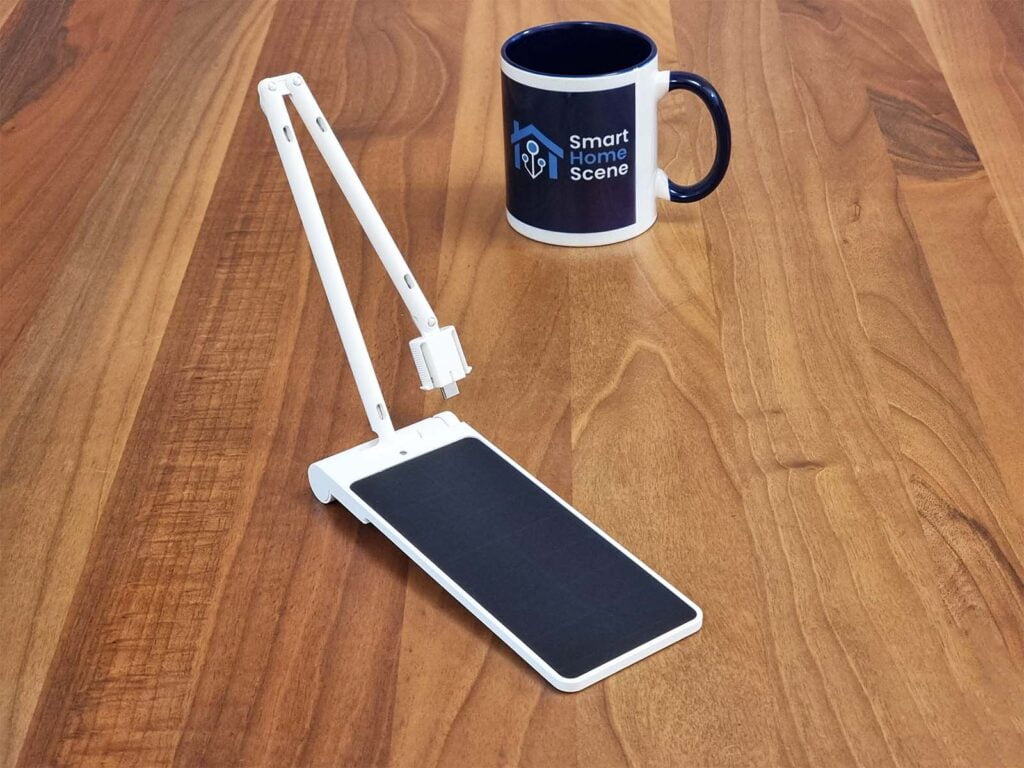 The cable of the panel goes through a plastic tube which swivels on three places for flexibility. This prevents the cable from damage while hanging from the curtain bot. You can skip the solar panel if you want too, the battery should last about 8 months on a single charge (open and close once a day) but I highly suggest you get it too because it's relatively inexpensive.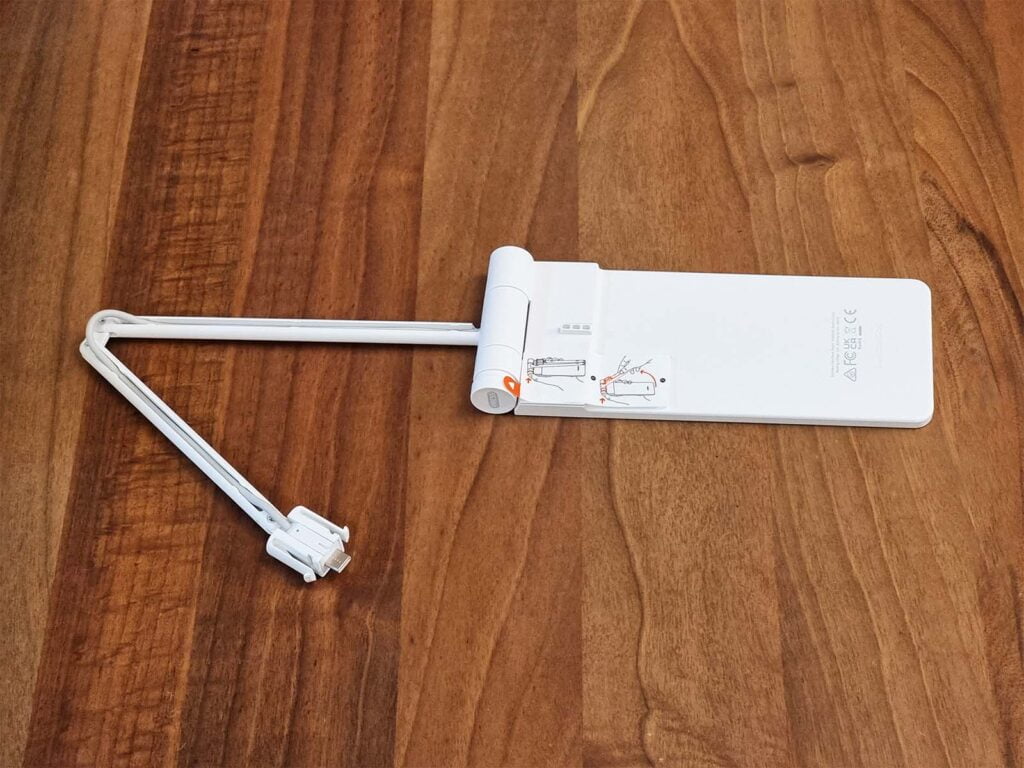 The two rod hooks can be detached from the main unit of the Curtain 3. This is because SwitchBot has three different models of hooks for the Curtain 3: Rod, U-Rail and I-Rail which can be changed if needed. They attach by pressing the side clip buttons with your finger and only go in one way, so you can't mess them up.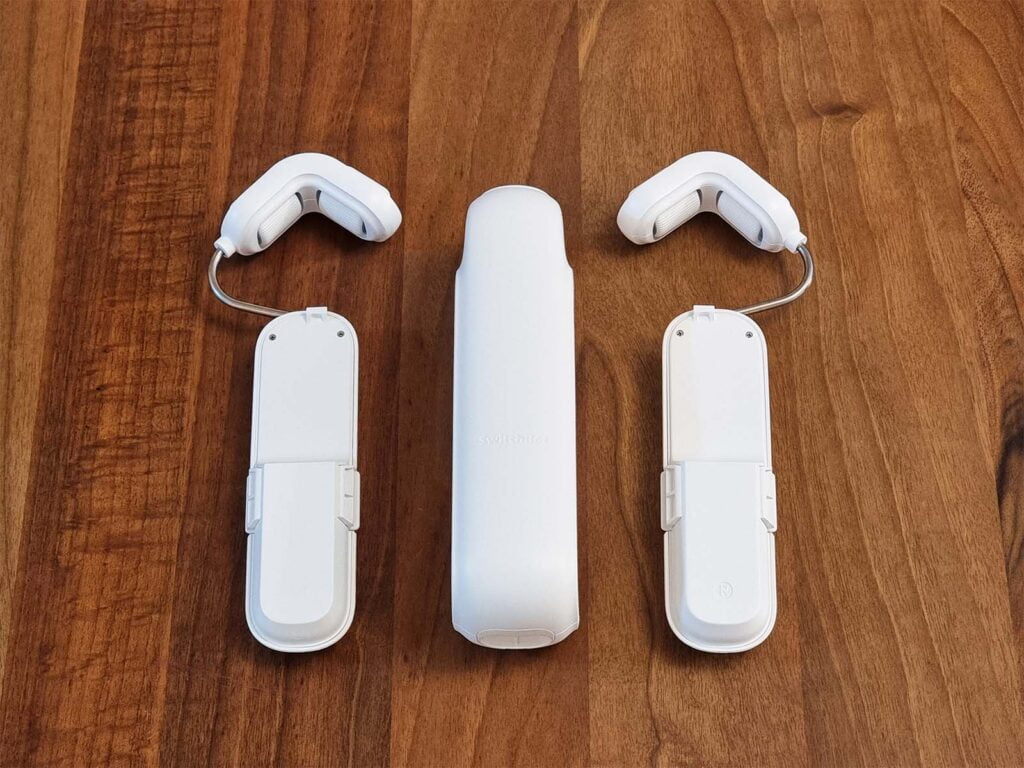 Opening up the main unit was not difficult as it's held together by 4 screws, 2 of which are hidden under the specs sticker. The device is powered by a Lithium-ion 18650 battery with a capacity of 3350mAh, attached to the main PCB with a 2-pin JST connector, It can be easily replaced if needed.
The rubber roller which actually moves along the rod has a claimed lifespan of 10 years according to SwitchBot, moving approximately 22.000 meters in total (6 meters daily). It's rotated by the last gear in the chain, which slots perfectly inside the rubber roller plastic cap.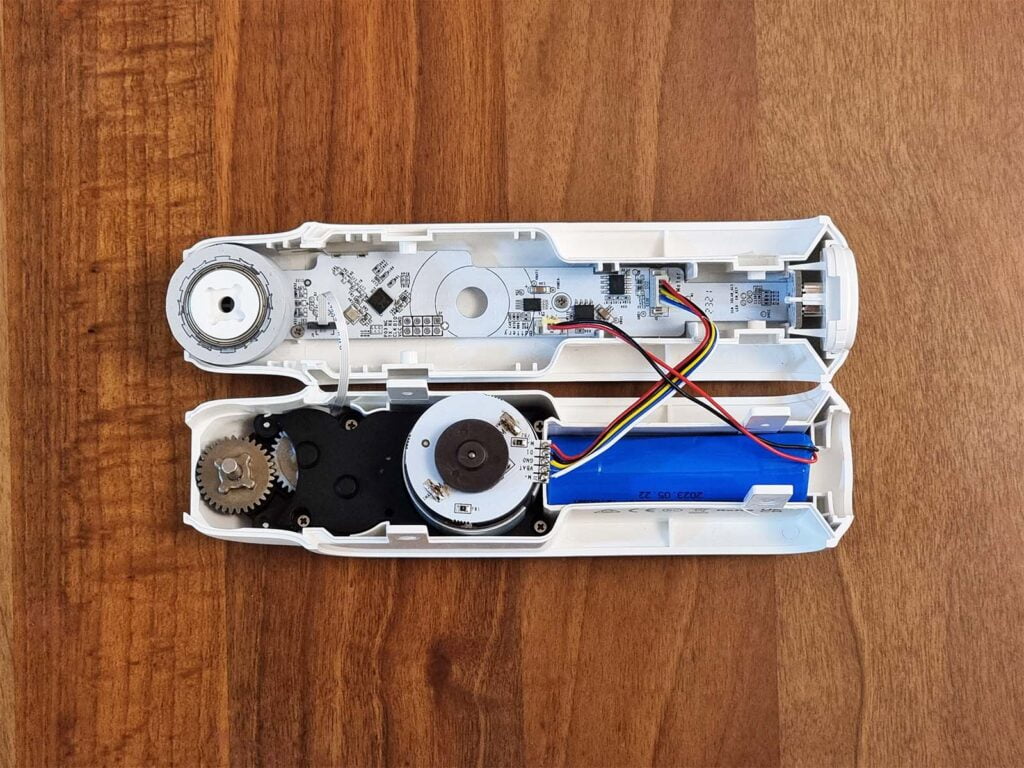 Bluetooth connectivity is handled through the BM-8762CMF Bluetooth 5.0 BLE Module [Datasheet] manufactured by CC&C Technologies in China, which is based on the Realtek RTL8762C [Datasheet] Bluetooth low-energy SoC.
These modules are capable of creating a BLE mesh within the SwitchBot ecosystem and are found across their range of smart devices such as the Blind Tilt and Meter Plus.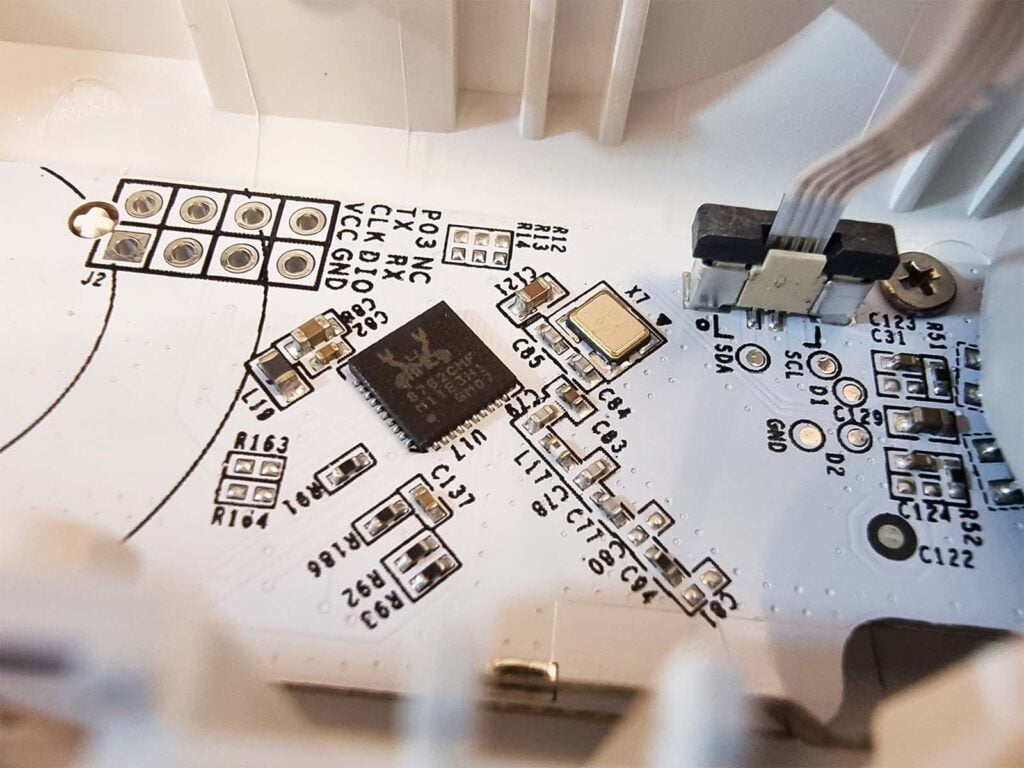 The SwitchBot Curtain 3 is powered by a encoder motor operating at 3V, labelled PR-520SV. SwitchBot claims a life span of over 10 years on the motor, tested at standard room temperature and humidity conditions. It's suppose to greatly exceed the lifespan of the rubber roller.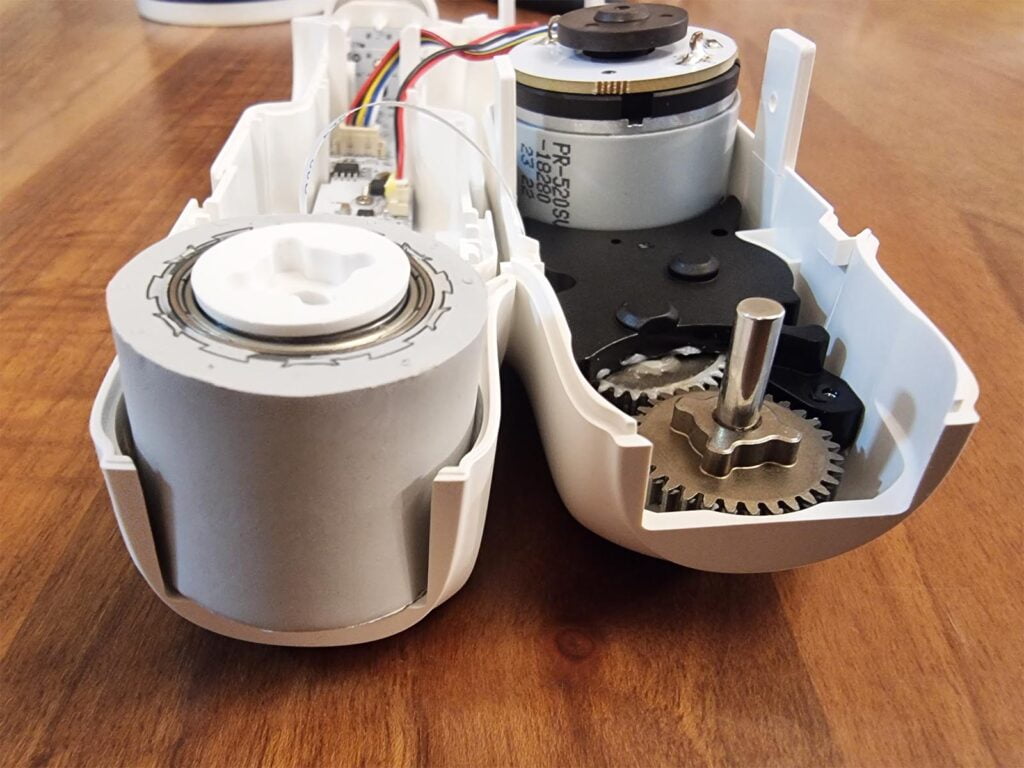 The DC motor and each of the gears are installed in a plastic enclosure which is one of the main reasons the Curtain 3 is so quiet, even in Normal mode. Beside a couple of screws, this piece is sealed shut with some kind of glue, significantly lowering the noise level the motor and gears produce.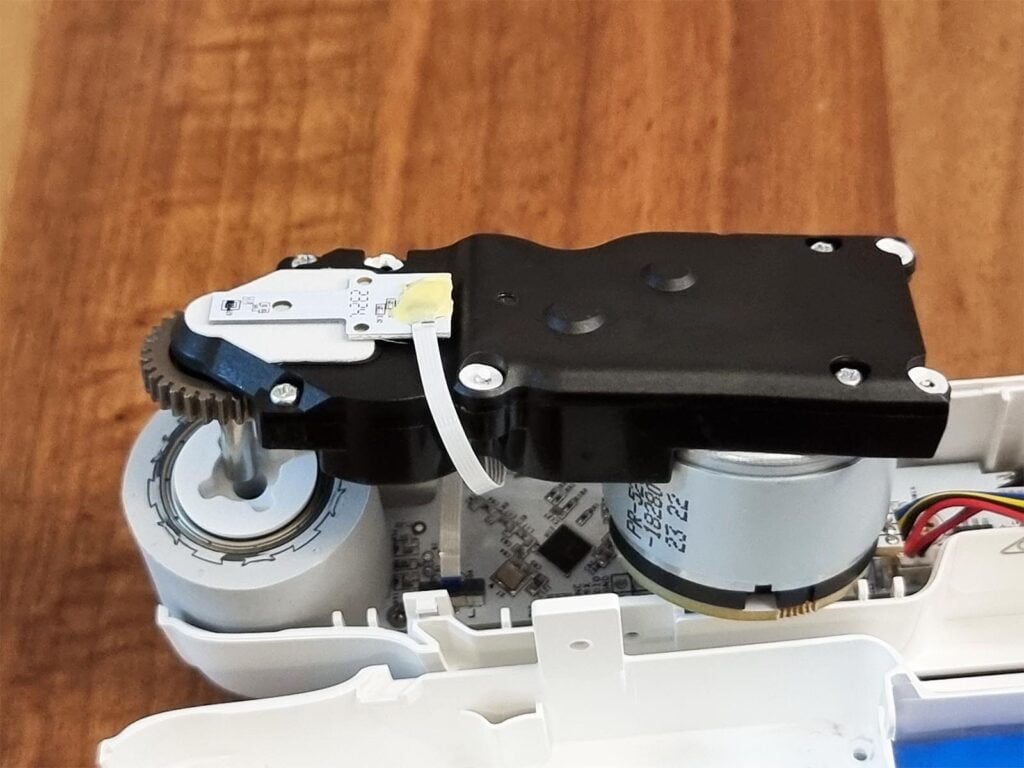 Opening up the plastic enclosure was a bit of a challenge, I was afraid of messing up the layout but curiosity got the better of me. There are a total of 6 gears which the DC motor turns, with two plastic spur gears in the middle. They are all oiled up to reduce friction/noise and increase their lifespan.
SwitchBot claims these will outlive the other components, noting that the rubber roller will need to be replaced after 10 years. This is such a long period to even think about, let alone worry about the curtain roller.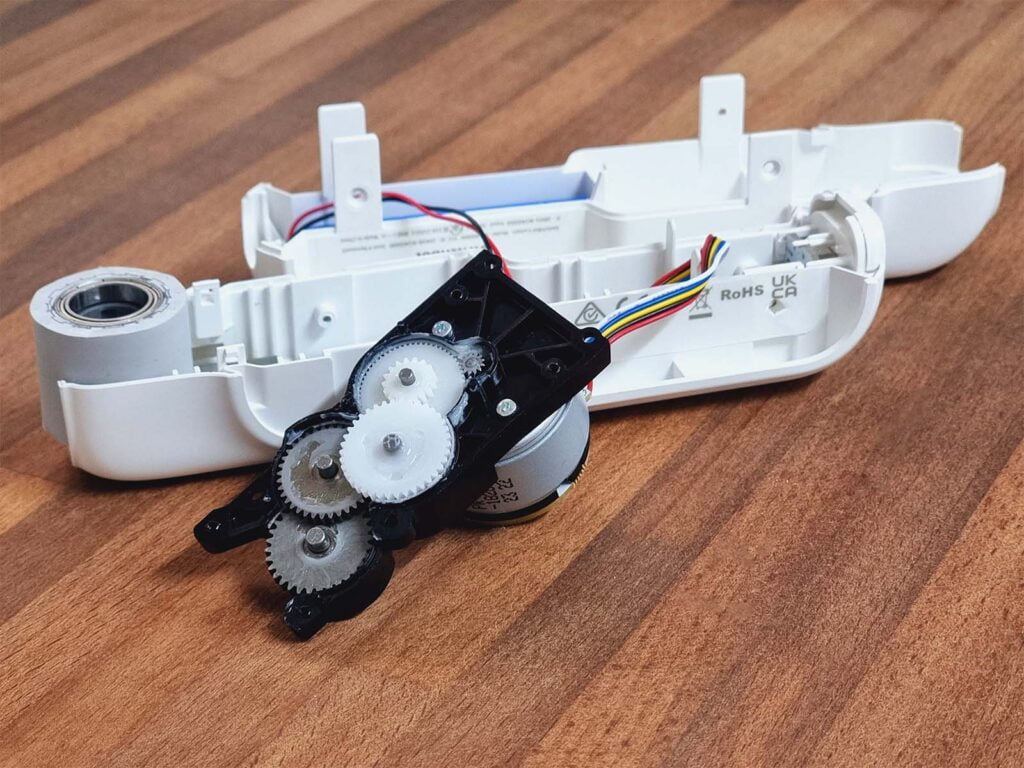 Installation
Once I assembled the SwitchBot Curtain 3 back again, I decided to install it on my bedroom curtain rod. I have grommet curtains installed in this room, so attaching the bot was easy. Depending on your curtain type, the user manual and app tell you the best way to install the device: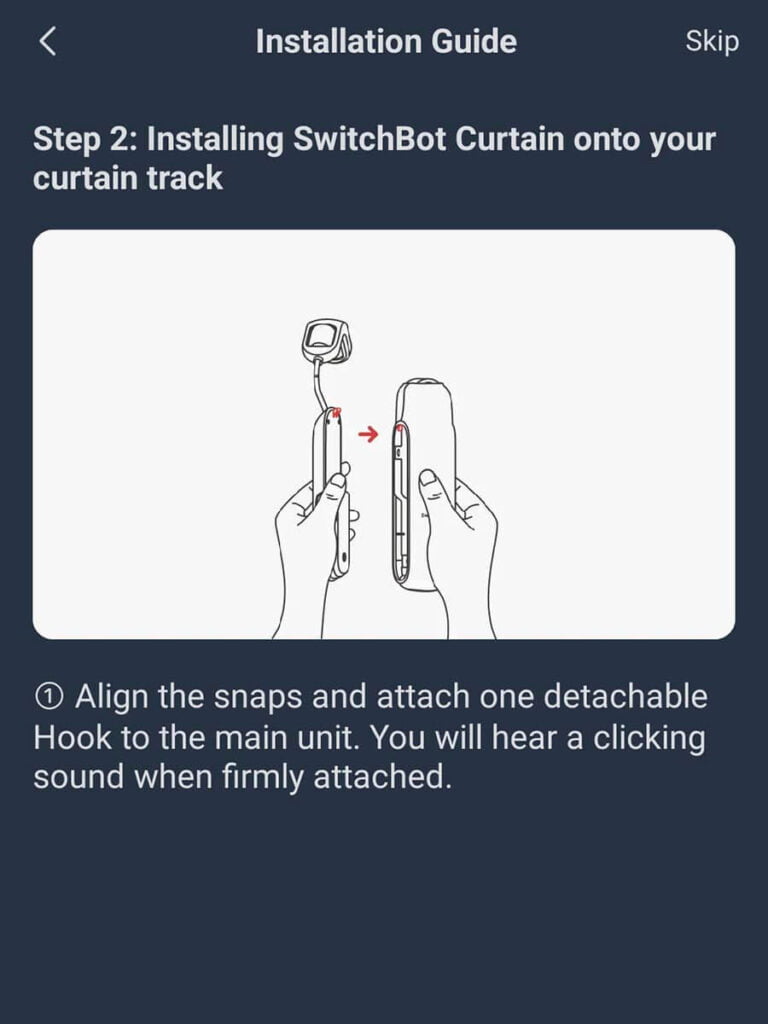 The above images show an example for installing the bot on ring top curtains. The method is similar for any kind of curtains, the side hooks are spring loaded so all you have to do is pull them down and clip them onto the rod. My curtain rod is fairly thin (around 18mm), but the Curtain 3 was able to grip it firmly.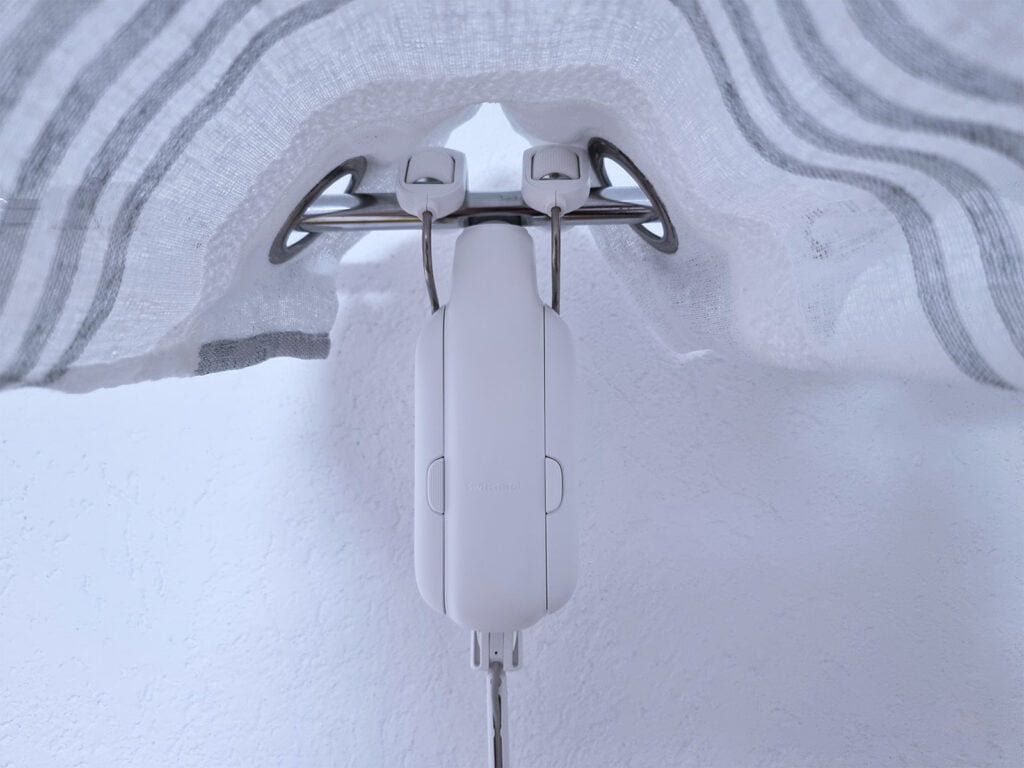 Before I hooked the Curtain 3, I also attached the solar panel and let it hang down behind the curtain. This window is facing south without visual obstacles, so it will keep the Curtain bot charged at all times. Here's how it looks like behind my semi-transparent drapes, you can barely notice the device: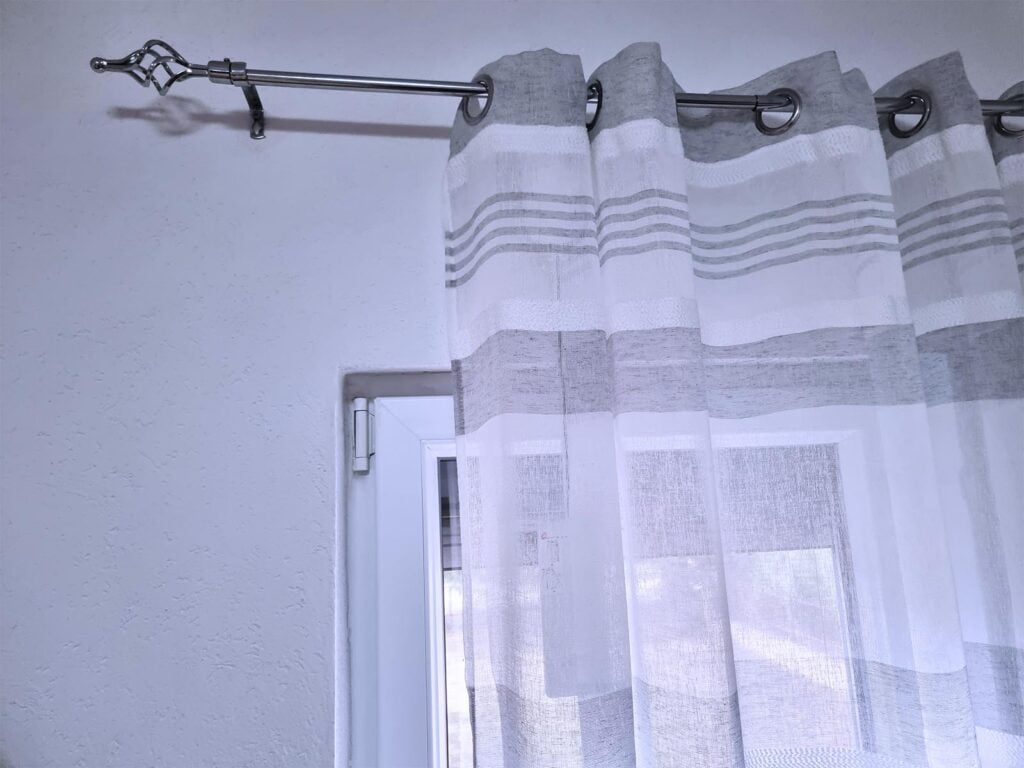 Once I started moving the Curtain bot with the app, I realized I had a problem. My rod is telescopic, meaning it is assembled by two separate pieces, one going inside the other. This creates a bump which the Curtain bot cannot go over and it indeed got stuck.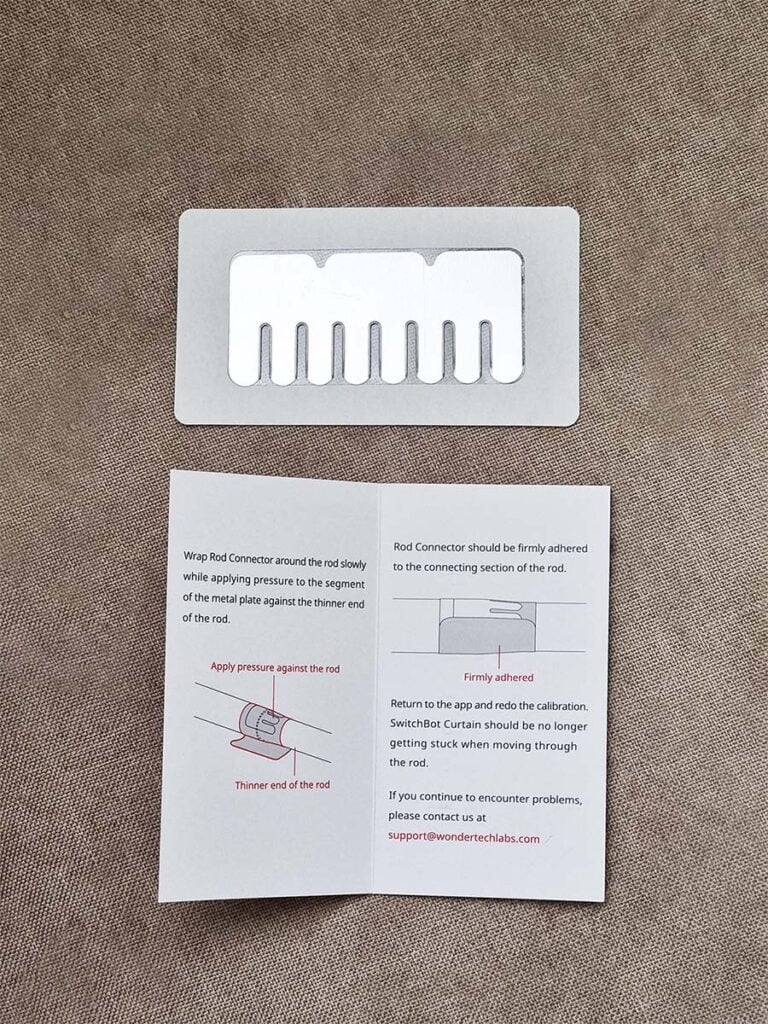 My first instinct was to try and even out the joining area with some duct tape, but then I discovered a small piece of kit SwitchBot included in the package called Rod Connector.
The connector is made from thick aluminum and shaped like a comb, all wrapped in adhesive tape. This solves the problem for telescopic connecting rods, and enables the bot to move over the connection point.
I just wrapped it around the rod with the comb facing the thinner piece and evened out the sticky tape.
Once I fixed the rod, I needed to recalibrate the bot since my first attempt failed when the device got stuck at the connection point. This time I also added the included magnet attachment, which helps the bot run the curtain precisely to your desired points during operation.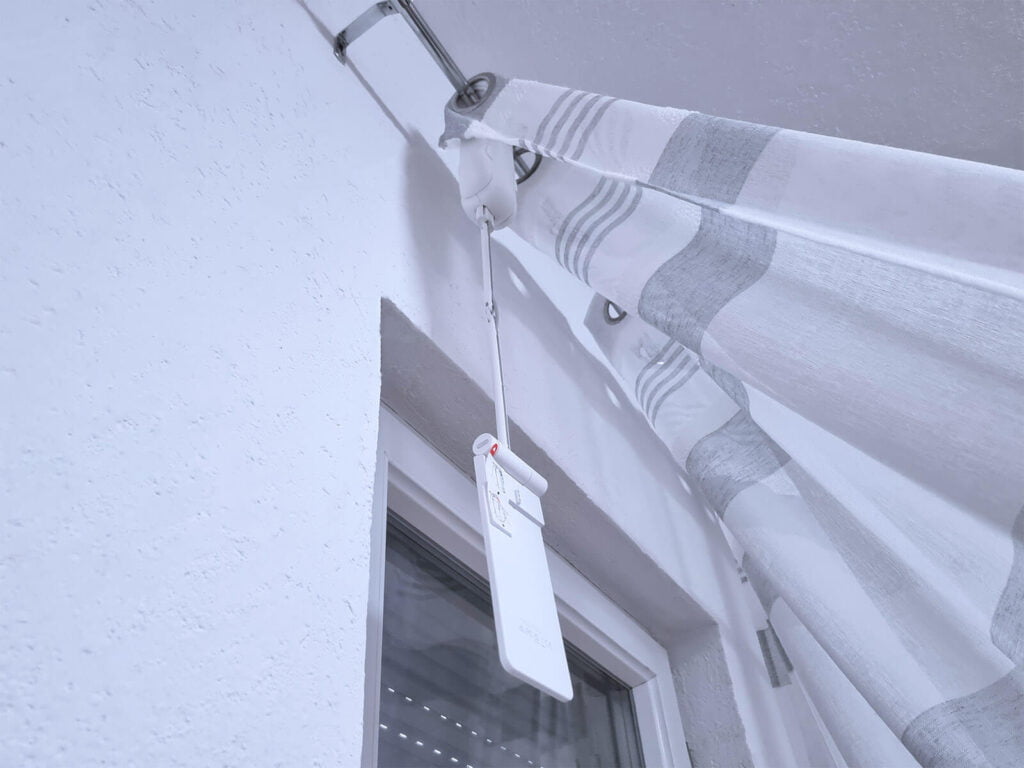 The installation is super easy and took me maybe 5minutes, including wrapping the connector rod. The included beads fixer can be used to even out the distance between the ring in grommet curtains. I did not do this, since the bot operated without them just fine.
If you have tab top or back tab curtains, you will need to use the included clips for a firm grip on your curtains. The user manual is very detailed in explaining how this is done so you can do it properly.
SwitchBot App Integration
Before the SwitchBot Curtain 3 can be used, it needs to be added to the app and calibrated. The app guides you through the process step by step, everything is visually explained to you and instructions are easy to follow. Once the device is added, you can slide the curtain in the app to open/close.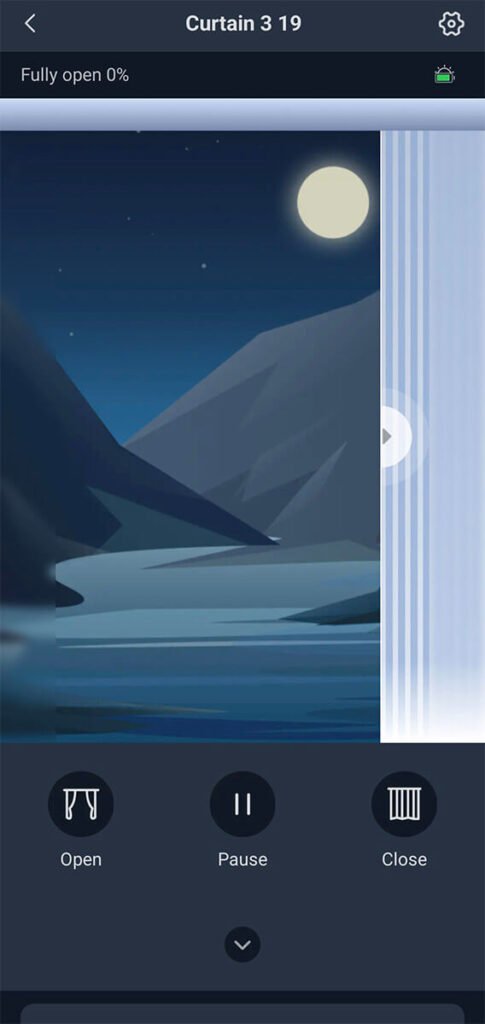 There are some interesting settings in the app for configuring the SwitchBot Curtain 3. For example, the device can operate in two operation modes producing different noise levels and consuming battery:
Normal Mode

Measured noise level is 42dB
Saves Battery
Moves at normal speed

QuietDrift™️ Mode

Measured noise level is 25dB
Consumes more Battery
Moves significantly slower (about 1meter/1.5minutes)
The QuietDrift mode is extremely quiet at the price of battery life and speed. It's hard to actually put a noise level to it, you basically hear nothing! The drape rings moving and creating noise is what you will hear, not the SwitchBot Curtain 3. This mode is great for opening the curtains in the morning when you are asleep.
Another interesting feature that you can turn on/off in the app is the Touch & Go setting which is basically a manual switch. As soon as the Curtain 3 senses you've pulled the drapes for over 5cm, it will automatically open or close them depending on the current position.
Home Assistant Integration
The SwitchBot Curtain 3 is currently not officially supported in the official integration. However, some awesome people in the community forums managed to create a working python library and add the Curtain 3 in Home Assistant. Please note, you need Bluetooth or Bluetooth Proxy enabled to use this:
Make sure Advanced Mode is enabled in Home Assistant
Navigate to Settings > Add-ons > Add-on Store
Click the three dots in the corner and select Repositories
Add the following repo: https://github.com/home-assistant/addons-development
Install the Custom deps deployment add-on

Click the Configuration tab, three dots and click Edit in YAML
Paste the following
pypi:


  

-

 

git+https://github.com/the-ress/pySwitchbot.git@curtain3




apk:

 

[]




Code language:

 

YAML

 

(

yaml

)
Click Save
In the Info tab, toggle Start on Boot and click Start
Restart Home Assistant
Once Home Assistant has booted back up, the Curtain 3 will get auto-discovered provided it's powered on. Click Configure, confirm with Submit, and click Done. You can now control the SwitchBot Curtain 3 in Home Assistant.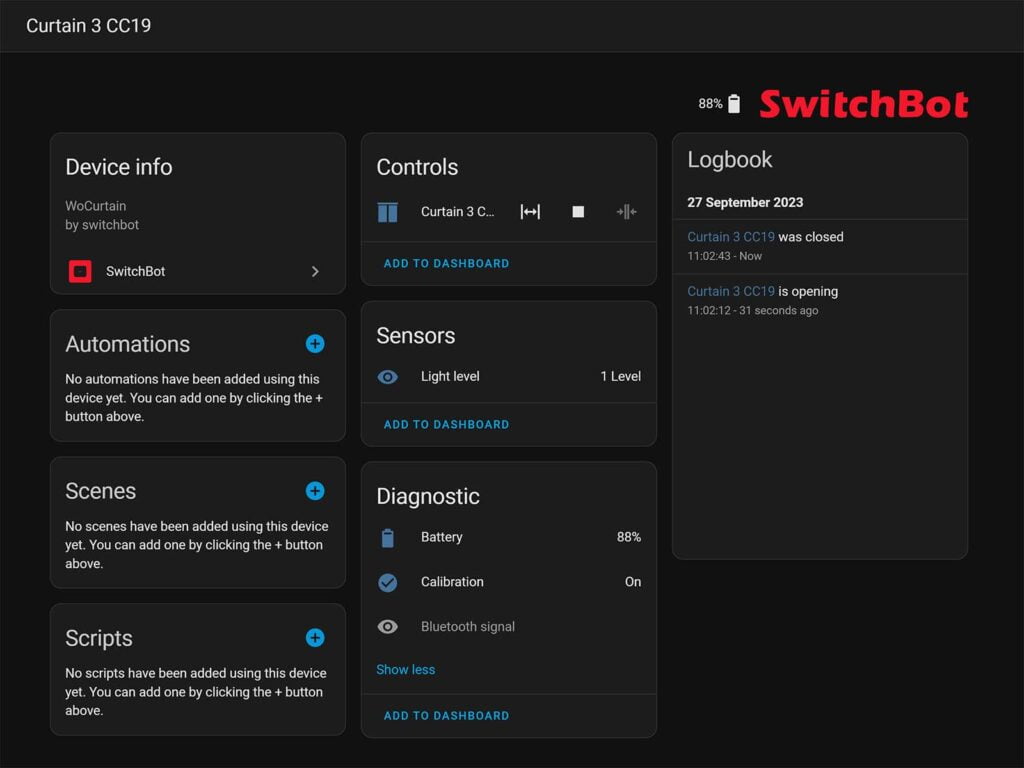 If you own the SwitchBot Matter Hub 2, you can also add the Curtain 3 in Home Assistant by exposing the device in the app. This adds more connections points and produces more issues than it solves, considering everything is in Beta right now. I suggest you use the method above or wait for official support, which will be coming in one of the next Home Assistant updates.
Summary
The SwitchBot Curtain 3 is the quietest curtain motor out there, without a doubt. The trademarked QuietDrift mode produces virtually no noise at the expense of battery life and speed. Depending on your windows, you can simply get the solar panel combo and not worry about battery ever again.
Connectivity was not an issue for me, but It's important to note I work diligently to eliminate interference between Bluetooth, Zigbee and Wi-Fi. I use Bluetooth proxies with cheap ESP32 boards to create a better connection and integrate Bluetooth devices in Home Assistant.
Like other SwitchBot products I've tested, the Curtain 3 is built really well and feels like a premium device. It's certainly a significant improvement over the Curtain 2, but if you already own the previous generation of SwitchBot curtain motors I do not feel it's necessary to upgrade.
I have various types of blinds and curtains in my home, the most common being beaded chain roller curtains (controlled with Aqara E1). Now I'm thinking I should switch to drapes and use the SwitchBot Curtain 3 everywhere instead. It's so quiet!
If you are currently looking for curtain controllers, than there is no better choice than the Curtain 3 at the moment. See bellow for some deals and exclusive discount code.
Curtain 3 Deals
SwitchBot is running a sale currently in various online stores, here's how to get the most of it depending on your location.
United States:

Starts/Ends on 31.09.2023 (One day sale!)
15% off + 10% with code XMHOSCENE
Valid for Webstore and Amazon US

United Kingdom, Germany, Netherlands, Italy:

Ends on 29.09.2023
15% off + 10% with code XMHOSCENE
Valid for Webstore and Amazon UK/DE/NL/IT

Code Duration and Validity:

Valid from 25.08.2023 to 30.11.2023
Valid for Webstore and Amazon US/UK/DE/NL/IT
SwitchBot Curtain 3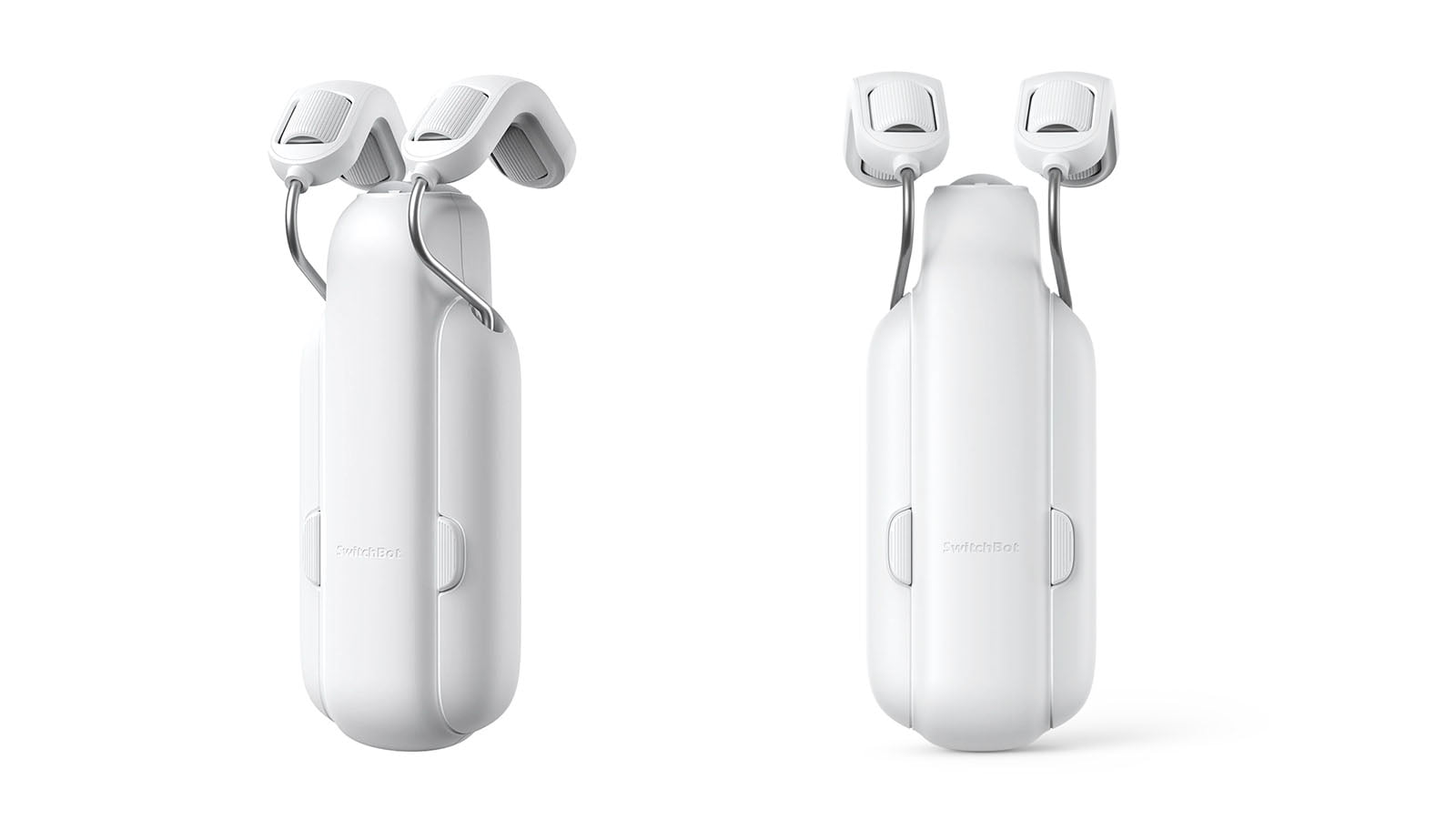 Exclusive Code: XMHOSCENE for 10% OFF

SWITCHBOT OFFICIAL STORE
Curtain 3 | Curtain 3 Solar Combo
Dual Curtain 3 Solar Matter Combo




United States | Canada | United Kingdom
Germany | Netherlands | Sweden | Spain
France | Italy | Poland | Australia

*If links fail to open, try disabling your AdBlocker.
FULL DISCLOSURE: The SwitchBot Curtain 3 was shipped to SmartHomeScene as part of a free testing package for the purpose of a review. This does not affect, sway or influence my opinion of their products and will be just my honest review as usual.