---
In an effort to find the best $10-$30 Zigbee climate sensor with a screen, I've been getting random devices from AliExpress for the past 2-3 months.
Some of these devices come with additional features, like a clock, alarm, temperature & humidity alarms, backlight or motion detection. These are considered a plus in my tests but not crucial when testing their primary purpose.
I came across this weirdly shaped blue colored model with a backlight, meant to go on your night stand and decided to test it. This sensor is sold for $19 on AliExpress and not available on Amazon.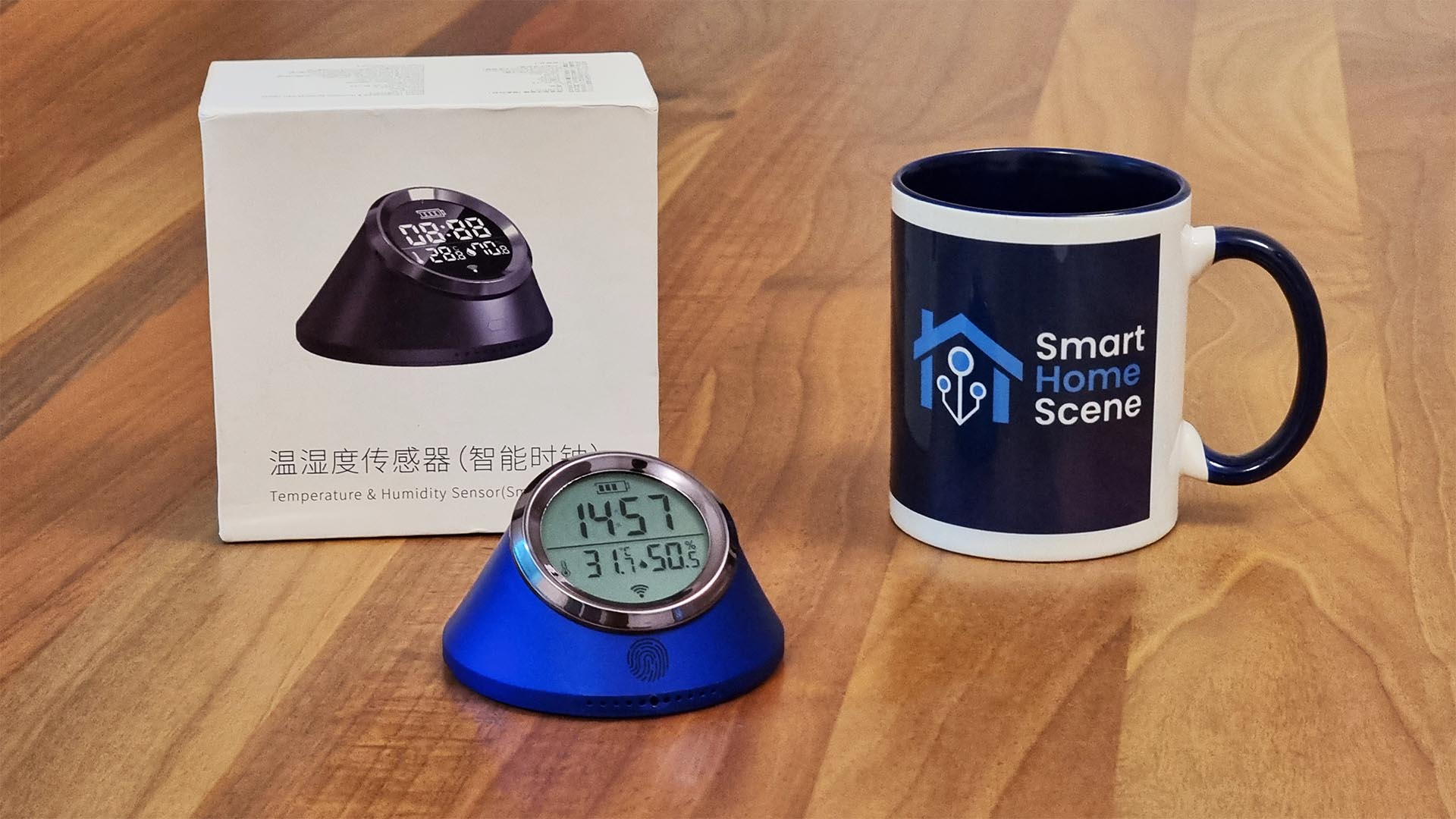 I highly suggest you read this and the other reviews before you decide to get one. Here's a list of every model I've tested so far:
Technical Specification
Device Model: YHZBTHP-1
Interface: Typе-C
Input Current: DC 5V-1A
Wireless protocol: Zigbee
Battery Capacity: 500mAh
Battery Life: 12 months
Charging Time: 2 hours
Temperature Accuracy: ±1°C
Humidity Accuracy: ±5% RH
Operating Temperature: -10°C-55°C
Operating Humidity: 0%-95%RH (non-condensing)
Product Size: 84.7mm*84.7mm*50.7mm
Product Weight: 55g
Teardown
This Tuya Climate Sensor YHZBTHP-1 ships in a box better than most, it's quite large and cushioned. Besides the sensor itself, there is a user manual and a USB-C cable in the package. The cable was stained with some kind of blue ink, I have no idea what that was? Just AliExpress things I guess.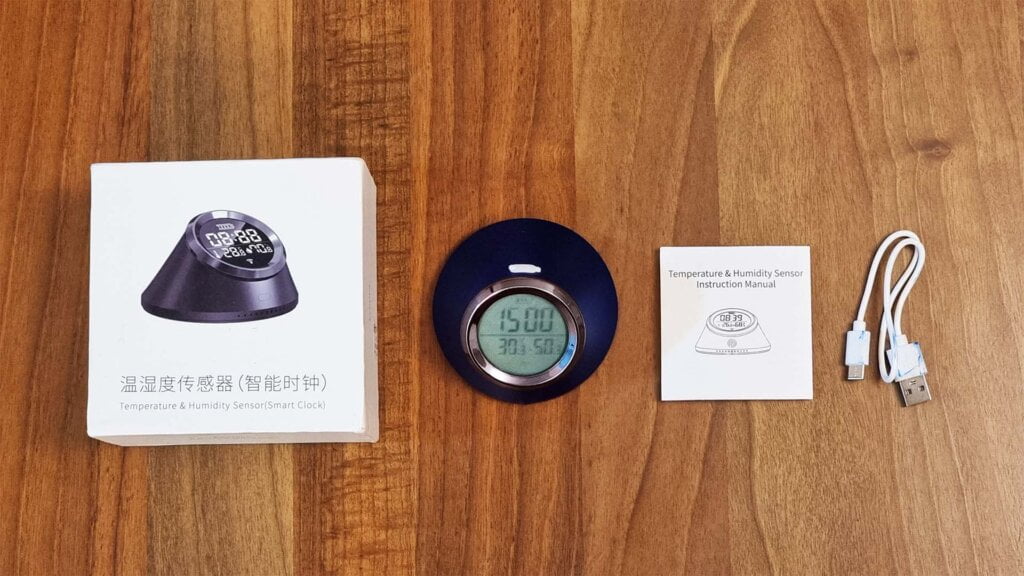 The device itself has a weird shape, like a piece of goo splattered on your nightstand with a screen. Viewing angles are mediocre at best, the backlight is not doing it any favors too. I actually prefer the look on the screen contents without the backlight, be the judge yourself: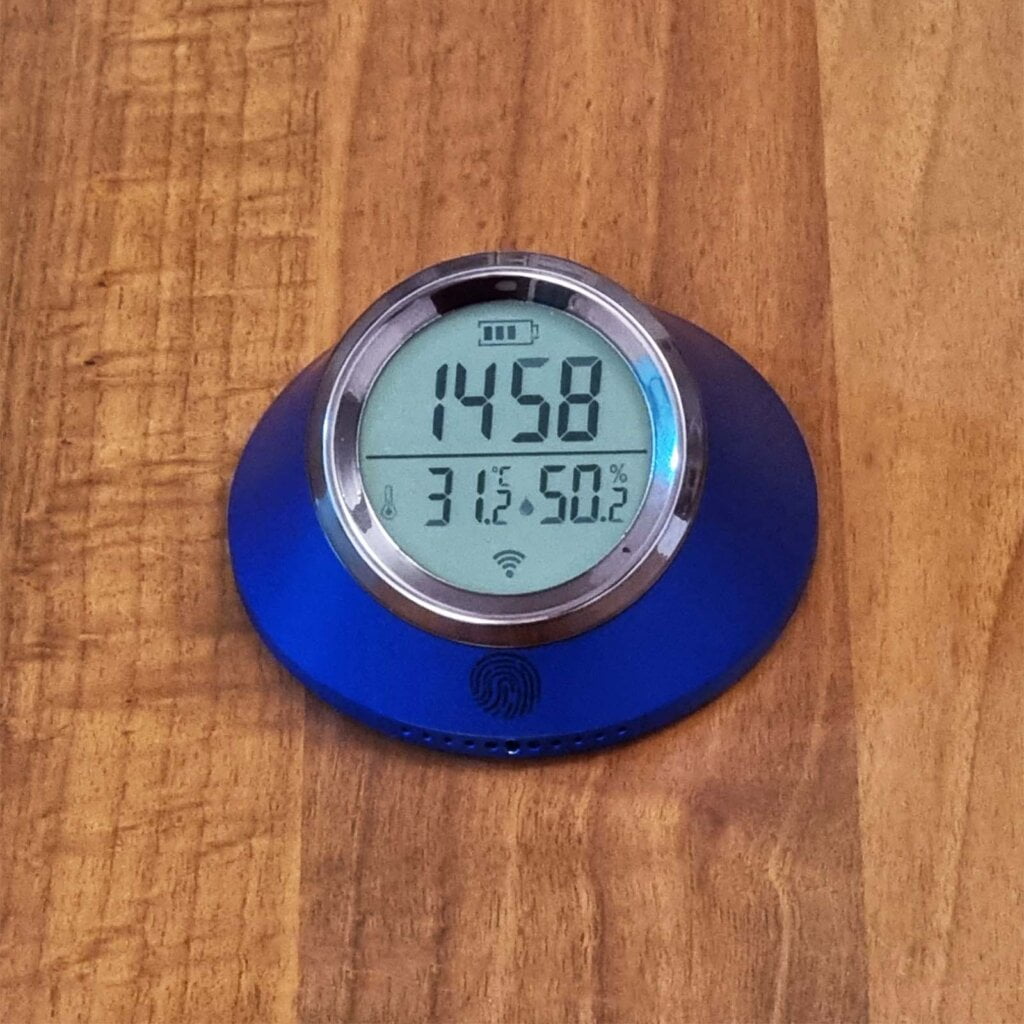 Opening up the device, reveals the rechargeable battery which powers the sensor, a 400mAh Li-Ion battery model 302040 at 3.7V. It can be easily replaced if needed, these are fairly cheap on Amazon.
Another thing that this device has going for it is the USB-C port instead of the more common MicroUSB.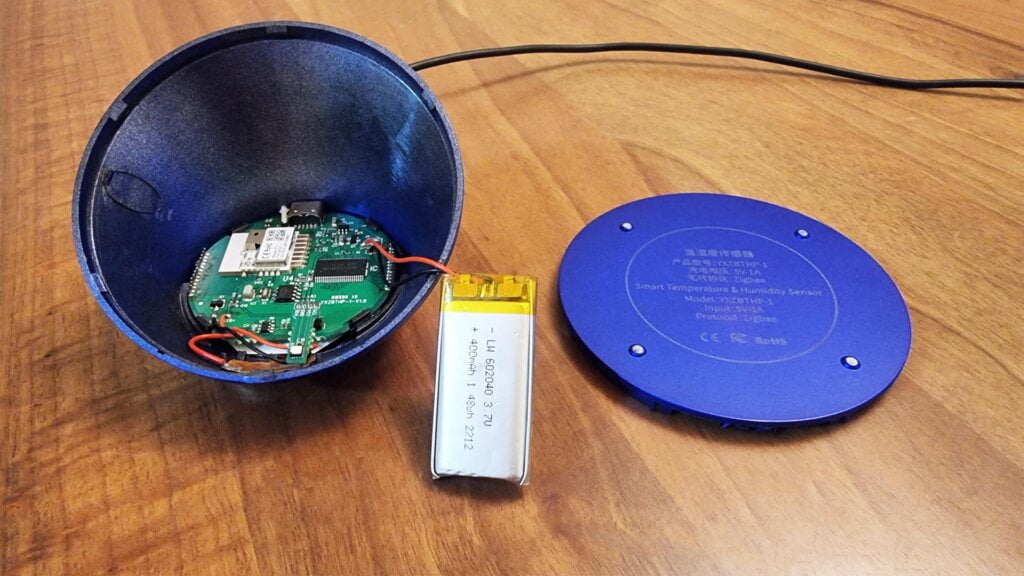 Communication is handled through the well known Tuya ZTU [Datasheet], a low-power 32-bit CPU, 1024-KB flash and 64-KB RAM embedded module. This chip is very common for devices of this type, also found in the SZ-T04 and JM-TRH-ZGB-V1 climate sensors.
Temperature and humidity readings are measured through the Sensirion SHTC3 [Datasheet], which is a well known Swiss brand producing these types of sensors.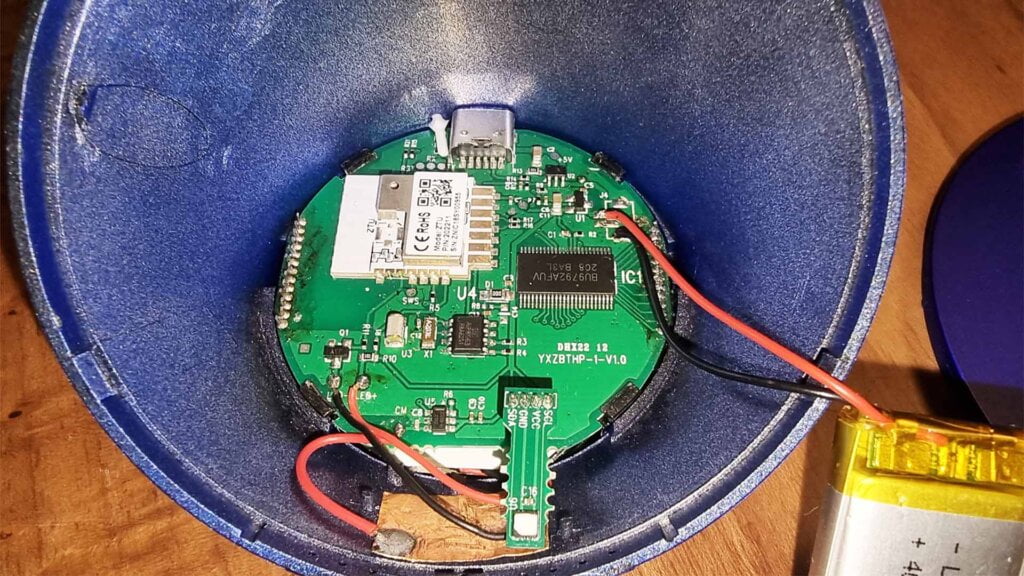 Home Assistant Integration
This Tuya Climate Sensor model YHZBTHP-1 with identifier _TZ3000_3xduwekl is supported in Zigbee2MQTT but not ZHA. Even though it pairs in ZHA, no payload is pushed and custom quirk will be needed. To pair it, press the touch button on the front 10 times until the screen starts blinking fast.
Zigbee2MQTT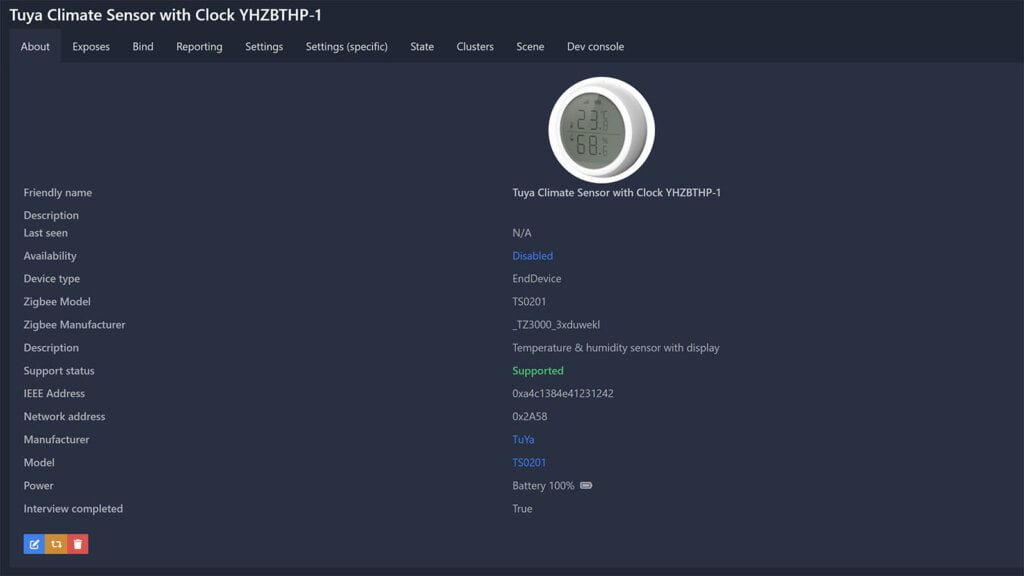 Once the device is paired to your coordinator in Zigbee2MQTT, it is identified as Model TS0201 and Zigbee Manufacturer _TZ3000_3xduwekl. An external converter is recycled from a more common temperature sensor sold by Blitzwolf, but all the features are present and operational.
Even though this climate sensor can be powered by USB-C, it still labelled as an EndDevice incapable or relaying Zigbee traffic since it's meant to spend its life on battery power. It exposed the following entities in Home Assistant through Zigbee2MQTT:

The calibration menu is also present and functional, you could offset the temperature and humidity measurements and set the desired decimal precision of the payloads.

ZHA
The device pairs fine in ZHA, also identified as _TZ3000_3xduwekl and an EndDevice. However, no payload is coming through to Home Assistant. Additional development of a custom quirk is needed here, out of the box it's unusable.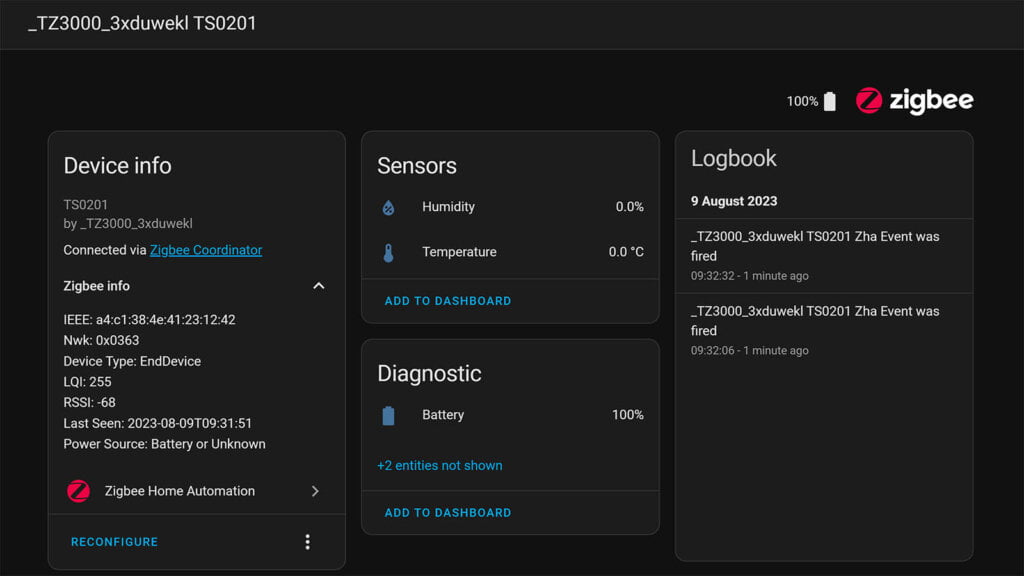 Considering the quality of the device, I would not even bother trying to develop a custom quirk for this device. See my summary at the bottom to see what I mean.
Testing
Like any other climate sensor I review, I compared measurements against a calibrated Xiaomi LYWSD02 BLE temperature and humidity sensor. Here is how testing this Tuya YHZBTHP-1 model went.
Reporting Interval

The Tuya YHZBTHP-1has incredibly high reporting interval, pushing it's payload every 15 seconds. This can create a lot of unnecessary noise, however it may be useful in some applications. You can debounce it's messages in Zigbee2MQTT > Settings > Debounce if you need to.
Temperature

The sensor was incredibly accurate and on point in reporting my living room temperature. The graph mirrored my LYWSD02 with an average offset of 0.3%, which does not warrant any kind of calibration. Since this device has a high reporting interval, it also matched the noisy Xiaomi BLE sensor, useful for building a DIY thermostat.
Humidity

Humidity measurement was a different story, the sensor's reported values were completely inaccurate. It reported an average of 5% room humidity, which was ridiculous. That's more than 40% difference than the actual room humidity.
What's weird though, the value on the screen was correct and reported accurately. This meant calibration in Zigbee2MQTT was definitely needed.
Summary
The Tuya Blue Climate Sensor with a Clock is definitely a weird device, all things considered. Someone made an effort to create an affordable climate sensor with a screen and clock, but just missed the mark.
The screen has mediocre viewing angles and average quality. Turning on the backlight with motion renders some number lines transparent, making it even worse. The backlight turns off automatically after 10 seconds, which can be useful for glancing information in the middle of the night.
The temperature accuracy was on point, matching my LYWSD02 very closely. The humidity reading on the other hand, is a complete miss and cannot be used without calibration.
The high reporting interval of the device (15sec) makes it useful for building a DIY thermostat, but it will also flood your Zigbee mesh network unless you debounce the payloads.
With all things considered, should you buy this device? No, I don't think you should. There are better alternatives out there, I suggest you take a look at the following two similar devices:
Pricing and Availability
The Tuya Blue Climate Sensor and Clock model YHZBTHP-1 is available on AliExpress but not Amazon. Here are some low-price listings:


AliExpress | AliExpress | AliExpress




United States | Canada | United Kingdom
Germany | Netherlands | Sweden | Spain
France | Italy | Poland | Australia
*If links fail to open, try disabling your AdBlocker.