---
New presence sensors models keep popping up on my AliExpress feed, so I've been getting a lot of them lately. It's a hit and miss with these device from the Tuya ecosystem, so due diligence is required in testing and benchmarking their performance.
Most of them are trash and the best way to describe them is as unfinished products. Some perform as advertised though, lately the MTG075-ZB-RL with a built-in relay, which turned out great.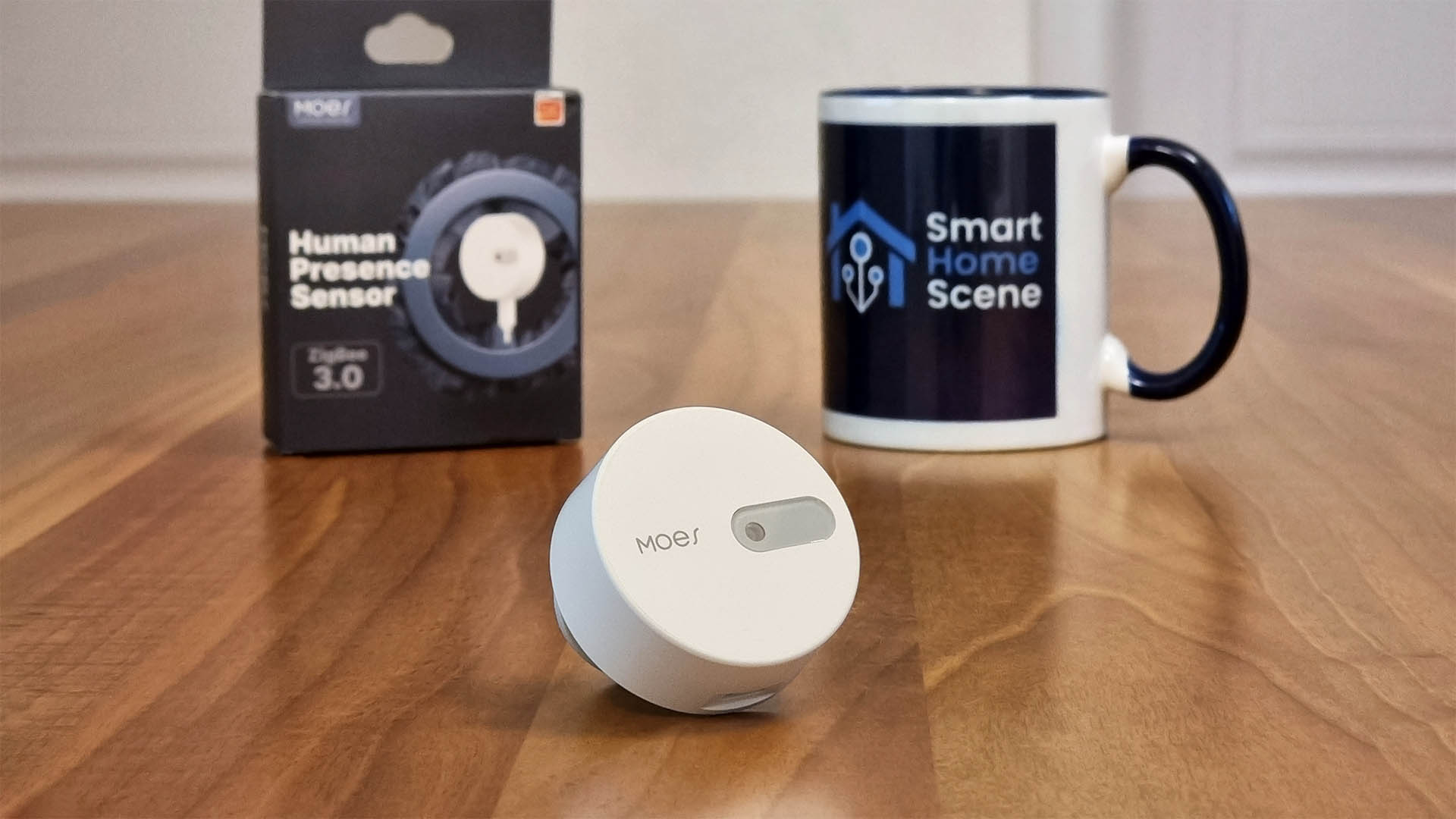 In this article, I'm testing another mmWave radar presence sensor sold and developed by Moes, model ZSS-LP-HP02, which costs a bit more than the usual Tuya presence sensors. It's available on AliExpress and Amazon, and can also be found white labelled as Linptech ES1ZZ, which is the same identical device.
Technical Specification
Model:

Moes ZSS-LP-HP02
Linptech ES1ZZ(TY)

Power Supply: 5V=1A
Power Consumption: 0.5W
Communication Protocol: ZigBee 3.0
Radar Frequency: 24GHz-24.25GHz
Light Sensitivity Range: 0-10000lux
Operating Temperature: -10°C~40°C
Operating Humidity: 0~95%RH
Teardown
The Moes ZSS-LP-HP02 Presence Sensor ships in nice branded box containing the device itself, a USB-A to USB-C cable and an installation magnet. There is no adapter in the box, you will have to supply it yourself or power the device with something else at 5V1A.
The packaging is better than generic Tuya presence sensors coming from AliExpress, feels a bit more premium, although still not up to western standards.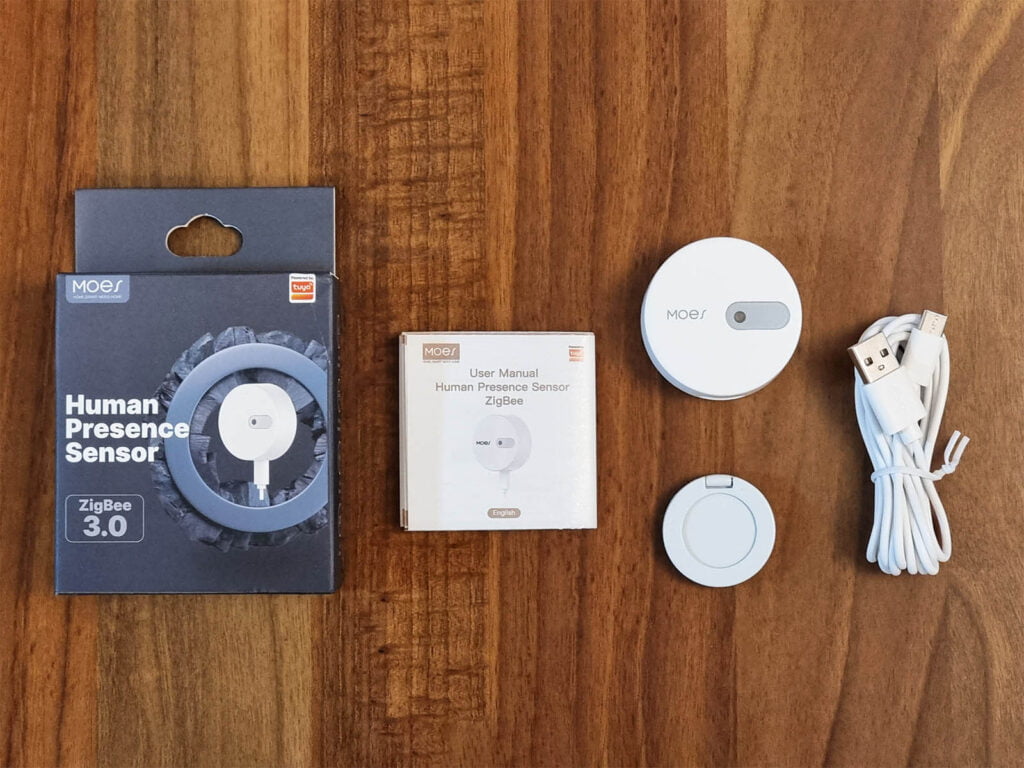 The device feels much more compact and heavier than I expected, gives off a premium and high quality vibe. There is a small hole in the middle used by the indicator LED, which blinks when presence is detected. This small gray area doubles as the pairing/reset button of the Moes ZSS-LP-HP02.

The USB-C port is placed on the bottom of the device.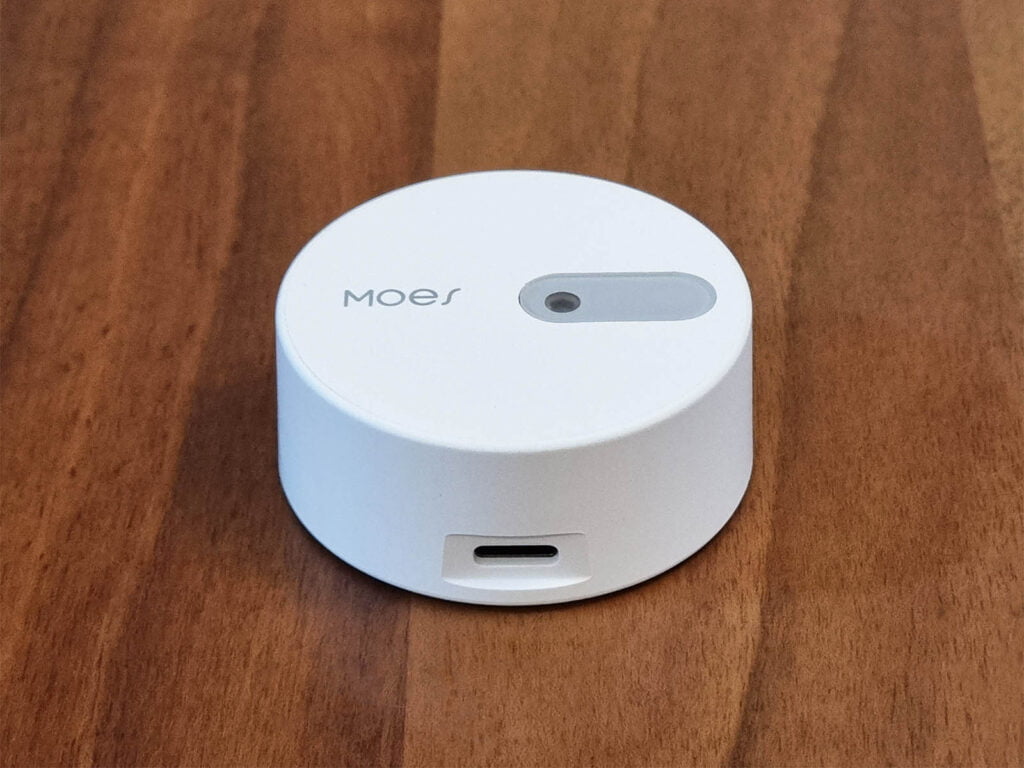 On the backside of the case, there is round rubber ring for better grip in some installation positions without a magnet. The magnet is actually placed inside the sensor, and the mounting bracket is just metal that attaches to it.
It's actually a clever design, since you can pivot and rotate the bracket anyway you like and cover all angles. One side of the metal piece has a sticker attached to it's side, which goes on your wall, bookcase, fridge, whatever. The magnet is strong enough to not allow the device to be rotated by the USB-C cable.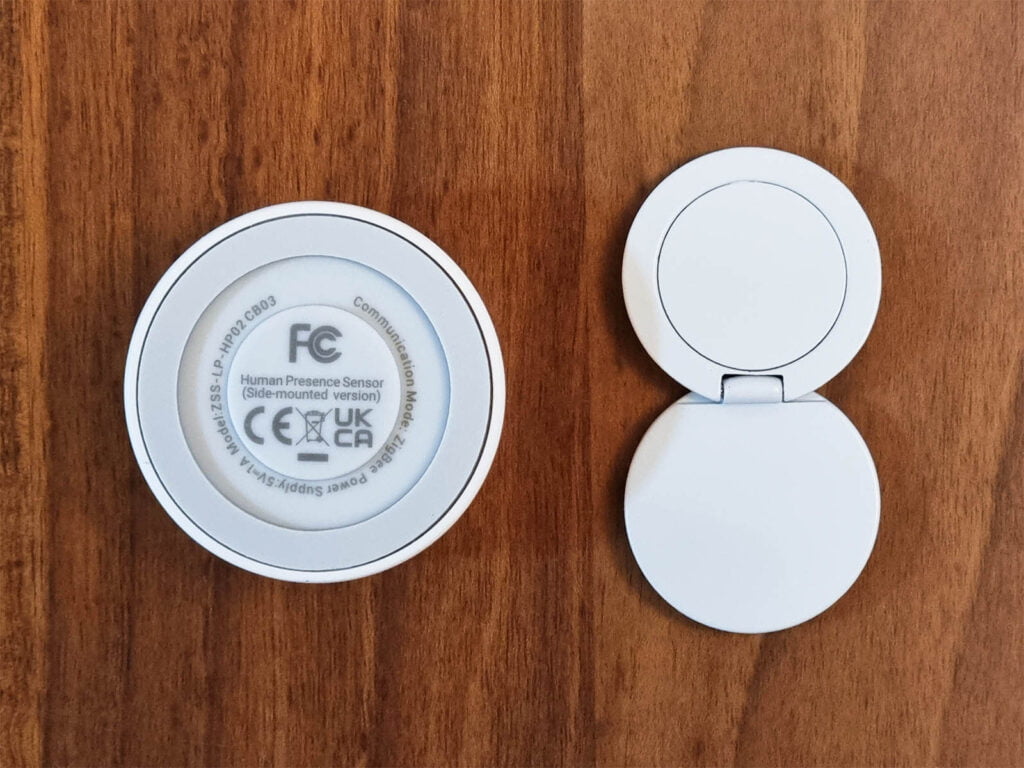 Opening up the device was easy, once I found out it was held together by 4 screws hidden under the rubber ring. The first thing I encountered on the top/face side of the PCB is the actual presence sensor, which is model Hi-Link LD2410 [Datasheet].
This sensor is well known among DIY home automation enthusiasts, being supported in ESPHome and works in Home Assistant with an ESP board. It's a highly sensitive 24GHz mMWave Radar Module for continuous presence detection, meant for indoor use.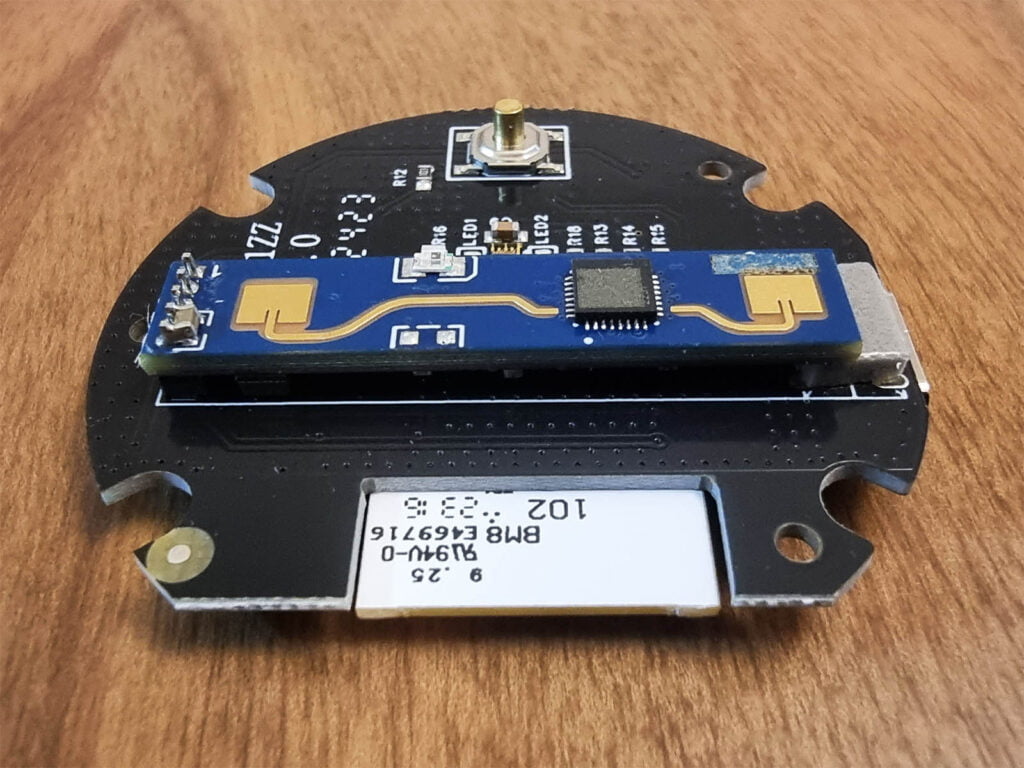 The connectivity module used in the Moes ZSS-LP-HP02 Presence Sensor is the Tuya ZS3L [Datasheet] embedded with a 32-bit low-power Arm Cortex-M33 core, 768-KB flash memory and 64-KB RAM, which is based on a latest gen EFR32MG21 [Datasheet] SoC by Silicon Labs.
This is a well known communication chip, used in a bunch of devices I've tested like the Tuya Zigbee IR Blaster ZS06, Tuya Zigbee Single Clamp Energy Meter PJ-MGW1203 and the popular Tuya Zigbee ZY-M100 Presence Sensor. Most recently though, I found it powering the Tuya Zigbee Presense Sensor with a Relay MTG075-ZB-RL, which makes the module a great pick for devices constantly transmitting their payload, like presence sensors.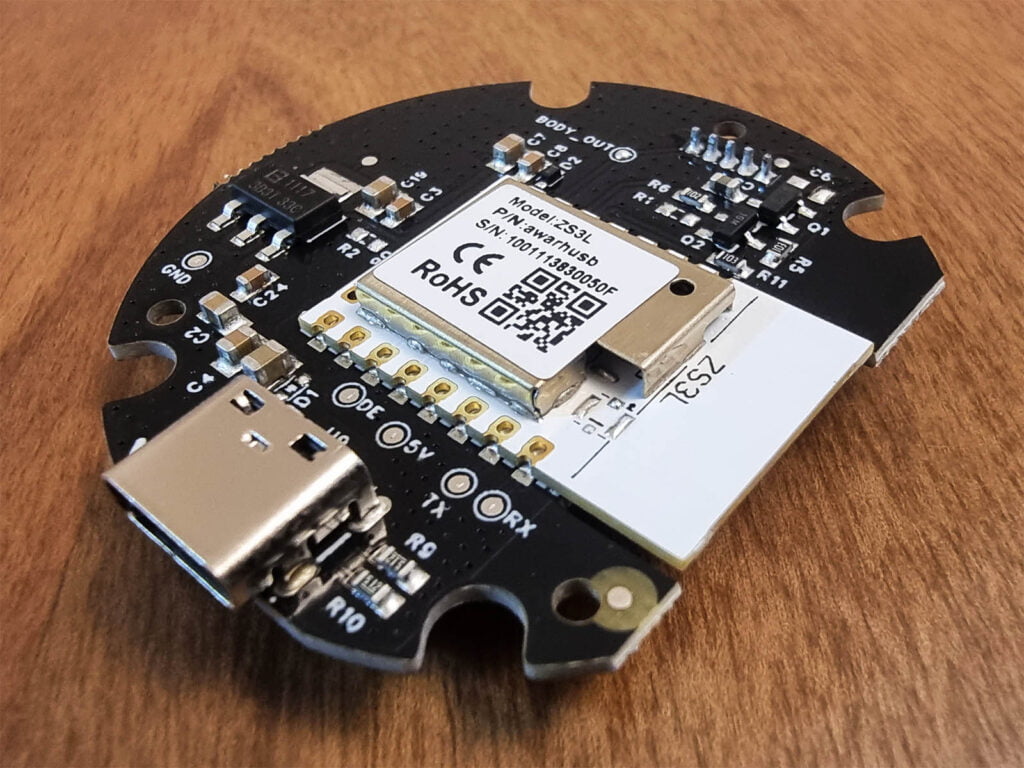 Home Assistant Integration
The Moes ZSS-LP-HP02/Linptech ES1ZZ Presence Sensor is supported only in Zigbee2MQTT for now. There is a device support request open for ZHA, which you can follow for any developments here. To pair the device, press and hold the button on the front for ~5 seconds until the blue LED starts blinking.
Zigbee2MQTT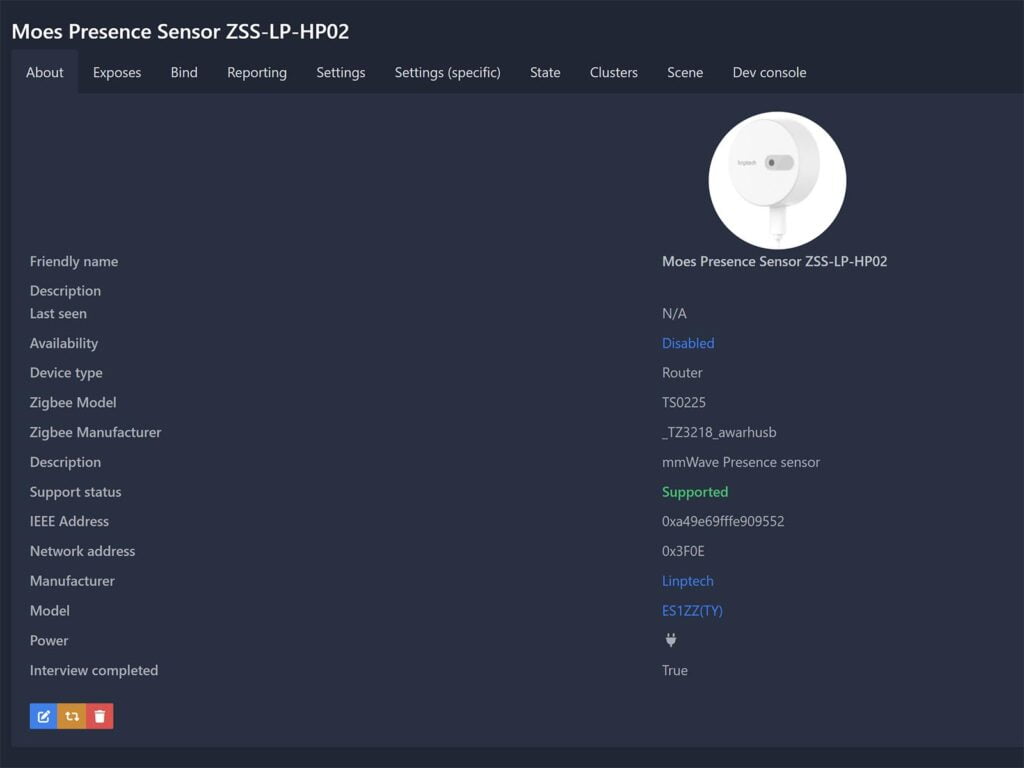 The Moes ZSS-LP-HP02 Presence Sensor is identified as a Router in Zigbee2MQTT 1.33.1+ by manufacturer Linptech and model ES1ZZ(TY). Since the device is the same as the Linptech version, Zigbee manufacturer _TZ3218_awarhusb is also the same and the sensor uses the Linptech external converter. It exposes the following entities in Home Assistant through Zigbee2MQTT: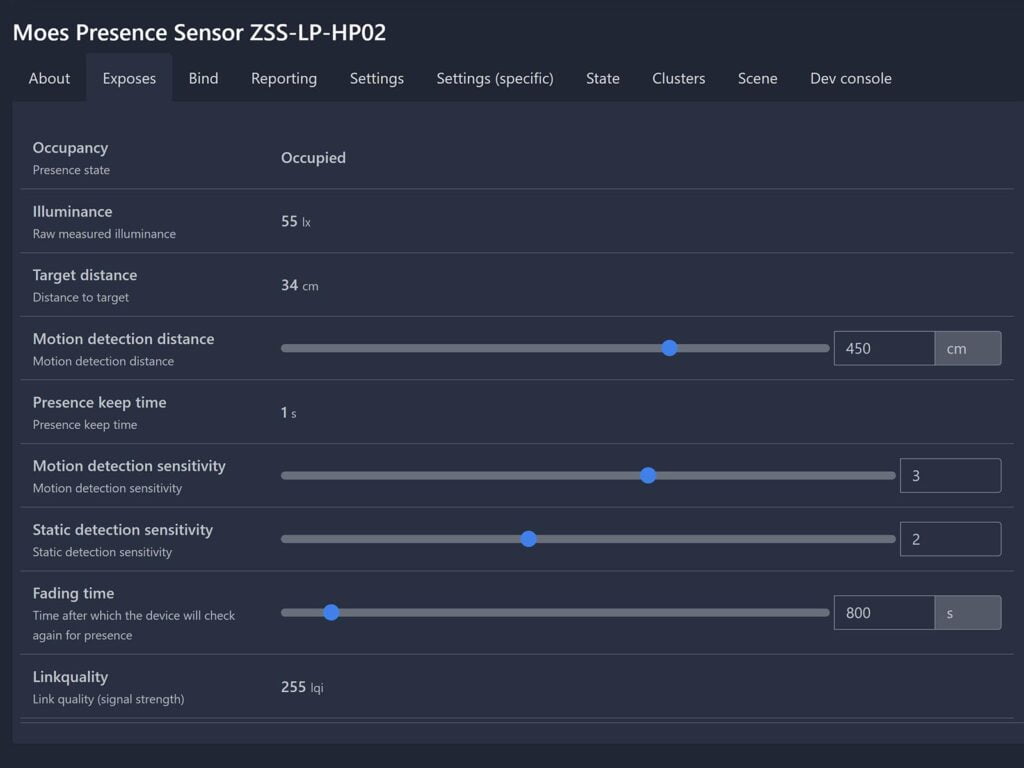 The configuration parameters are pretty self-explanatory, although like most presence sensors they require tinkering and constant adjustment to properly setup the device in your environment, I explain more in the Testing section bellow.
Testing
Once the device was up and running in Zigbee2MQTT, I deployed it in my office to test and get a general idea of how it operates. First off, presence detection is instant and goes from Clear to Occupied immediately.
The motion detection distance parameter has a minimum setting of 75cm and a maximum of 600cm (6 meters). mmWave presence sensors lose sensitivity the farther you are from the device, but this thing was able to detect me walking up to it immediately from 6-6.5 meters. After tinkering a bit, I found about 4 meters is the optimal distance setting for my space.
The motion detection sensitivity parameter goes from 0-5, with 5 being way way to sensitive. The LD2410 is very responsive in this device, so setting it to 5 creates so many false positives it's not even funny. I found 3 to be the sweet spot for my office, although if you have a large space you might want 4.
The static detection sensitivity also ranges from 0-5 and again, I found 5 is way to sensitive. I am almost certain I got a false positive from the air direction swinging thing on my office AC, so lowering this to 3 was a must.
The fading time parameter just adds a cooldown which the device respects until it checks for presence again from the state change of Occupied to Clear. You can set this however you like, it really depends on what you are trying to achieve.
The target distance and illuminance entities jump up and down like crazy and are unreliable. I've yet to find a presence sensor in which these values are accurate. Further, the device retains the last state of the target distance entity even when presence is clear, so this is unusable in automations.
Once I was done, the device operated perfectly fine with no false or negative triggers. It's super fast and accurate and almost never makes a mistake, although it will require tinkering to optimize to your space.
The important thing to note here is that the values you set may seem off when adjusting, but required to get it to optimal settings. For example, you may find that setting sensitivity at 2 seems low but the sensor works best at this value. The LD2410 operates at 24GHz and is very responsive, so test thoroughly and adapt to your space, ignoring the actual value of the parameters in terms of it's scale range.
Zigbee Network Spam
Unfortunately, this Moes ZSS-LP-HP02 Presence Sensor spams your Zigbee network HARD. There is no way to reduce payload traffic, per entity or fully, since Tuya uses non-standard Zigbee implementation and data is pushed and not polled. Here's a screenshot from my logs: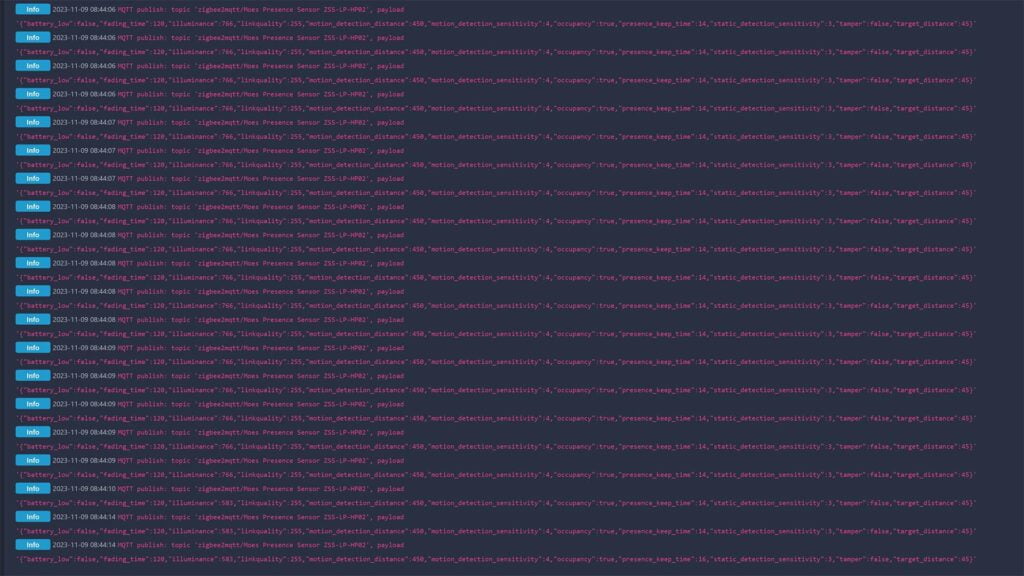 You can debounce the messages coming through and not publish them all to your MQTT broker, but the actual Zigbee network and coordinator will still receive the payload. The only "workaround" I can think of is to use a better coordinator (EFR32MG21) and have many routers deployed in your network, so this device doesn't crash it.
This can be a problem if you deploy a bunch of these sensors and have a weak network and coordinator, although I honestly noticed no difference in the performance of my mesh once I moved the device in my home. I use the Sonoff ZBDongle-E as my main coordinator and have several other presence sensors deployed. I also use two dedicated signal extenders, to improve quality of Zigbee communication.
Summary
The Moes ZSS-LP-HP02 is definitely a presence sensor to consider, although I would advise you take a look at other alternatives first before making a buying decision. Here is a list of other presence sensors I've tested:
Presence detection is instant, so it does eliminate the need of combining the device with a PIR sensor in automations. The device is built very good, feels compact and heavy. The magnetic swivel gives you flexibility in installation and mounting positions. It uses USB-C at 5V1A, so you can use a longer cable you have lying around for power.
Setting up the device in Zigbee2MQTT was a fairly standard trial-and-error process for these types of sensors, although It surprised me in terms of how lower I needed to take the sensitivity levels of the device. It will cause false positives if left higher than 4, both for the motion and static parameters.
The sensor does flood your Zigbee network like I've mentioned, although I do not think this will present a problem with a capable coordinator and a solidified mesh network. Another thing that bugs me is inability to turn off the indicator LED, which blinks once every couple of seconds. I might have to take it to town with a pair of wire cutters.
Pricing and Availability
The Moes ZSS-LP-HP02 Presence Sensor is available on AliExpress and Amazon, here's some links and my original seller (1st link). If you purchase through these affiliate links, you are indirectly supporting smarthomescene.com and it's cause, at no additional cost to you.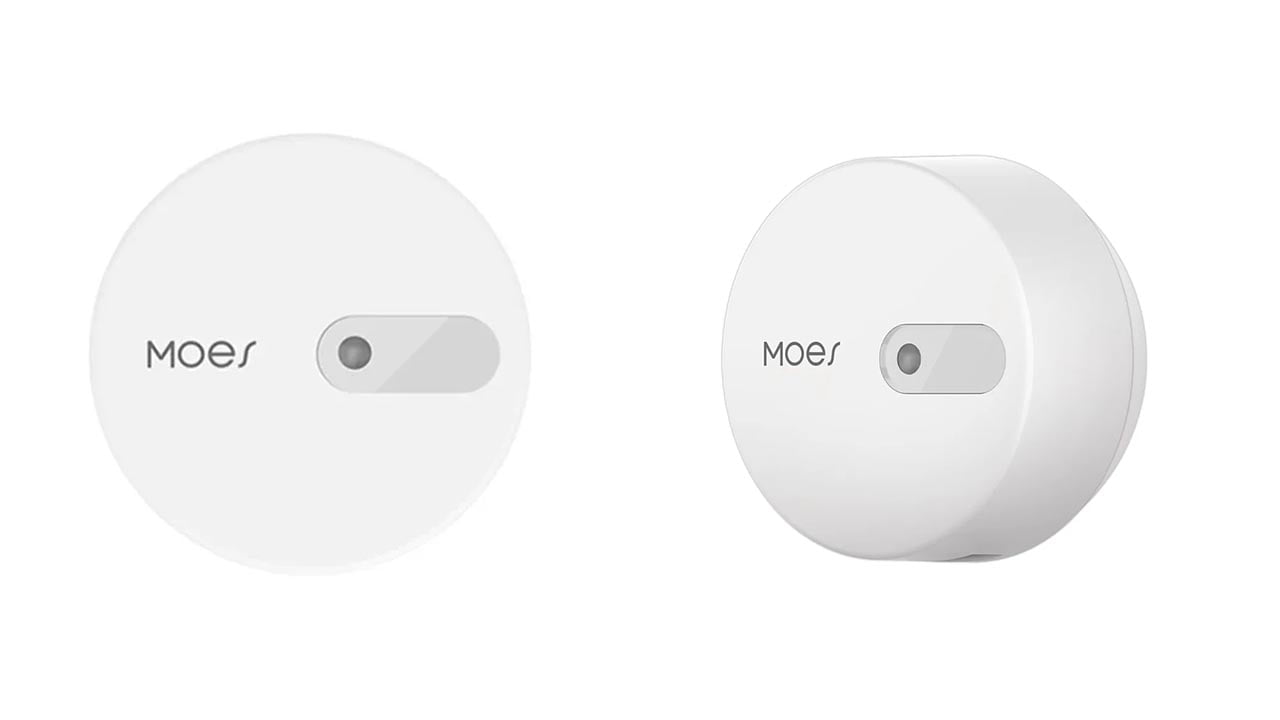 AliExpress | AliExpress | AliExpress




United States | Canada | United Kingdom

MOESHOUSE OFFICIAL STORE
Webstore
*If links fail to open, try disabling your AdBlocker.