---
Matter is slowly becoming the protocol of choice for manufacturers, as different types of devices are popping up over online marketplaces. I've talked about a couple if Matter devices on SmartHomeScene's Reviews channel: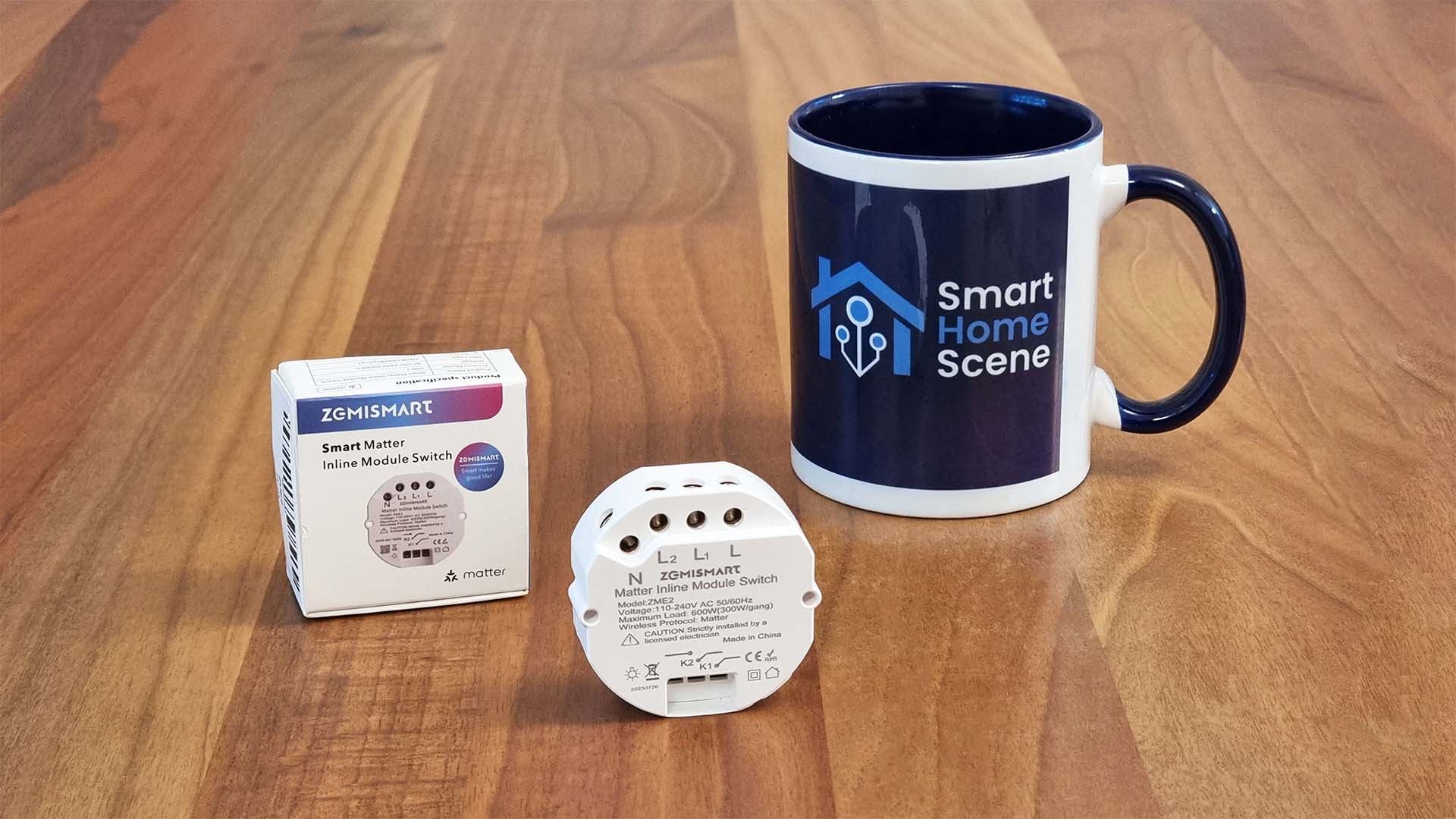 Today I'm looking at a standard dual relay smart switch module, only this time instead of Zigbee it's Matter-over-WiFi. This is a review of the Zemismart Matter Inline Module Dual Switch model ZME2 which you can get on AliExpress and their Official Webstore for less than $15.
Technical Specification
Model: ZME2
Gangs: 2
Input: 100-240 VAC, 50/60Hz
Max Load: 600W (300W/gang)
Neutral: Required
Connectivity: Wi-Fi IEEE 802.11b/g/n
Protocol: Matter
Product Size: 50.2×51.5×21.2mm
Teardown
The Zemismart Dual Switch Module ZME2 ships in a small box which contains the device itself, a set of screws for installation and a short user manual. The device is relatively small, meant to be installed behind an existing wall switch.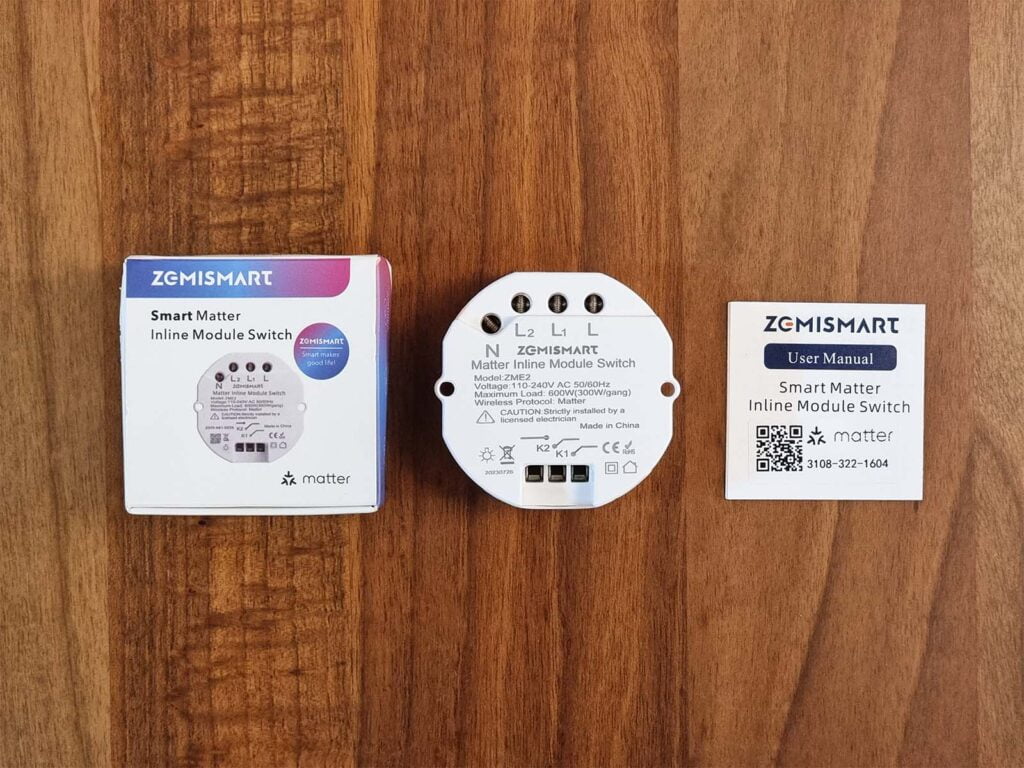 On one side of the module, two buttons are placed for controlling the relays and resetting the devices. Underneath these lies the status LED, which indicates the state of the relays. Green means pairing mode, red means the relay is on and blue the relay is off.
On the backside, there are a total of 7 screw terminals for wiring the device. The main set on the top is used for wiring input of 100-240 VAC and L1 and L2 output. The bottom, smaller terminals are used to connect existing wall switches to control the device.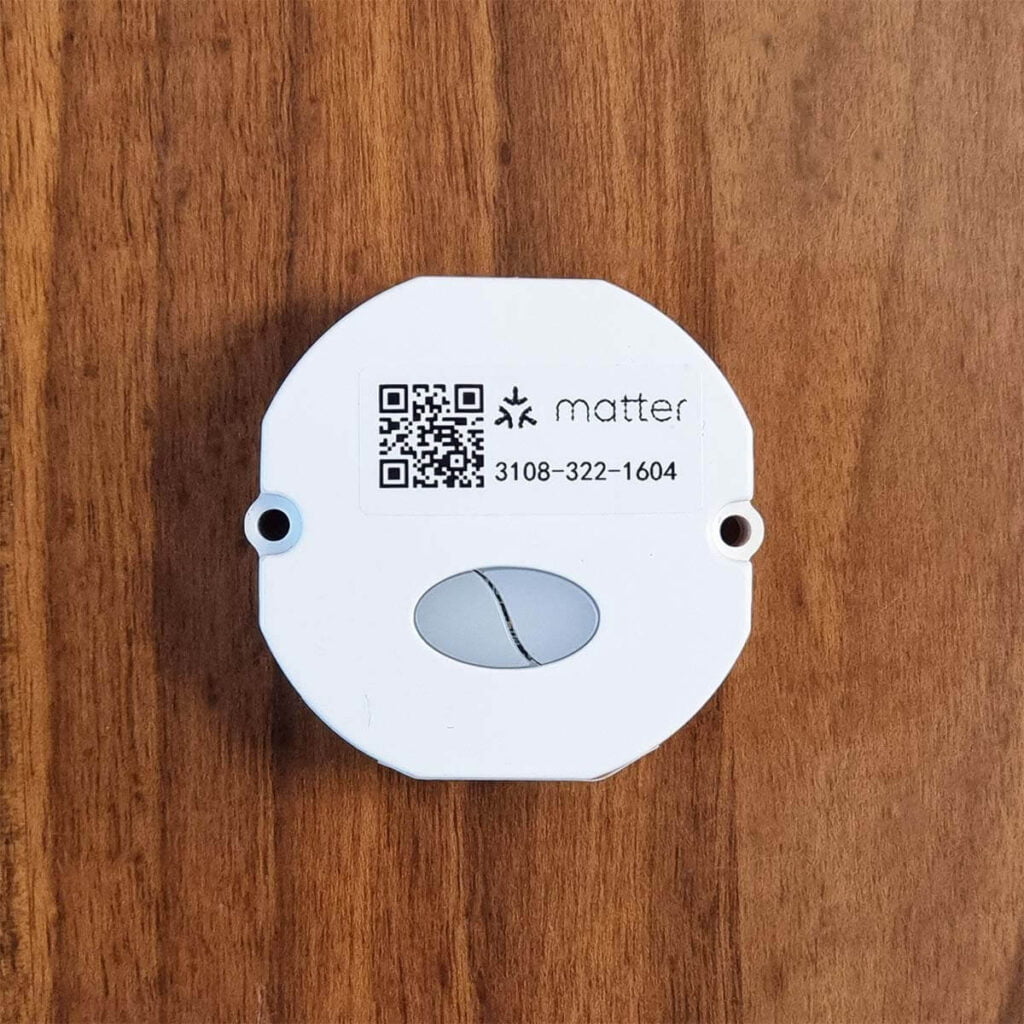 Opening up the case gives you a sense of the craftsmanship of this Zemismart Dual Relay Module. The traces used for input and output are a thick layer of solder, which justifies the 600W total load specification.
The relays are model W11 by Fanhar [Datasheet] rated for 10A each, soldered next to each other. I would have preferred to see 16A relay installed, but in my experience this is rarely the case in double or triple gang smart switches. Fanhar relays are widely used in devices of this type by many brands, especially in Tuya enabled smart switches like the Moes 2 Gang Switch Module or ZemiSmart Zigbee Hand Wave Smart Switch ZM-H7.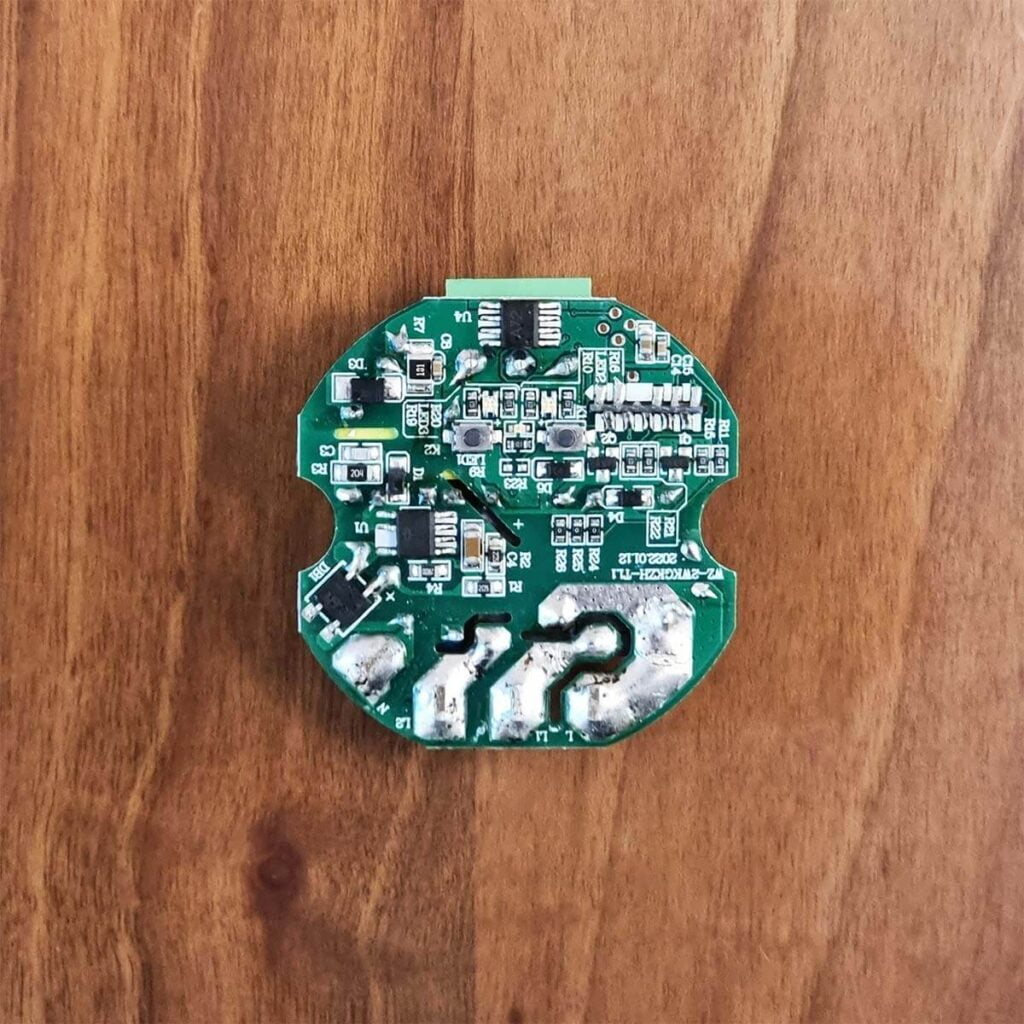 Matter communication is enabled by a Wi-Fi module labelled UAM023 [FCC Report], a model by Shenzhen Uascent Technology Co. in China. This is the first time I'm encountering this module in the wild, which is apparently a Wi-Fi 2.4GHz + Bluetooth 5.1 communication chip which got it's FCC approval in March 2023.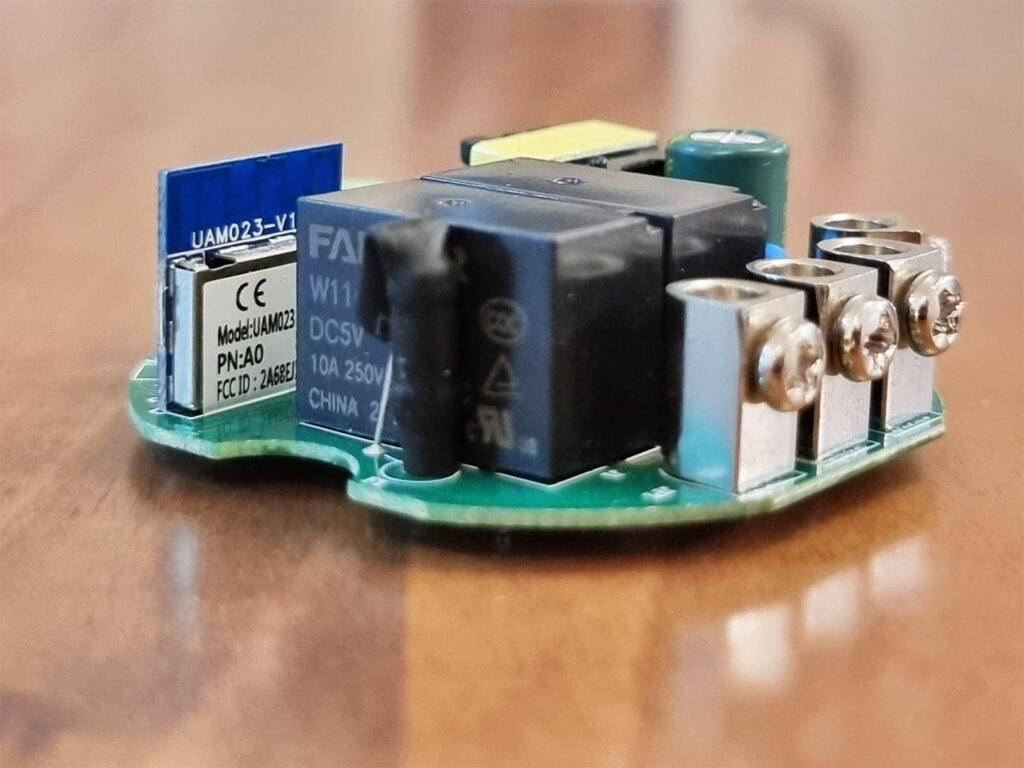 Overall, the Zemismart ZME2 seems like a solidly built device that I would install inside a switchbox. I like the type of screw terminals they used for the main input/output and the layout of components on the main PCB. The only thing to be mindful is the 10A rating of the relays, which is perfectly fine for most domestic applications like lights although you need to be careful not to exceed it.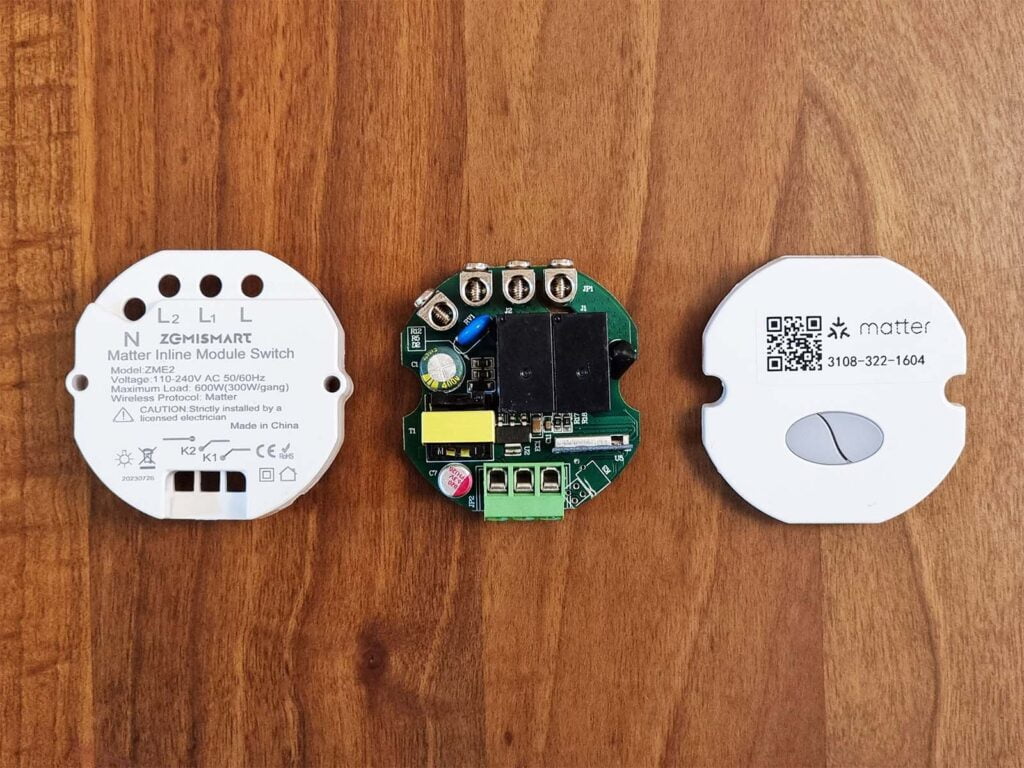 Installation and Wiring
Installing this Zemismart ZME2 module is fairly simple in terms of understanding what goes where, the wiring diagram inside the user manual is useful for making sense of the wiring: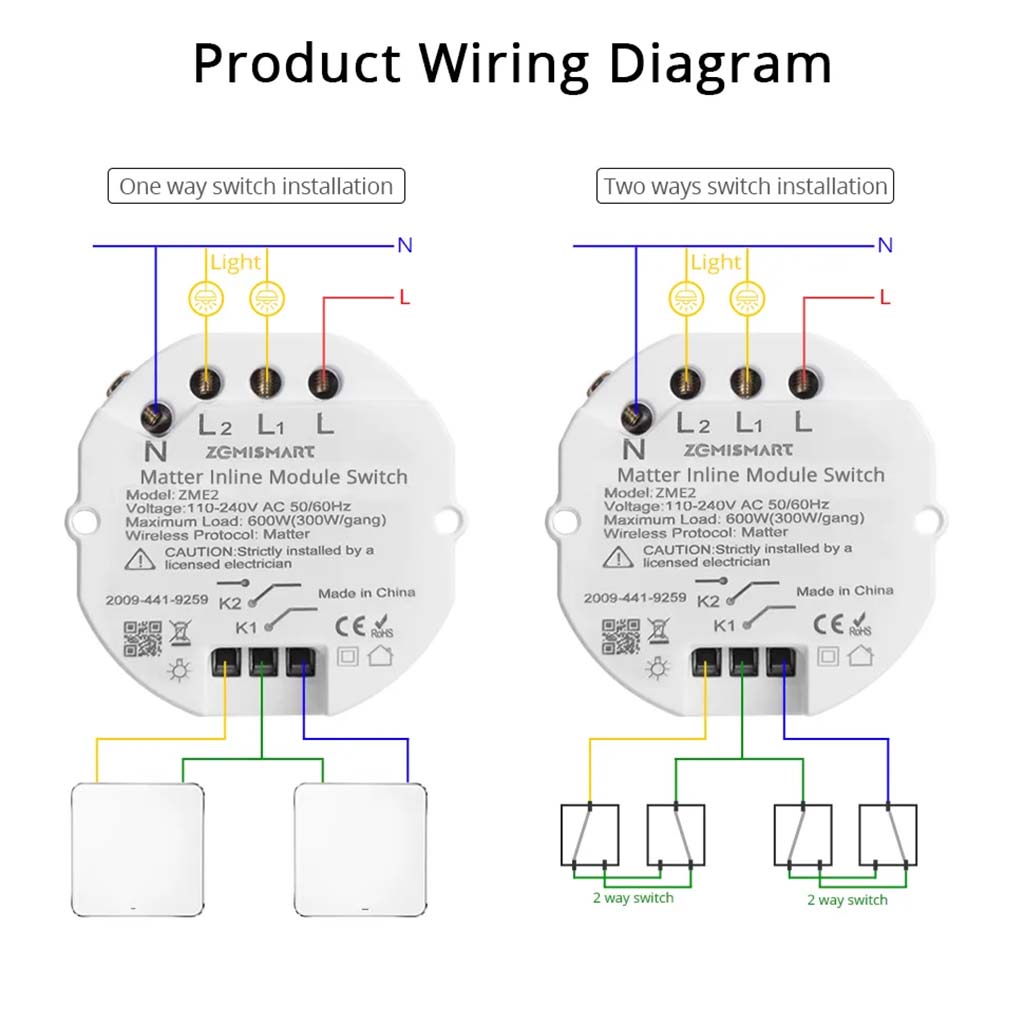 To translate the wiring diagram in words:
Connect Input L-wire to L-Terminal
Connect Input N-Wire to N-Terminal
Connect Output L1-Wire to L1 – 1st Light
Connect Output L2-Wire to L2 – 2nd Light
(Optional) Connect 1st terminal of Wall Switch 1 to K1
(Optional) Connect 2nd terminal of Wall Switch 1 to Middle terminal
(Optional) Connect 1st Terminal of Wall Switch 2 to K2
(Optional) Connect 2nd terminal of Wall Switch 2 to Middle terminal
(Optional) The same wiring applies to 2-way Switches
Depending on whether you attach a wall switch or not, it's possible you will encounter problems when trying to jam all the wires inside your switchbox. This is a frequent problem with devices of this type, especially when installing modules with more than 1 gangs.
The wires can get detached, scrambled and difficult to set in place. Always disconnect the main power and take it slow, going one step at a time until you are confident enough everything is in place. If you are unsure you can do this, hire a certified electrician.
Google Home Matter Integration
Just like any other Matter-over-WiFi device, you can add it directly to your preferred smart home controller like Apple Home, Google Home or Amazon Alexa. These ecosystems have their own requirements for onboarding Matter devices, which usually means you need to have one of their hubs on your network (Google Nest Hub, Apple HomePod etc.). Here's a few screenshots when the device is added to Google Home: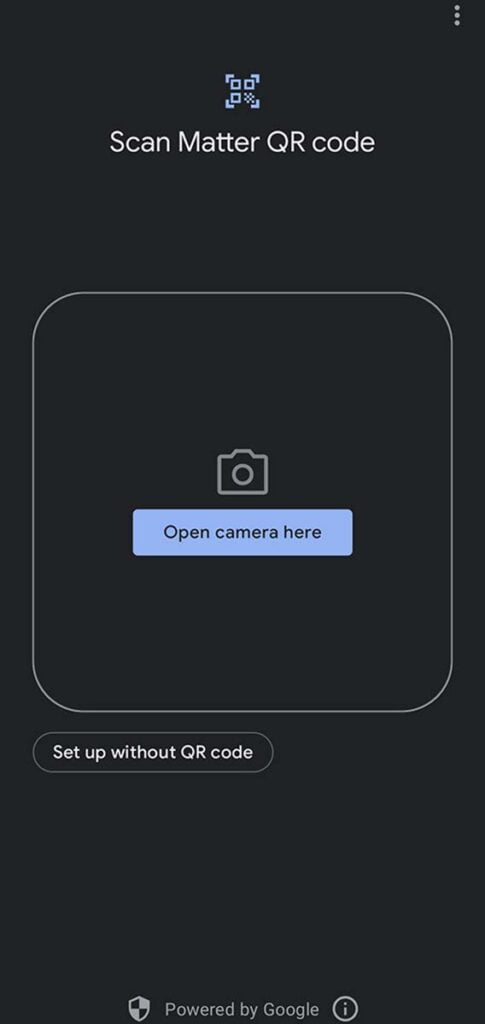 The device is fully controllable from Google Home, exposing two separate switch entities for toggling each gang individually. In the Settings panel, you can see the currents Linked apps & services, one of which is Google Home and the other (unnamed) is Home Assistant.
Home Assistant Matter Integration
Ultimately, my interest is integrating Matter devices in Home Assistant without any proprietary apps. If you haven't already, you need to install the Matter Server Add-on from Settings > Add-ons > Add-on Store > Matter Server. To add the Zemismart Dual Relay ZME2 to Home Assistant, navigate to Settings > Devices & Services > Add Integration > Add Matter Device: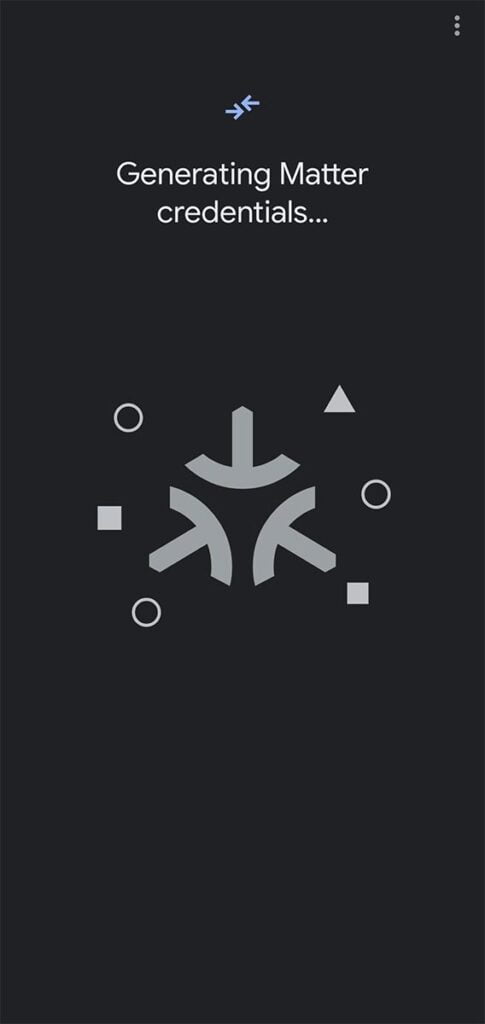 The device pairs perfectly fine in Home Assistant, although no controllable entities are available. Since Matter in still in Beta these kind of bugs and features missing are expected. For now, the device is unusable in Home Assistant with firmware 1.6.
Summary
The Zemismart Matter Dual Relay was a nice reminder of the current state of Matter in a Smart Home. Not all features are available and not all devices supported in different controllers. Matter is still very early to be judged though, there is a lot of things that need fixing and standardization.
The device itself is very high quality, with good PCB traces at the input/output terminals. I would have preferred 16A relays instead of 10A, but I guess they are suitable for the purpose this was intended – controlling lights.
You can currently get the Zemismart ZME2 Dual Module Matter Switch on AliExpress, Amazon and the official Zemismart Store for less than $15- here are some links:


AliExpress | AliExpress | AliExpress


ZEMISMART OFFICIAL STORE
Dual Relay Module ZME2
*If links fail to open, try disabling your AdBlocker.
NOTE: Zemismart has released a new Matter Multi-hub, which can be used to bridge the gap to Matter for Zigbee and Thread devices.