---
Zemismart is among the first Chinese smart hardware manufacturers that I am aware of, going all in on Matter. They are constantly releasing new Matter-certified products, such as the ZML2 Smart Bulb I tested recently.
I recently bought a new Matter over Wi-Fi relay from their AliExpress store, I am waiting for it to arrive for testing. In the meantime, this is a review of a Zigbee Bi-Directional Energy Meter white labelled model SPM01.
This is a small, unobtrusive device with a tiny footprint, capable of measuring energy consumption on a single phase. It's meant to clamp the live wire under your circuit breaker, but you can attach literally anywhere you have access to.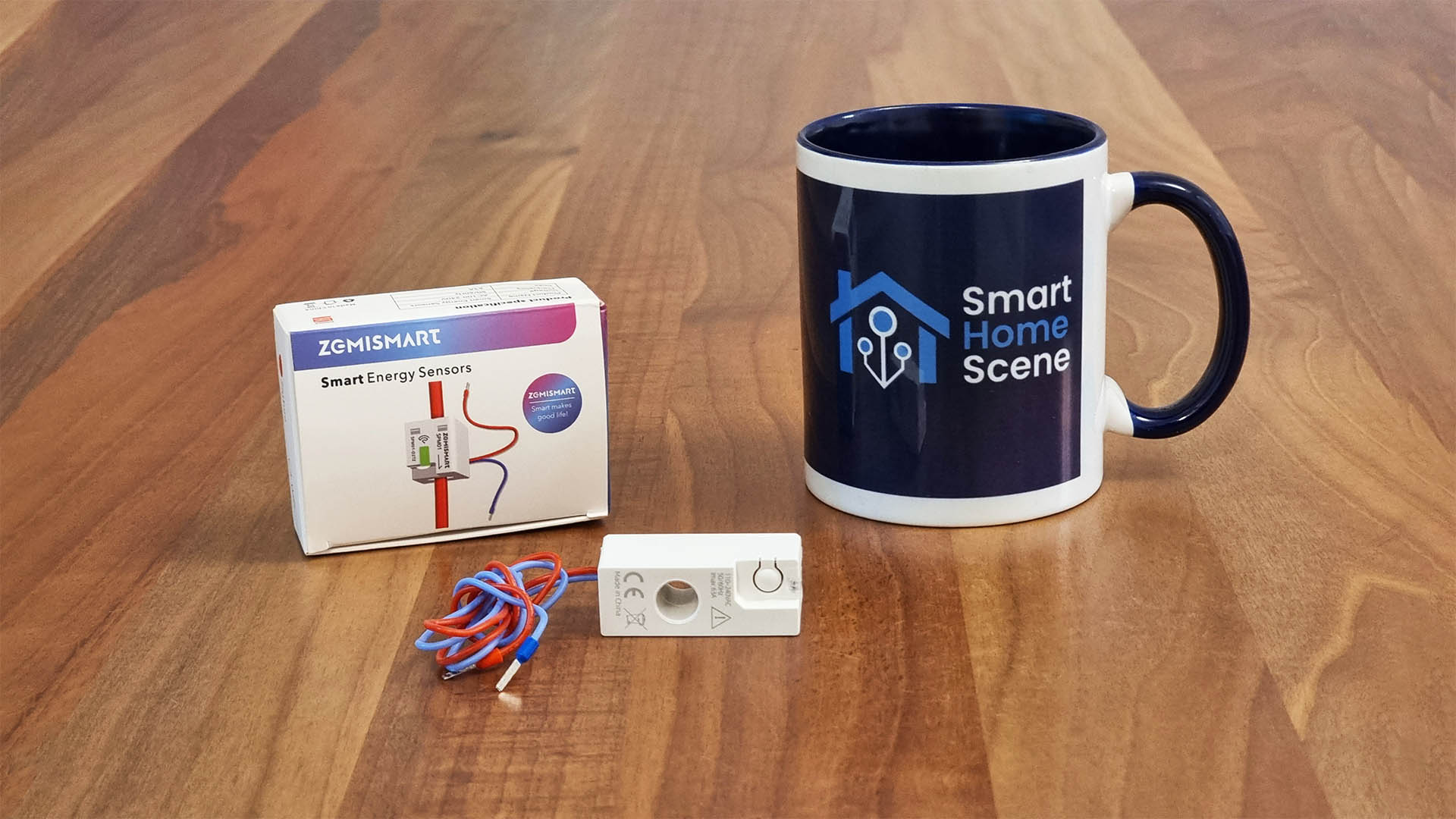 The SPM01 is a single phase model, but there is also a three phase version labelled model SPM02. Both are supported in Home Assistant through Zigbee2MQTT and are available on AliExpress and their Official Webstore.
Zemismart SPM01 Single Phase Energy Meter
Zemismart SPM02 Three Phase Energy Meter
Technical Specification
Model: SPM01
Connectivity: Zigbee/Wi-Fi
Basic Current: 10A
Max Current: 63A
Protection: IP20
Operating Temperature: -25°C ~ 60°C
Power Consumption: 0.5W
Dimensions: 46.8×21.3×17.8mm
Energy Meter Accuracy: Class 1
Teardown
The Zemismart SPM01 Energy Meter ships in a tiny box containing nothing but the device and a user manual. Nothing else is actually needed, as this device doesn't require mounting with screws or similar installation.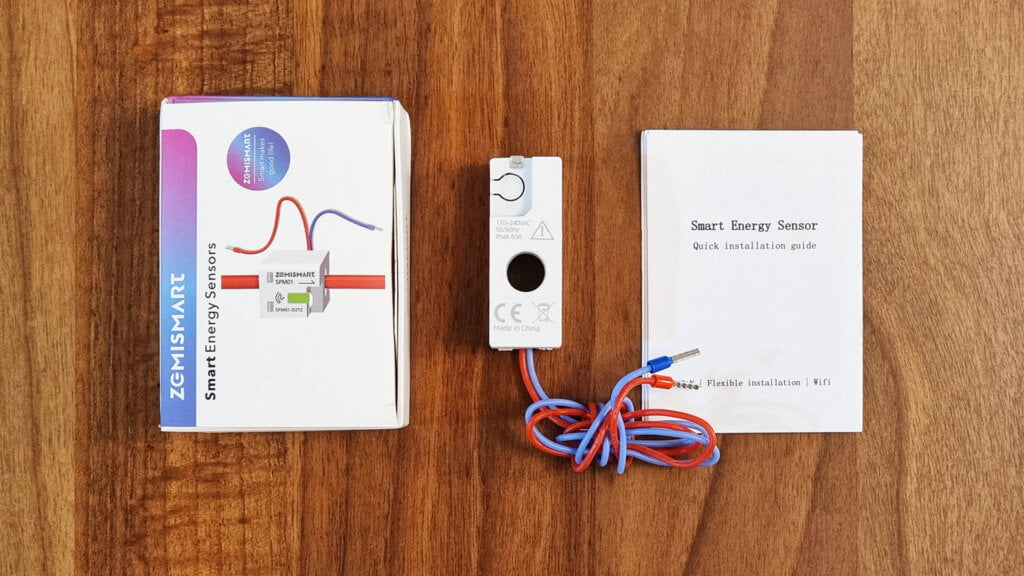 The SPM01 is a little bit different than clamp meters I've reviewed in the past. This one requires the wire to be detached, threaded through the device and attached in place again.
The Tuya PJ-MGW1203 Single Clamp Meter on the other hand, simply clamps the wire from the outside, without having to detach it. This is something you need to keep in mind when considering these devices.
There is a pairing button and an indicator LED on the top of the small case with the wires coming out of the bottom. It's a tiny device, width is the same as a standard circuit breakers as it's meant to be installed above/bellow one.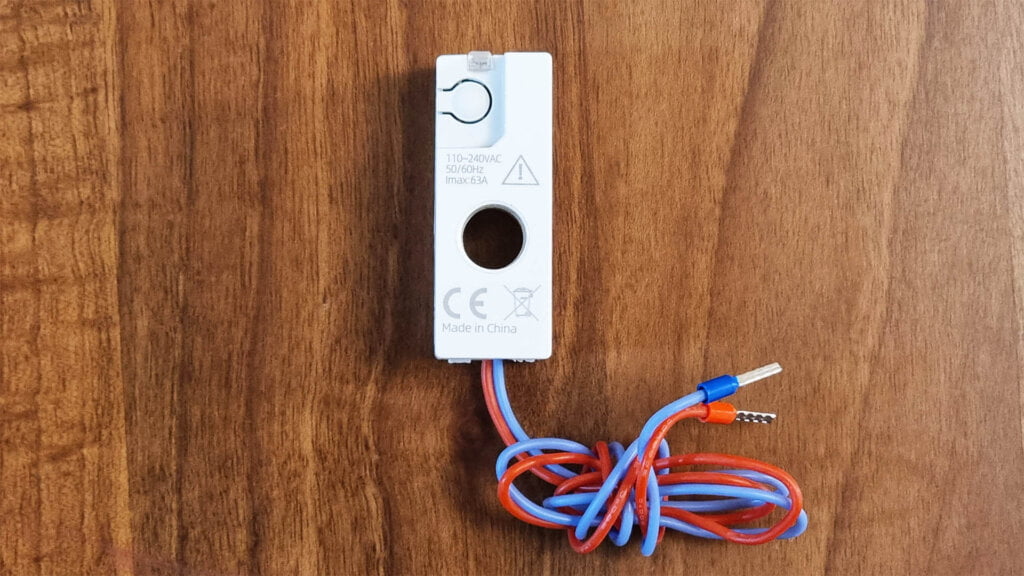 It's actually impressive how they managed to cram everything inside such a small device. Once open, the clamp coil is secured around the plastic ring, unable to dangle around. It says "Powered by BITUOTECHNIK" on the top cap, which Google tells me is the actual manufacturer of this energy meter.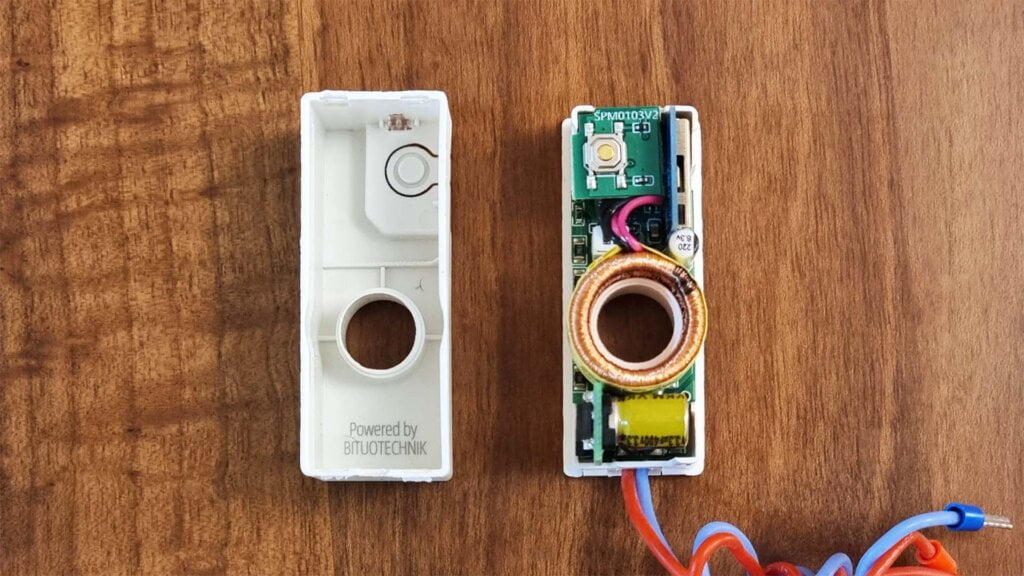 Zigbee communication is handled by a Tuya ZS2S module [Datasheet], which also powers these 2 gang dimmer and switch modules by MoesHouse. I don't expect to encounter any communication issues, we'll see.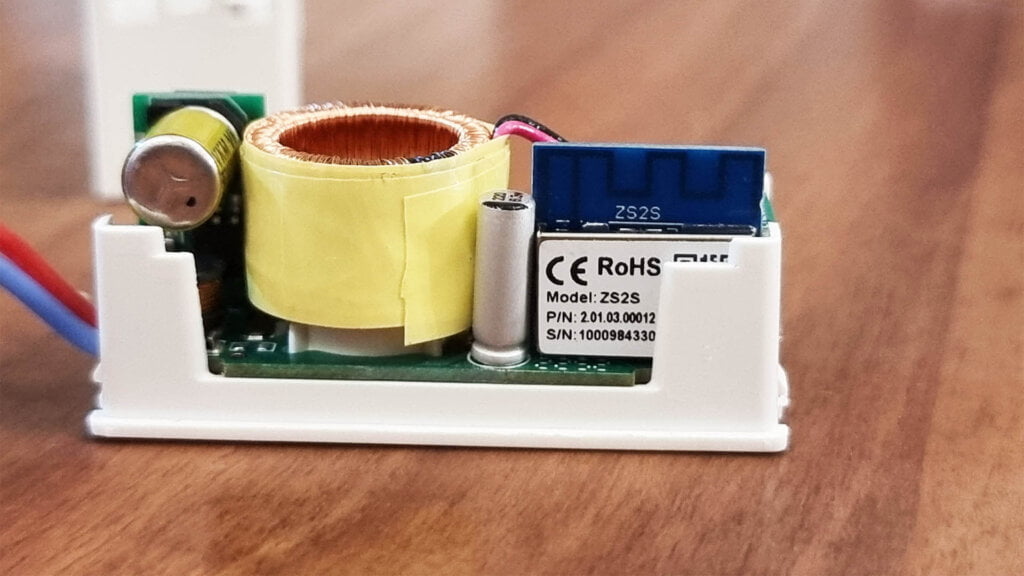 Installation
Even though this Zemismart SPM01 Energy Meter is fairly easy to install in terms of know how, it does involve handling live wires. If you are not confident you can do this yourself, I highly suggest you get a professional to do it for you. Zemismart includes a very useful graphic in the manual: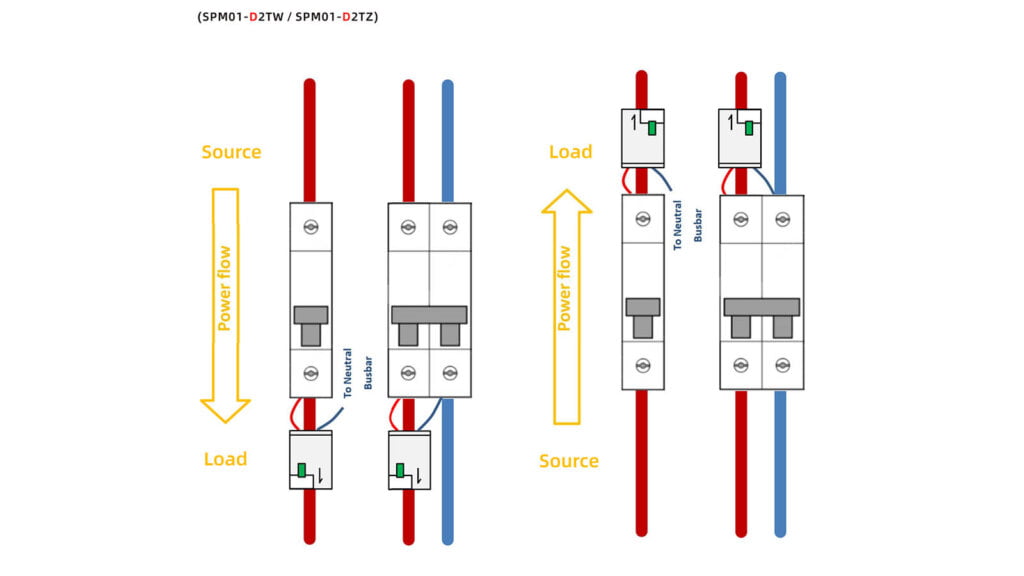 You need to be mindful of a few things:
The direction of power flow

Follow the arrow printed on the case of the SPM01

The wiring of the phase (L)

For accurate measurement, the voltage reading needs to be supplied by the same phase you are clamping

The wiring on the neutral (N)

You can wire the neutral anywhere you have access to
Here's an image from Zemismart's official listing, showing how the SPM01 is actually meant to look like once installed above/under a circuit breaker: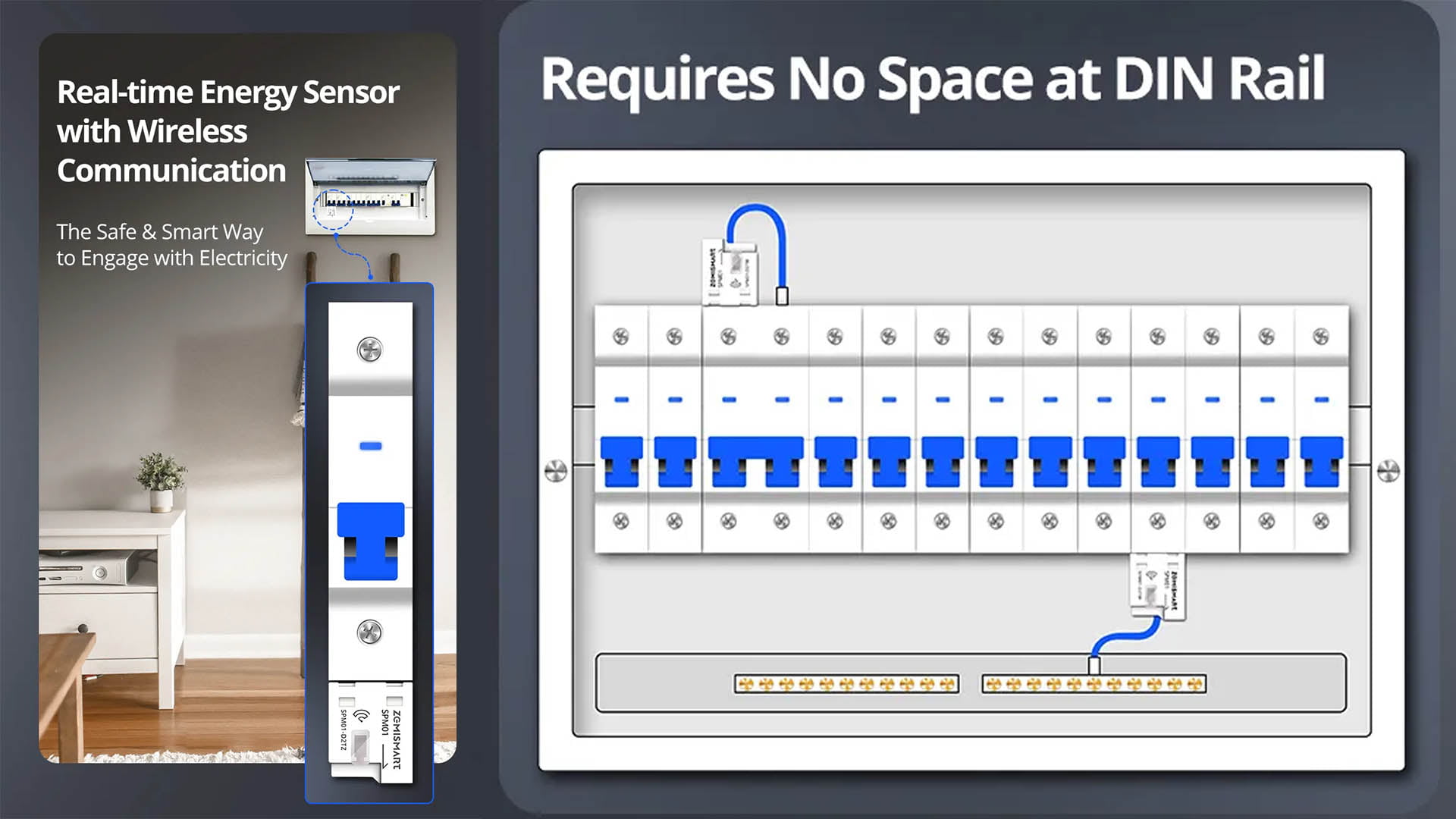 Home Assistant Integration
The Zemismart SPM01 Single Phase Energy Meter as well the three phase SPM02 model are both supported in Home Assistant through Zigbee2MQTT. There is not support for ZHA at the moment and I doubt there ever will be. ZHA is seriously behind Z2M when it comes to devices of this type.
To pair the device to Zigbee2MQTT, hold the button for ~7sec until the small LED starts blinking rapidly.
Zigbee2MQTT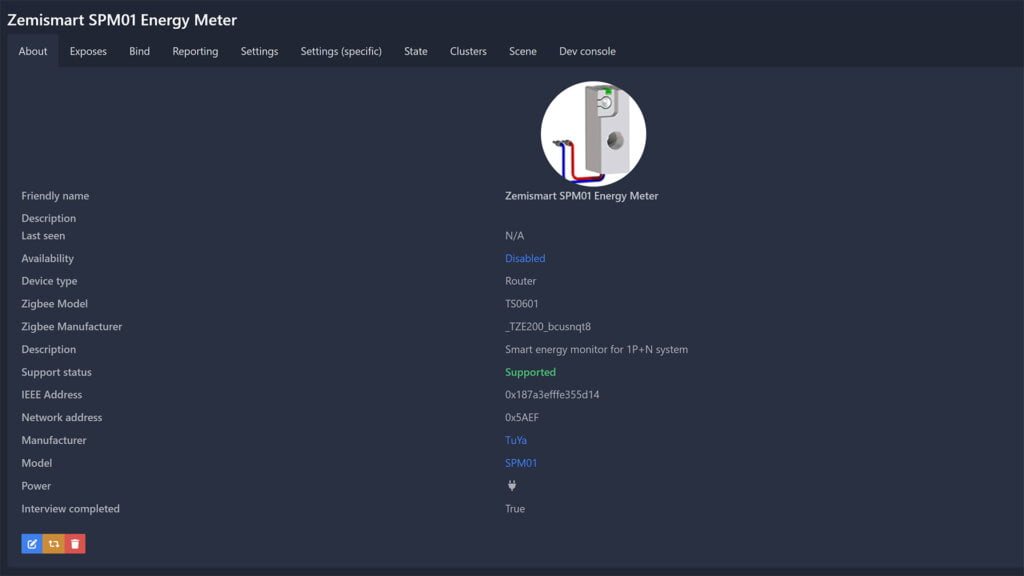 Once sucesfully paired to your coordinator, the device is identified as model SPM01 by Zigbee Manufacturer _TZE200_bcusnqt8. It's also a router, capable of relaying Zigbee mesh traffic from your nearby End Devices. It exposes the following entities to Home Assistant: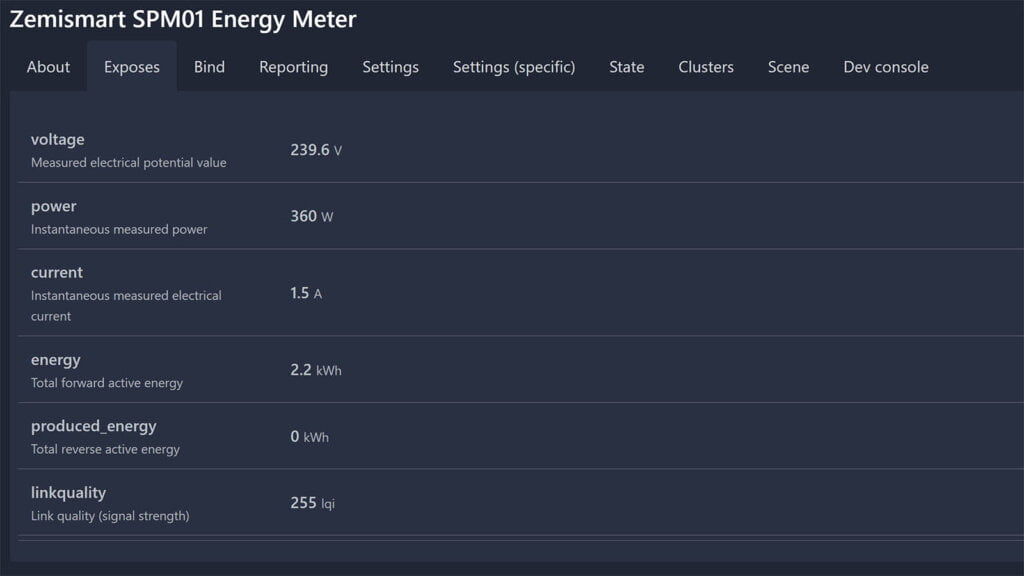 The calibration and precision menu is also there, which you can use to natively tweak the recorded measurements. You can offset energy, voltage, current and power by a percentual value. If you need to add/remove decimals from the value, you can set the precision for each variable.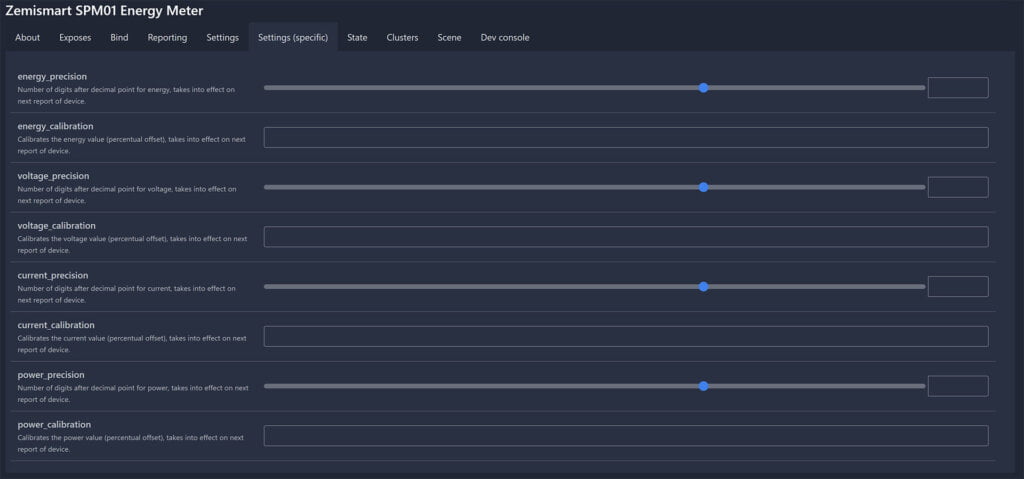 Testing
This device is advertised as an energy meter for bi-directional EV chargers. A bidirectional EV charger is basically an inverter, capable of storing cheap off-peak electricity and feeding it back into the grid when needed. This relies on new emerging technology named Vehicle-to-Grid (V2G).
You can also use the SPM01 to measure energy from your solar panels, they will be recorded in the produced_energy entity in Home Assistant via Zigbee2MQTT. When installing on a phase coming from your solar panels, be mindful to follow the power flow arrow going into your home.
In the Tuya Smart Life app, this is recorded as "Total reverse active energy" while the energy consumption is labelled as "Total forward active energy". I highly suggest you stay away from the Tuya app and their hubs though, as they are cloud dependent and not reliable. There is no need to use the device with one too, as everything is supported in Home Assistant.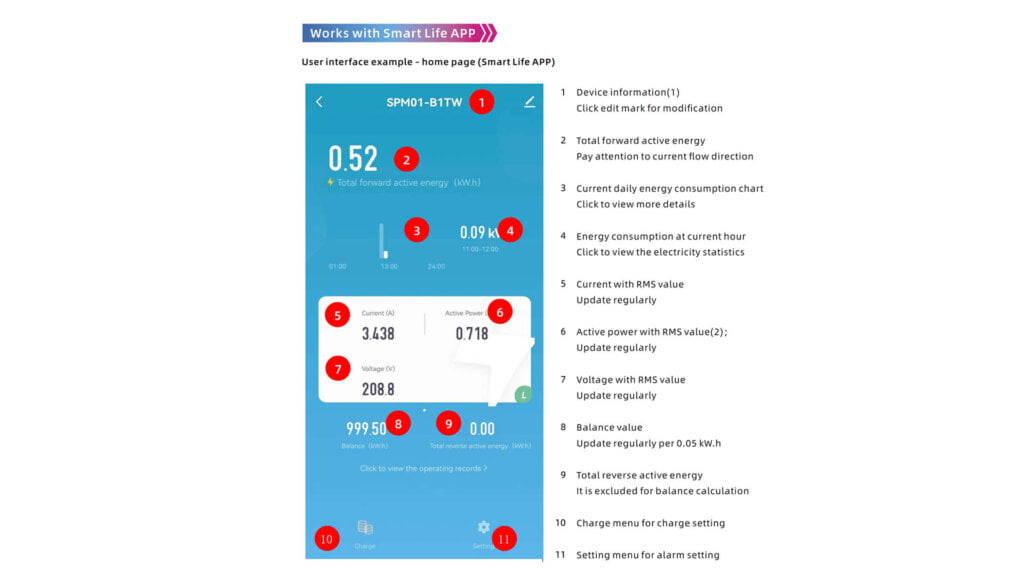 It's worth mentioning something I encountered in the manual while reading the spec sheet. This device has acquired a few accuracy certificates, confirming the measurement validity of the sensor out of the box:
IEC 61557-12 [Link]

Issued by International Electrotechnical Commission
Electrical safety in low voltage distribution systems up to 1 000 V AC and 1 500 V DC – Equipment for testing, measuring or monitoring of protective measures

IEC 61326-1 [Link]

Issued by International Electrotechnical Commission
Electrical equipment for measurement, control and laboratory use – EMC requirements 
Whether or not these actually mean something of substance was not important to me, as I intended to check the accuracy myself. I attached the energy meter on an extension cord wired to a smart socket, the BSEED 16A Outlet.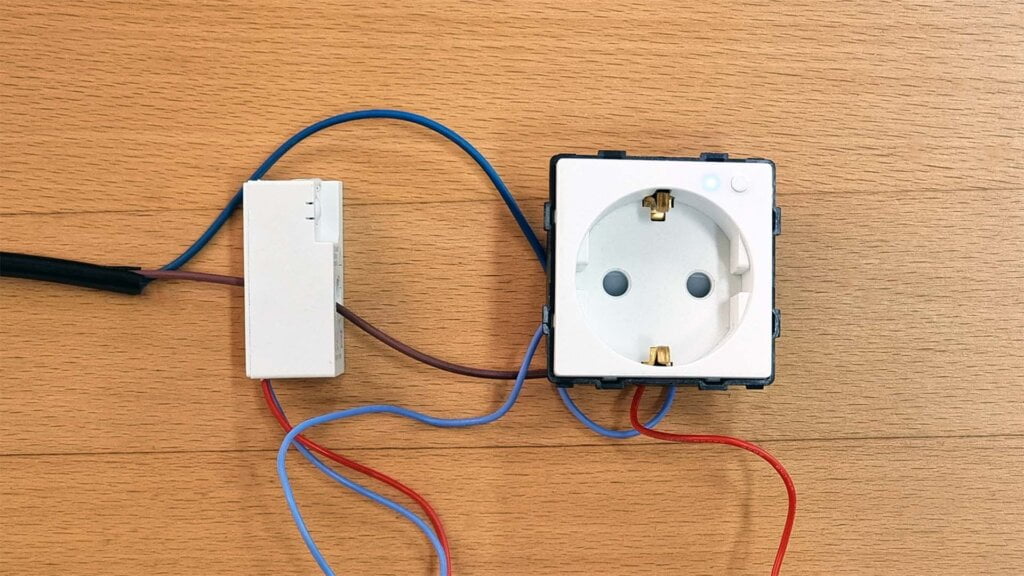 First, I checked the reported voltage with my new Kaiweets Multimeter, it was correct and inline with the SPM01. Than I plugged in different things (hot water heater, industrial printer, water cooler) in the outlet and compared the measurements across the three devices: Zemismart SPM01, BSEED Energy Meter Outlet and Kaiweets Multimeter.
The energy reported was correct between all devices, with an average offset of 0.6-1%! Accuracy of the Zemismart SPM01 was spot on! After letting the consumption accumulate for a few hours, here's what the energy entities recorded in Home Assistant: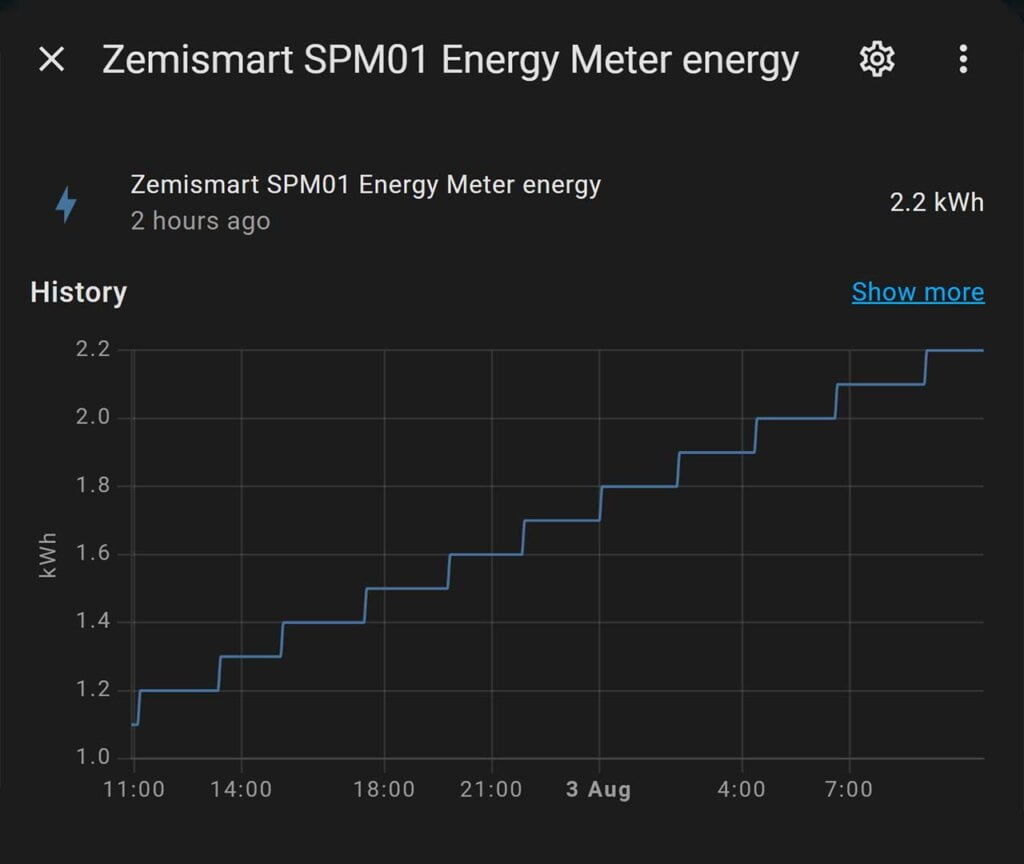 The Zemismart SPM01 reported a total energy of 2.2kWh, while the BSEED Outlet recorded 2.15kWh. This is a difference of 2.2%, however since the SPM01 is also installed on the phase before the outlet, it also records it's power consumption. This is why the reported value is a bit more than the BSEED.
The Kaiweets measures live voltage/current, but when I calculated the total energy of the values with a power factor of 1.0, I got the same results. The SPM01 is an accurate energy metering device.
The reporting interval for the total_energy and produced_energy was set to 5 minutes by default. The device stores the reading for the duration, and pushes everything in one payload. Significant voltage/current changes make it push an update instantly. The BSEED Outlet reports more frequently, so there are more graph datapoints in Home Assistant.
Summary
The Zemismart SP01 Bidirectional Energy Meter is a capable and accurate single phase energy monitoring device. If you have something you need to measure energy consumption in two directions, this is certainly a device you can use.
It's suitable for measuring both grid consumption and solar panel production, however in my experience the three phase SPM02 version might be more suitable here. I measure grid consumption with a similar device, Tuya PC321-Z-TY, which has become my most reliant smart energy sensor.
You can get both the SPM01 and SPM02 from AliExpress or the Zemismart Webstore. There is also Wi-Fi variants available, although they are Tuya cloud dependent:
Zemismart SPM01 Single Phase – Zigbee
Zemismart SPM02 Three Phase – Zigbee
Zemismart SPM01 Single Phase – Wi-Fi
Zemismart SPM02 Three Phase – Wi-Fi